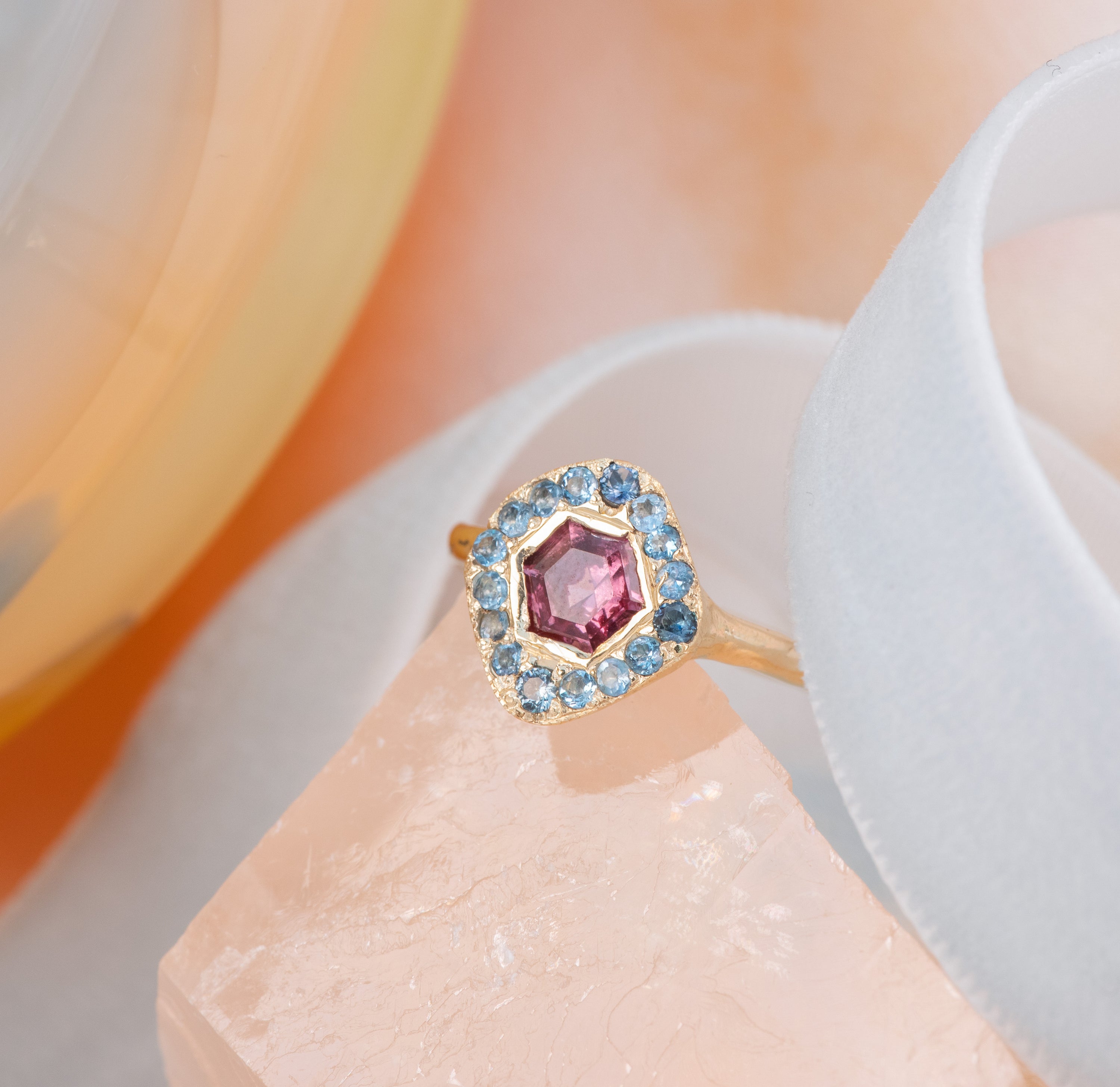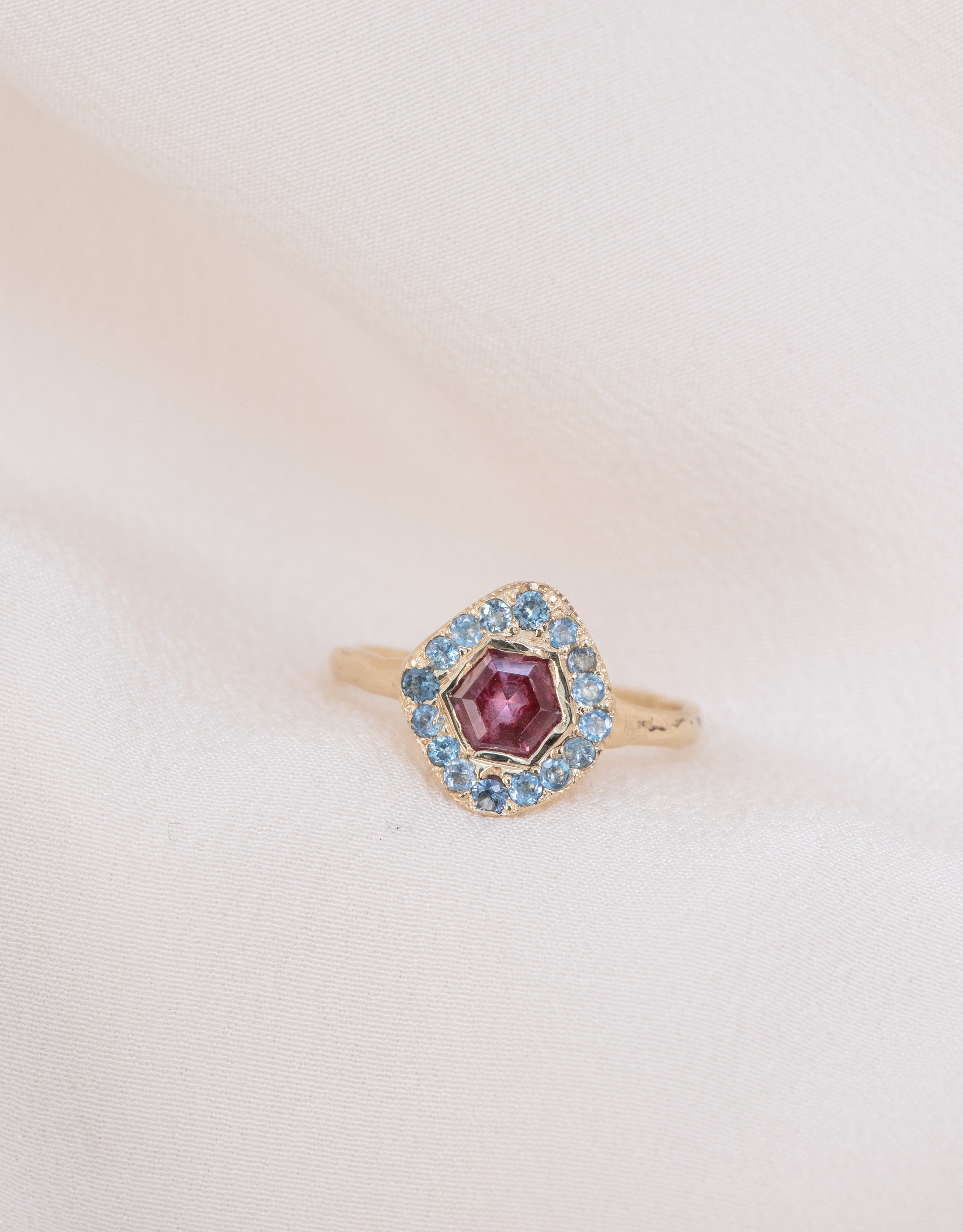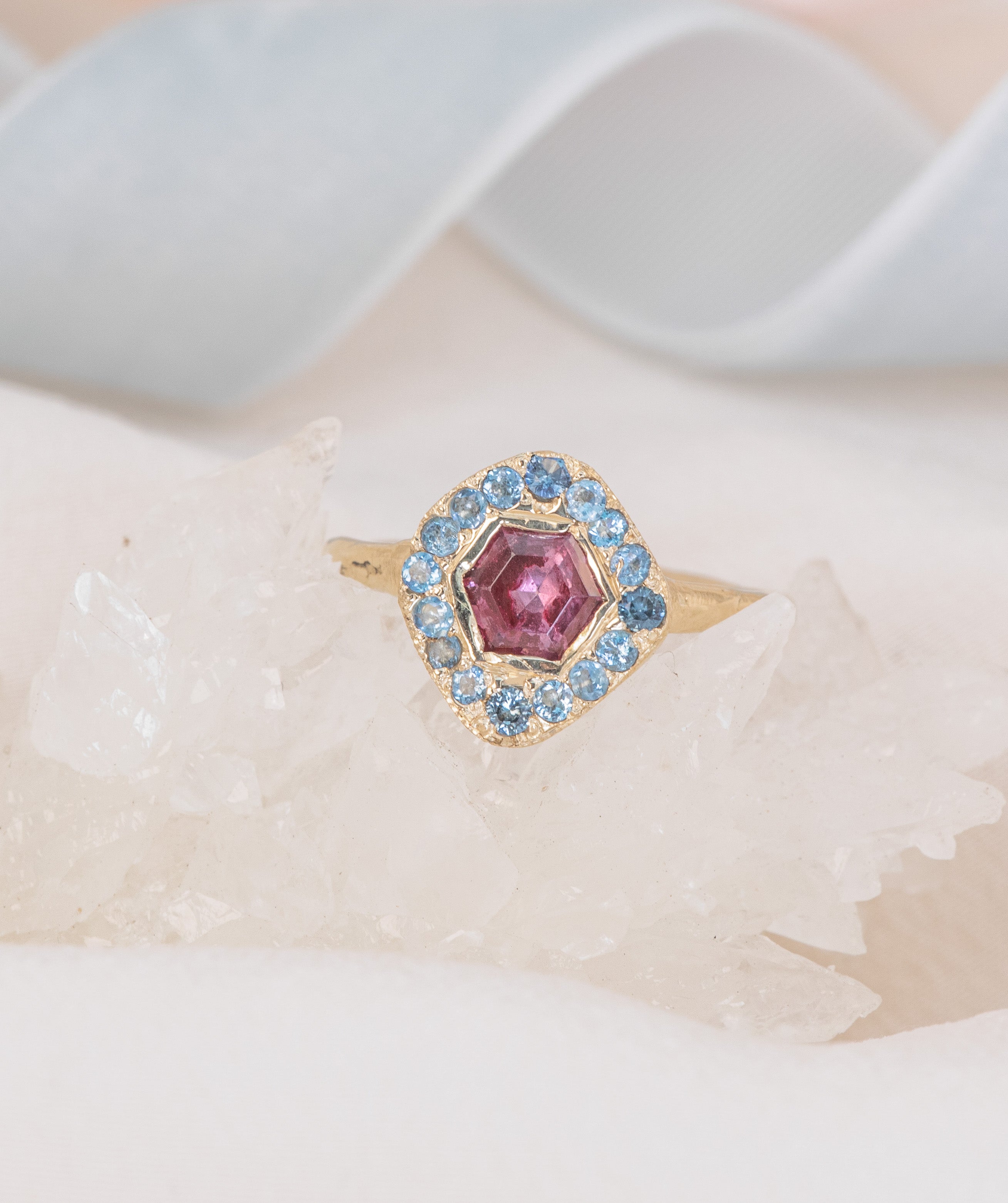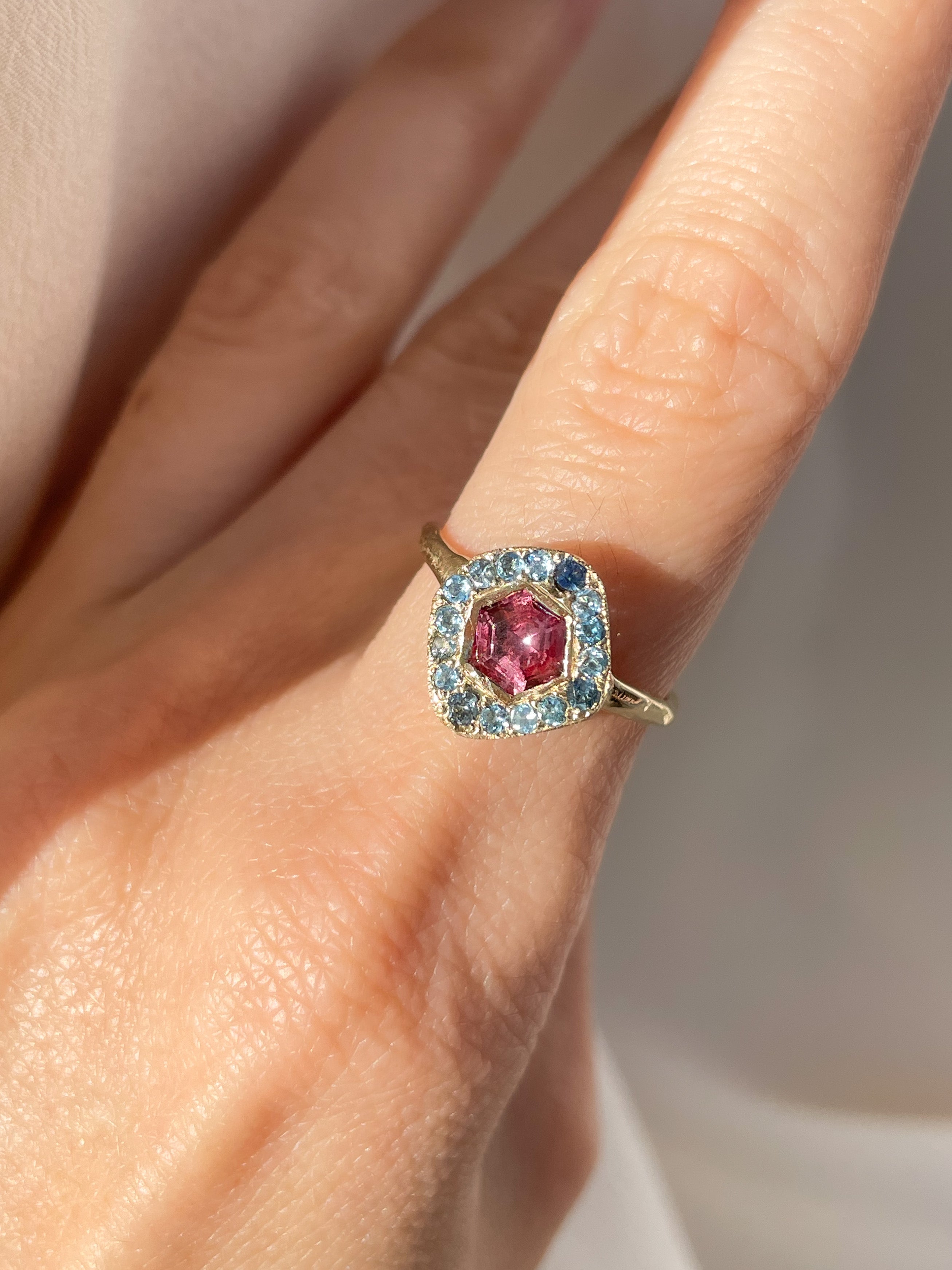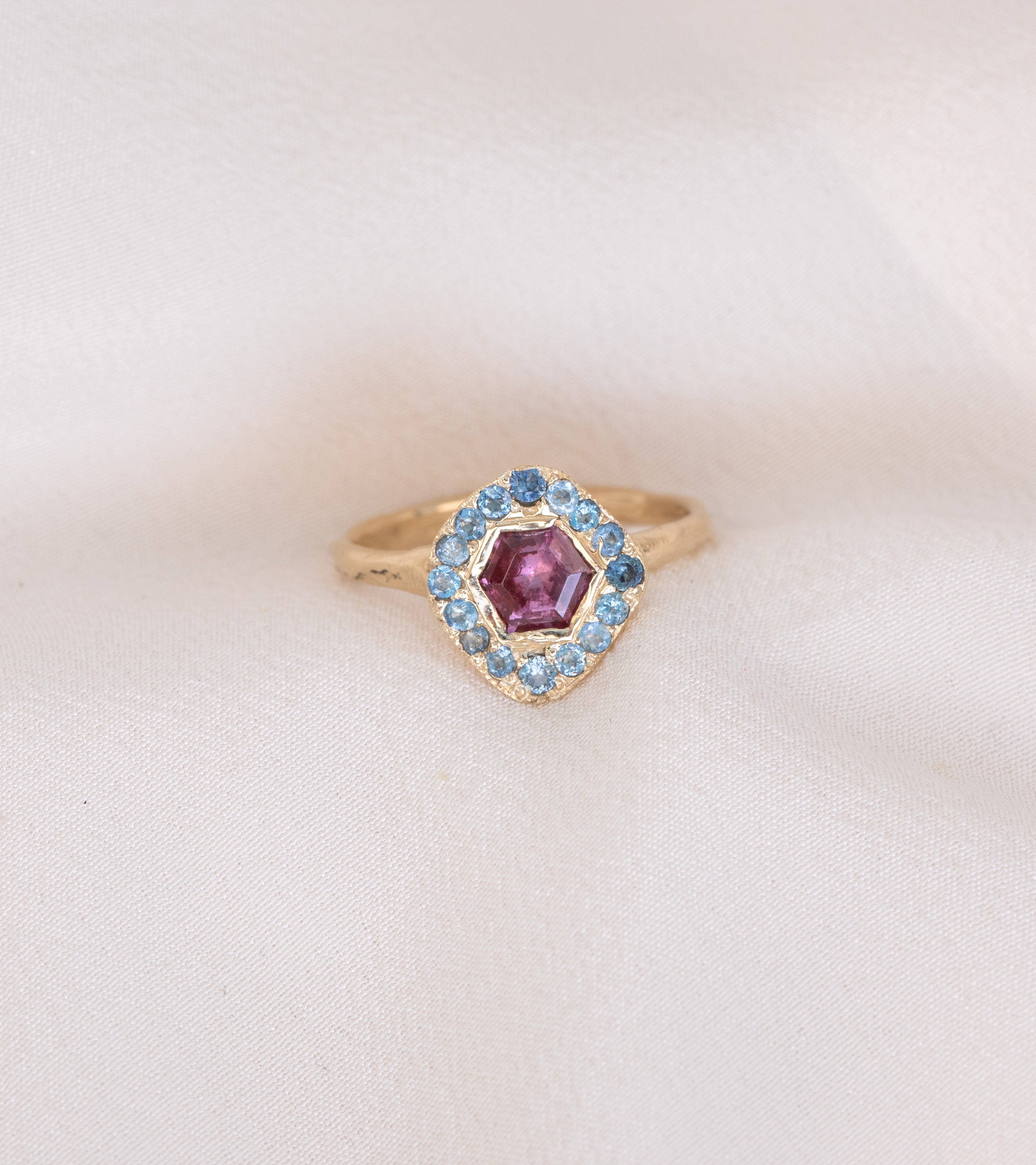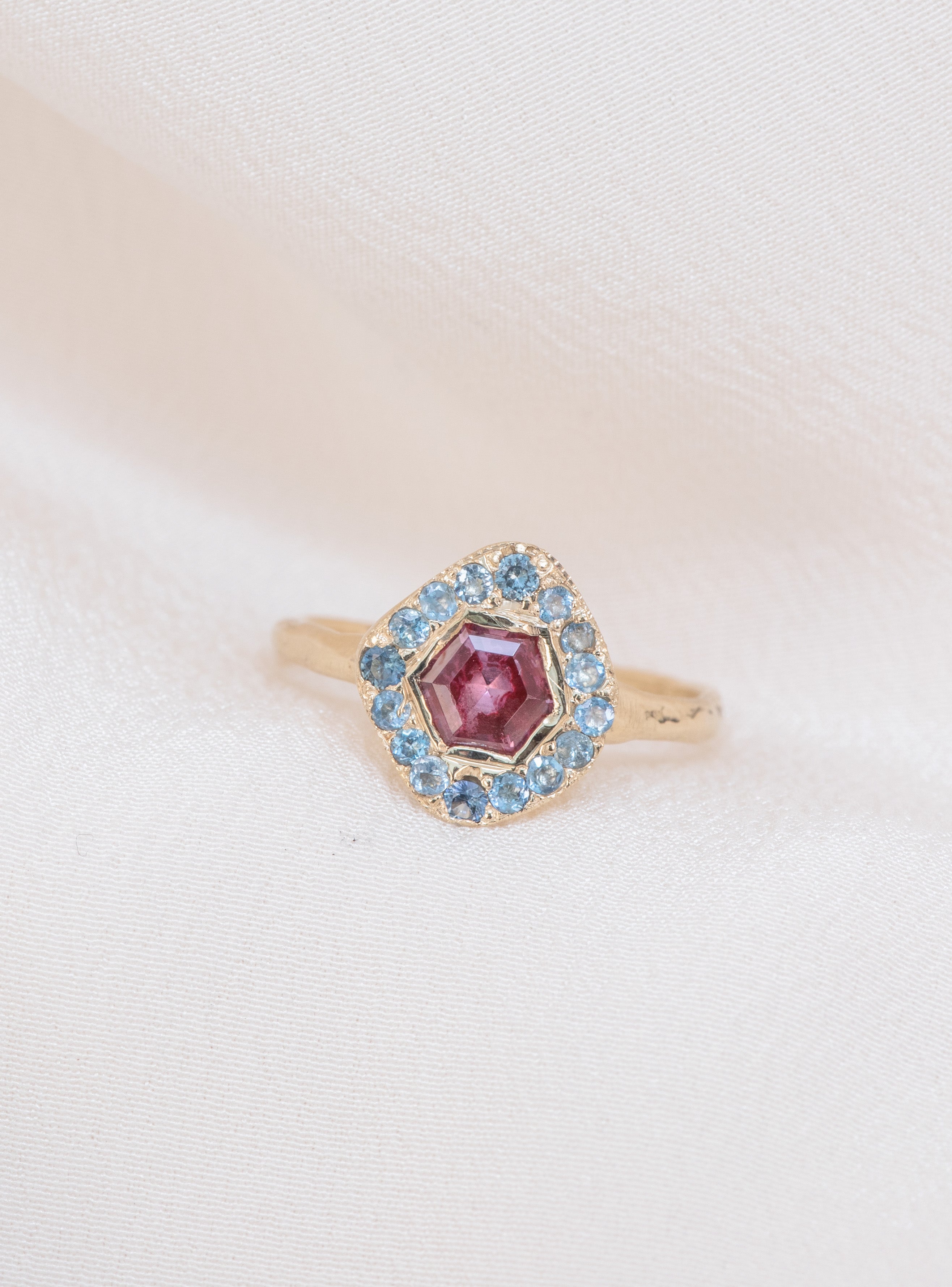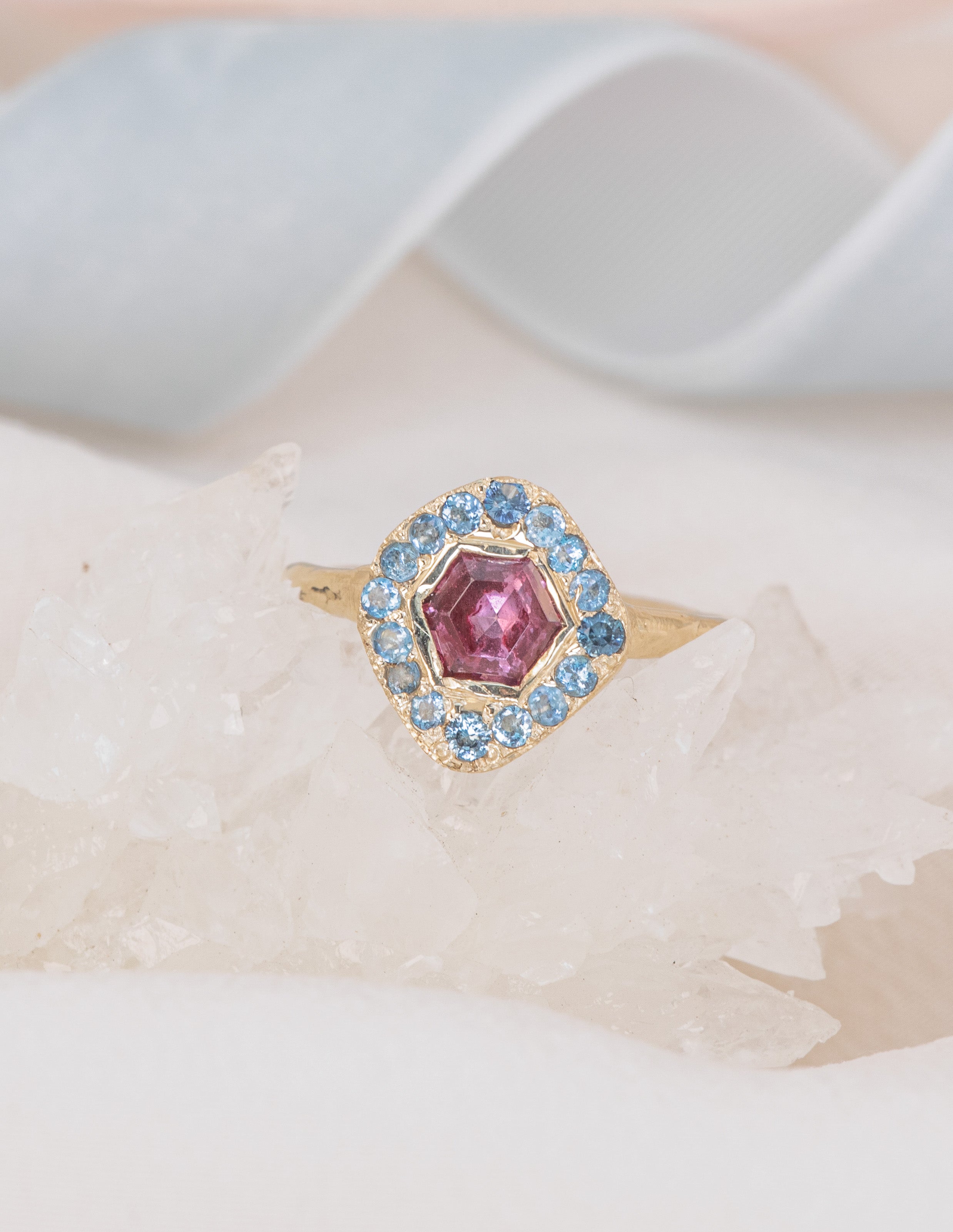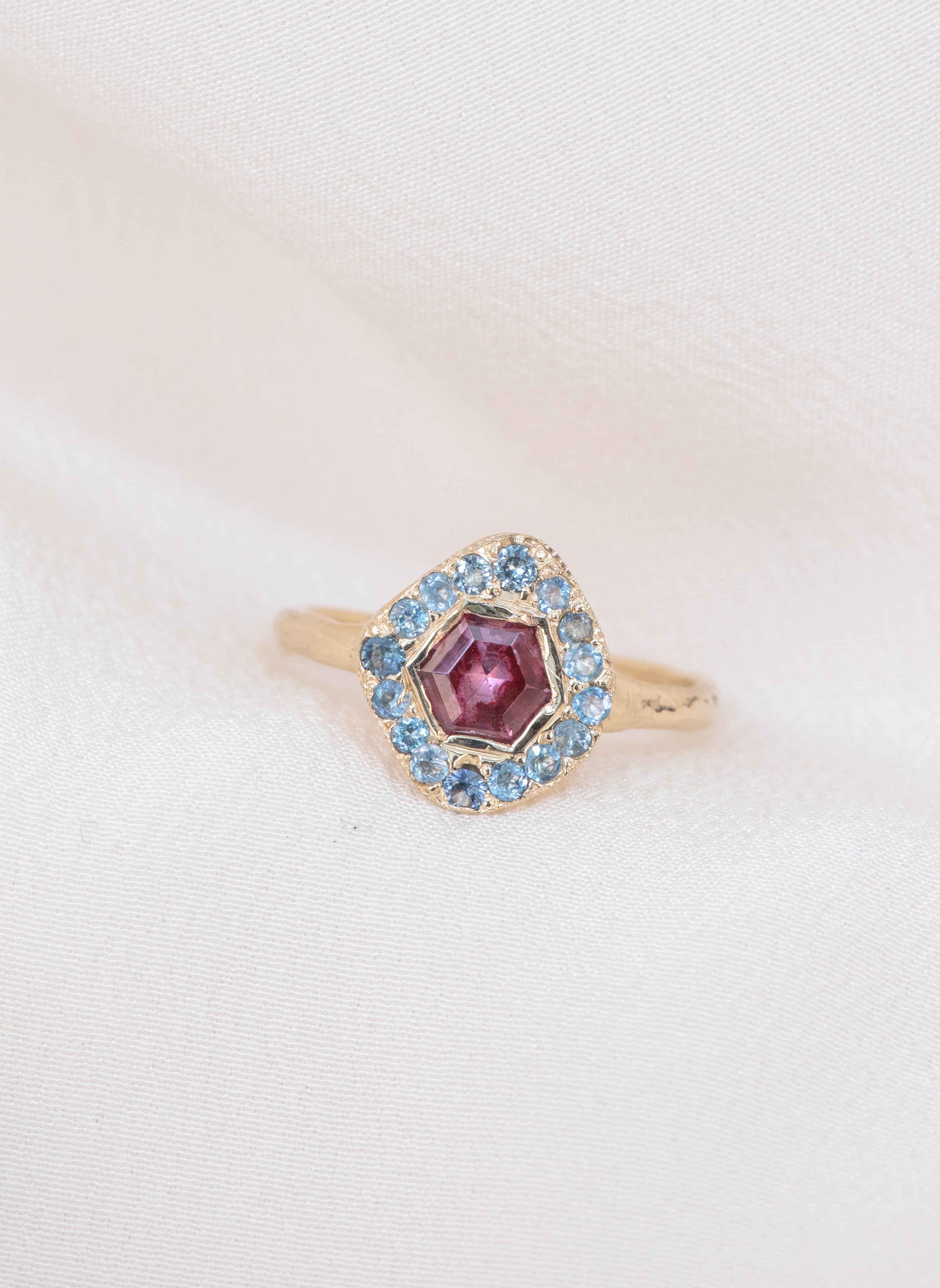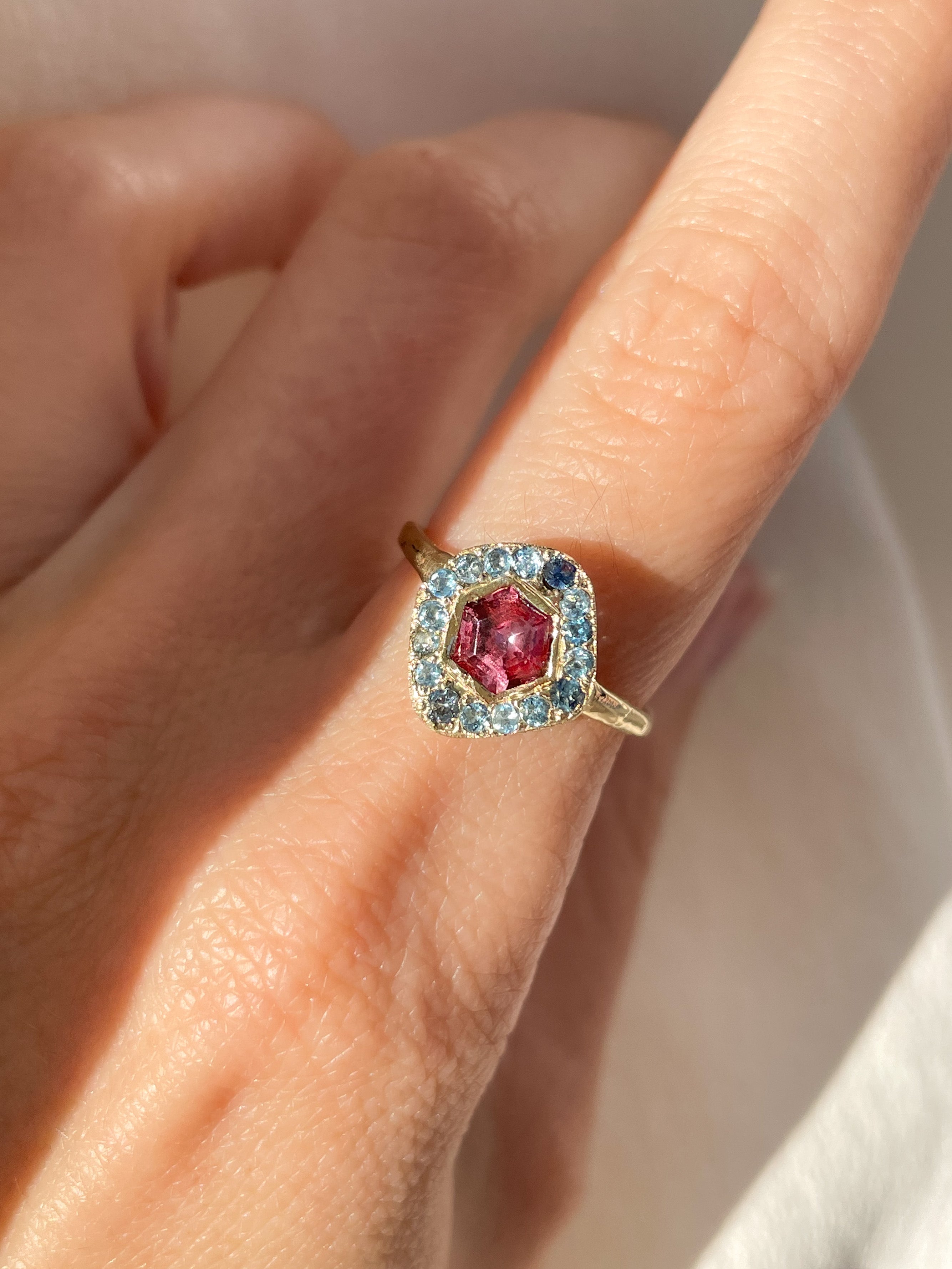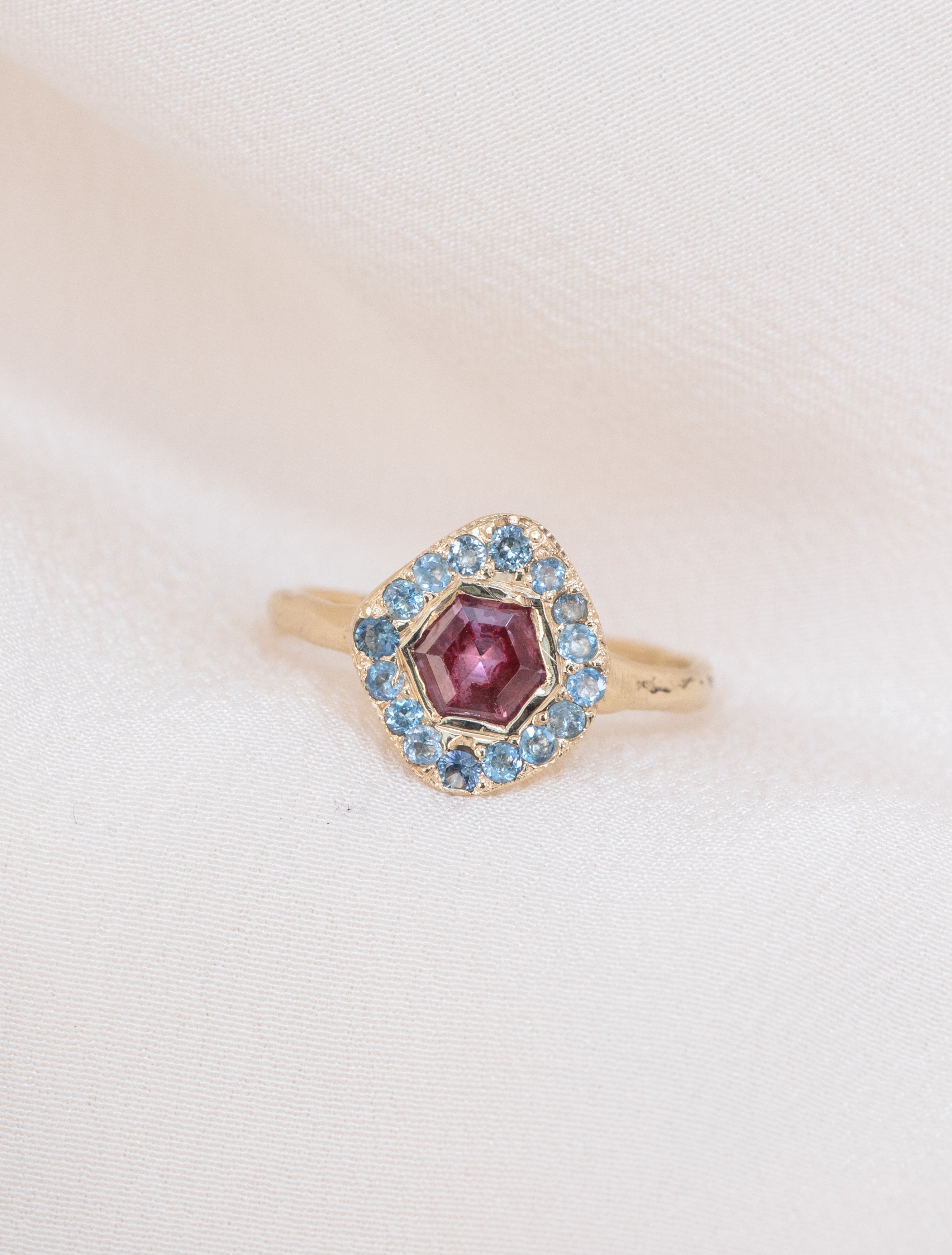 Spinel Solstice Halo Ring
Description
One of a kind 14k Yellow Gold Pink Hexagon Spinel, enraptured by a dreamy array of Aquamarine and Blue Sapphire halo.
💌 Please write desired size (between 4-8) in *Notes* section at checkout
Spinel is a stone encapsulating inspiration, revitalization and seeking hope in all situations. A refreshing boost of energy where you feel most depleted, it aids in combatting fatigue and supporting the body through processing trauma. Spinel brings hope and reminds you to have faith, to trust, and to see life as the gift that it is. It allows for new modalities of thinking, seeing outside the box and releases limiting thoughts of self. Spinel encourages you to take on new challenges in alignment with your heart and soul are begging you to step into, giving you a spark of energy to increase your persistence and enthusiasm to make it happen, allowing you to see beyond the limitations you've subconsciously structured around yourself, and believe a new level of accomplishment is possible. It aligns with spiritual purification and the manifestation of Heaven on Earth, grounding you into strength and reclaiming your power. An incredible stone for learning to let go and trust, its energy is naturally very soothing to an overactive mind. Encouraging you to seek the beauty and the abundance of life, Spinel connects your heart with the heartbeat of the Earth, allowing gratitude to become your mantra.
Blue Sapphires are stones for the seeker searching for deep spiritual truths, imparting serenity and peace of mind, providing harmony, love and the purification of the auric field. It encourages you to stay devoted on your spiritual path, and is often used during shamanic ceremonies to transmute dense, heavy or negative energies into lighter vibrations which will benefit and align with you. Awakening your ability to communicate openly, it facilitates an honest expression of self, providing the clarity and courage to speak your truth. Aligned with the planet Saturn, the archetype which brings meaning and purpose to our lives, it further develops your intuition, providing a protective shield and lending deep wisdom while providing calm to the mind. Long cherished as a stone of royalty, it activates psychic awareness, enhances insight and provides mental discipline and focus to manifest any goal you've set your sights upon. It awakens the throat and third-eye chakras, providing you the ability to communicate your dreams in a powerful way. Connecting you with higher planes, it is an ideal stone for those wanting to ascend spiritually. Awakening psychic visions and stimulating your sense of inner knowing, it brings healing and alignment to the mind, bearing the strength to overcome negative thoughts. Encouraging astral travel, lucid-dreaming and accessing higher realms of consciousness throughout meditation, Blue Sapphire is all about learning, imparting wisdom, and remembering past lifetimes to recall the lessons they provided so you can be fully present to the karmic bonds, ancestral lineage and Soul's journey that led you into this life.
Aquamarine embodies the Divine Feminine energy which fills our oceans, its Latin name translating to water of the sea. It is calming and opens the platform for a truthful, cool, and calm way of communicating, and is empowering to those who are more sensitive and empathic. Aquamarine is a comforting stone, as it implores you to use your voice with confidence, while releasing stress or fear to create positive changes in your life and let go of what no longer belongs to you. According to ancient lore, Aquamarine was believed to be the treasure of the mermaids, and was used by sailors for good luck, fearlessness and protection. Aquamarine lends you feelings of courage during times that require you to challenge yourself from shying away from your dreams, assisting you to channel your inner Goddess to understand yourself on a deeper level and relate to those around you more intuitively.
Production Info
*Please note: all pieces are made by my hands to order with up to a 3-4 week production time. If you have a rush-order, please email to discuss! For more information about Jewelry Care, Warranty and Returns, please see our FAQ page.
FAQ
DO YOU GIFT WRAP?
Each order comes gift wrapped, please ensure you fill out the "Gift" notes section upon checkout, as your item will be thoughtfully wrapped and personalized with recipients name, along with description cards of each piece and selected stones!
DO YOU CAST IN ROSE OR WHITE GOLD?
Any piece that is not a ready-made one of a kind is available to custom order in 14k White or 14k Rose Gold.
Please enter your preferred metal in the notes section upon checkout, or feel free to contact us before ordering!
PRODUCTION & SHIPPING
All Fine Jewelry items are handcrafted and made to order. All of our pieces require up to 3-4 weeks for turnaround production time, to allow for sizing, polishing, and making sure your jewelry is perfect! 
If you have a specific deadline you need to meet, please contact us to let us know. We may request that you pay for upgraded expedited shipping, and may not be able to accommodate all requests.
HOW DO I KNOW WHICH STONE IS FOR ME?
I always, always recommend as first priority to go with what you're drawn to. Oftentimes, your first instinct as led by your intuition will be spot on for what energy you're wanting to align with or needing in your life at this time - don't overthink it!
An easy way to clear your mind and become present with your current state of being:
Close your eyes and take a few slow, deep breaths.
Focus your attention on the ground beneath your feet, gradually relaxing into a naturally comfortable state. Picture your body within a bright, warm pyramid of white light as you exhale.
Release any impeding stresses that pop into mind, and ask your subconscious to come to the forefront.
See what you're drawn to aesthetically, then proceed by reading about each energy to determine which one feels right.