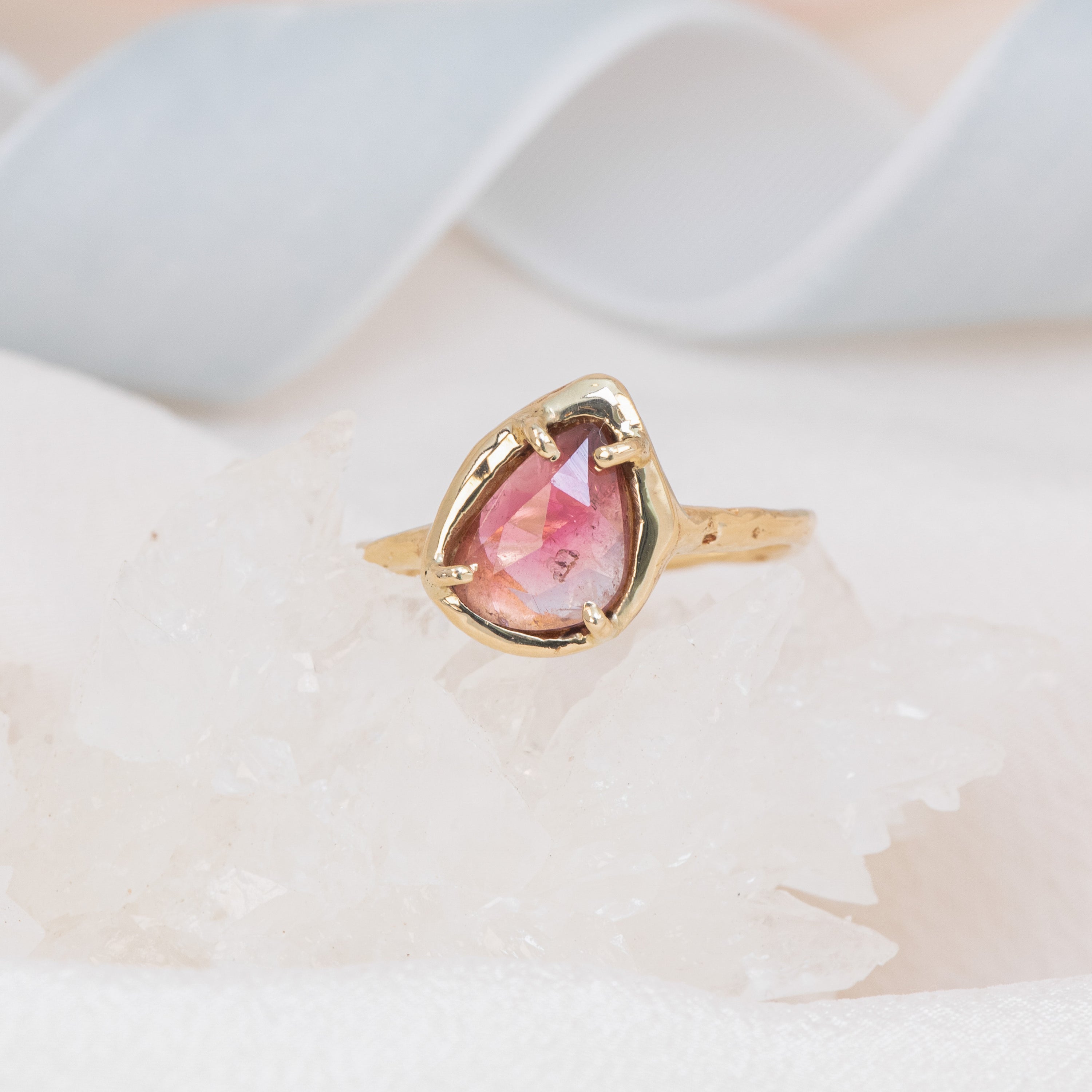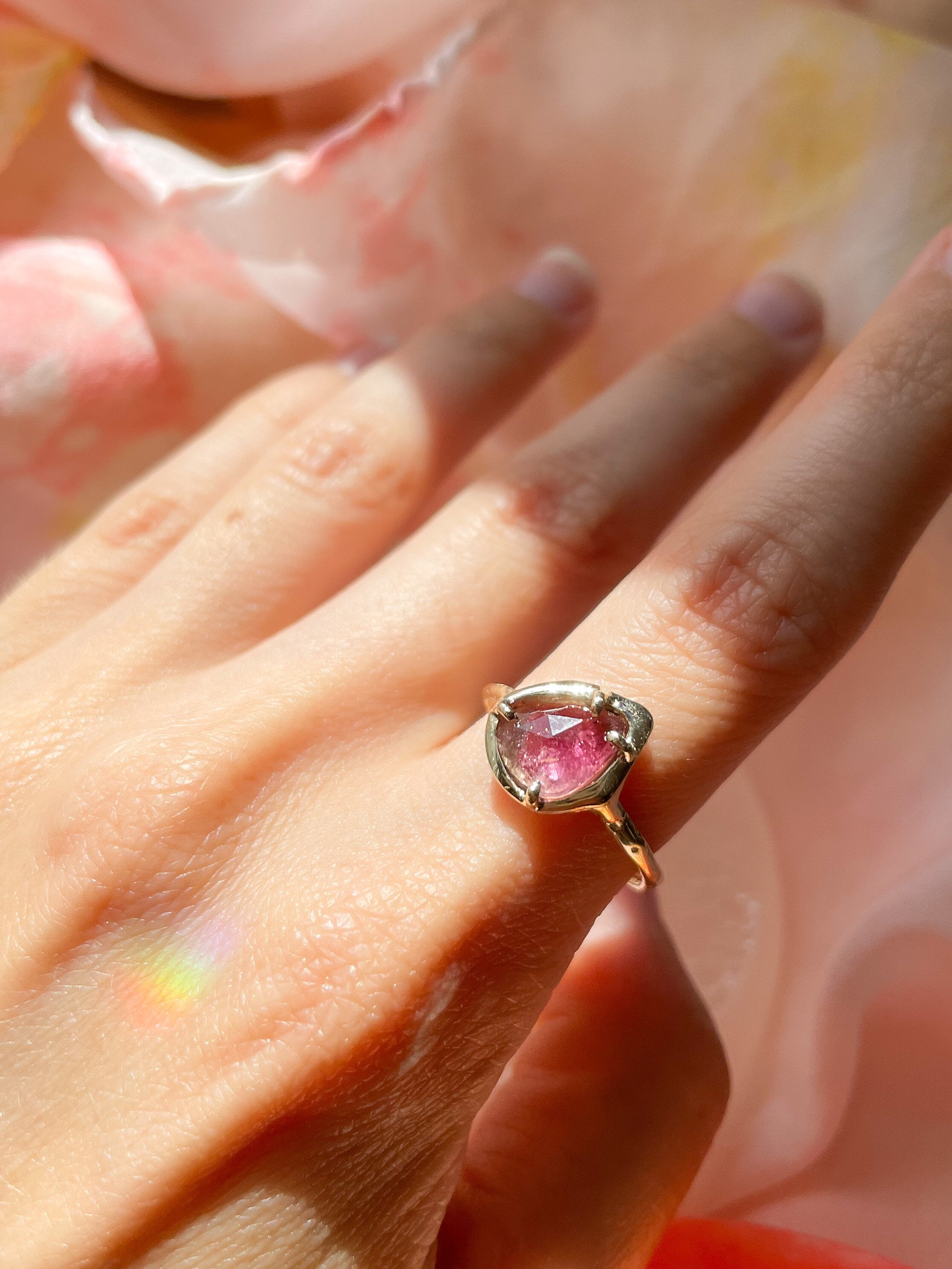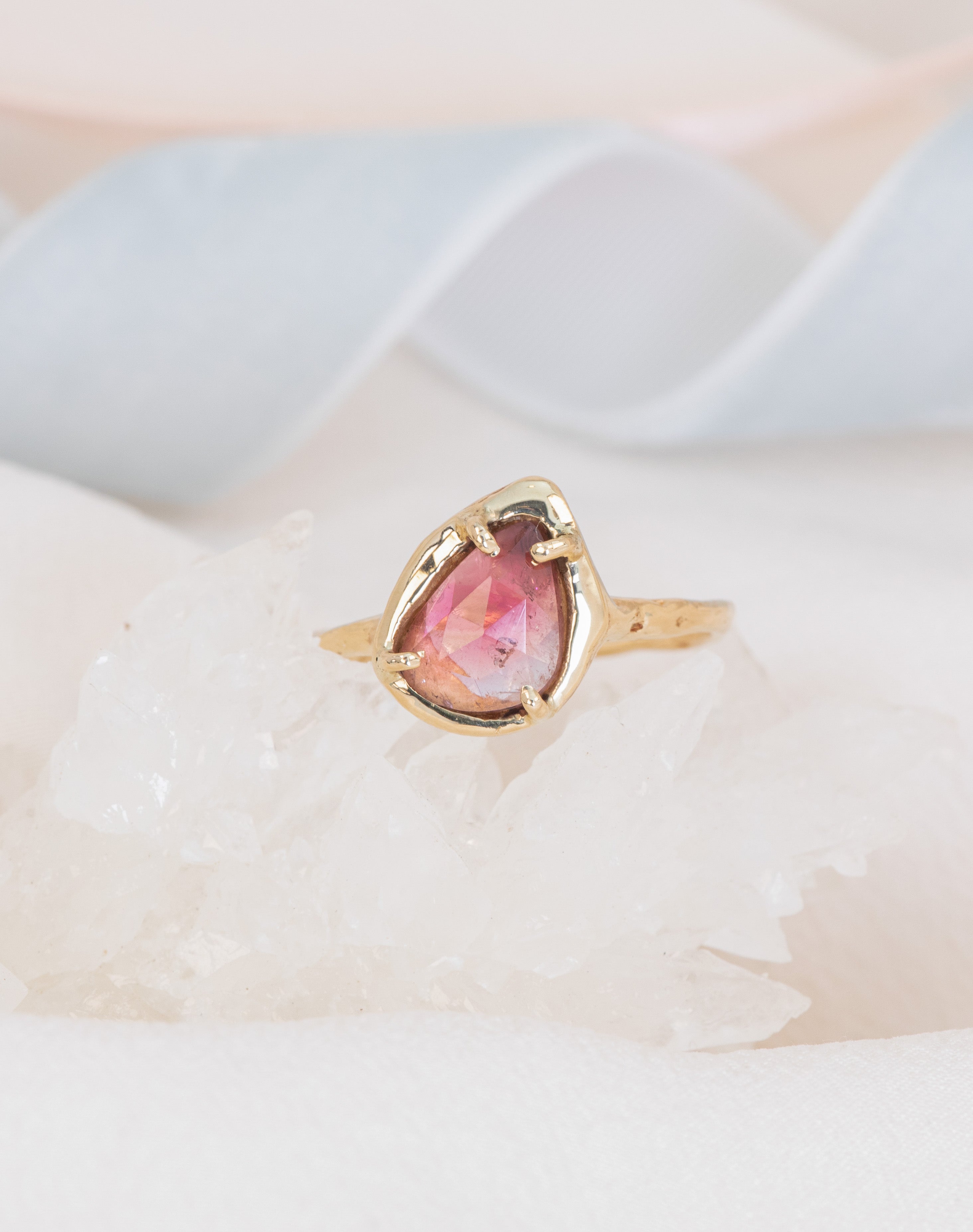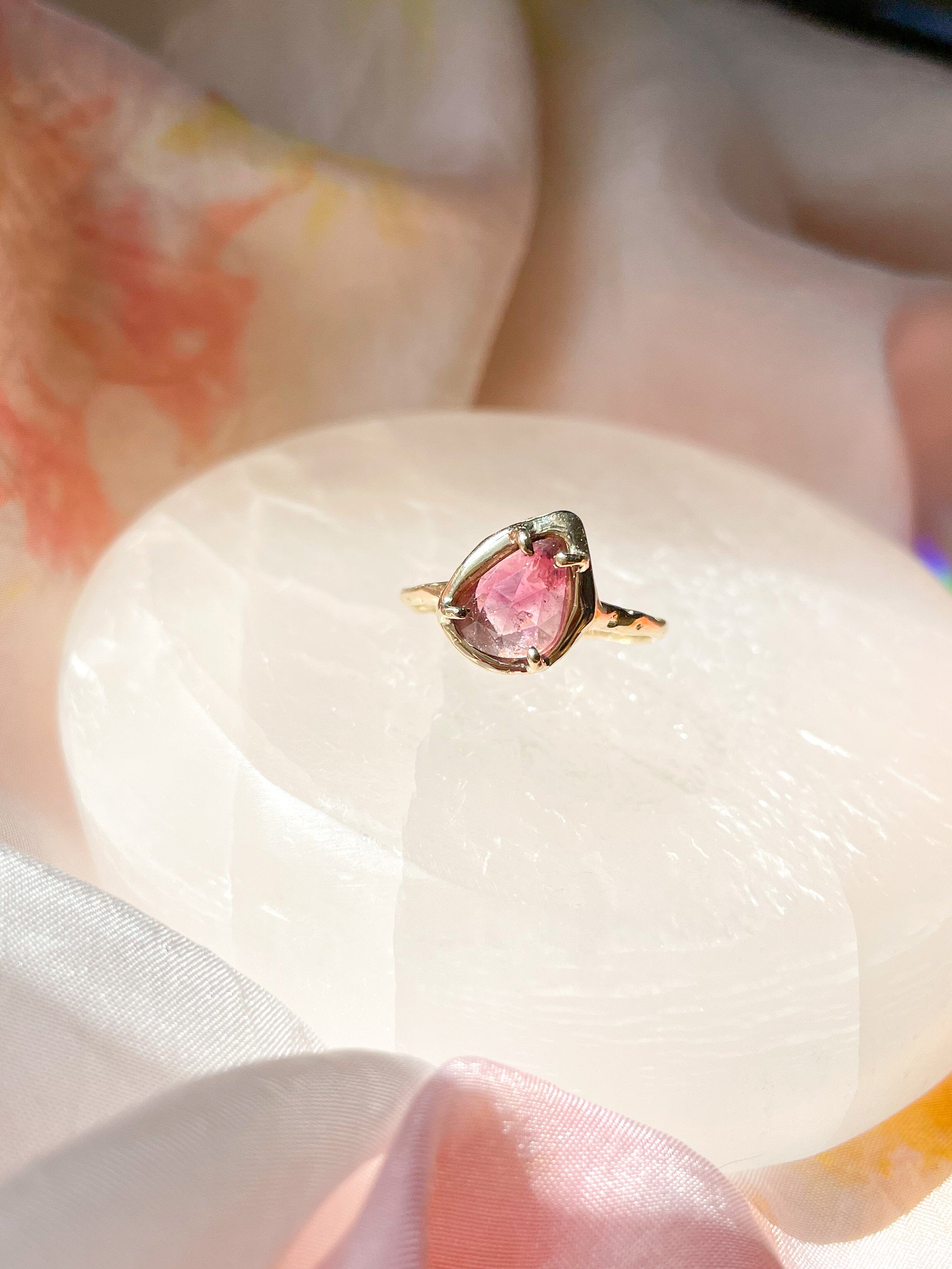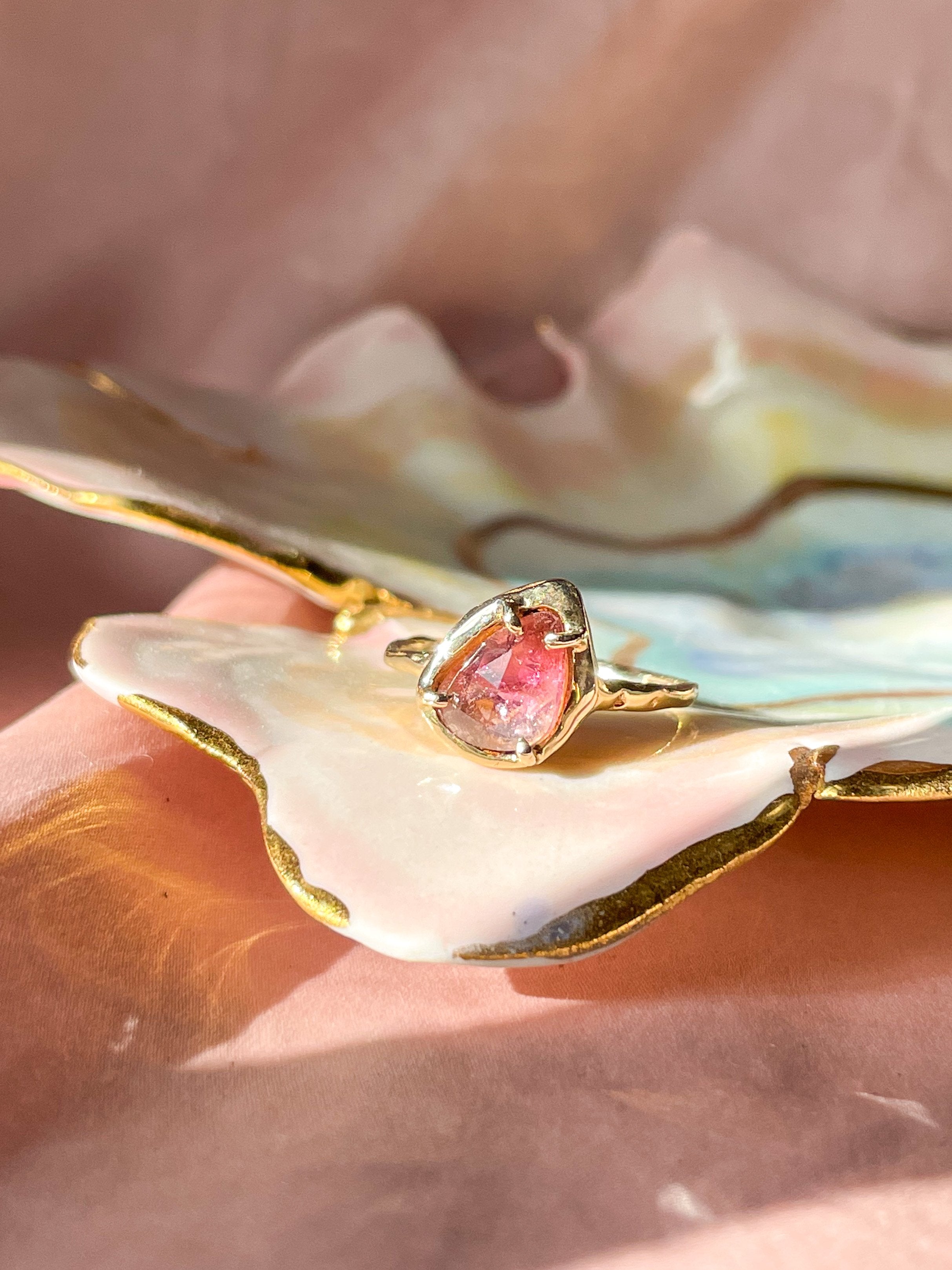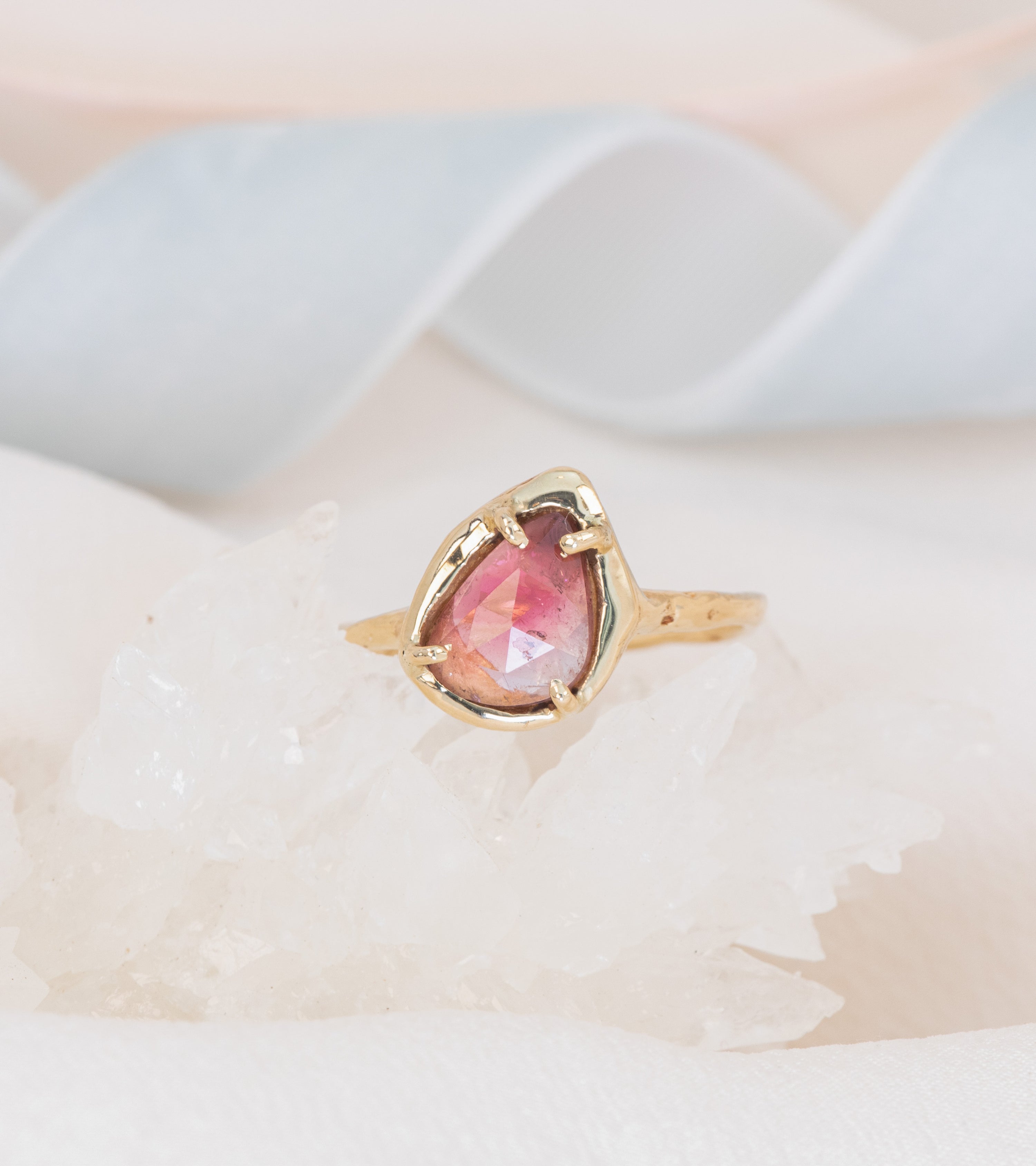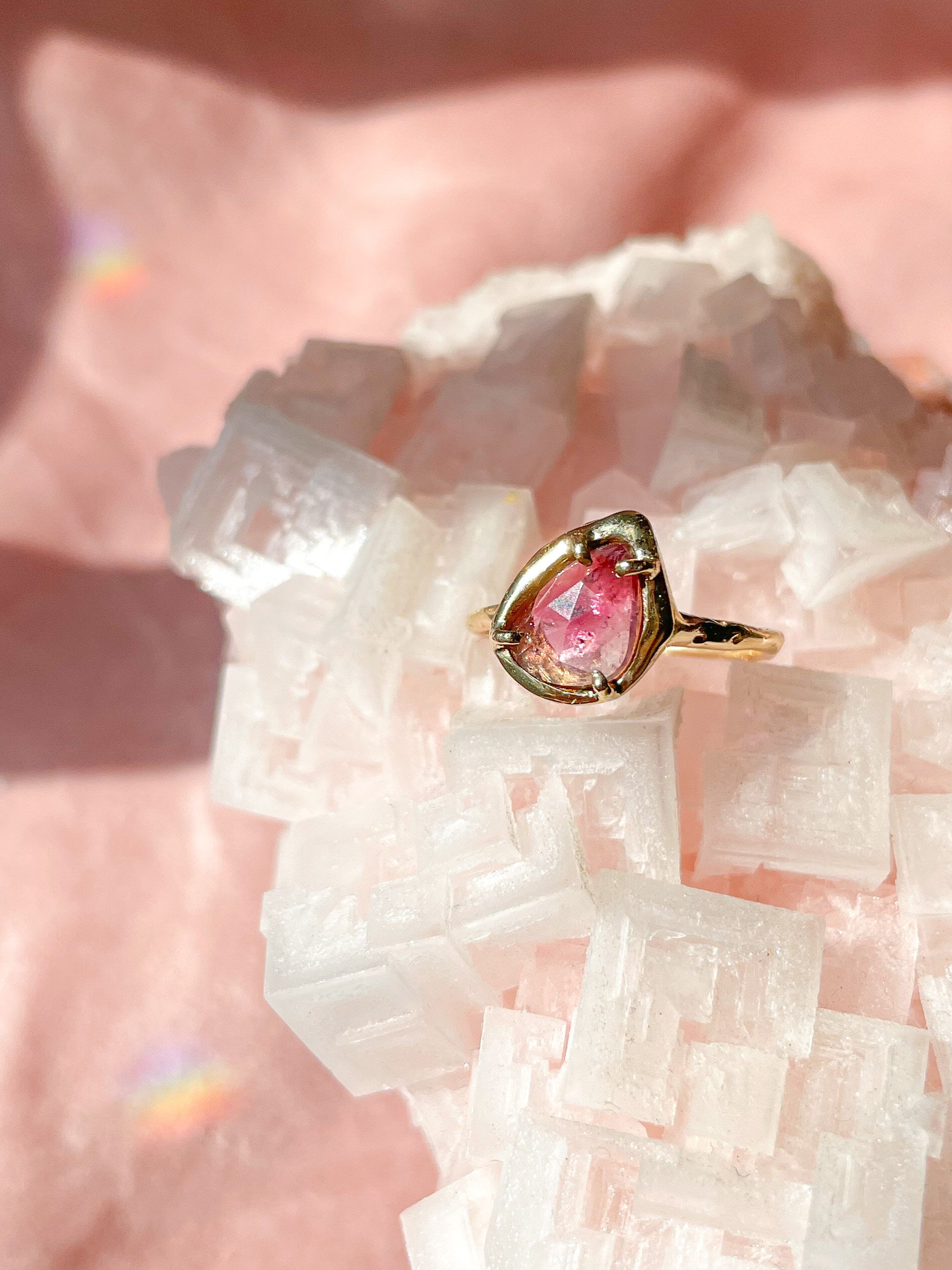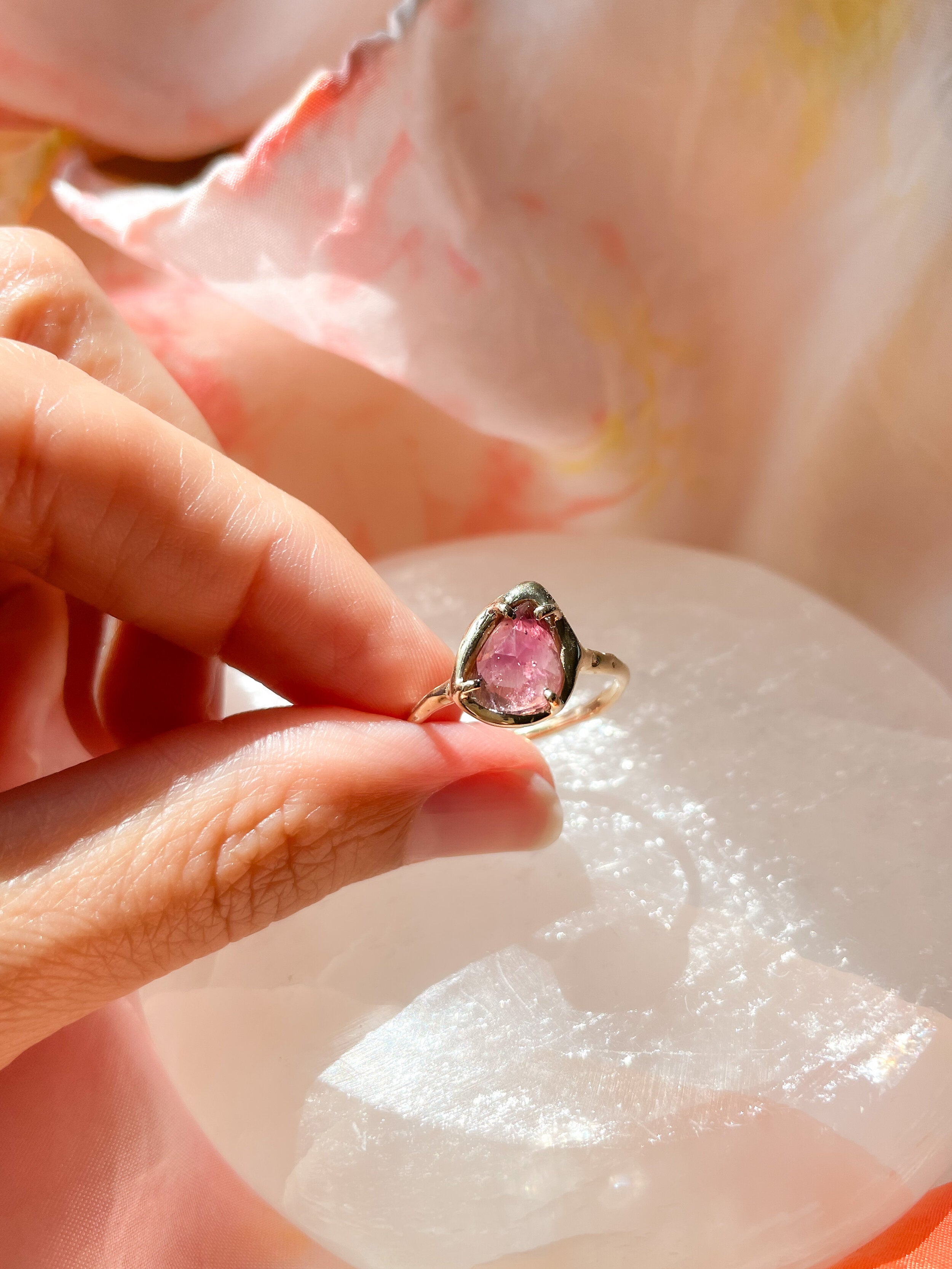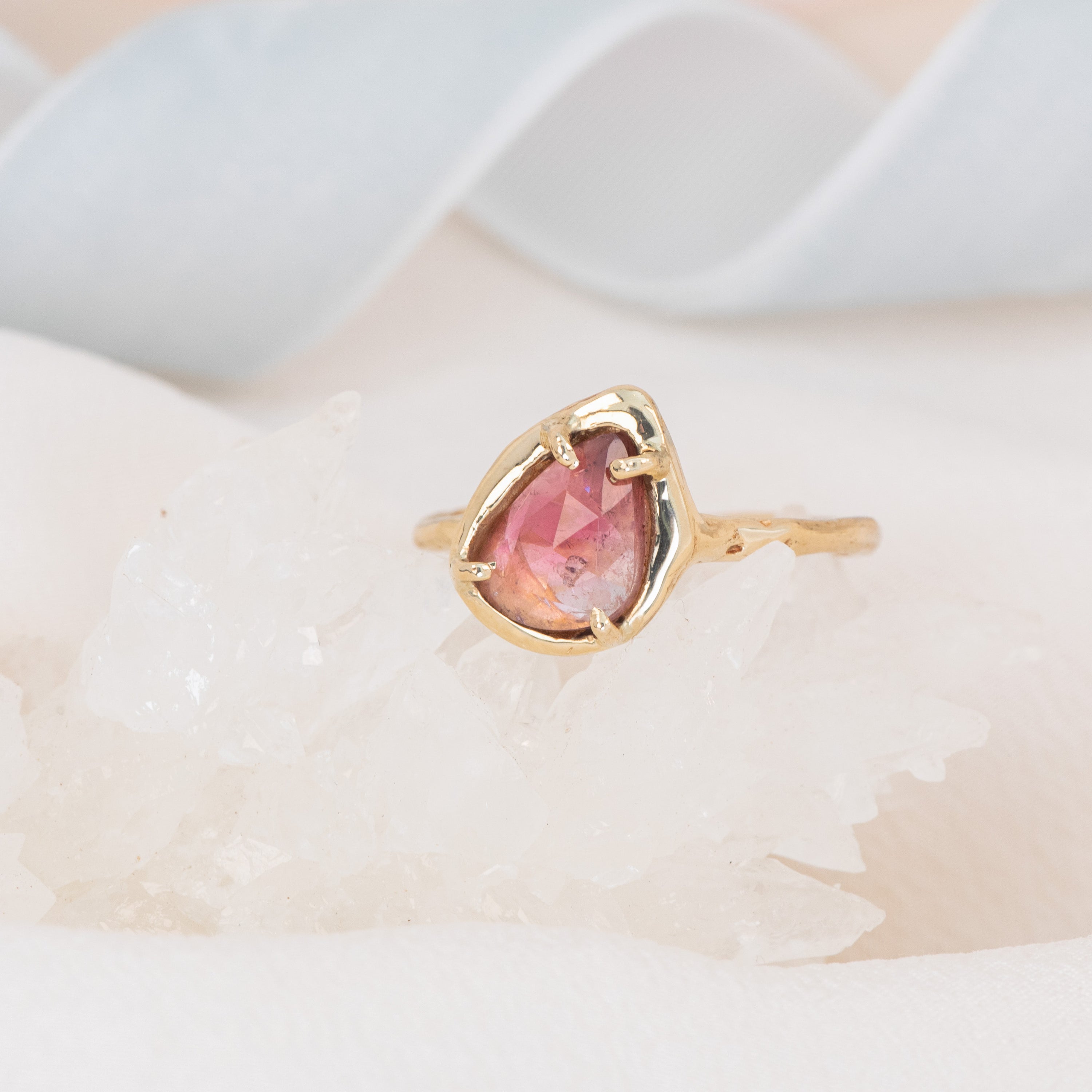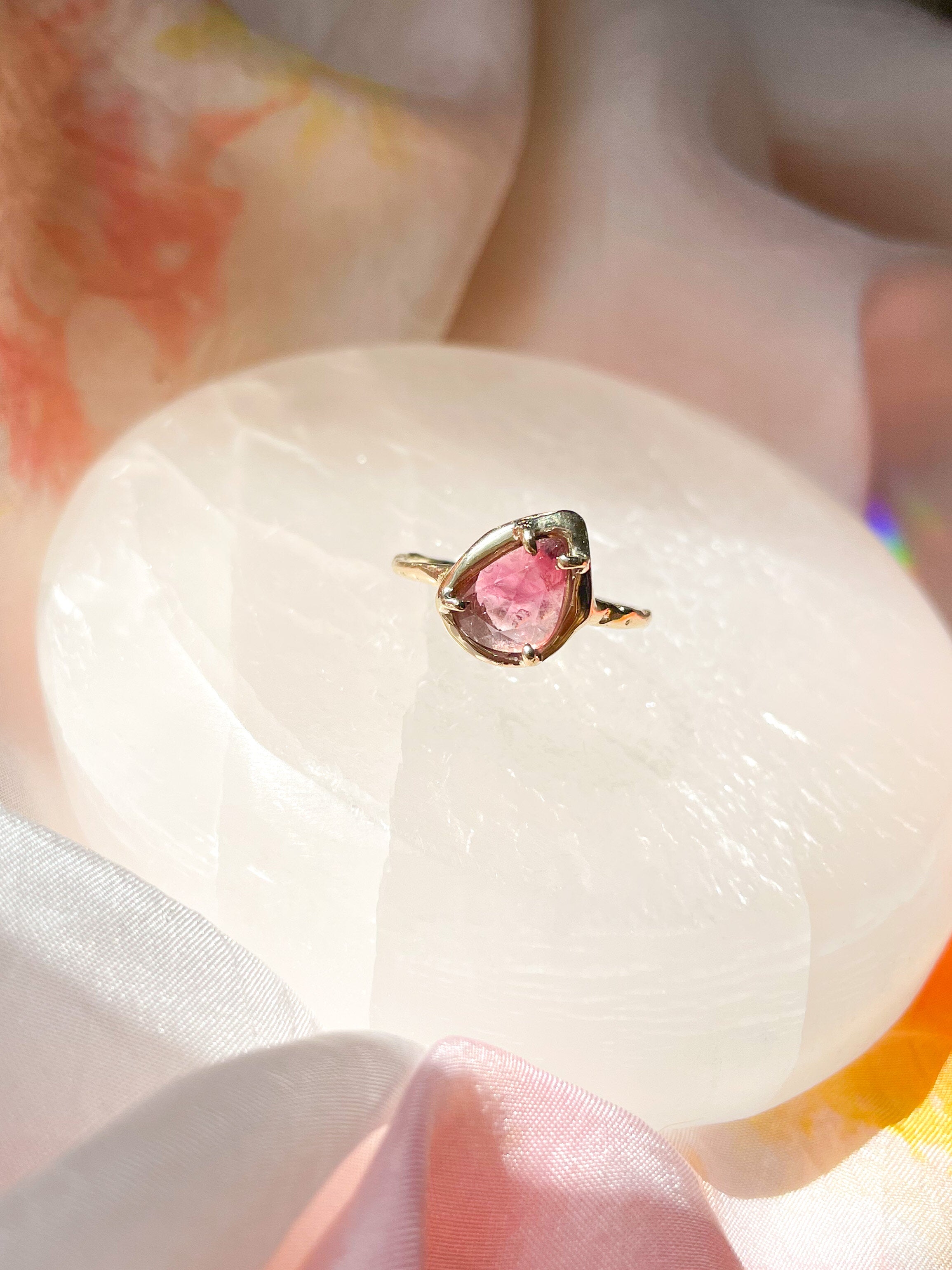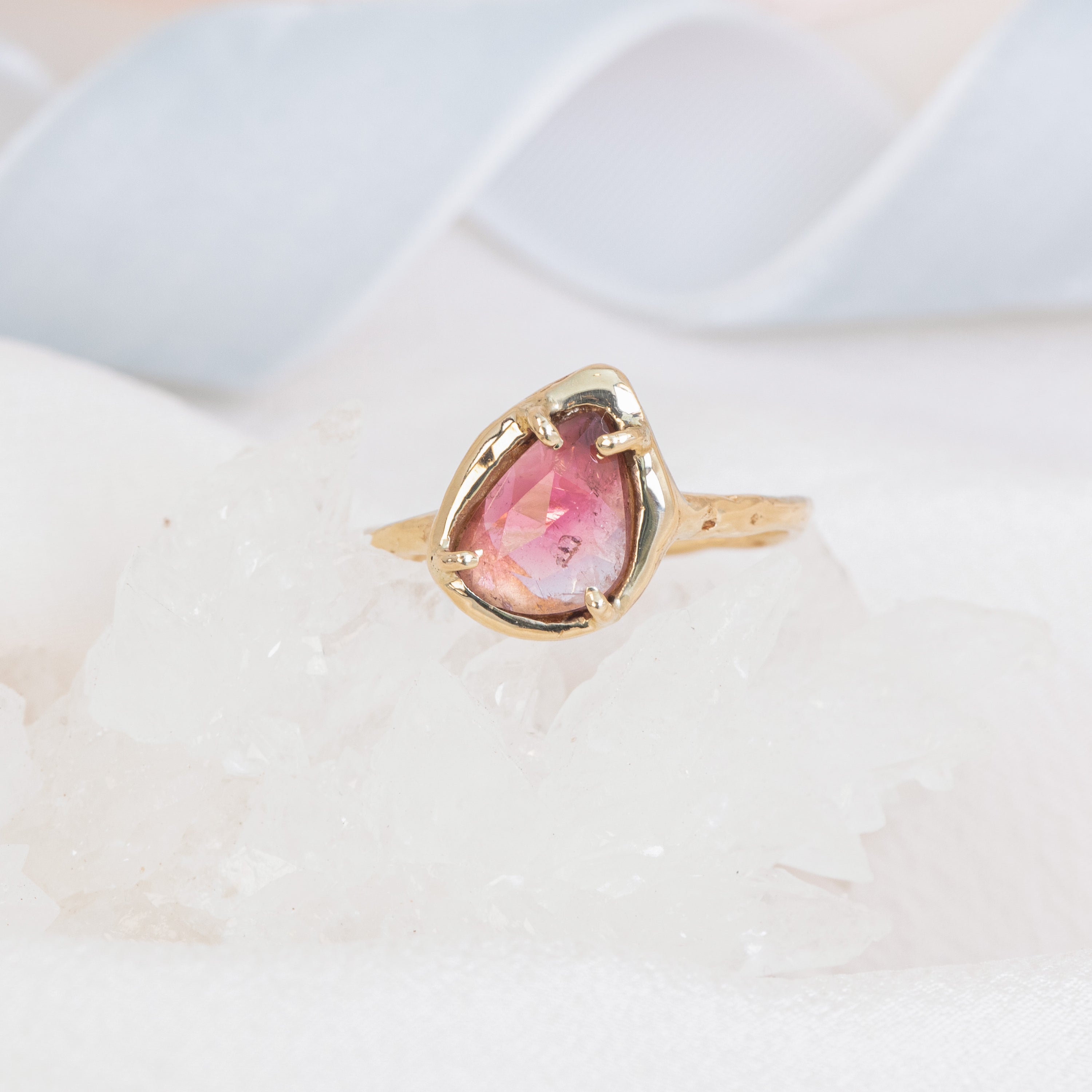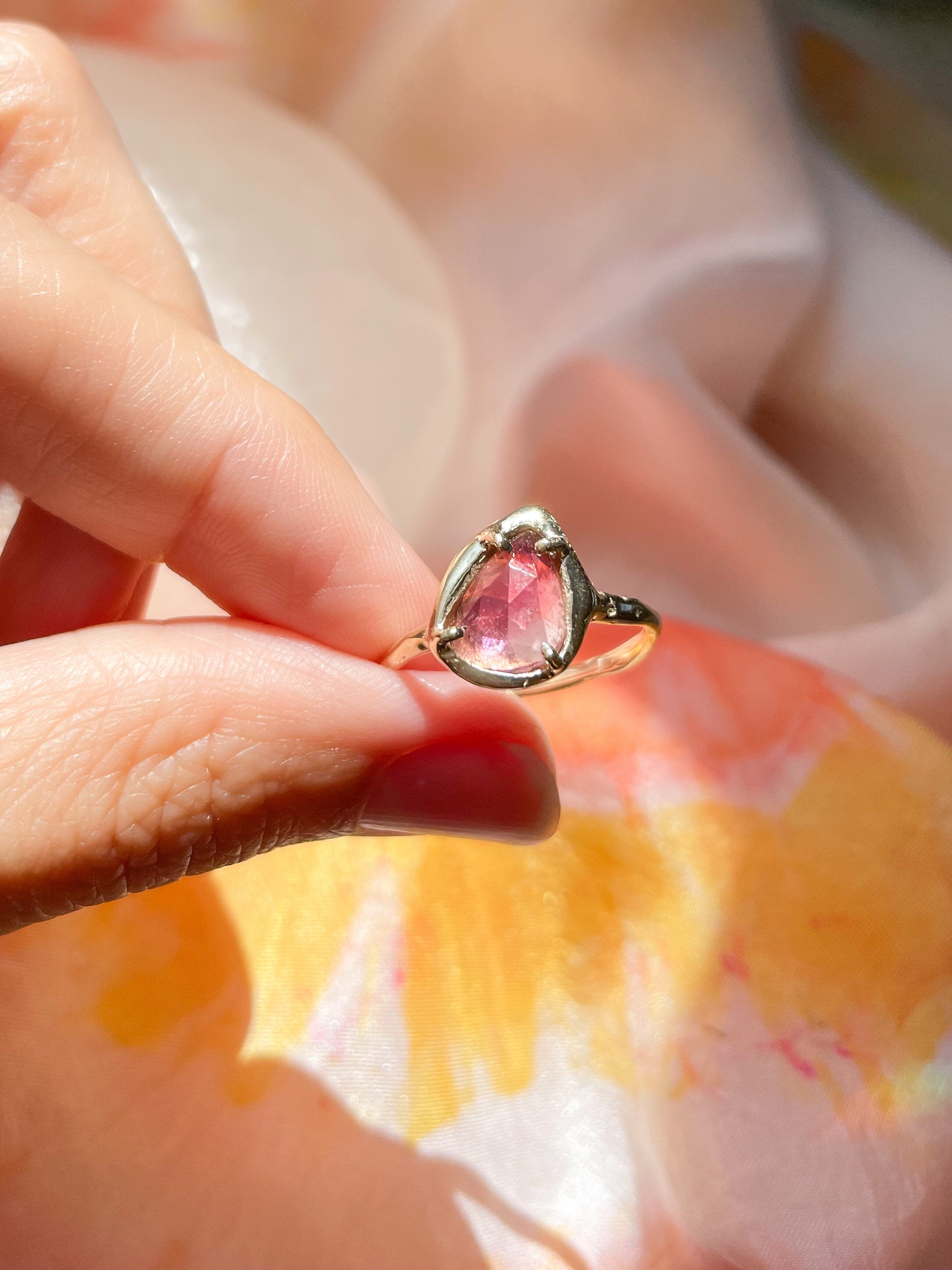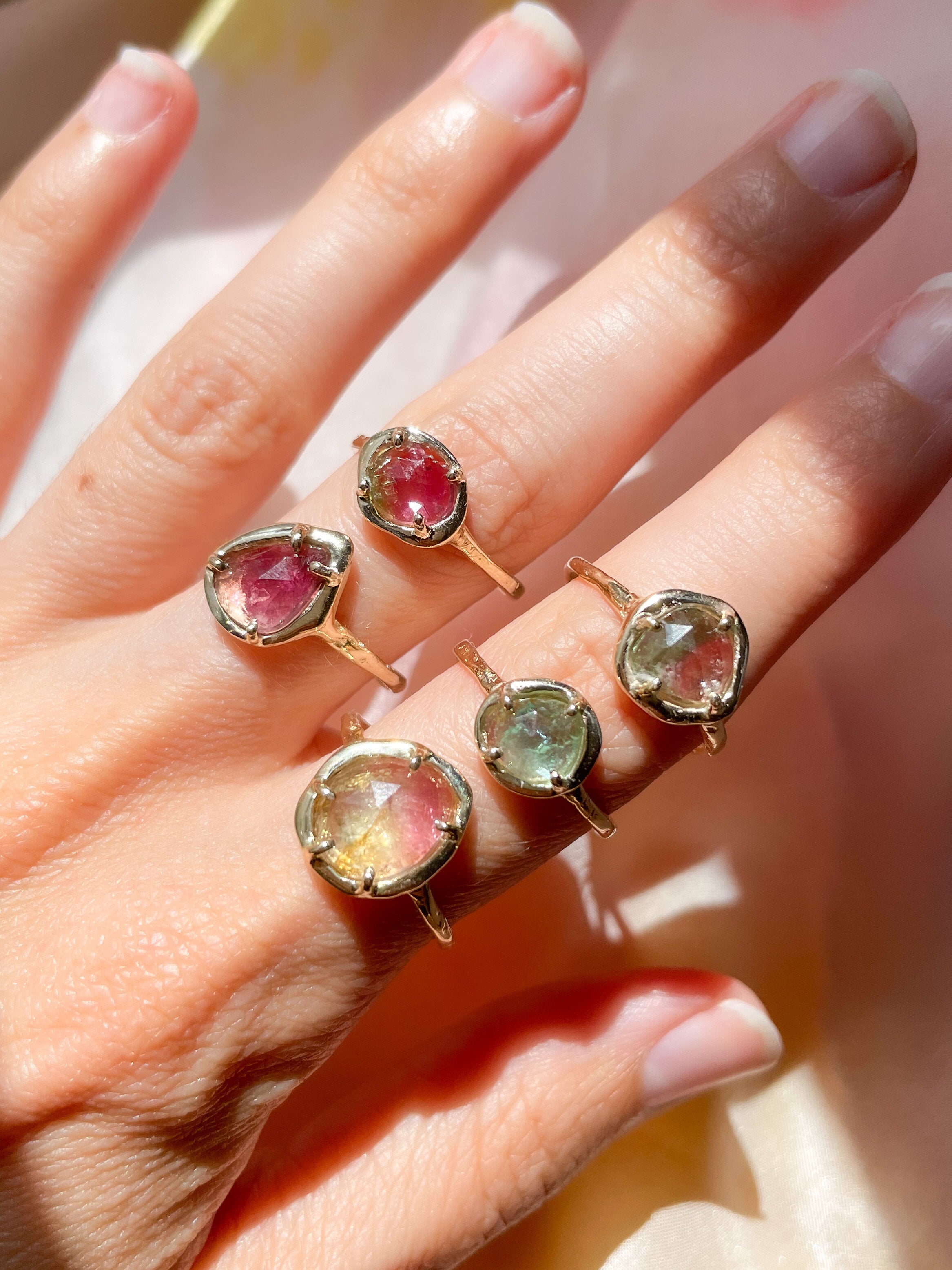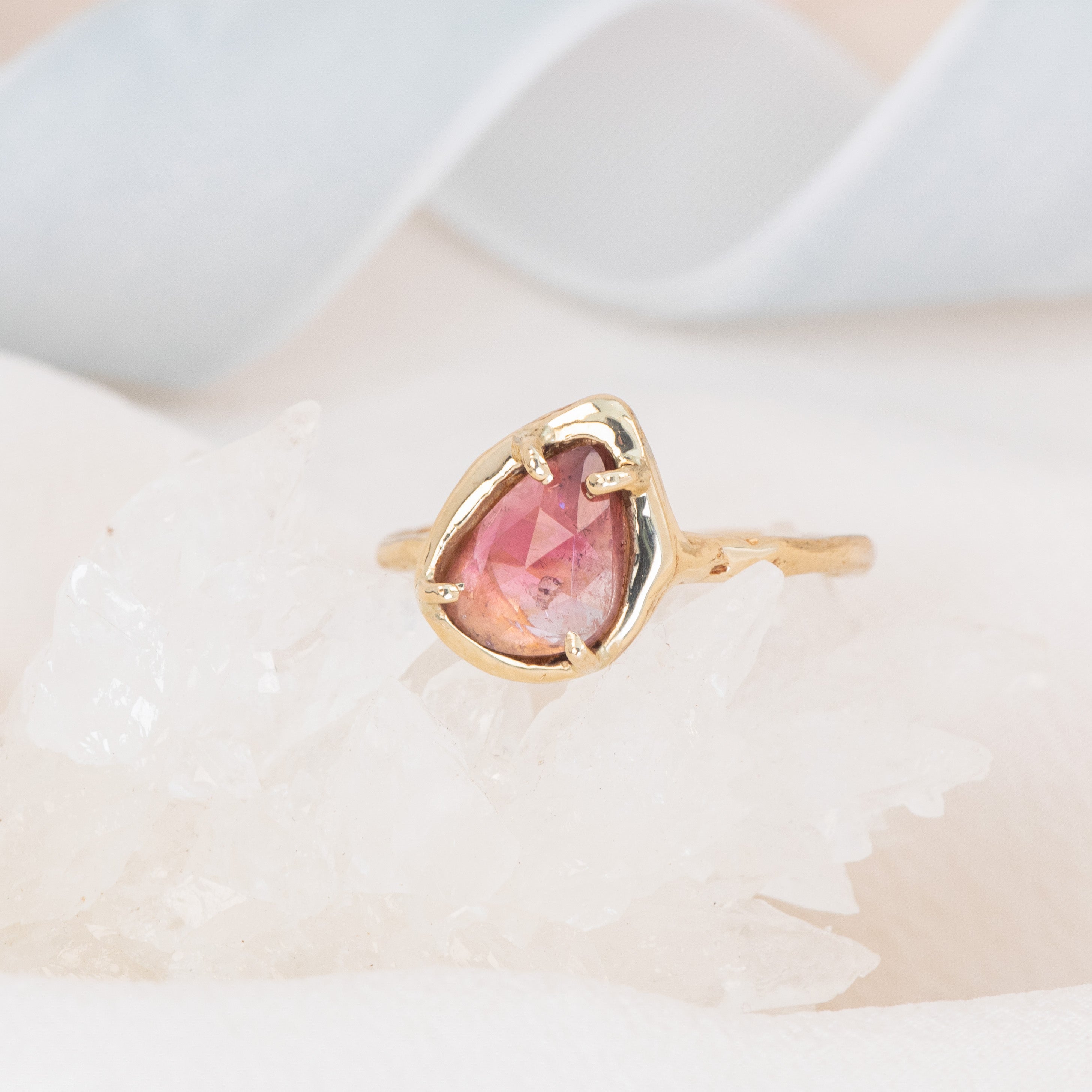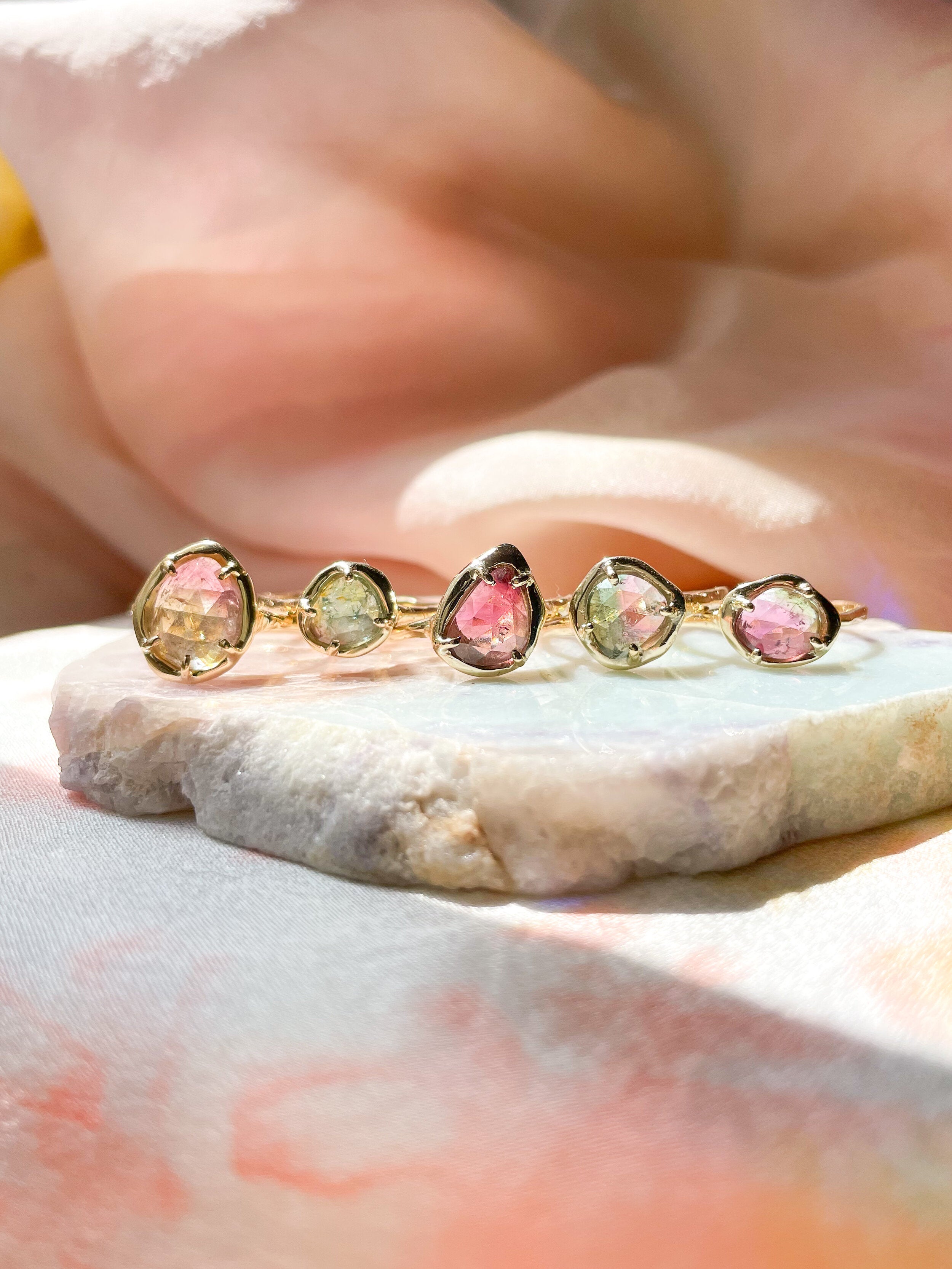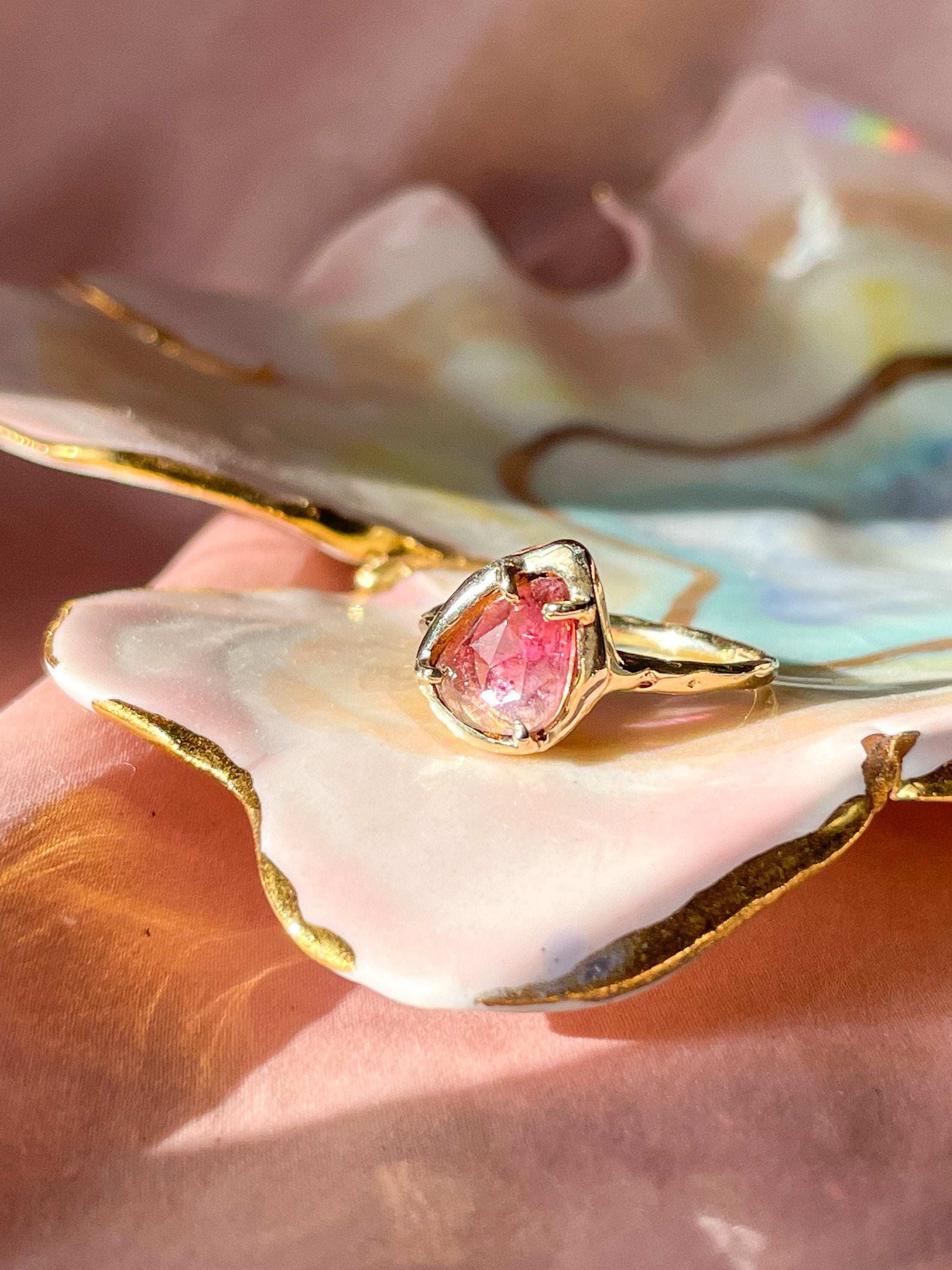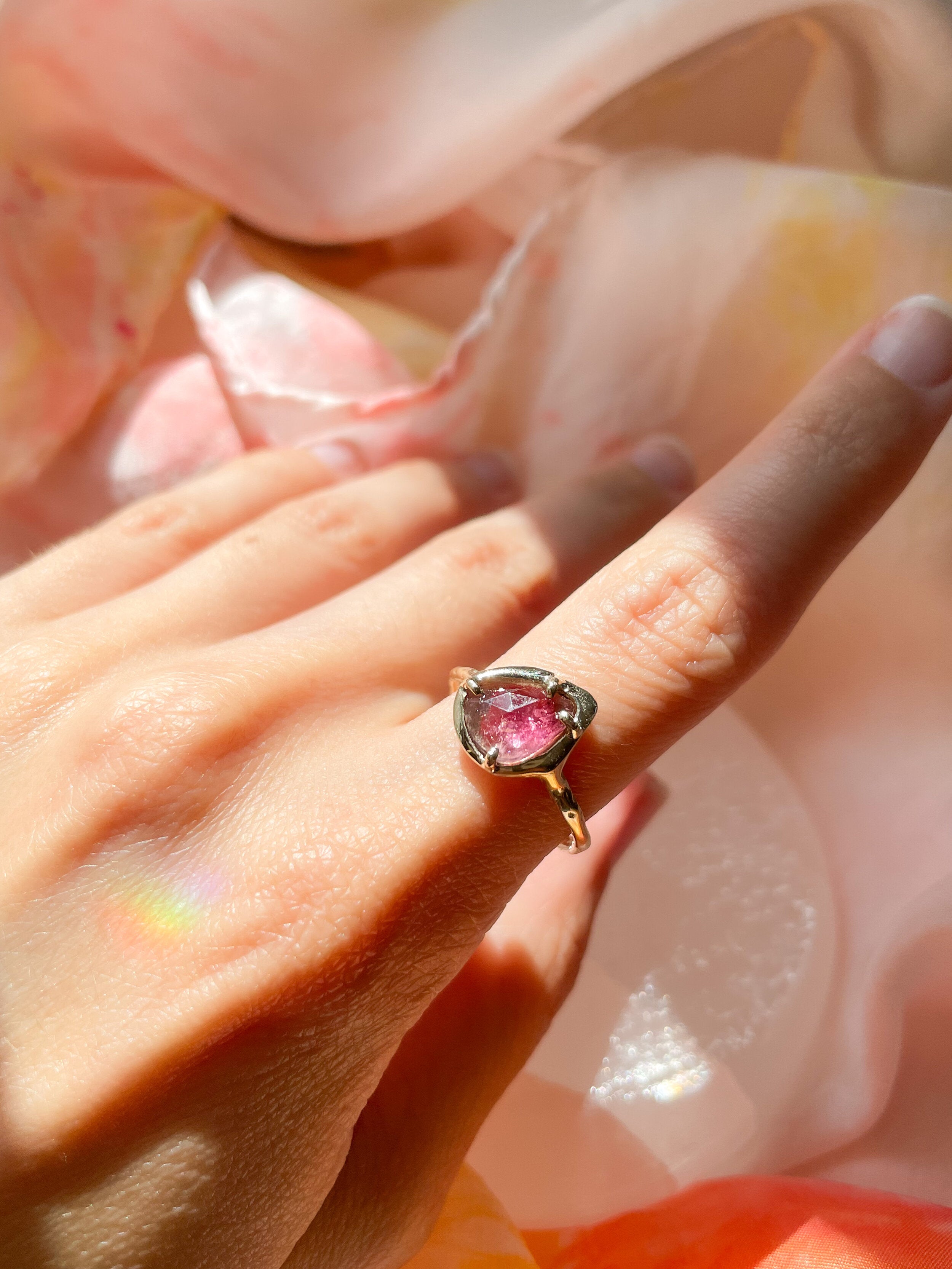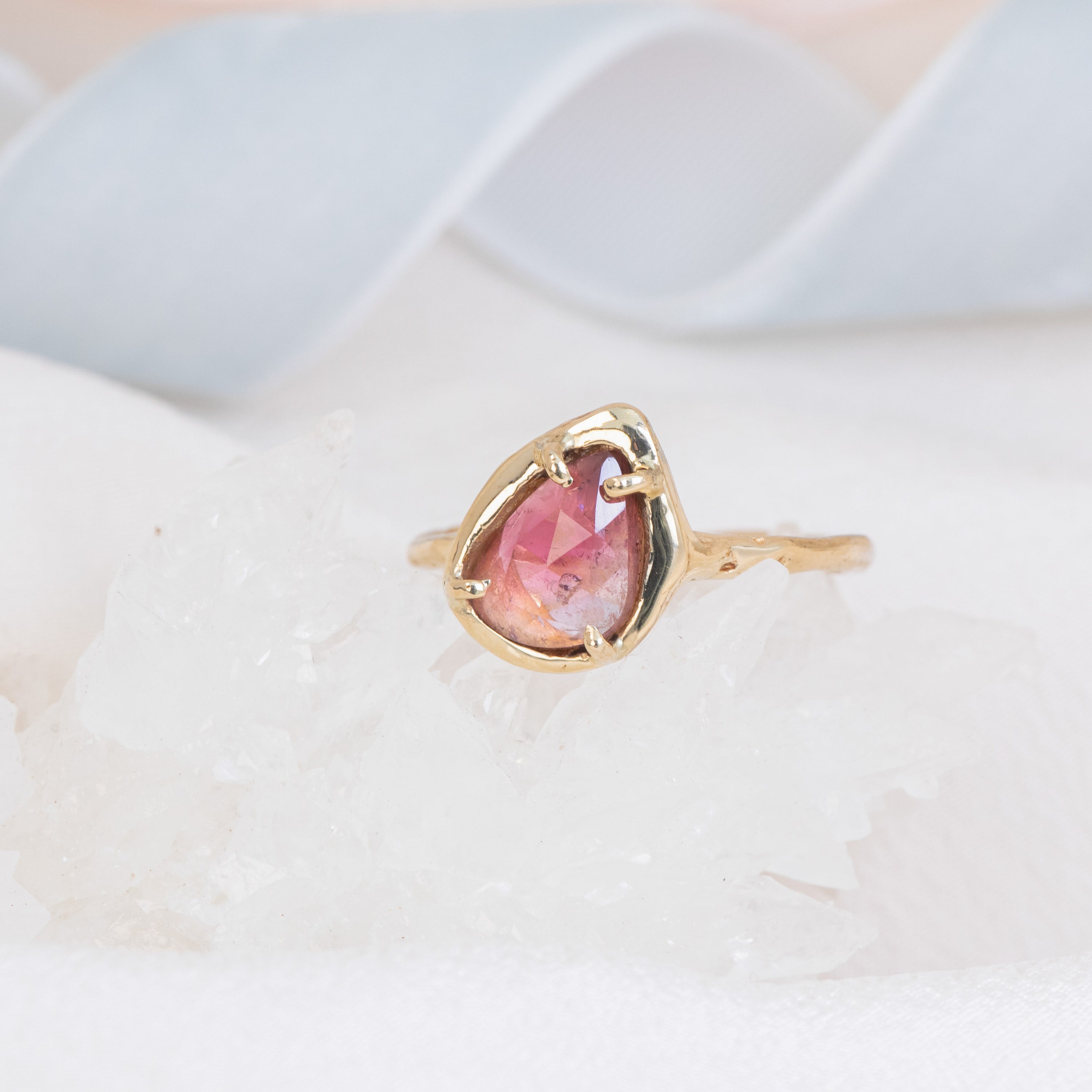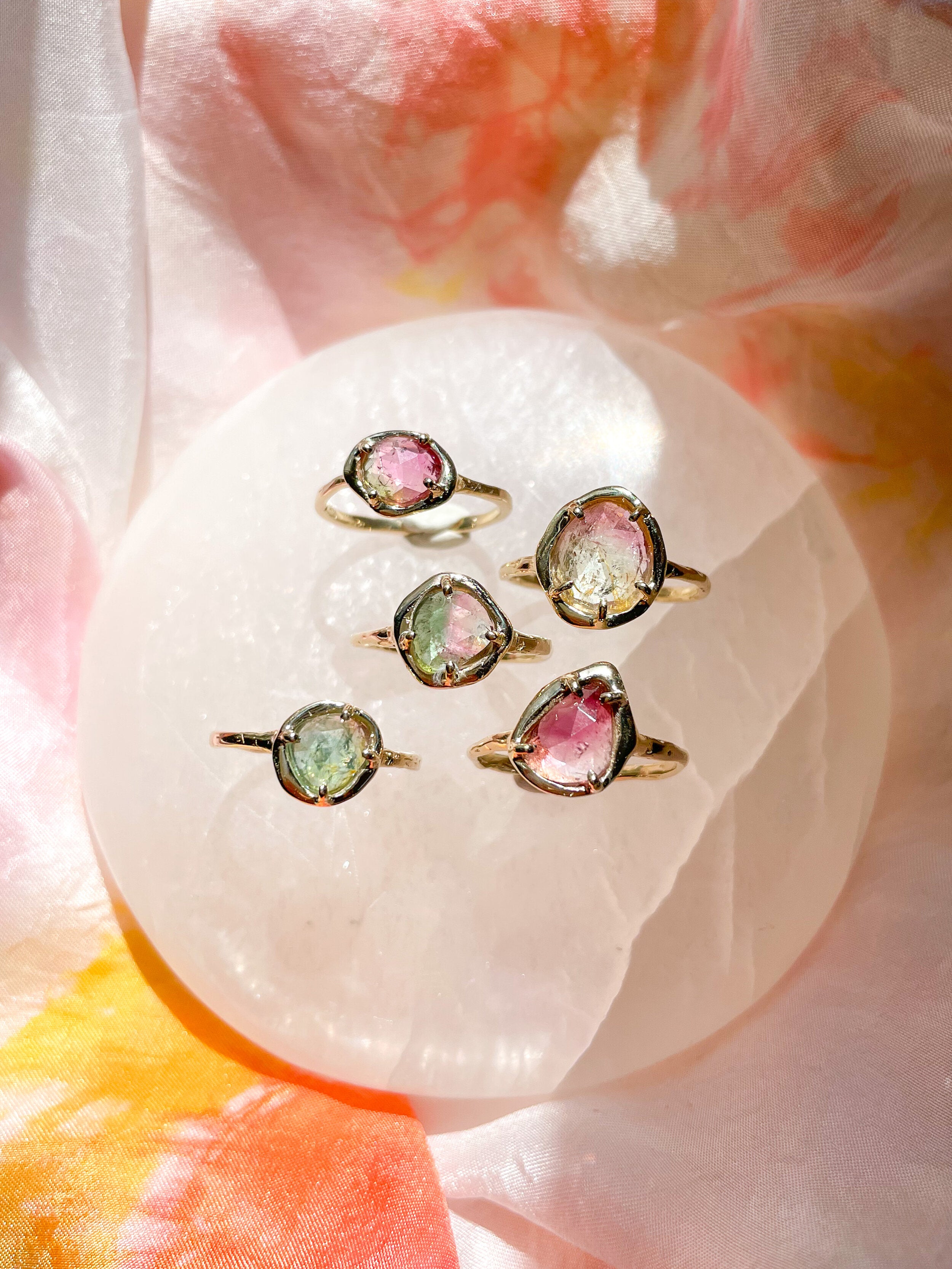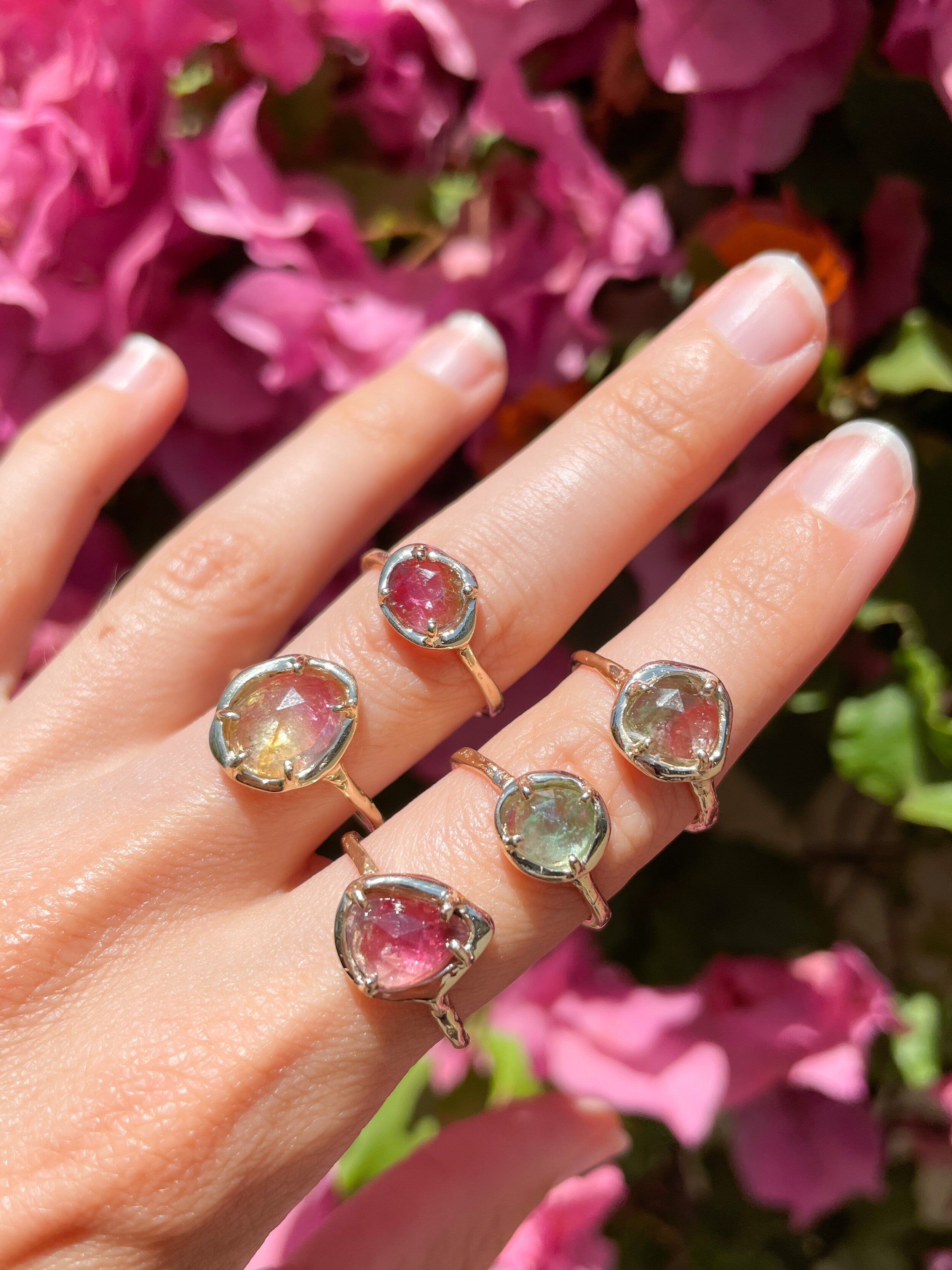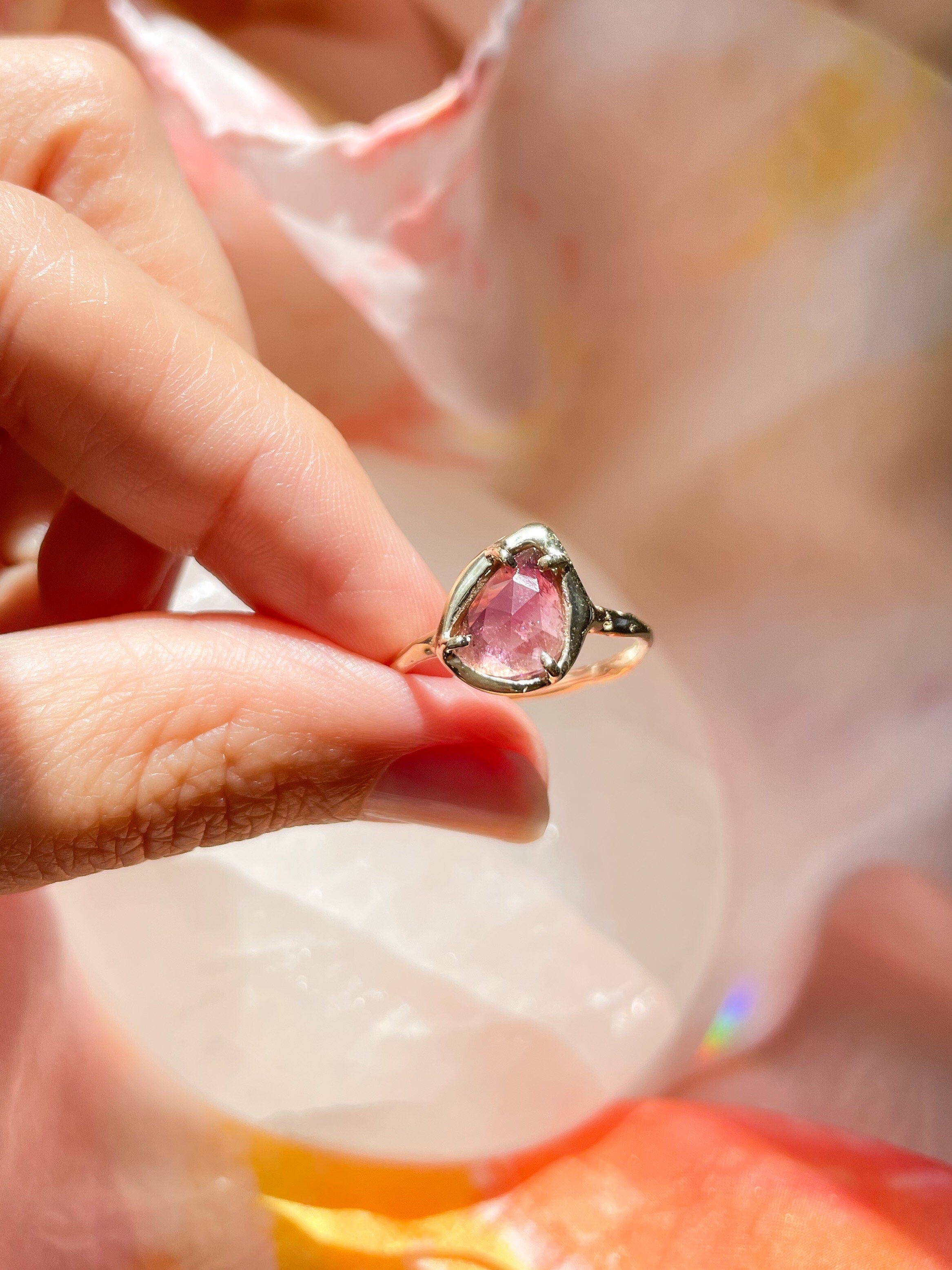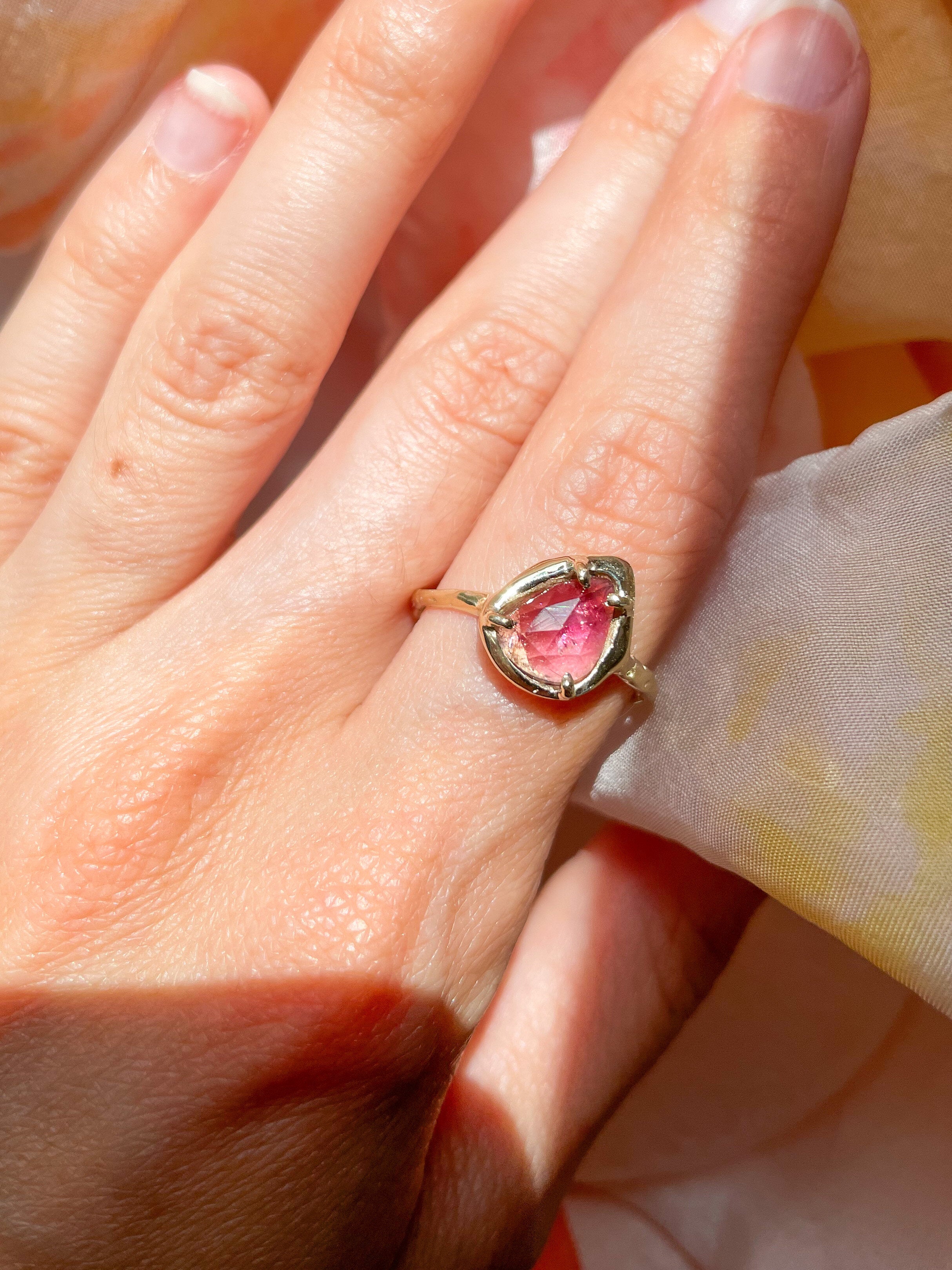 Magique Pink Tourmaline Ring
Description
One of a Kind pear-shaped Pink Tourmaline solitaire ring set in 14k Yellow Gold, its stunning magenta to blush tone radiates a deep love vibration, emanating a joyful heart. Set on a diagonal, this piece shimmers in the sunlight, its rainbow iridescence capturing light so beautifully. Some natural inclusions may be present within the stone.
💌 Please write desired size (between 4-8) in *Notes* section at checkout
* Pink Tourmaline is a stone imparting deep relaxation, wisdom and compassion, while clearing heavy emotional pain and destructive self-perceptions. It works to balance masculine and feminine energies, removing lingering old blockages holding you back from your Divine potential. Pink Tourmaline attracts love in both the material and spiritual world, allowing you to recognize that there is safety in love. It inspires trust in love while encouraging you to understand that it is vital to love yourself before you can love others or be loved wholly in return. Pink Tourmaline is representative of the yin feminine energies, working diligently to heal old emotional wounds, especially residue of traumas from childhood. It emanates a soft, soothing energy of comfort, safety and nurturance, repairing holes left within the auric field created by negative attachments of past abuse. Releases stressors, worries and reinvigorates passion and zest for life, infusing the heart with the highest Divine energies. Pink Tourmaline calms heightened emotions and anxieties kept within the physical body. It encourages you to find the courage to love, allowing it to become more challenging for others to project negativity or influence you away from kindness or tolerance.
Production Info
*Please note: all pieces are made by my hands to order with up to a 3-4 week production time. If you have a rush-order, please email to discuss! For more information about Jewelry Care, Warranty and Returns, please see our FAQ page.
FAQ
DO YOU GIFT WRAP?
Each order comes gift wrapped, please ensure you fill out the "Gift" notes section upon checkout, as your item will be thoughtfully wrapped and personalized with recipients name, along with description cards of each piece and selected stones!
DO YOU CAST IN ROSE OR WHITE GOLD?
Any piece that is not a ready-made one of a kind is available to custom order in 14k White or 14k Rose Gold.
Please enter your preferred metal in the notes section upon checkout, or feel free to contact us before ordering!
PRODUCTION & SHIPPING
All Fine Jewelry items are handcrafted and made to order. All of our pieces require up to 3-4 weeks for turnaround production time, to allow for sizing, polishing, and making sure your jewelry is perfect! 
If you have a specific deadline you need to meet, please contact us to let us know. We may request that you pay for upgraded expedited shipping, and may not be able to accommodate all requests.
HOW DO I KNOW WHICH STONE IS FOR ME?
I always, always recommend as first priority to go with what you're drawn to. Oftentimes, your first instinct as led by your intuition will be spot on for what energy you're wanting to align with or needing in your life at this time - don't overthink it!
An easy way to clear your mind and become present with your current state of being:
Close your eyes and take a few slow, deep breaths.
Focus your attention on the ground beneath your feet, gradually relaxing into a naturally comfortable state. Picture your body within a bright, warm pyramid of white light as you exhale.
Release any impeding stresses that pop into mind, and ask your subconscious to come to the forefront.
See what you're drawn to aesthetically, then proceed by reading about each energy to determine which one feels right.