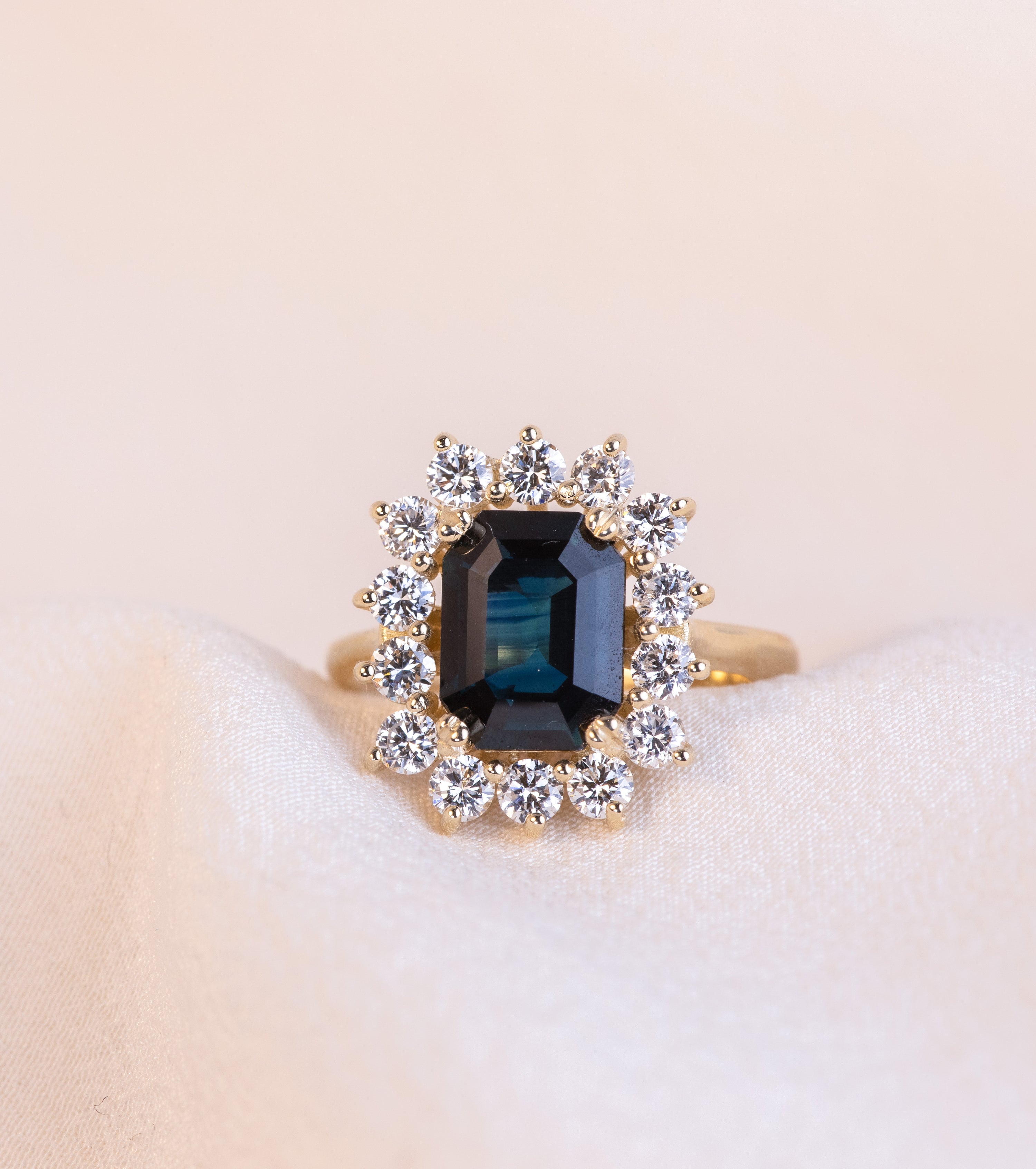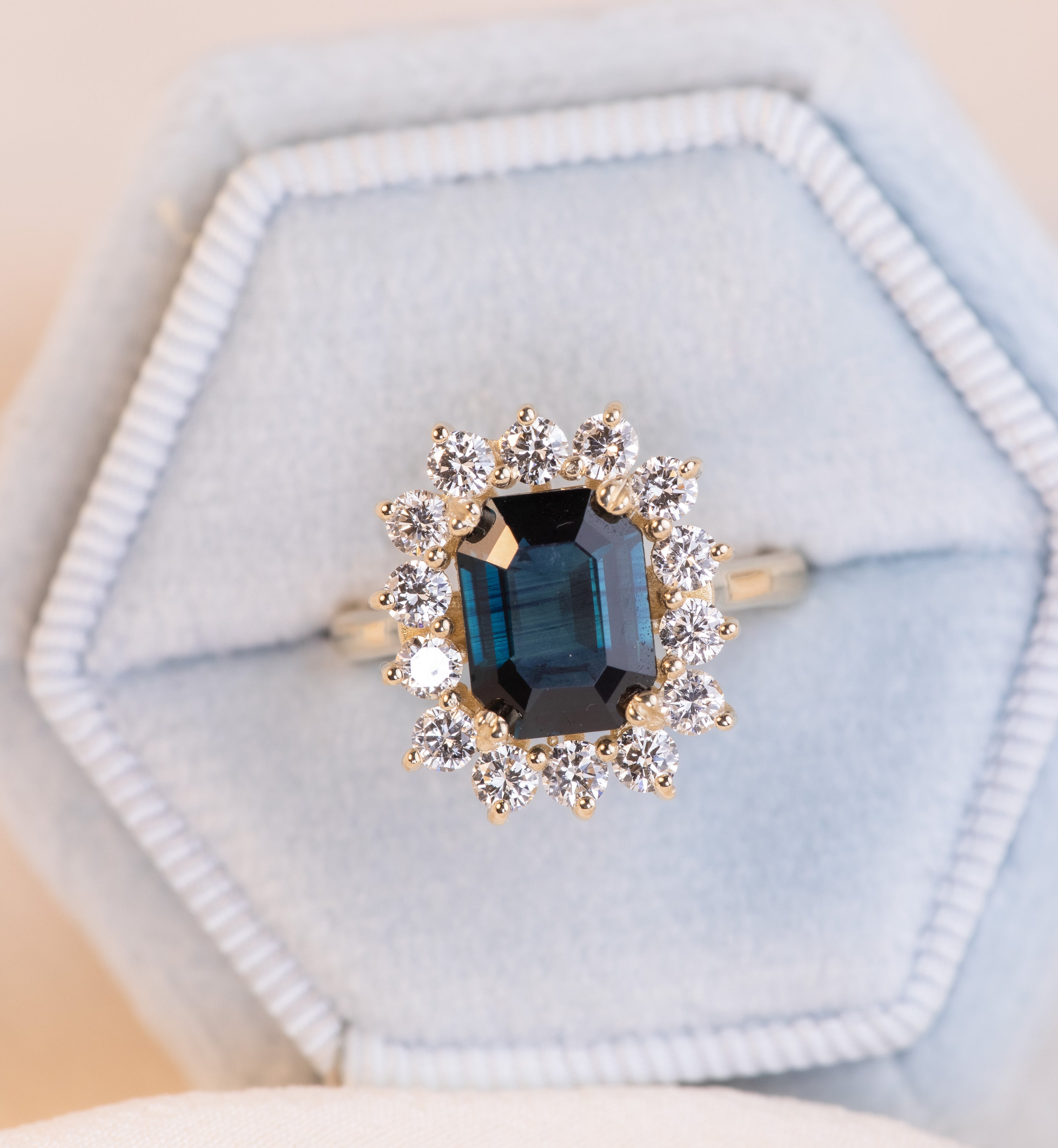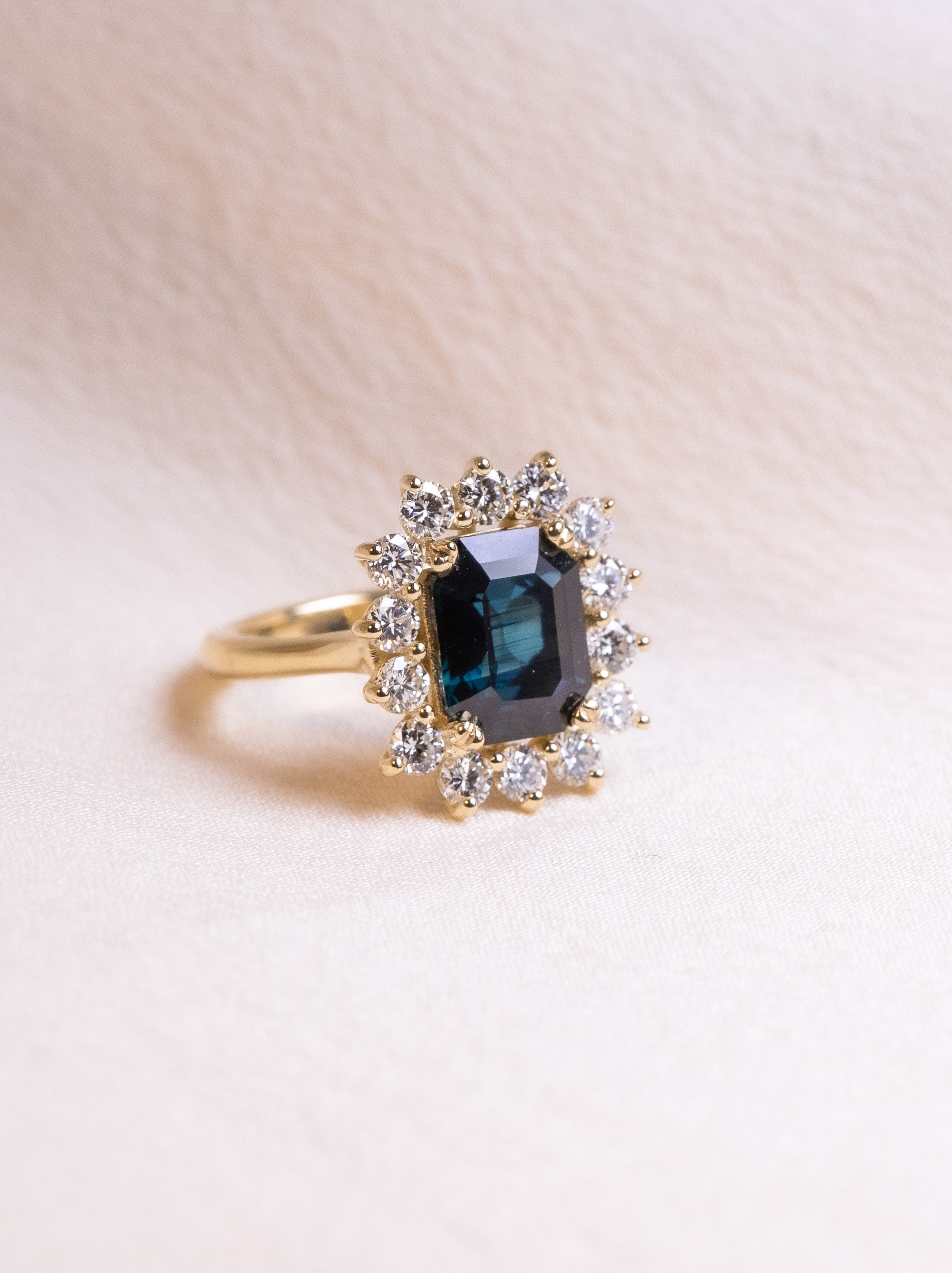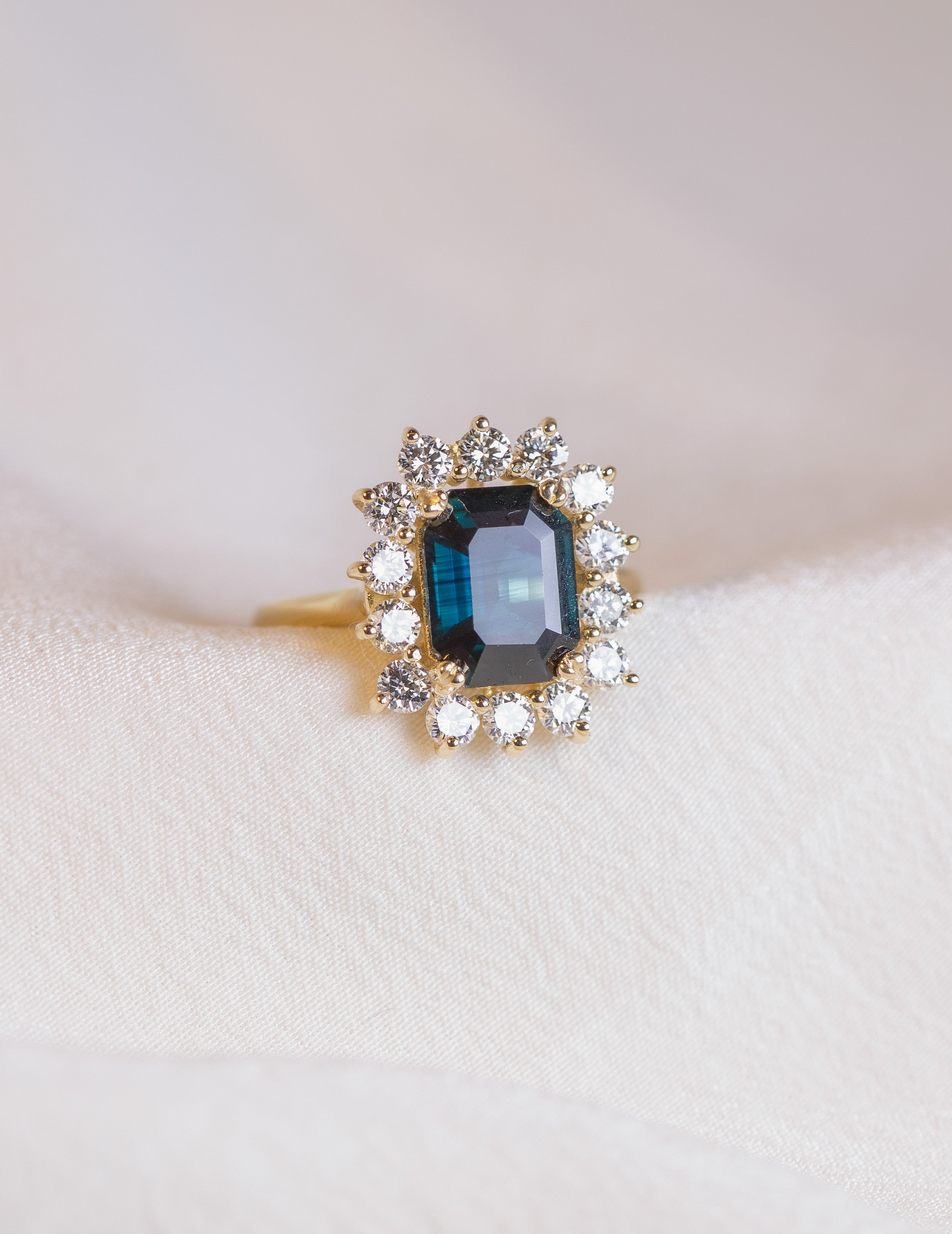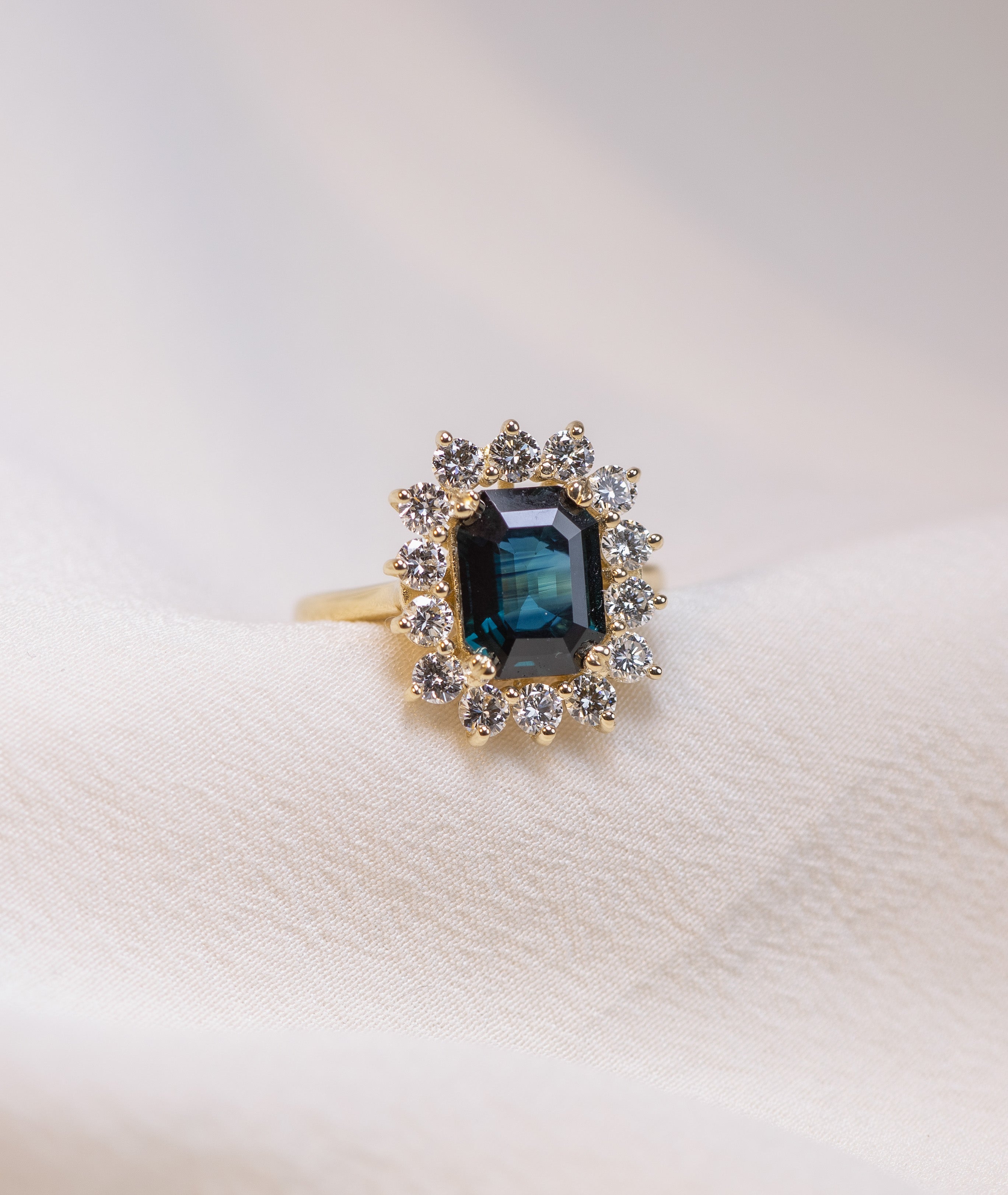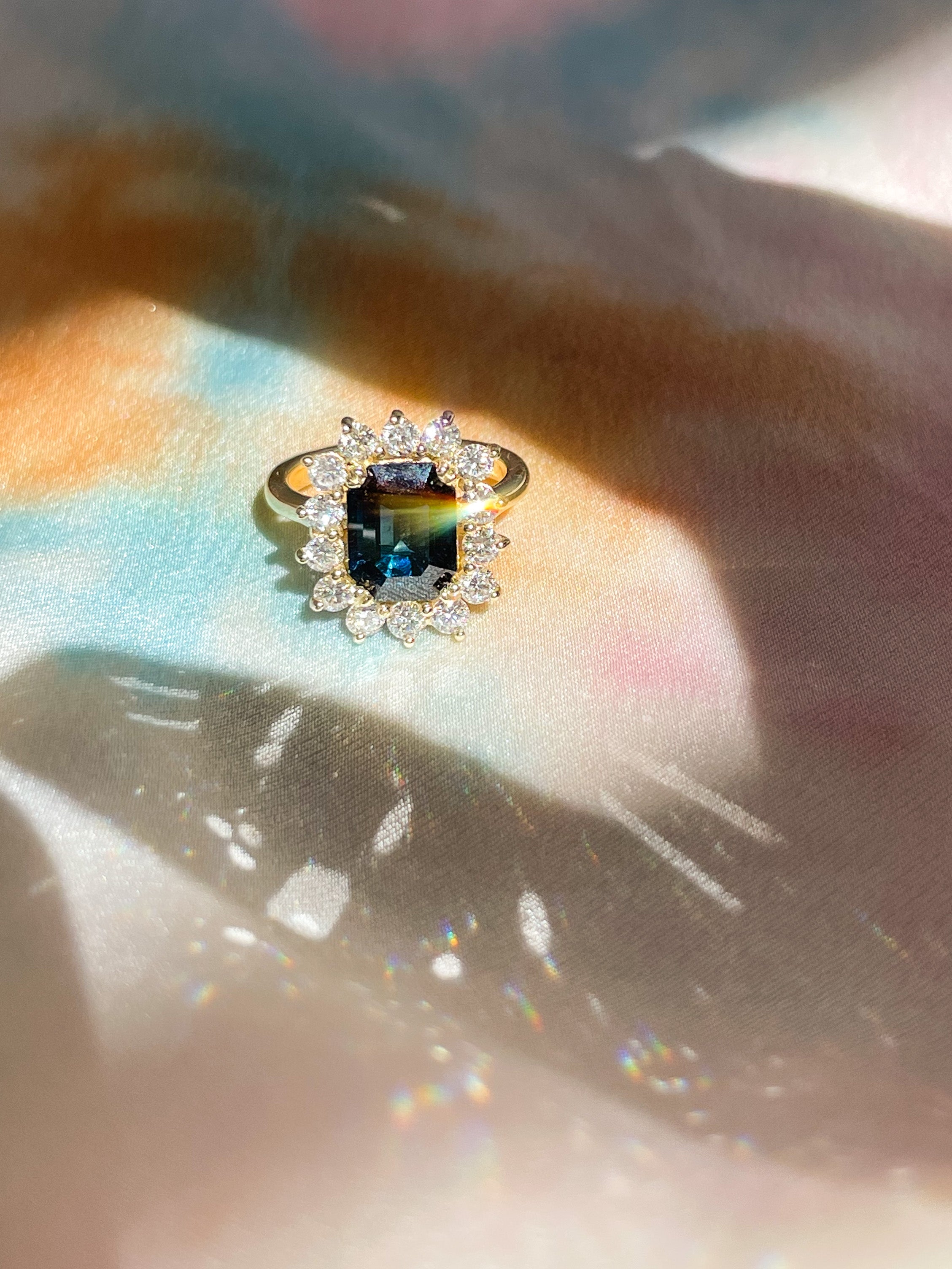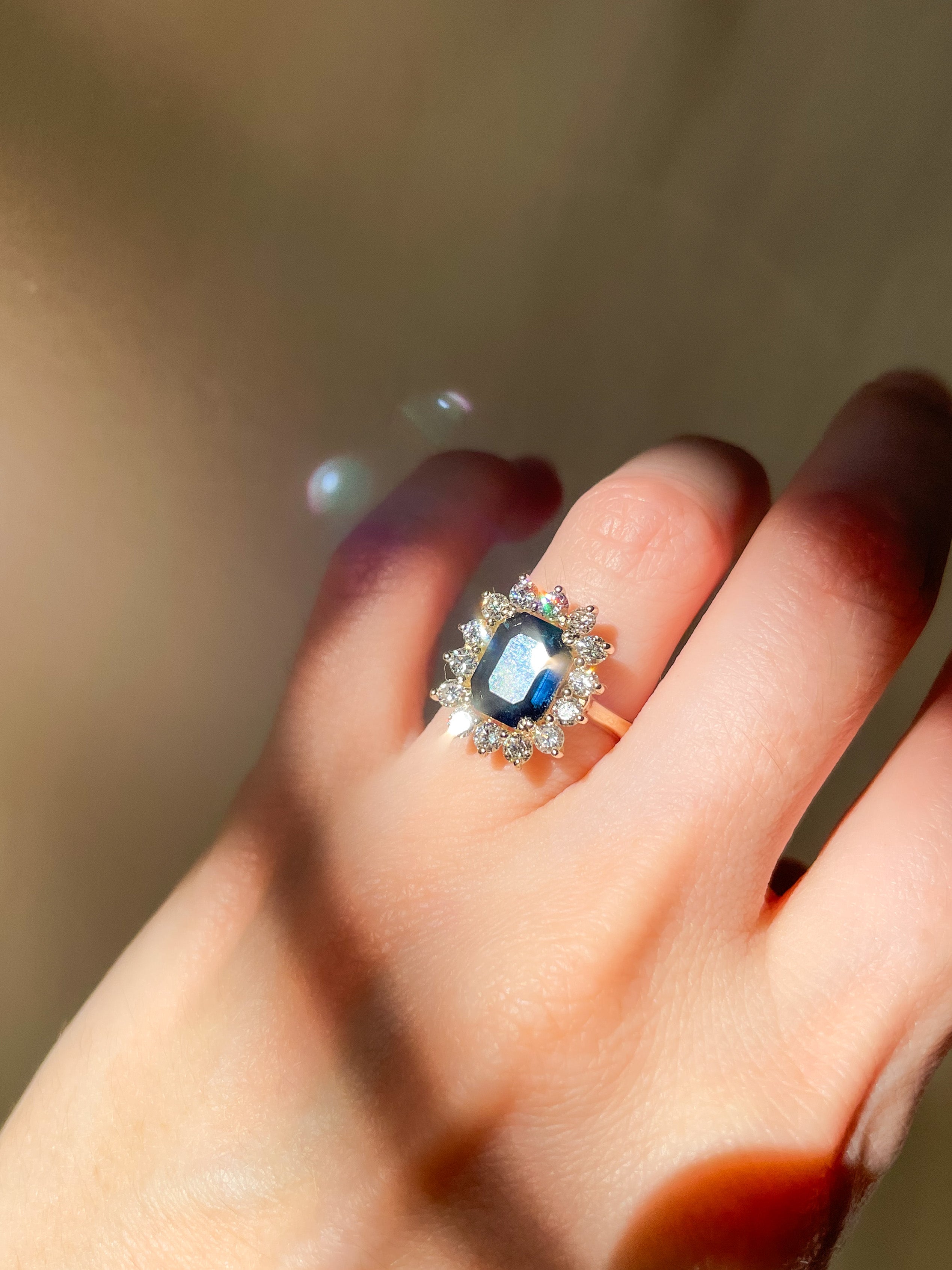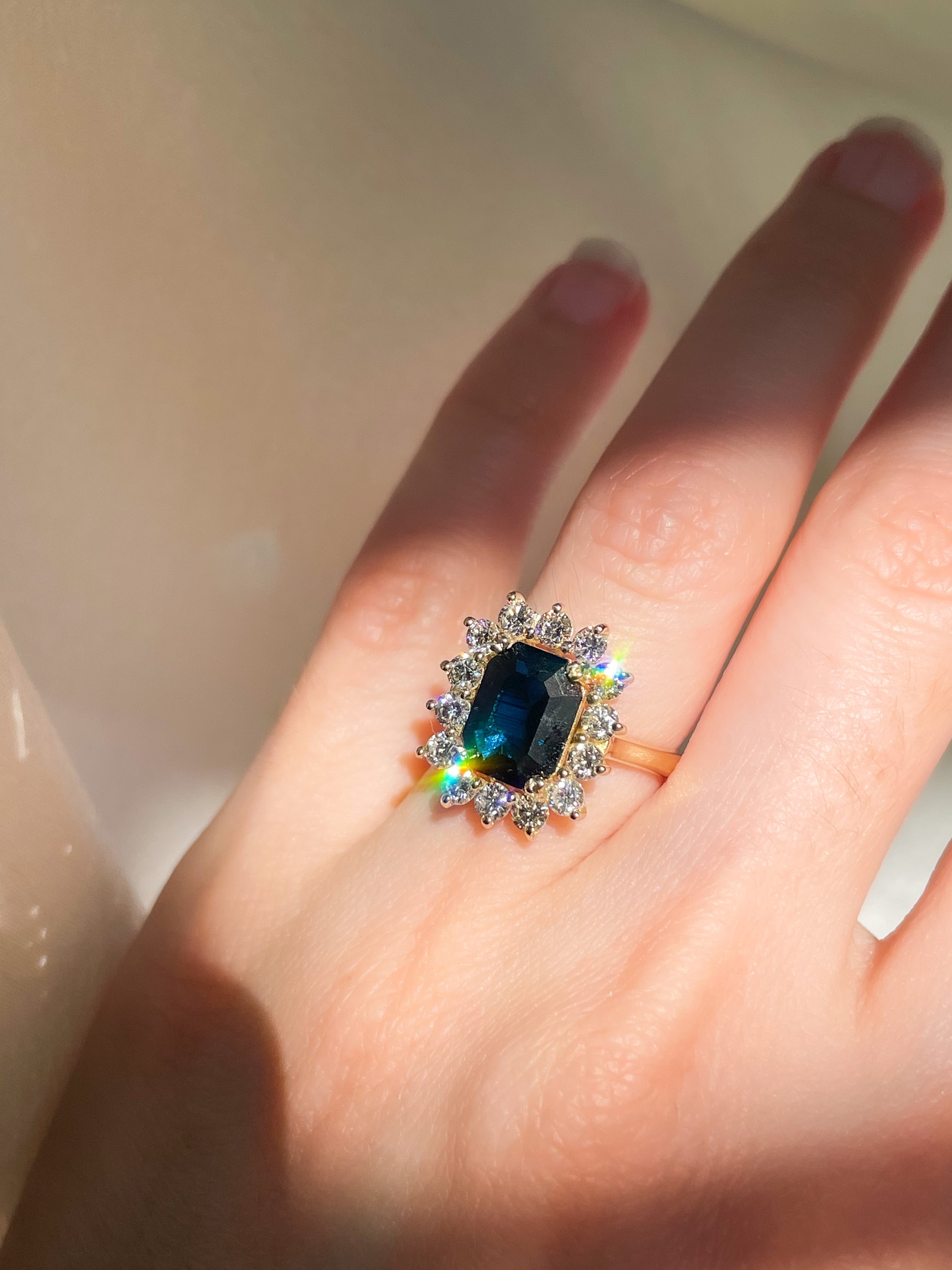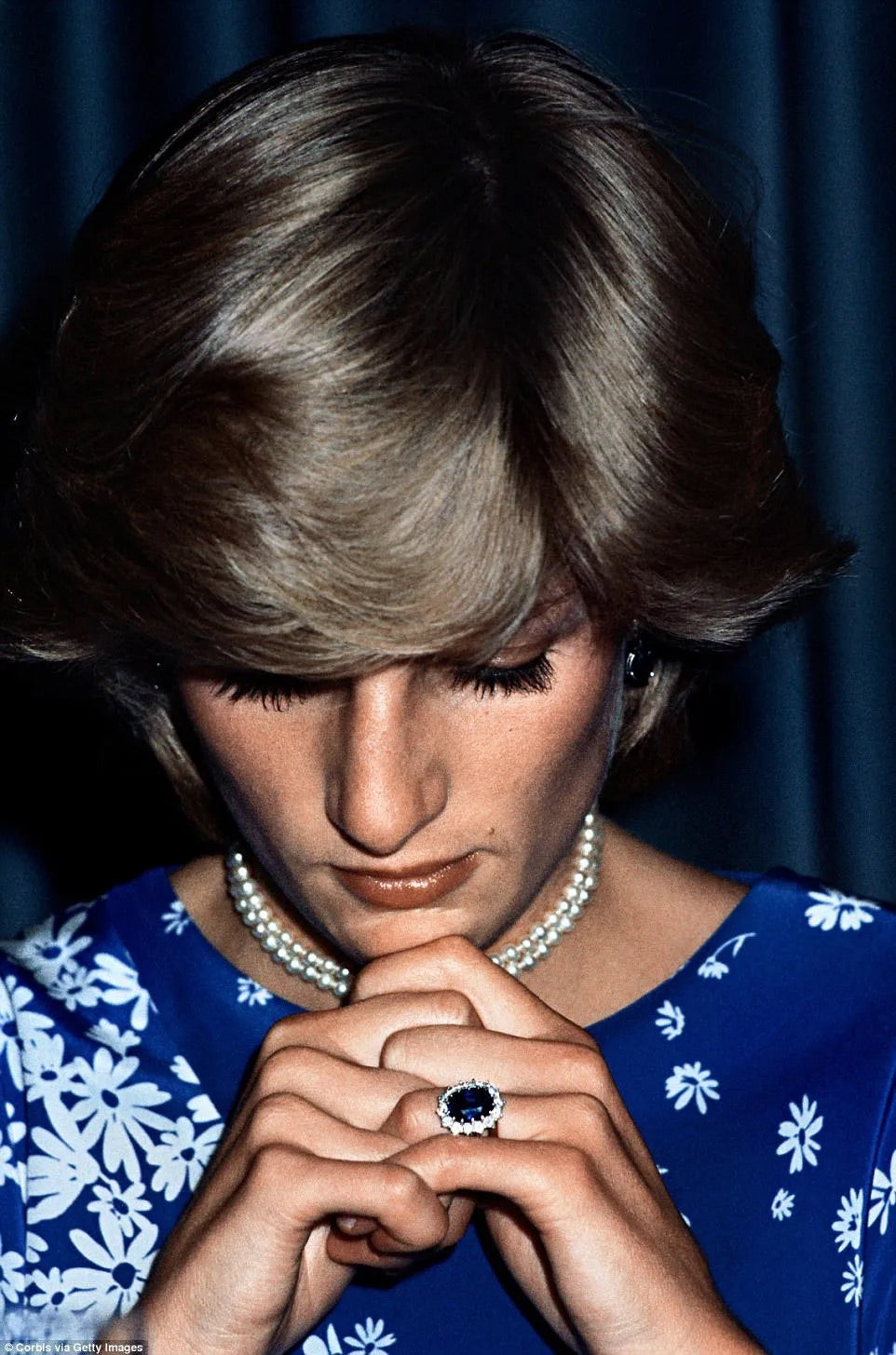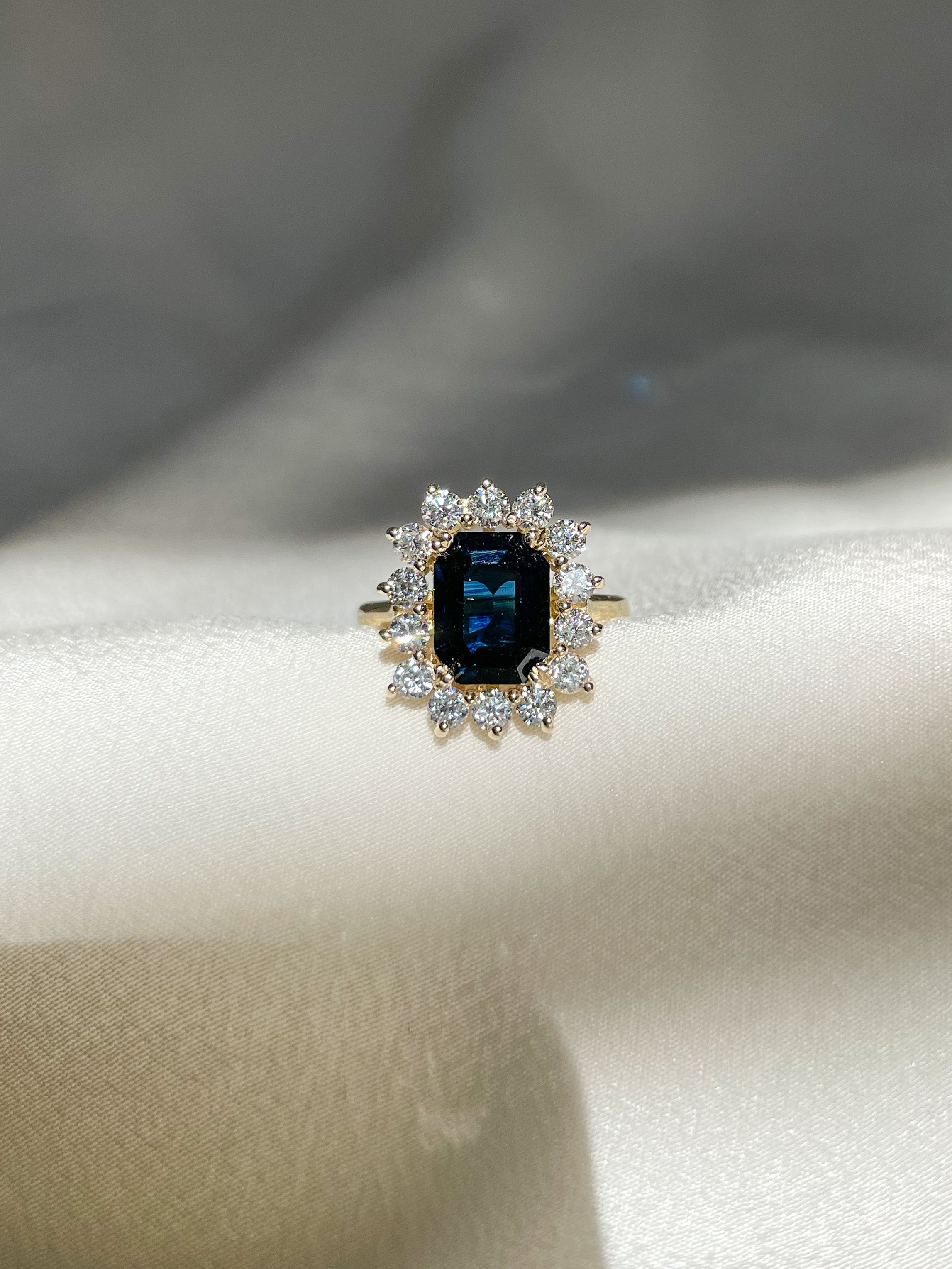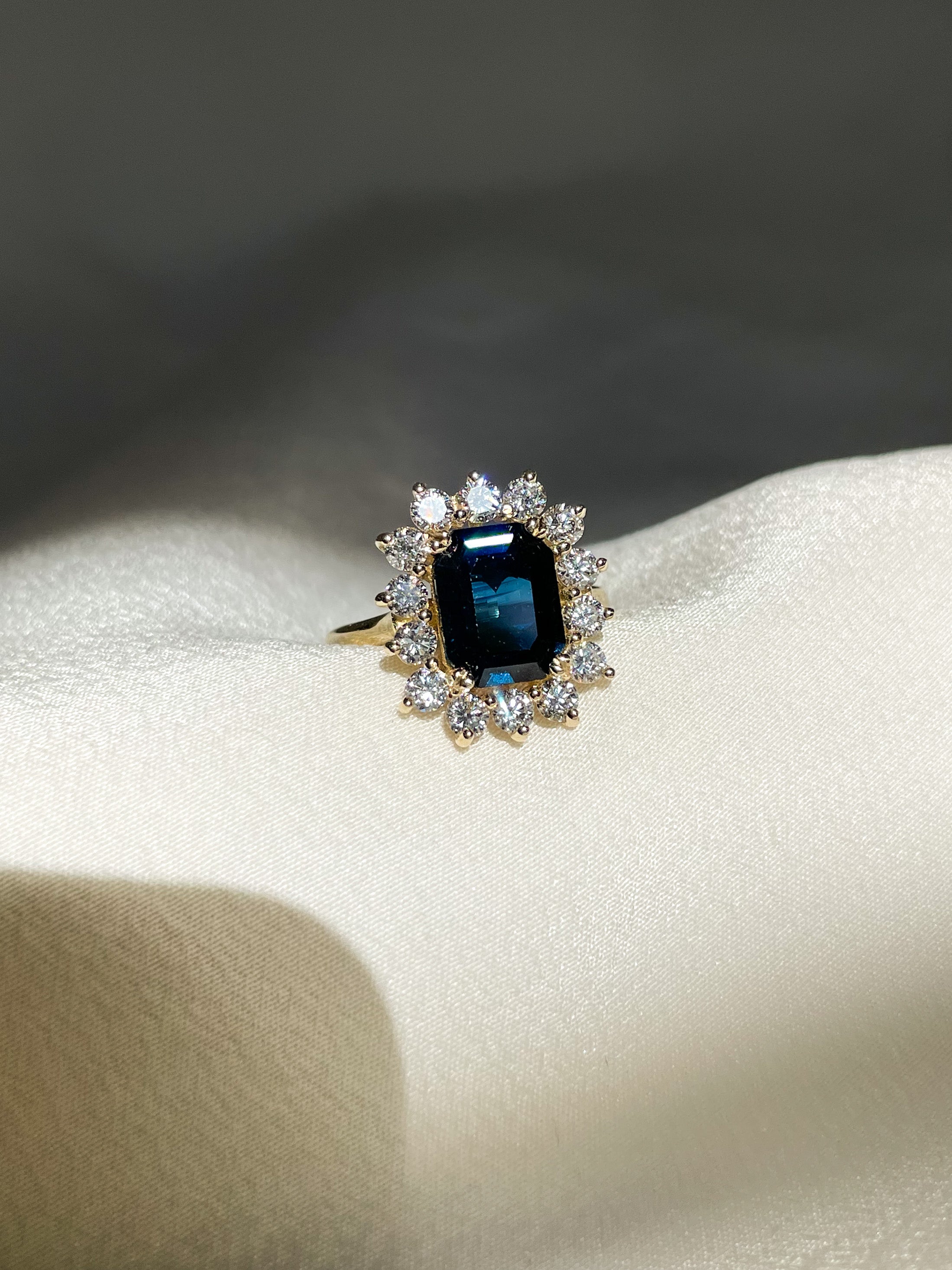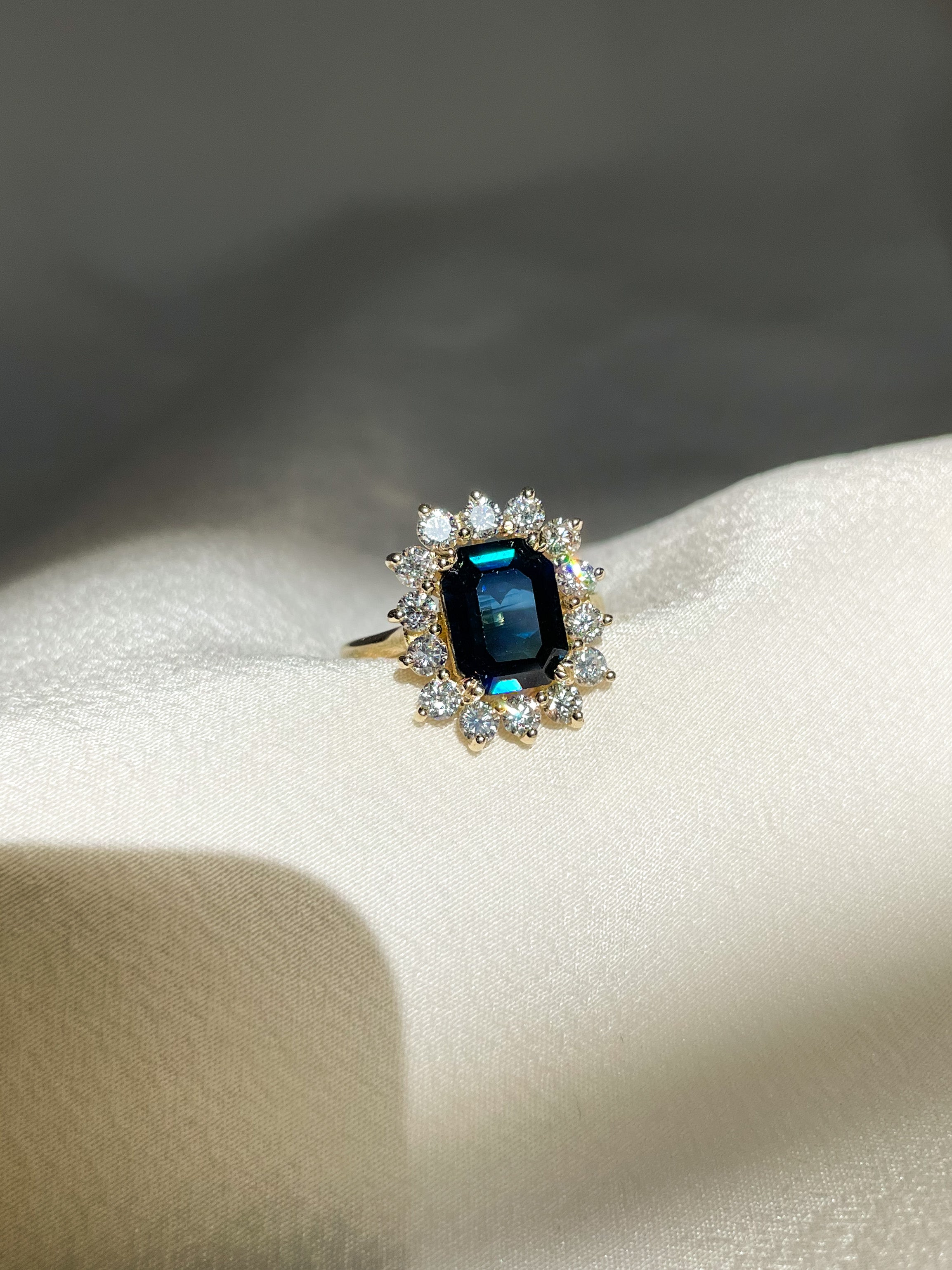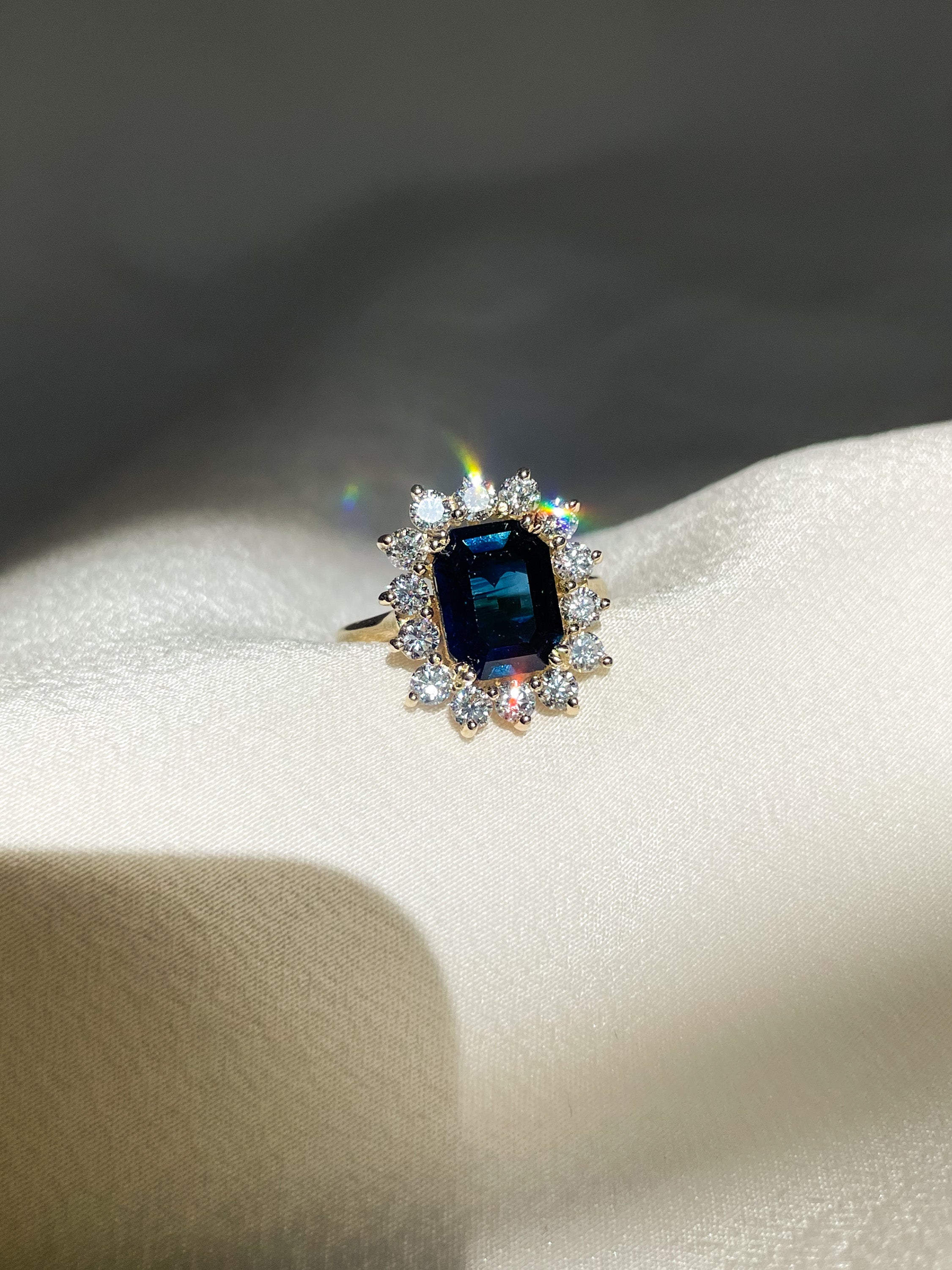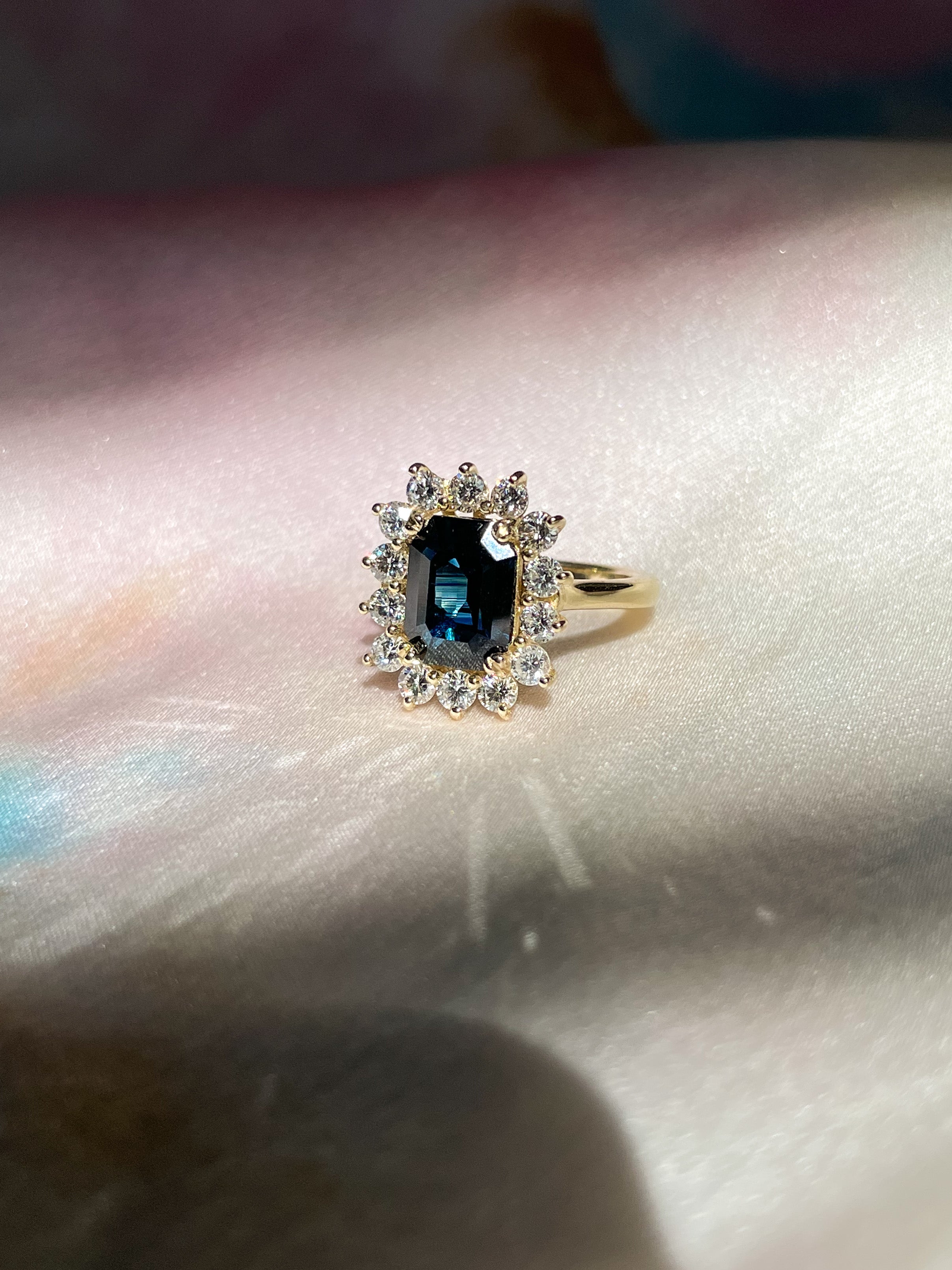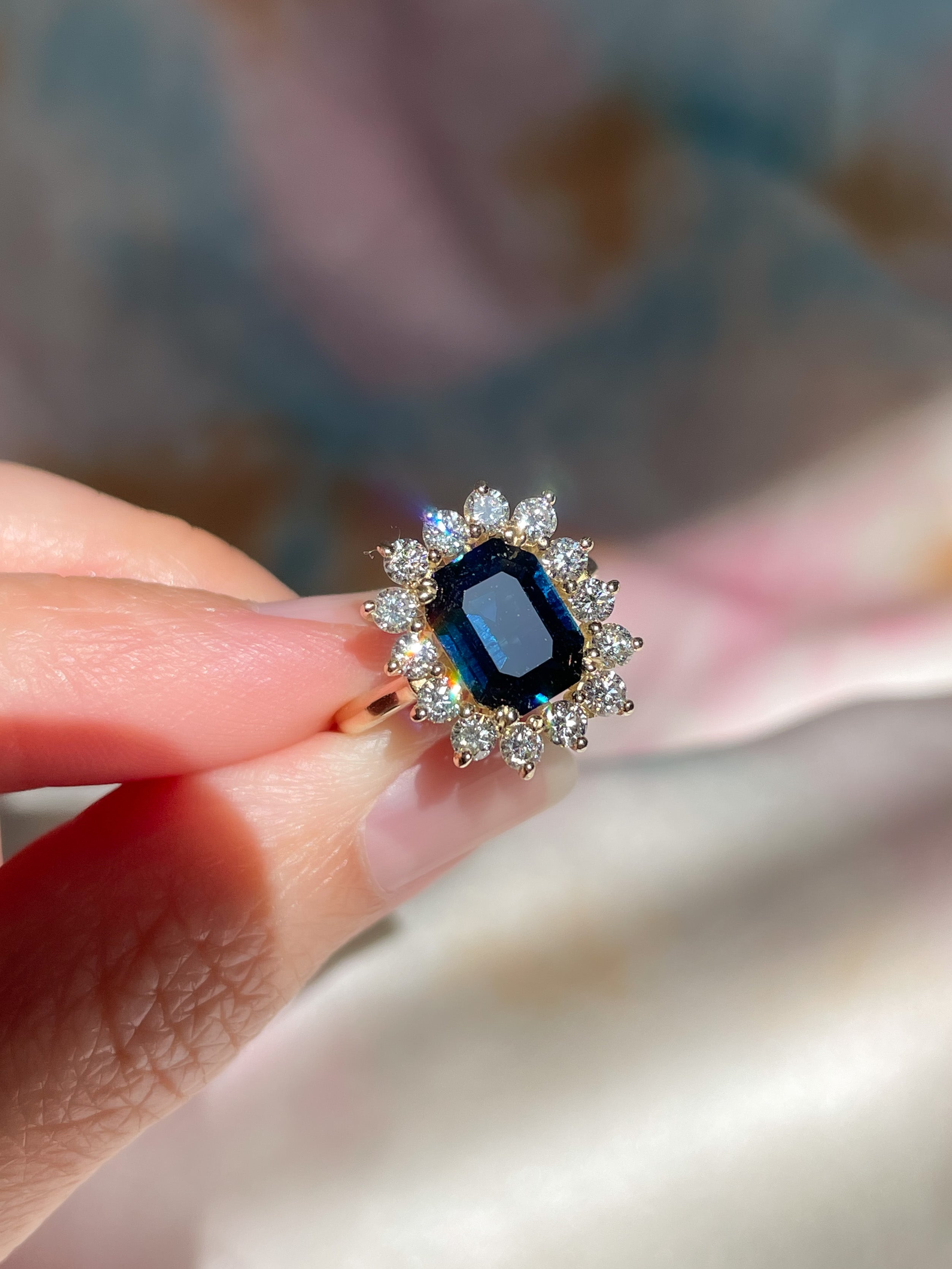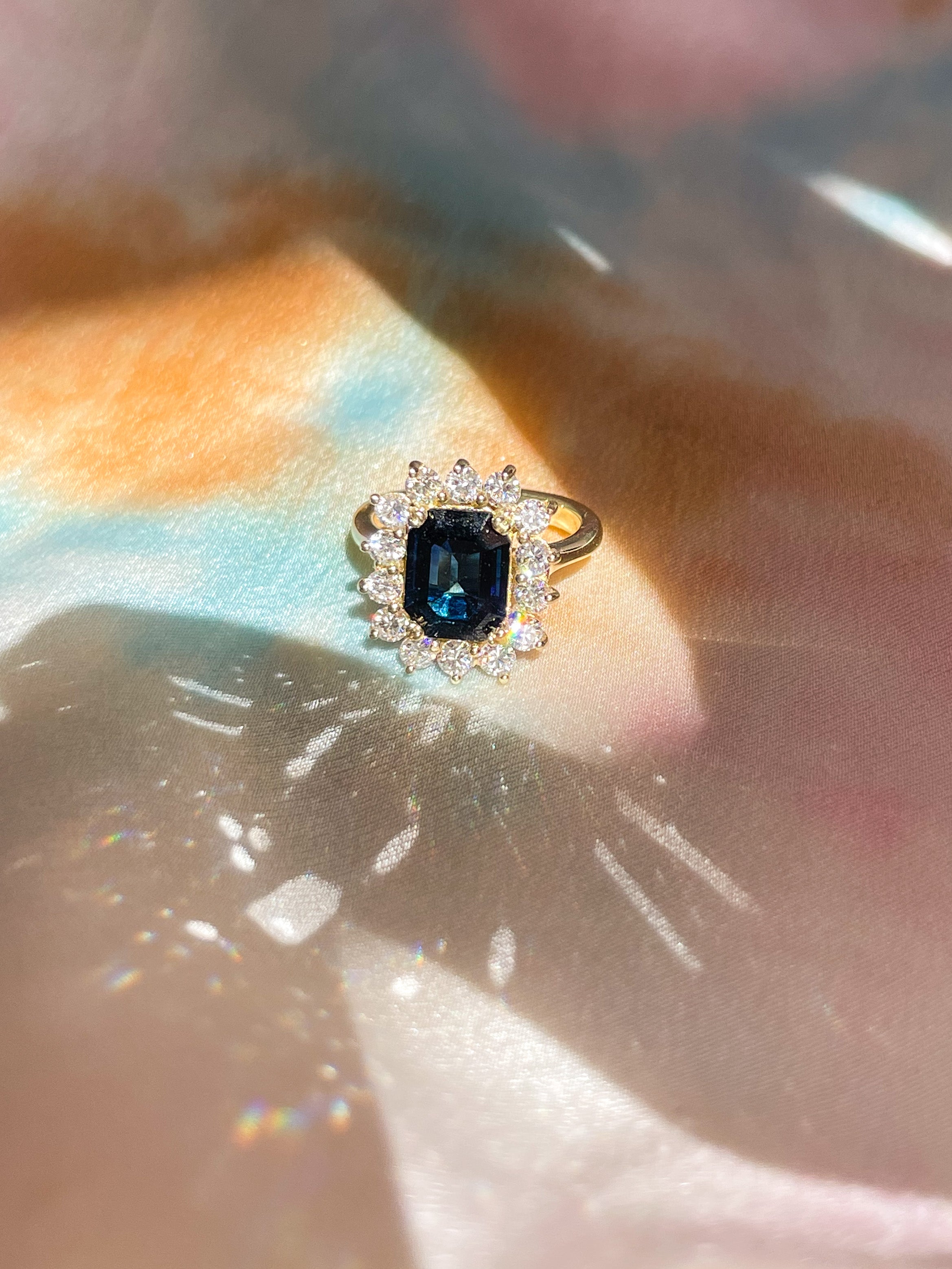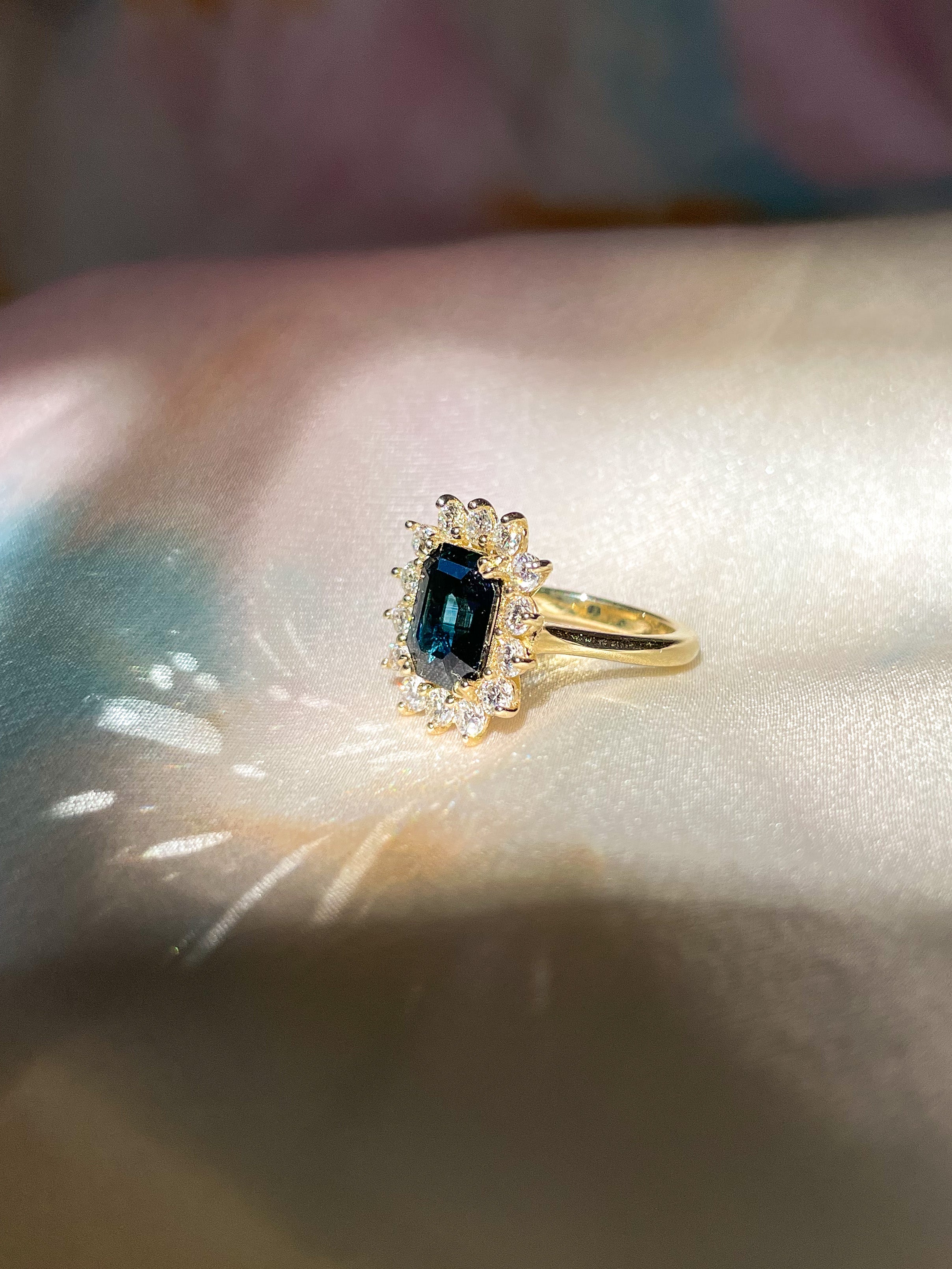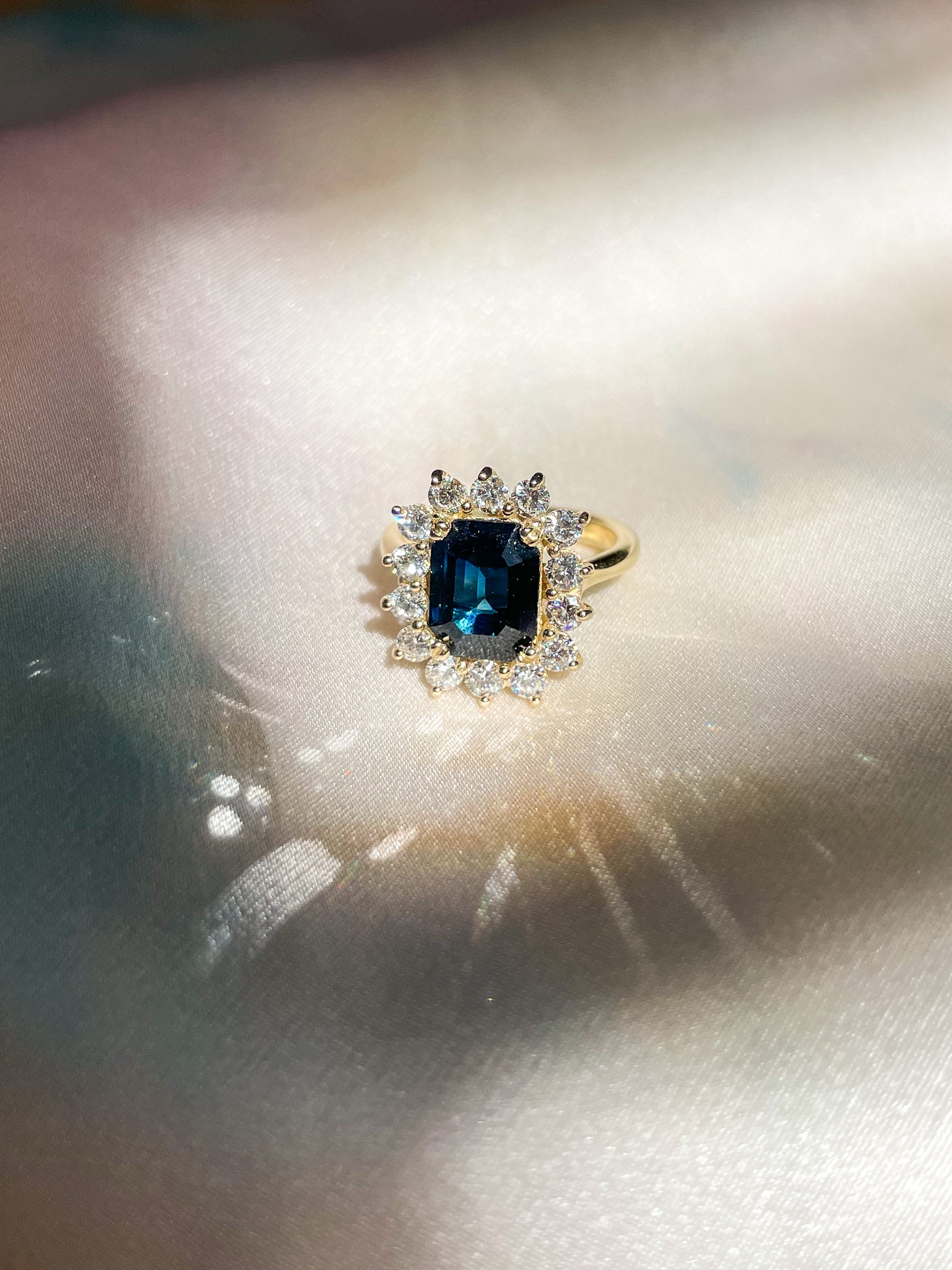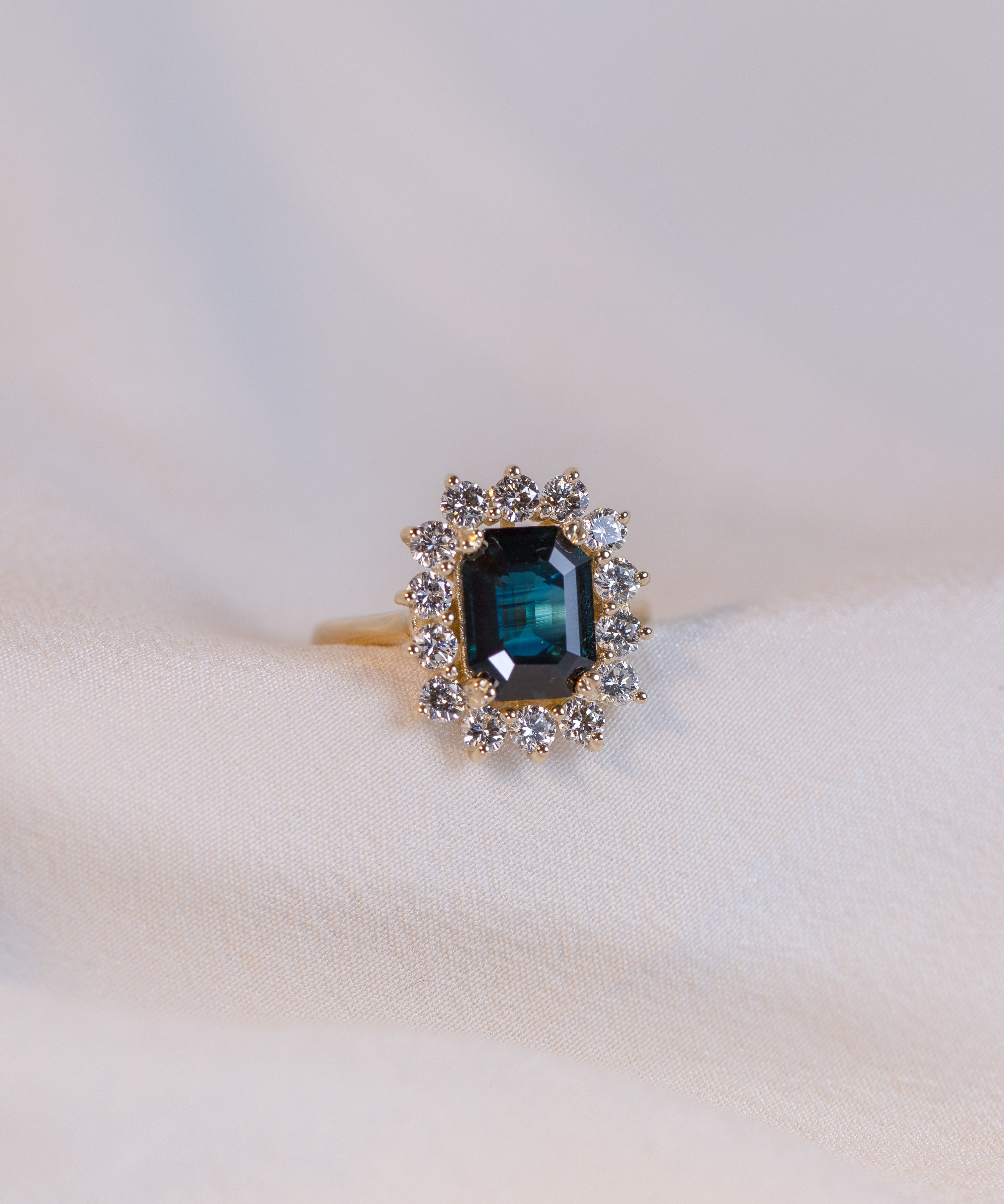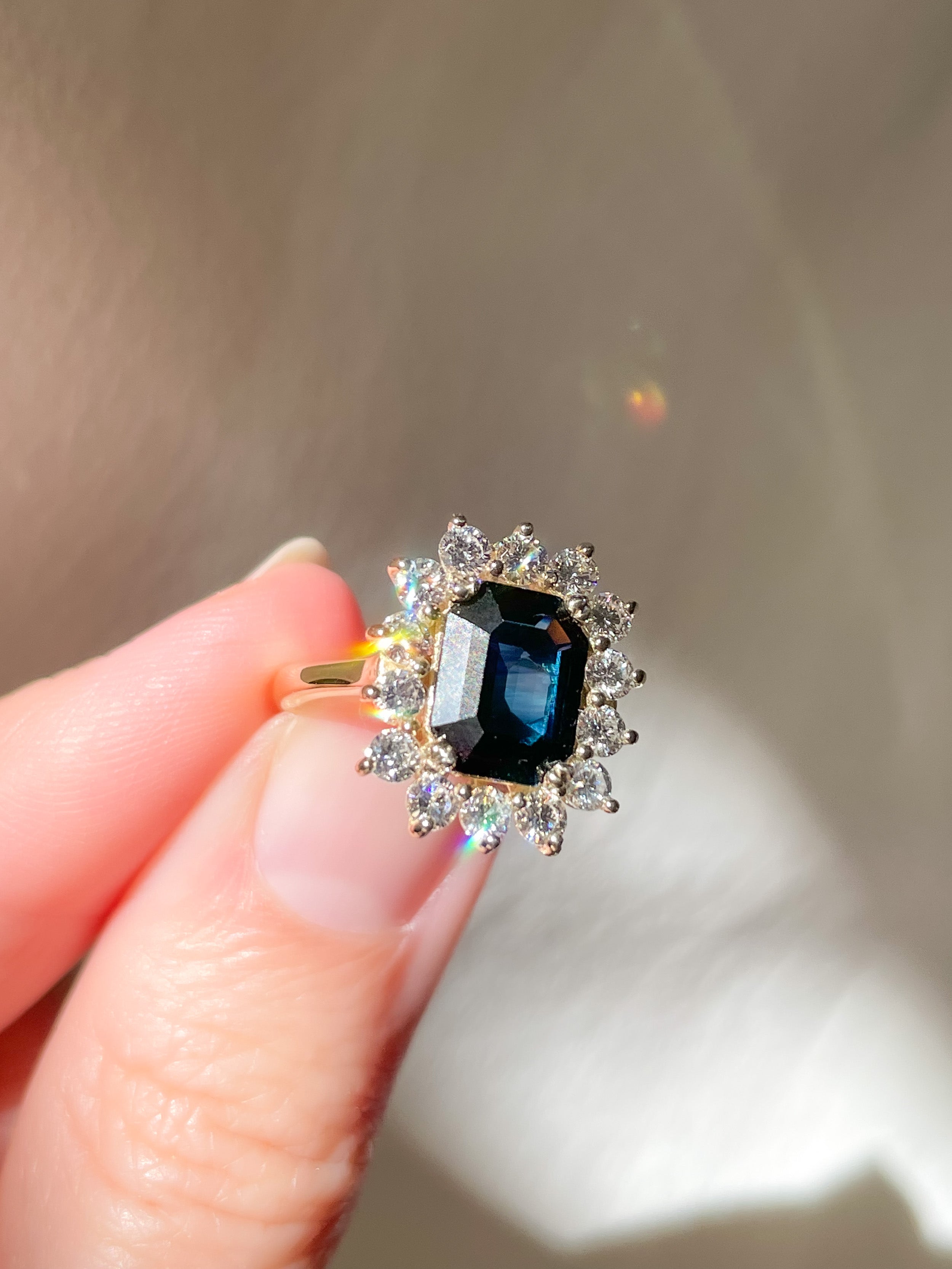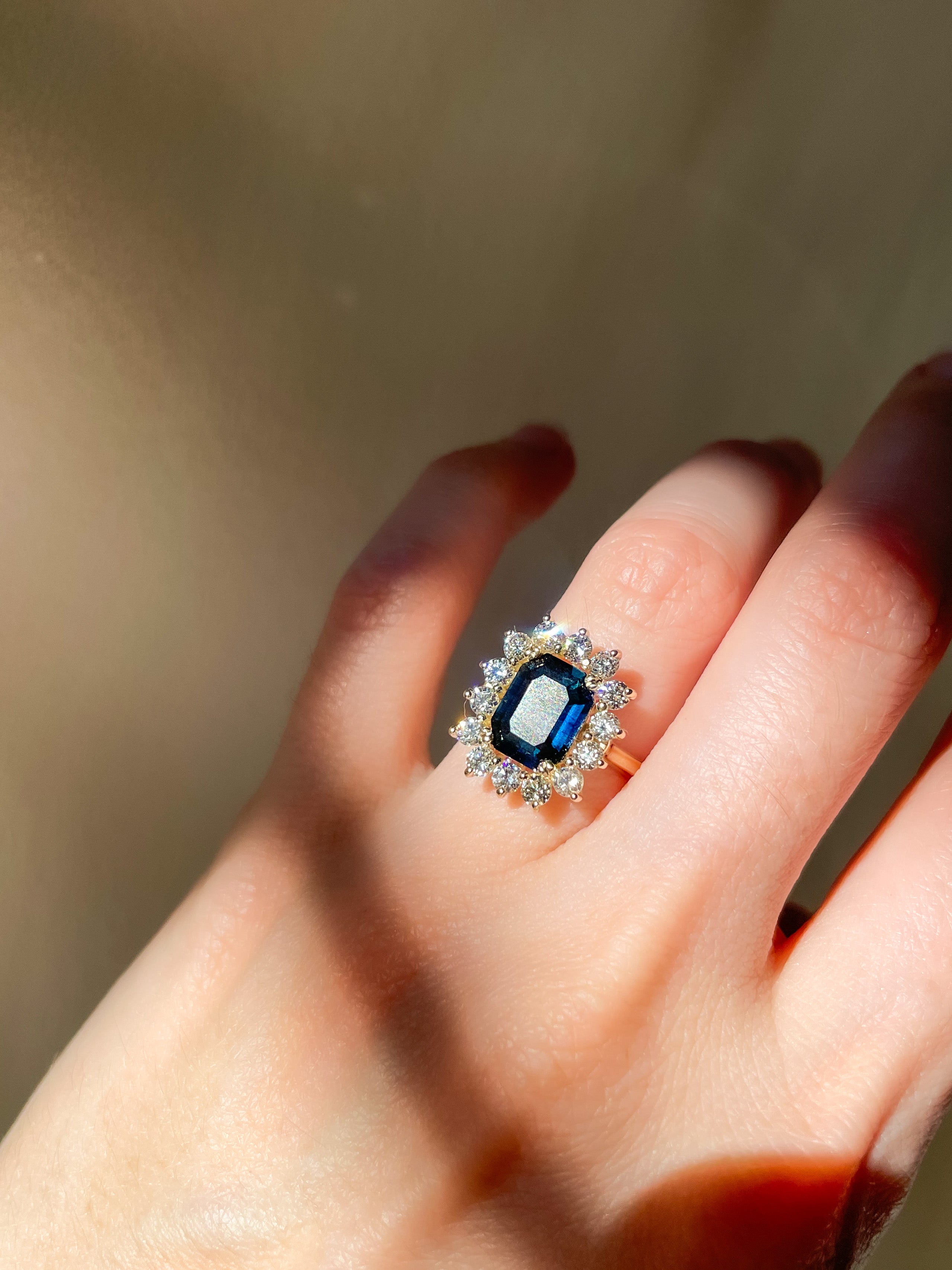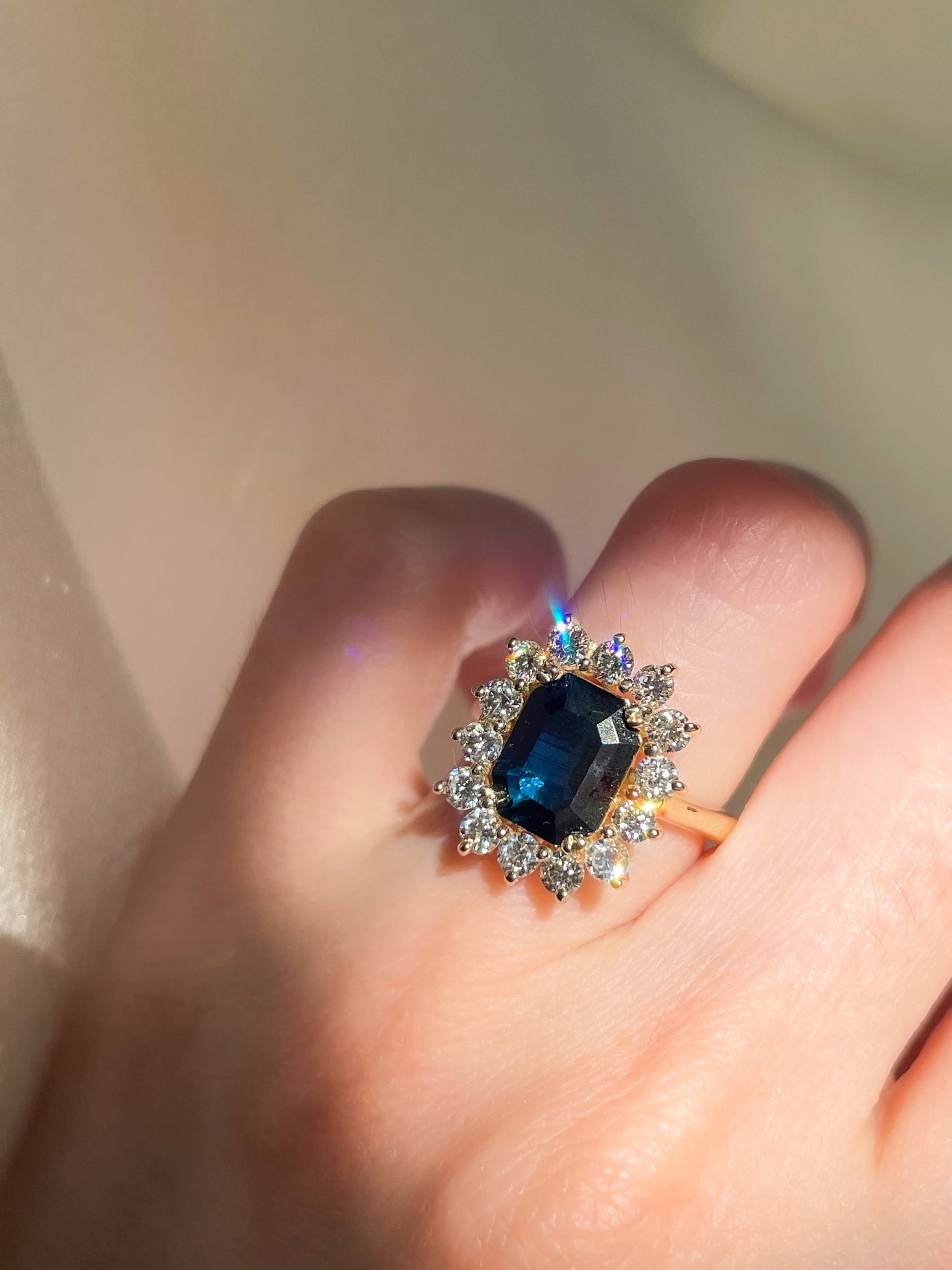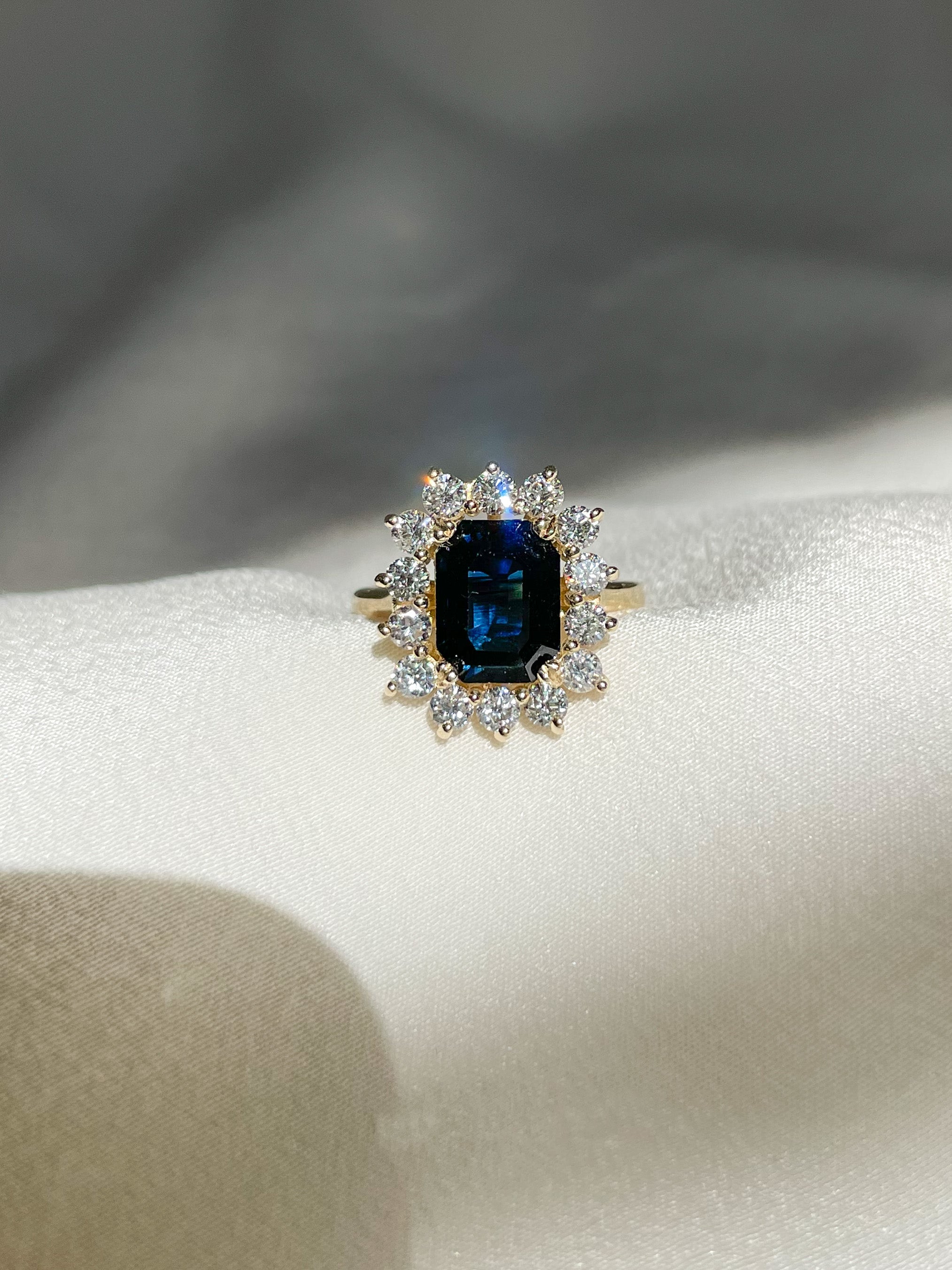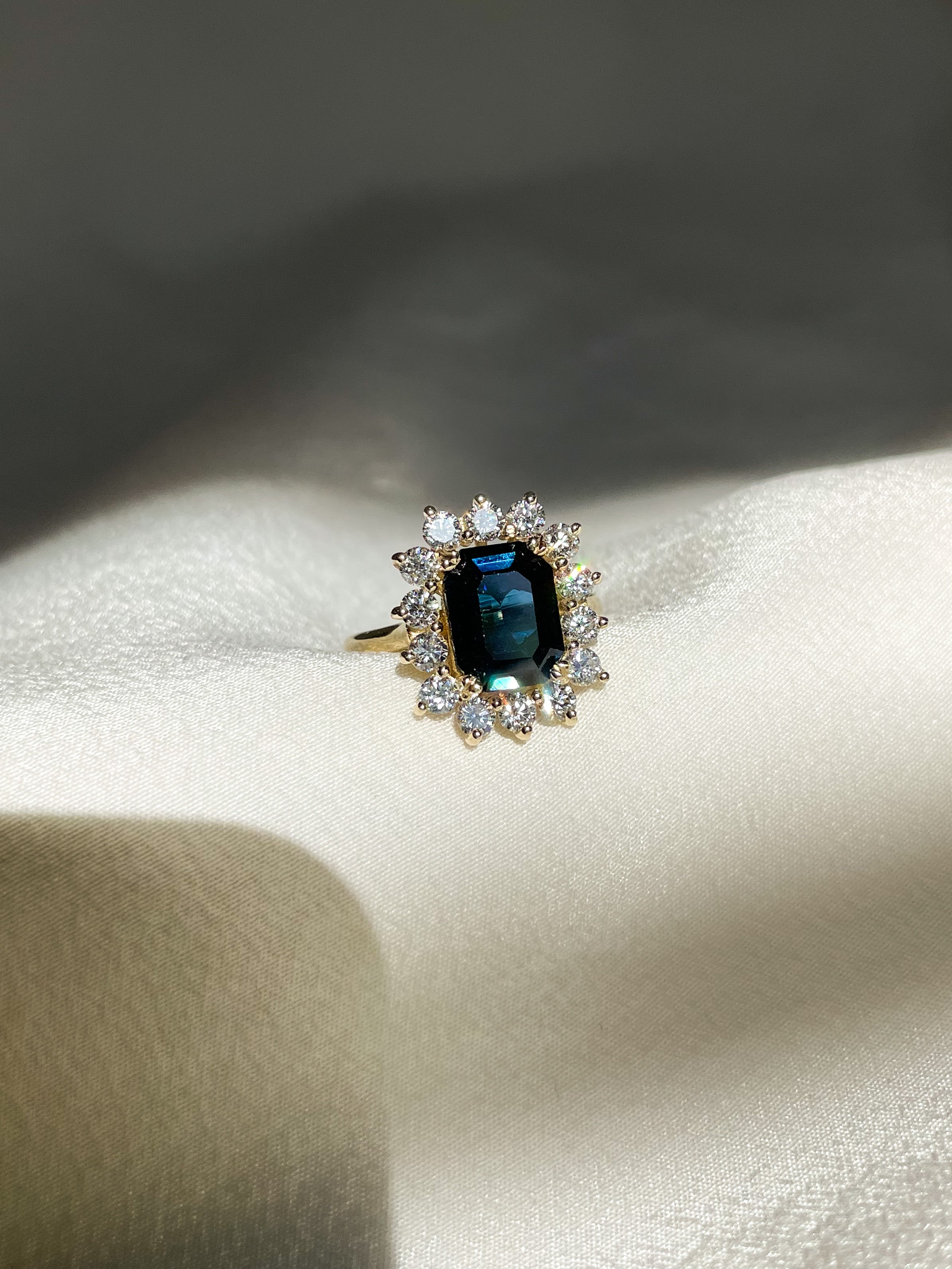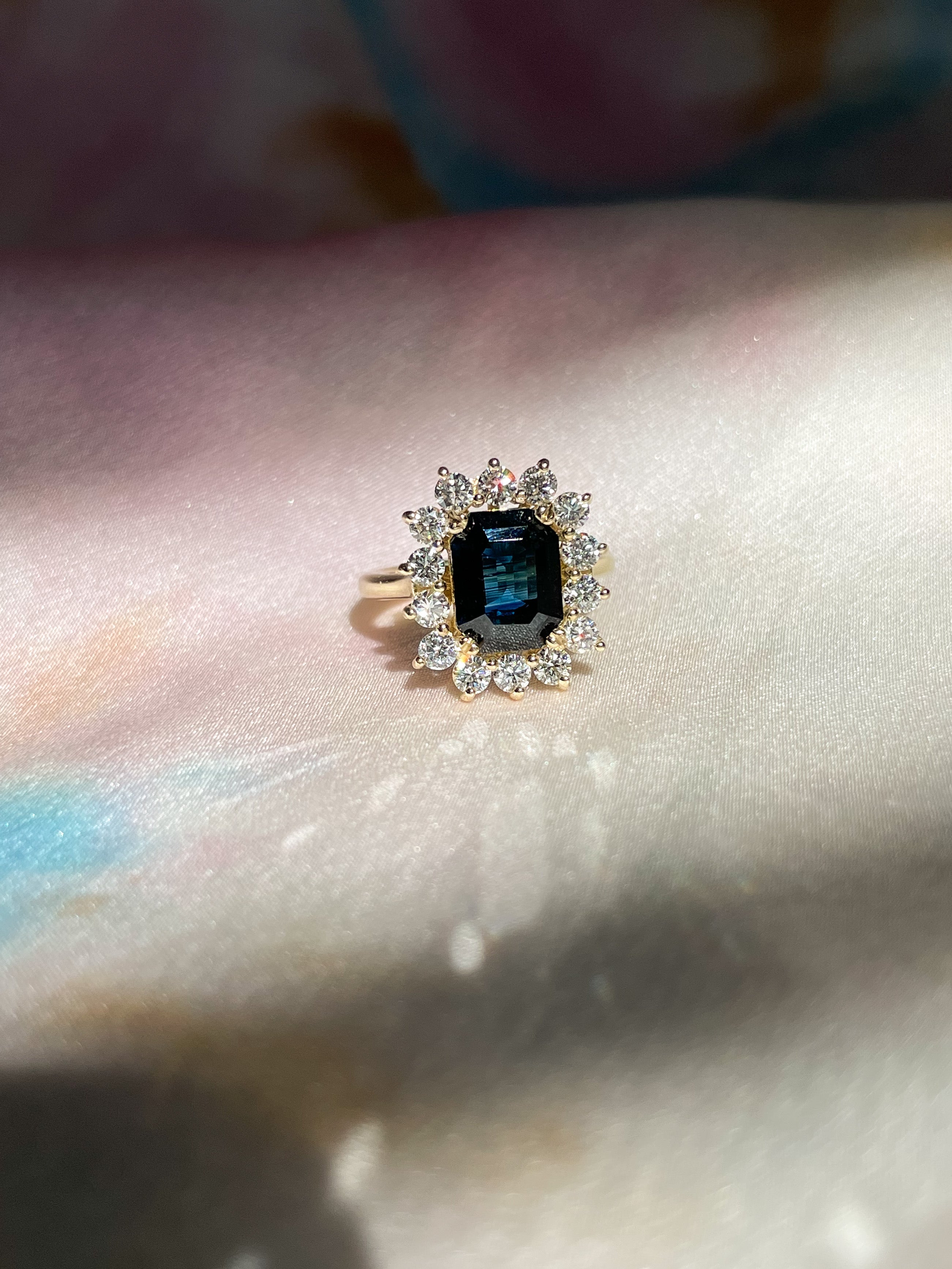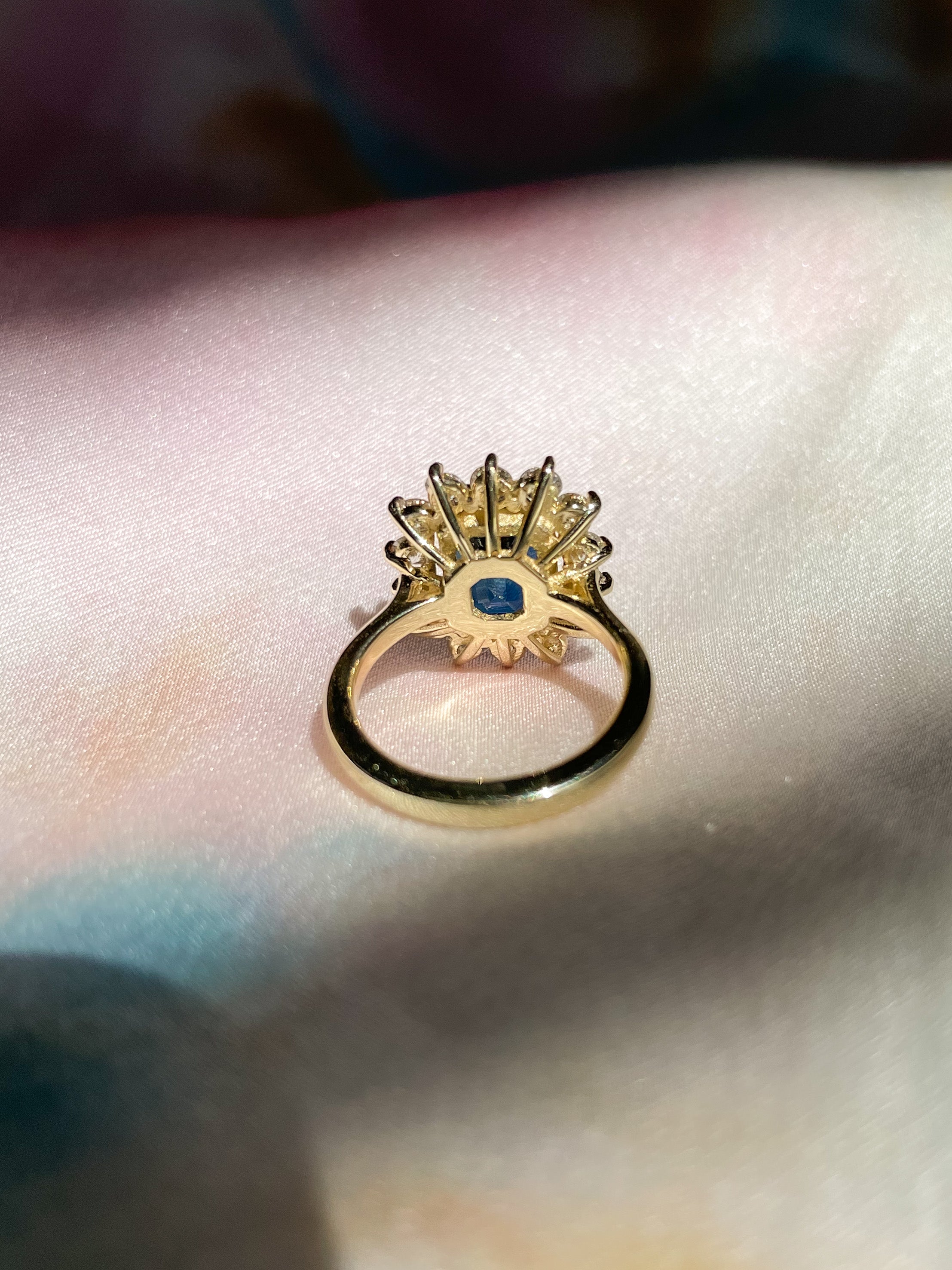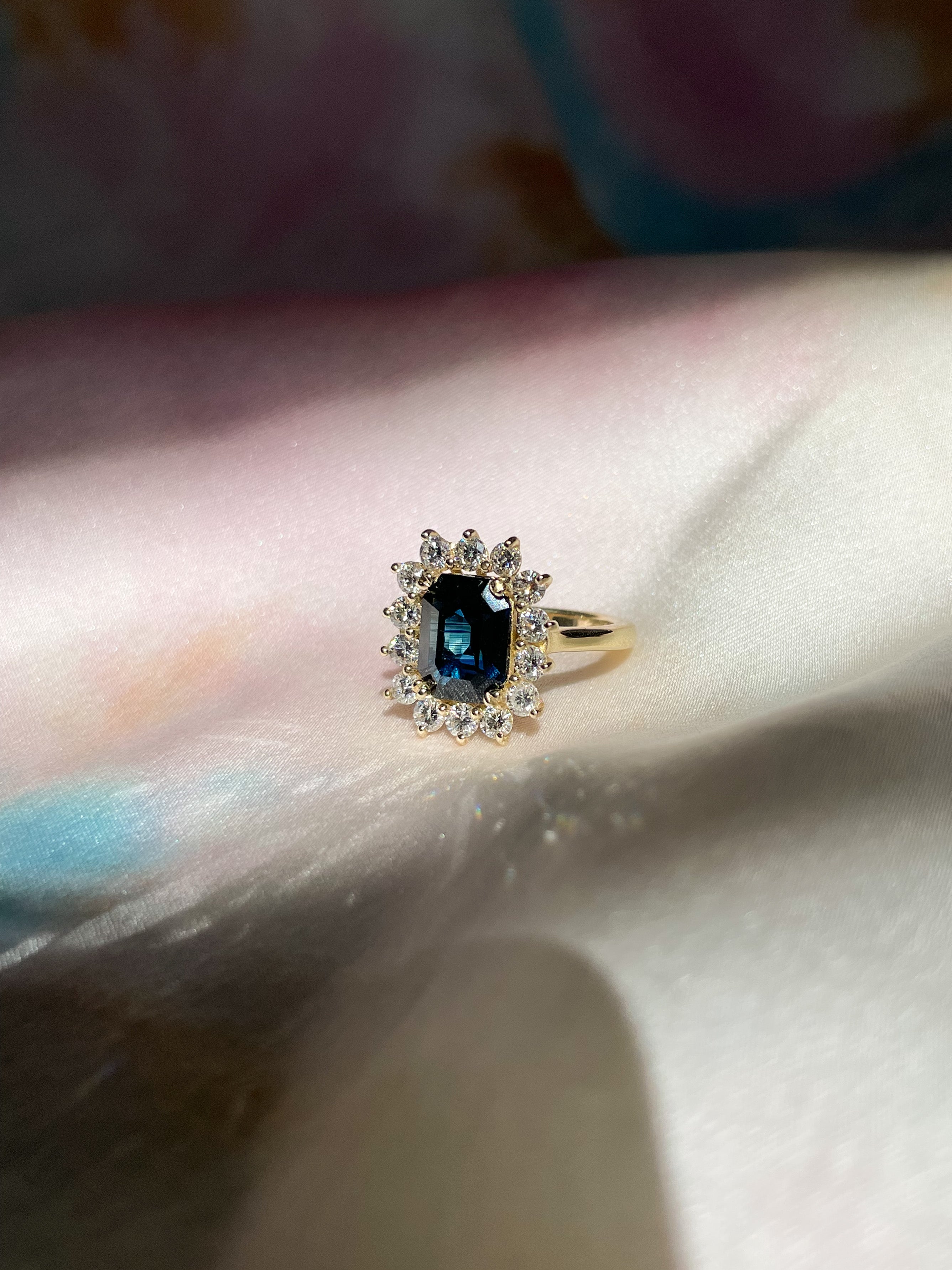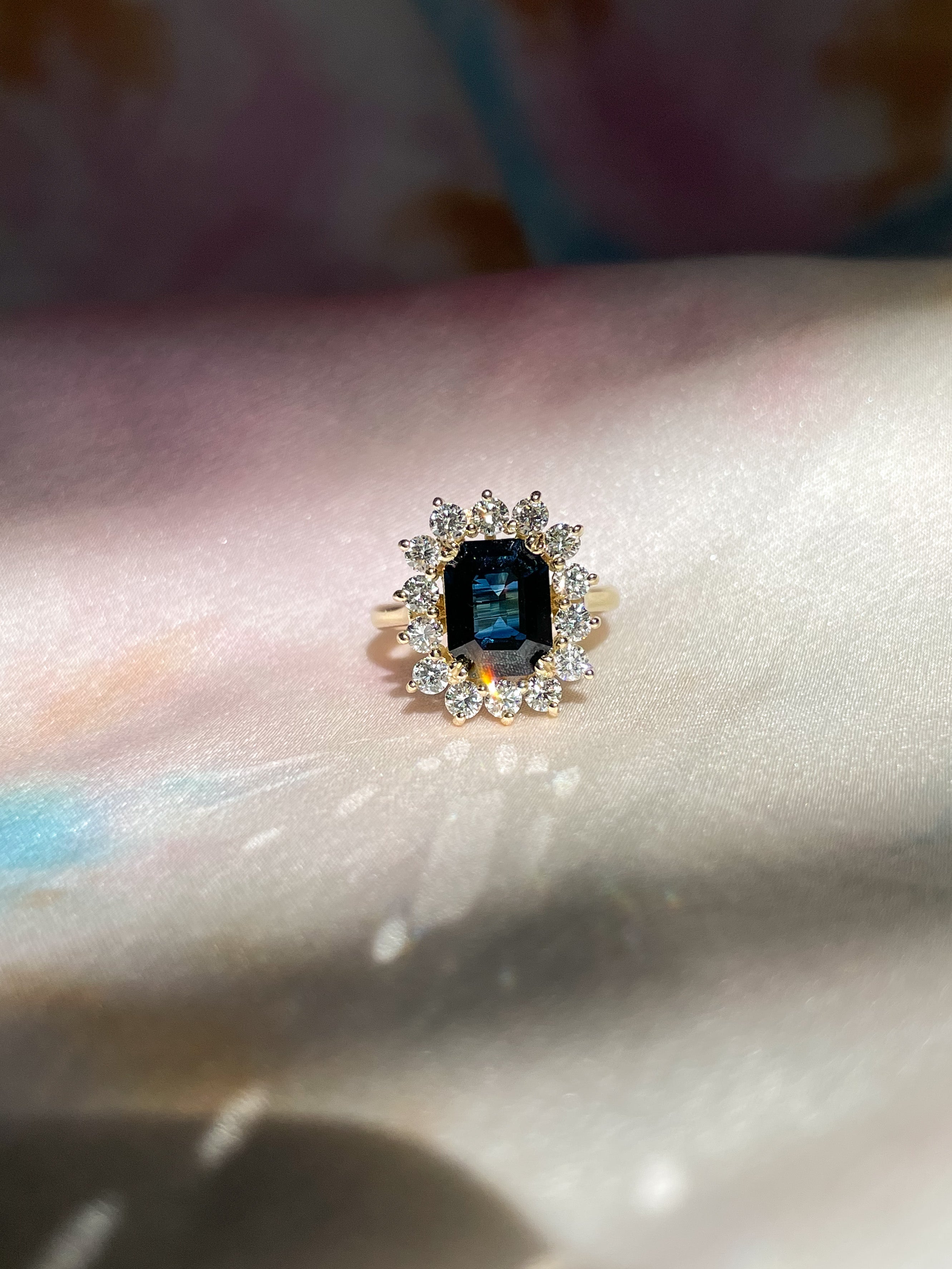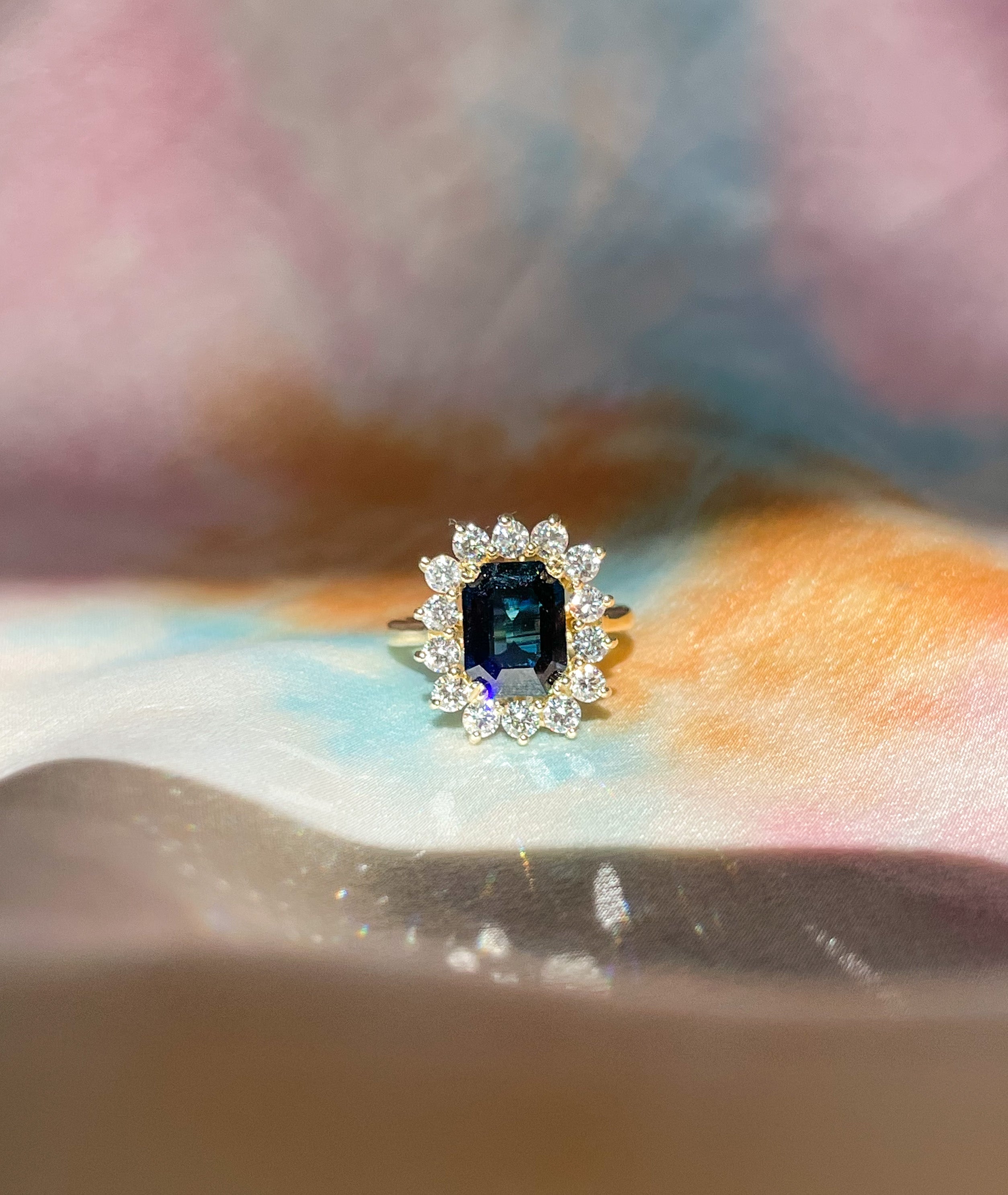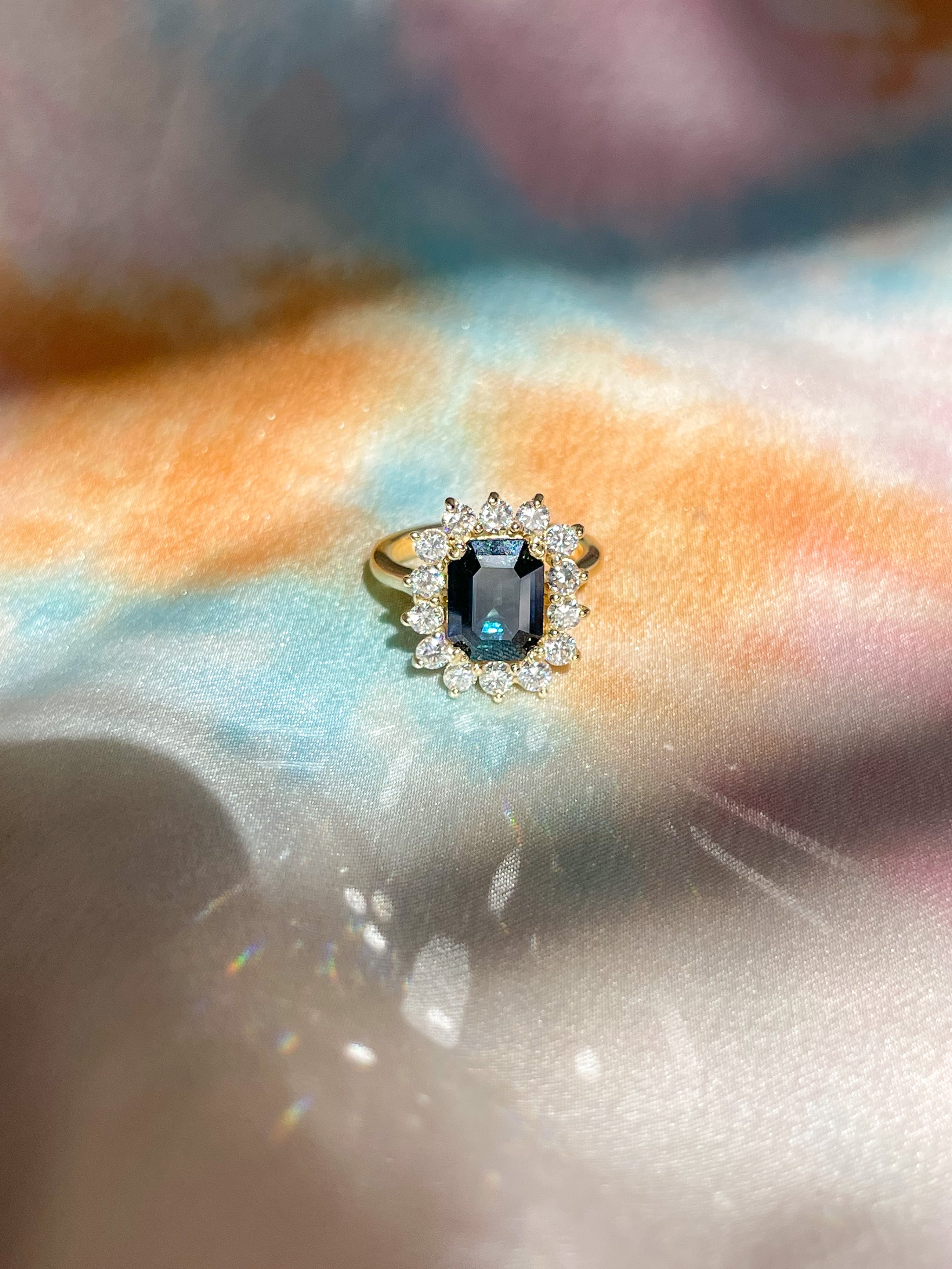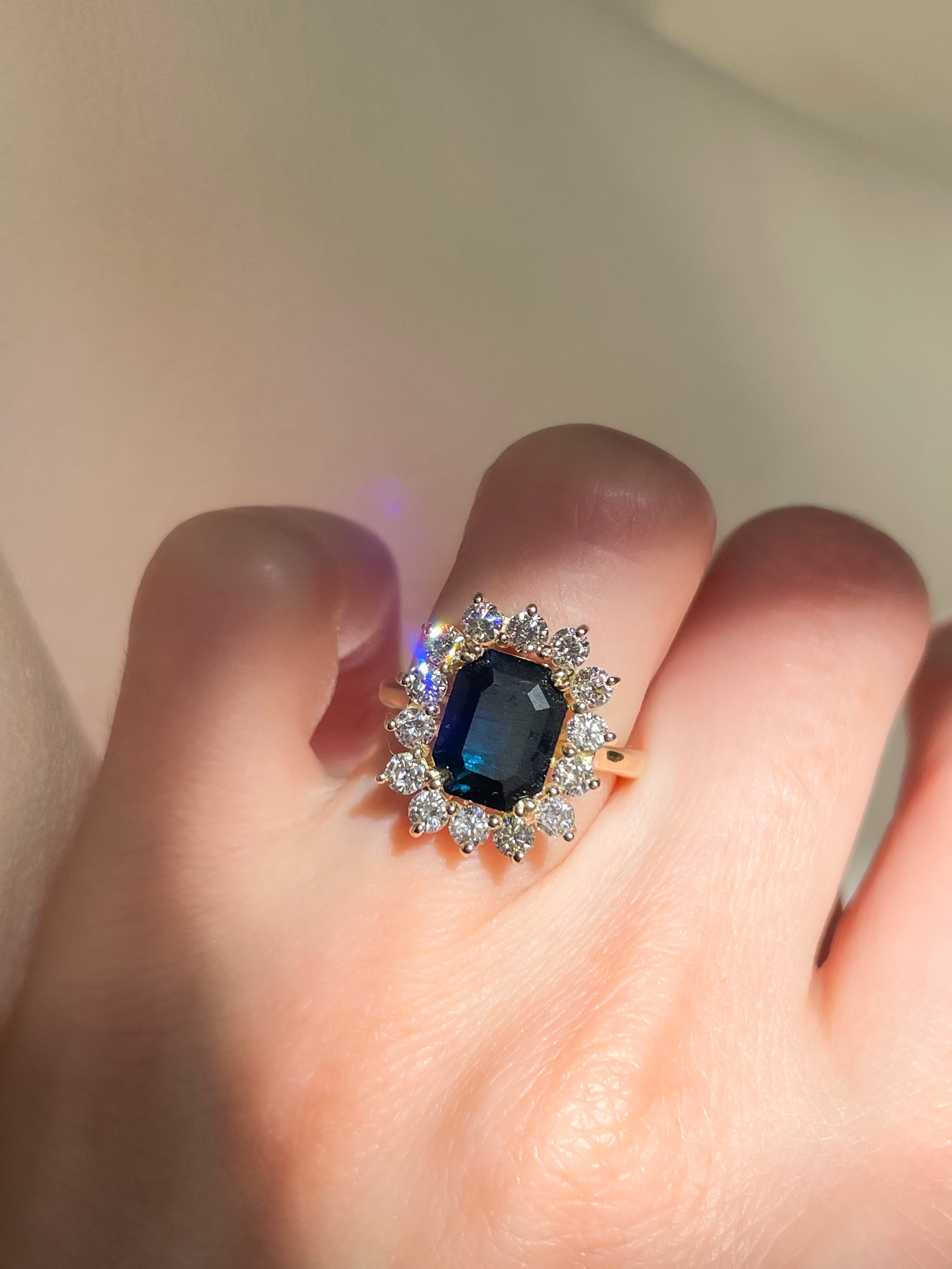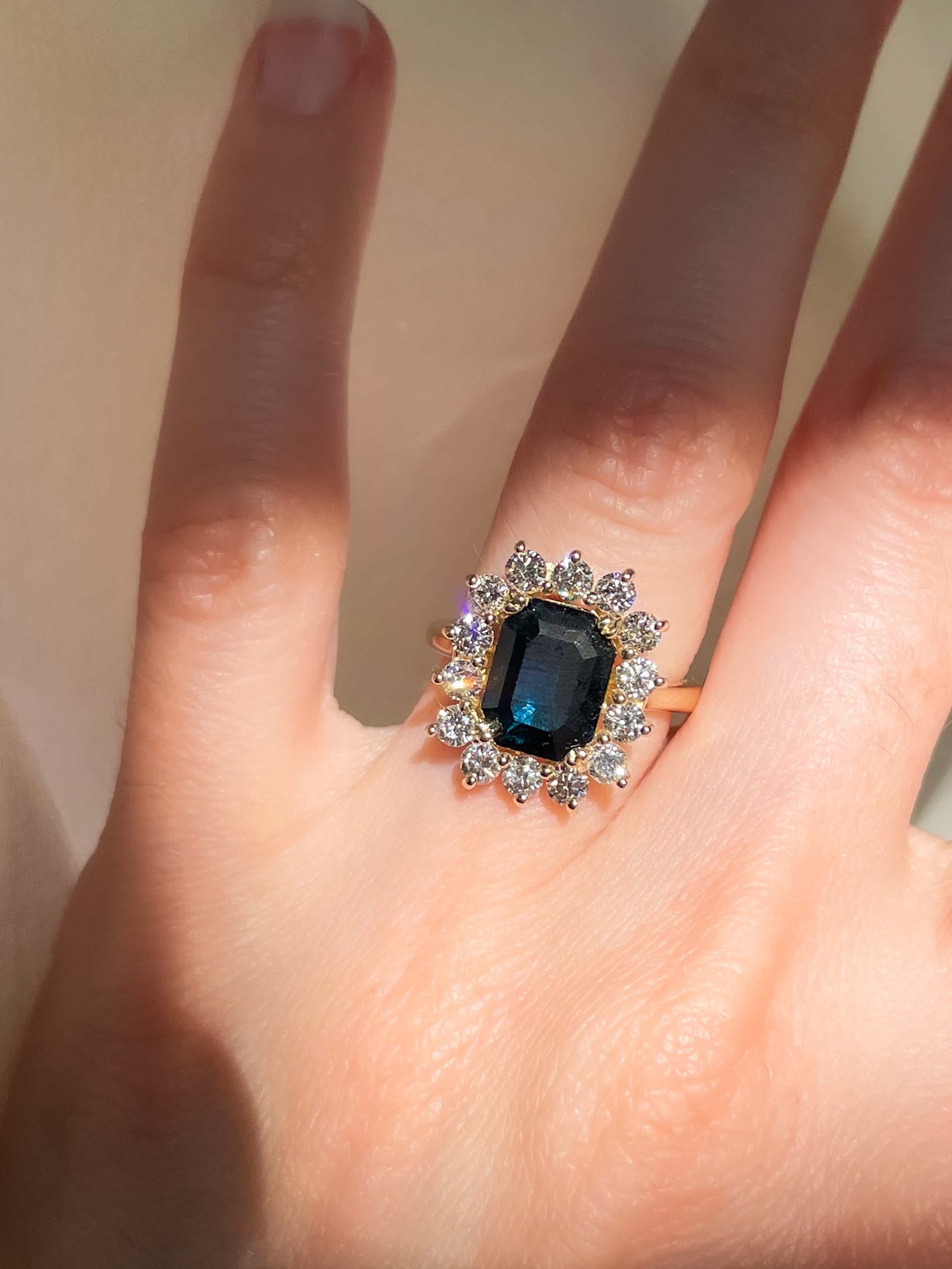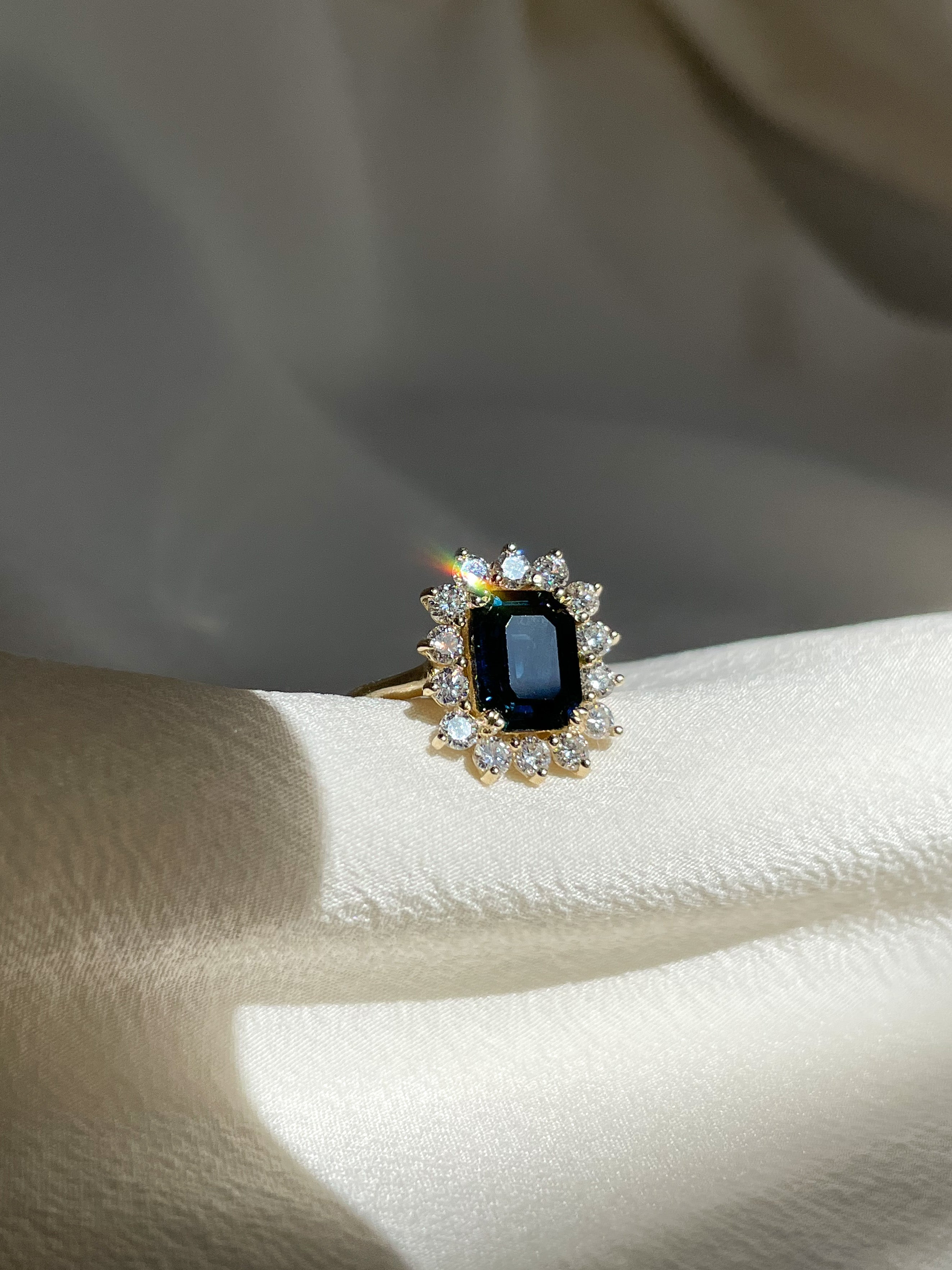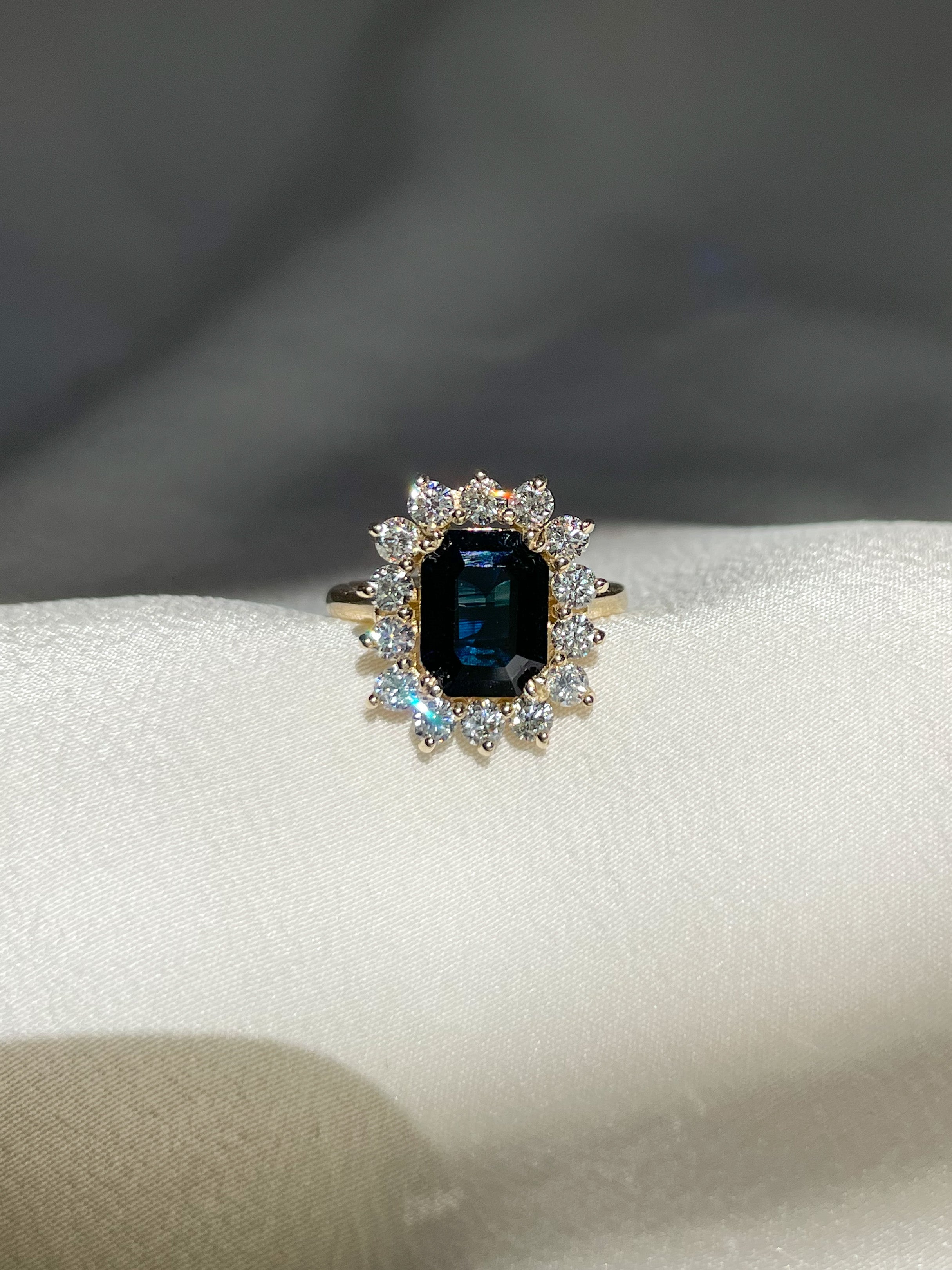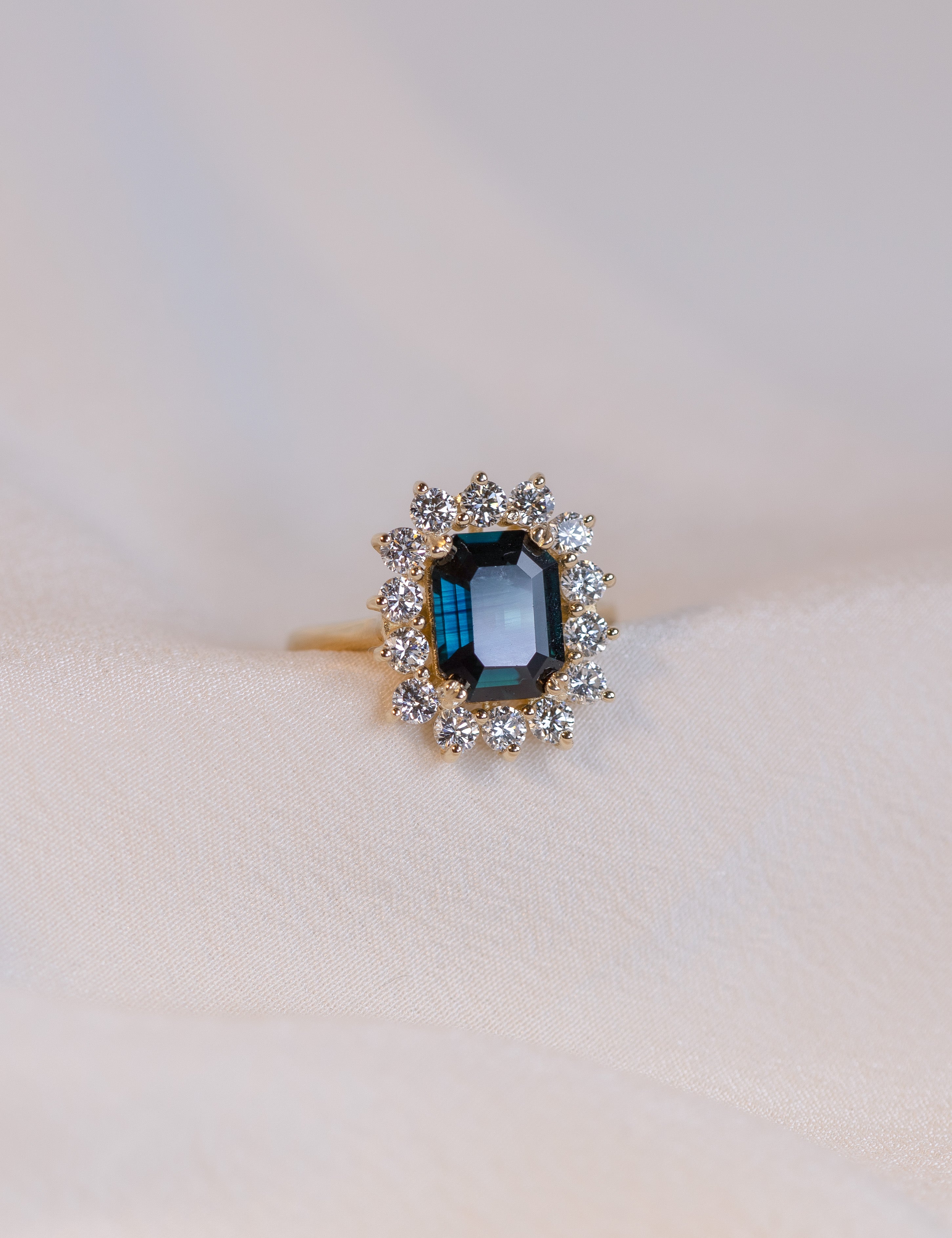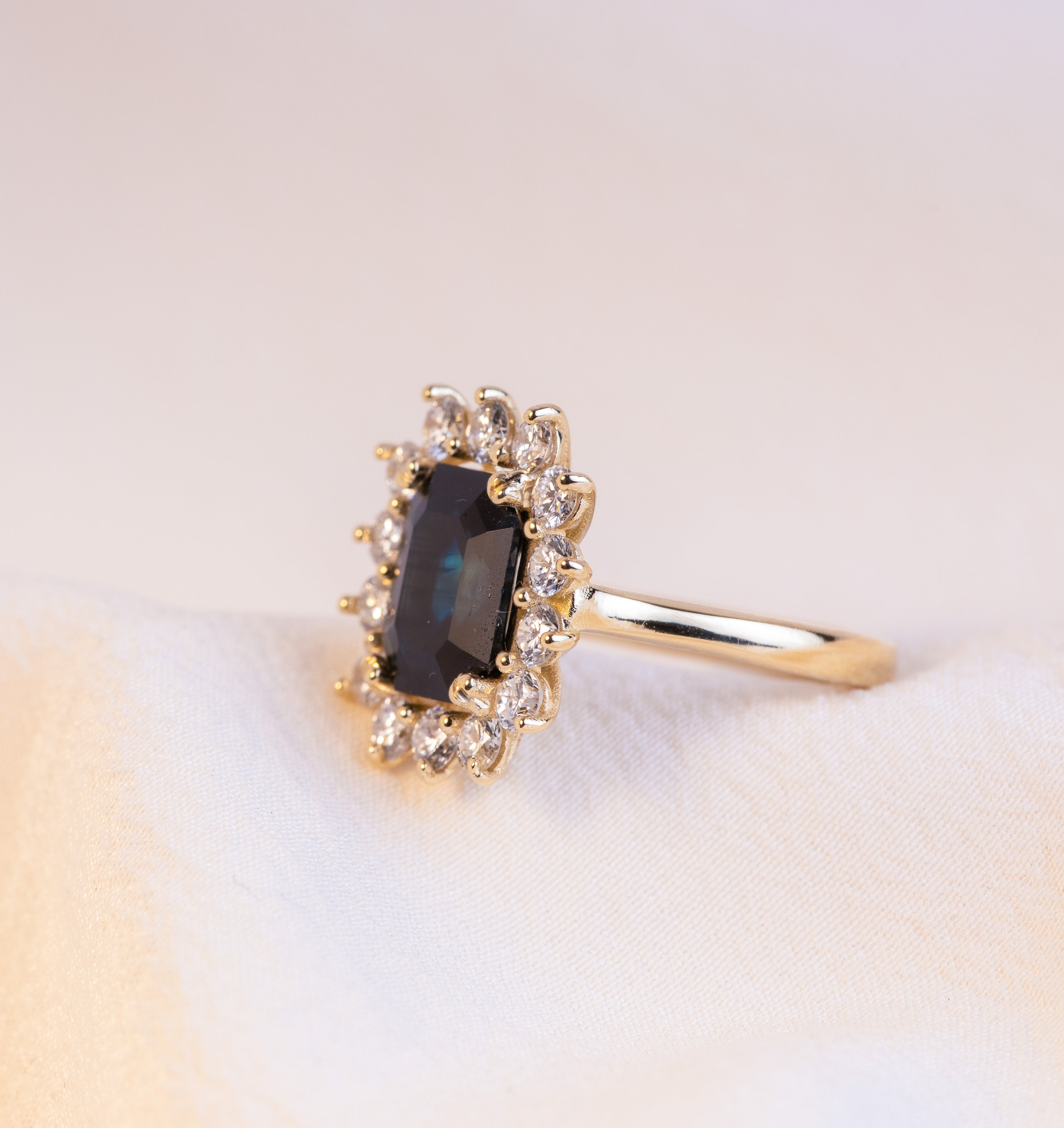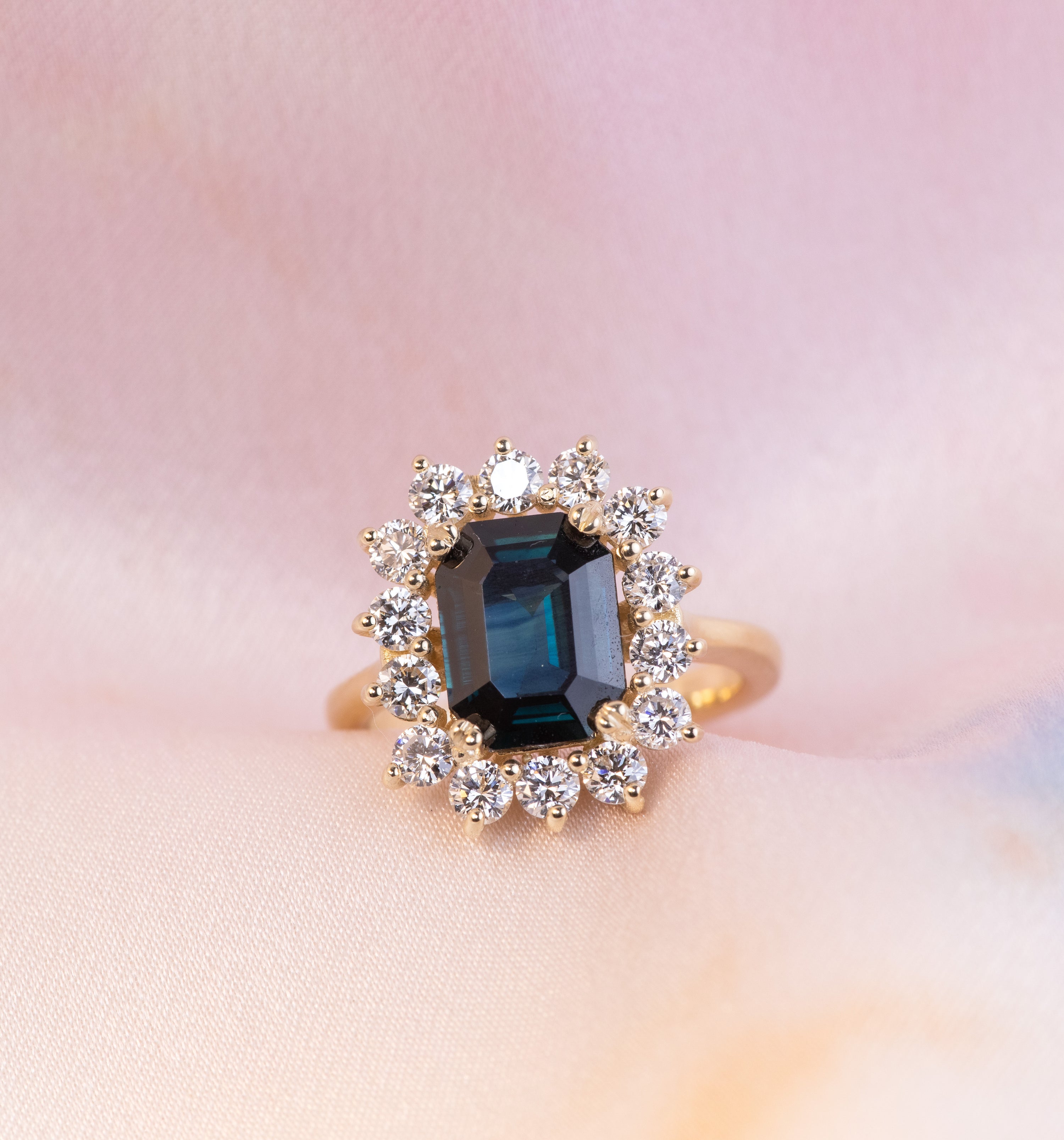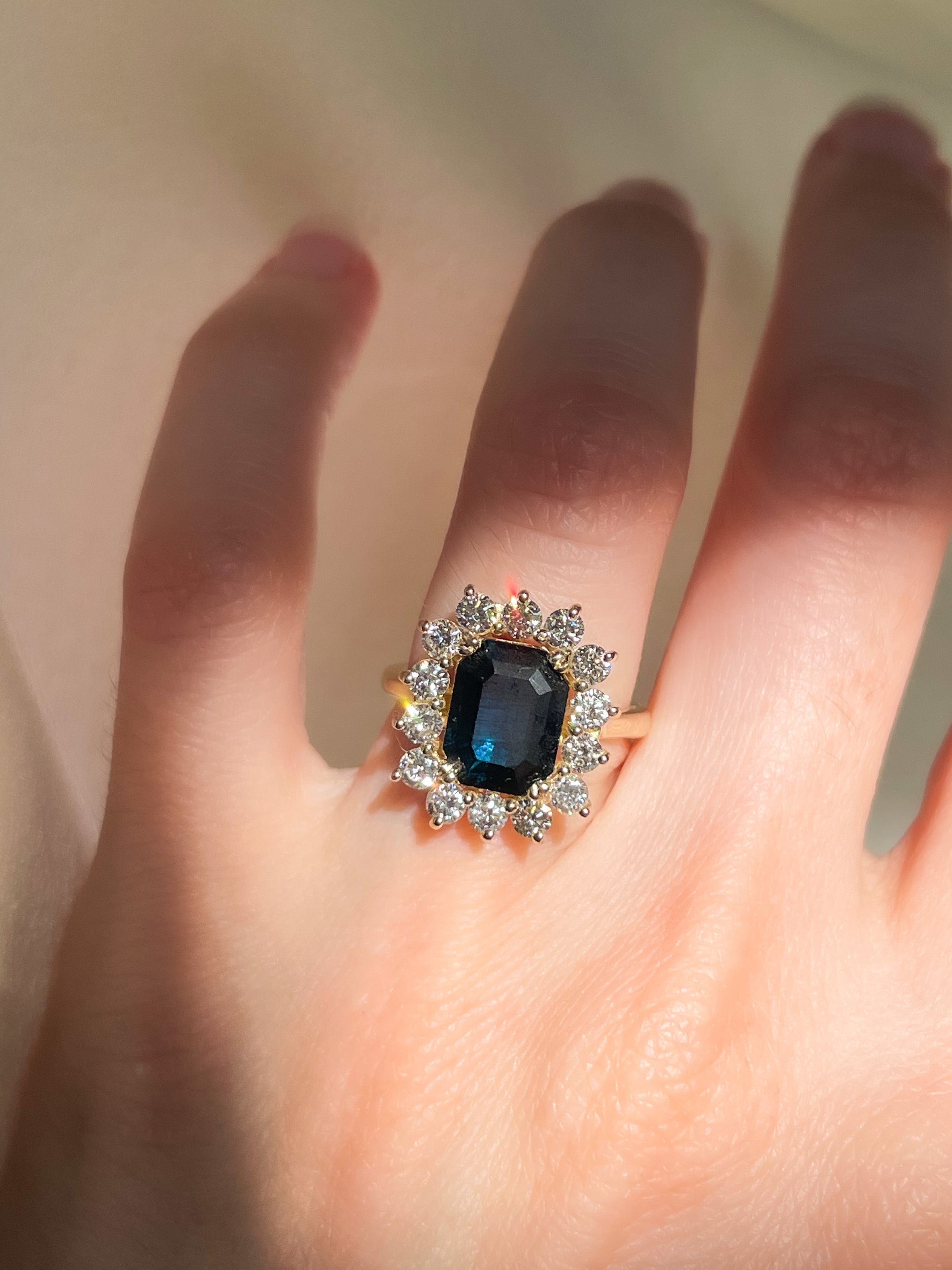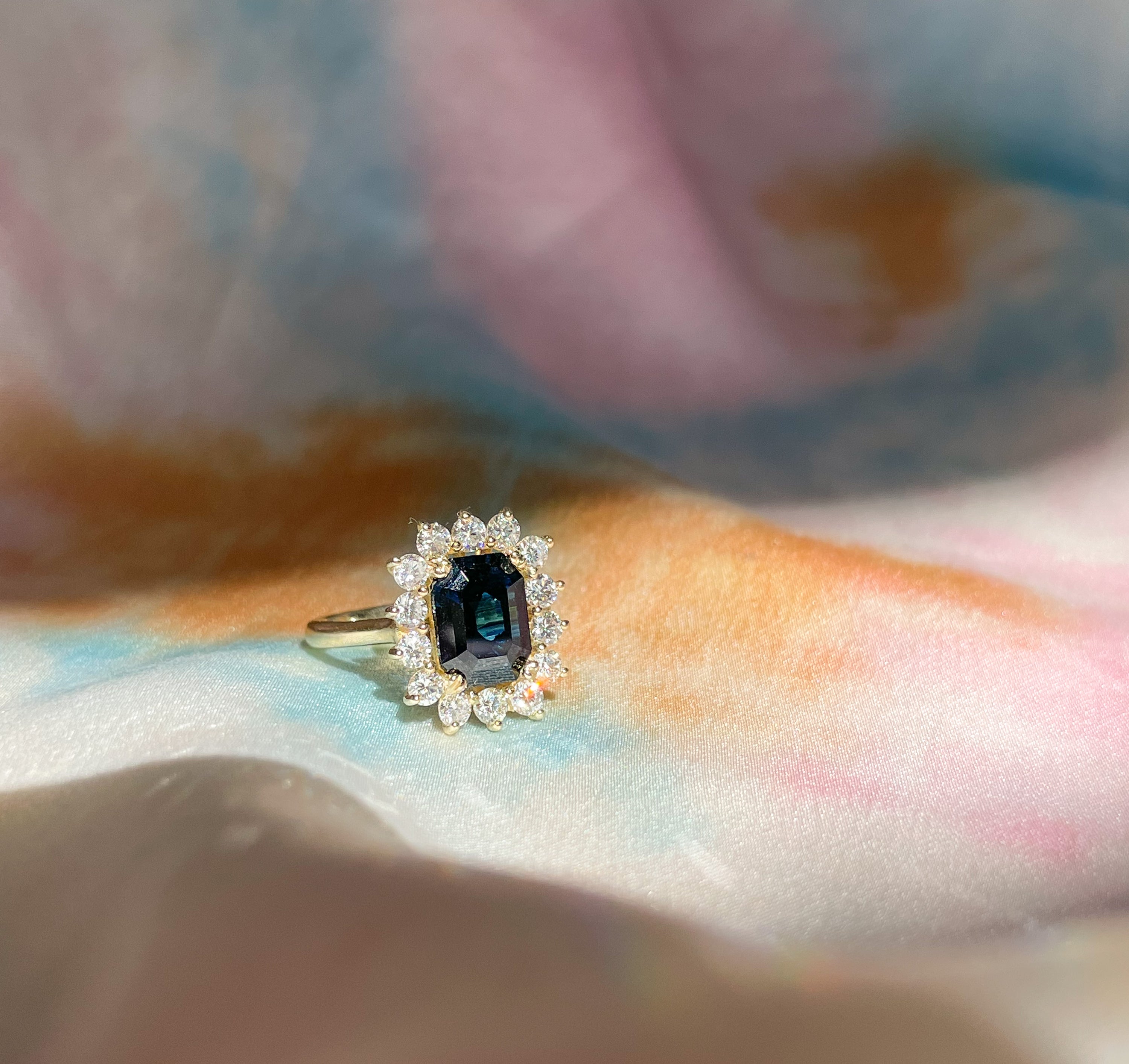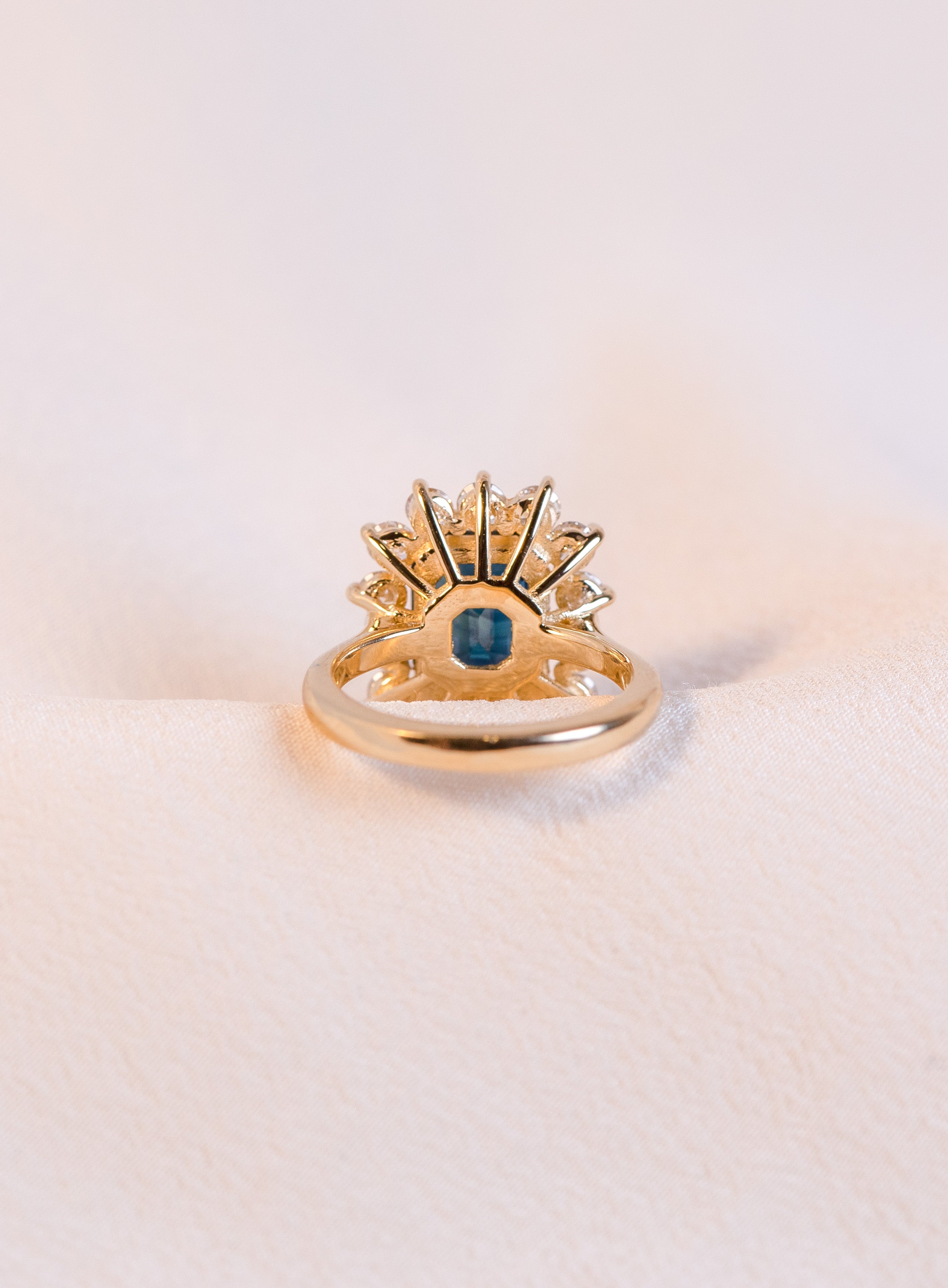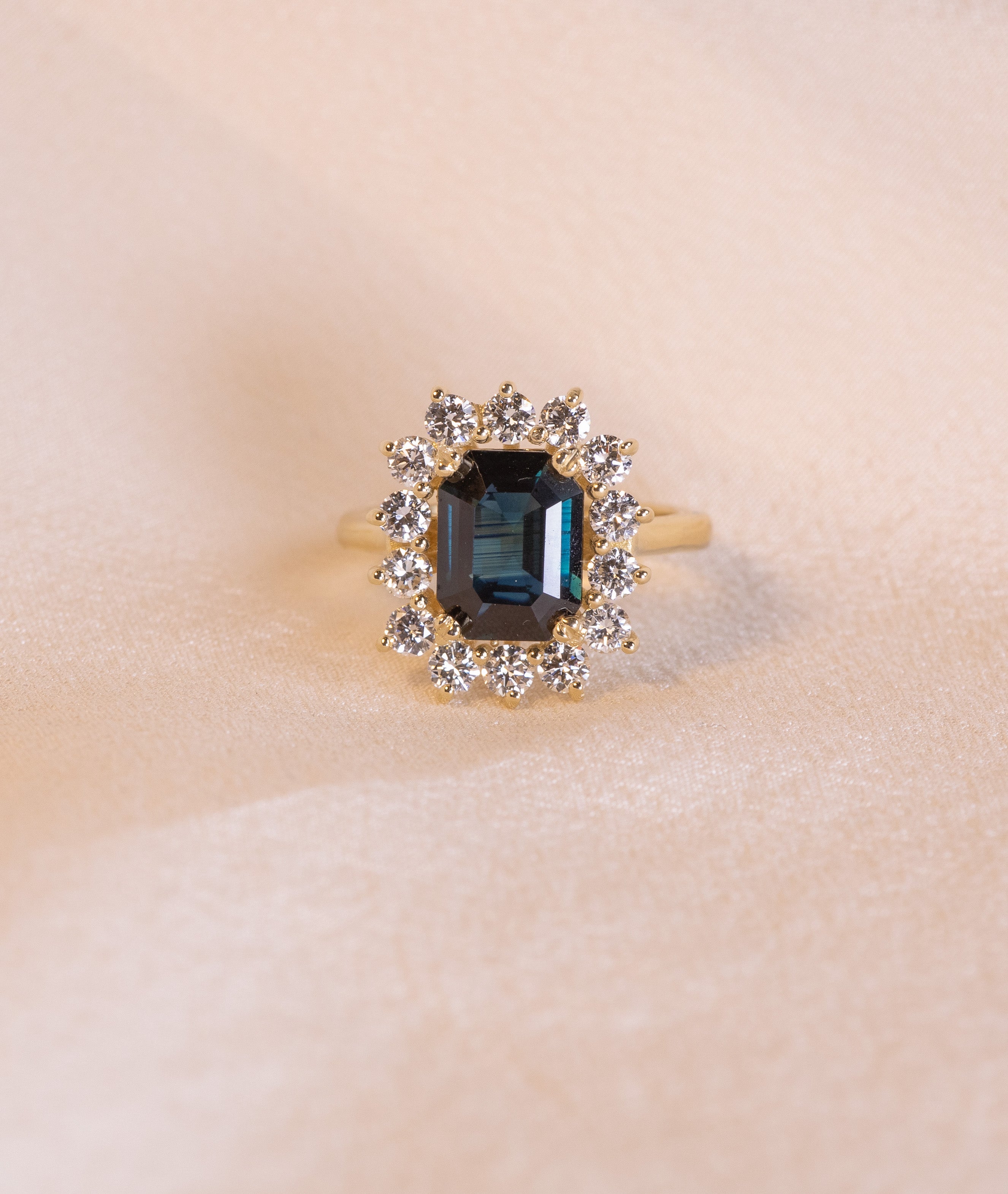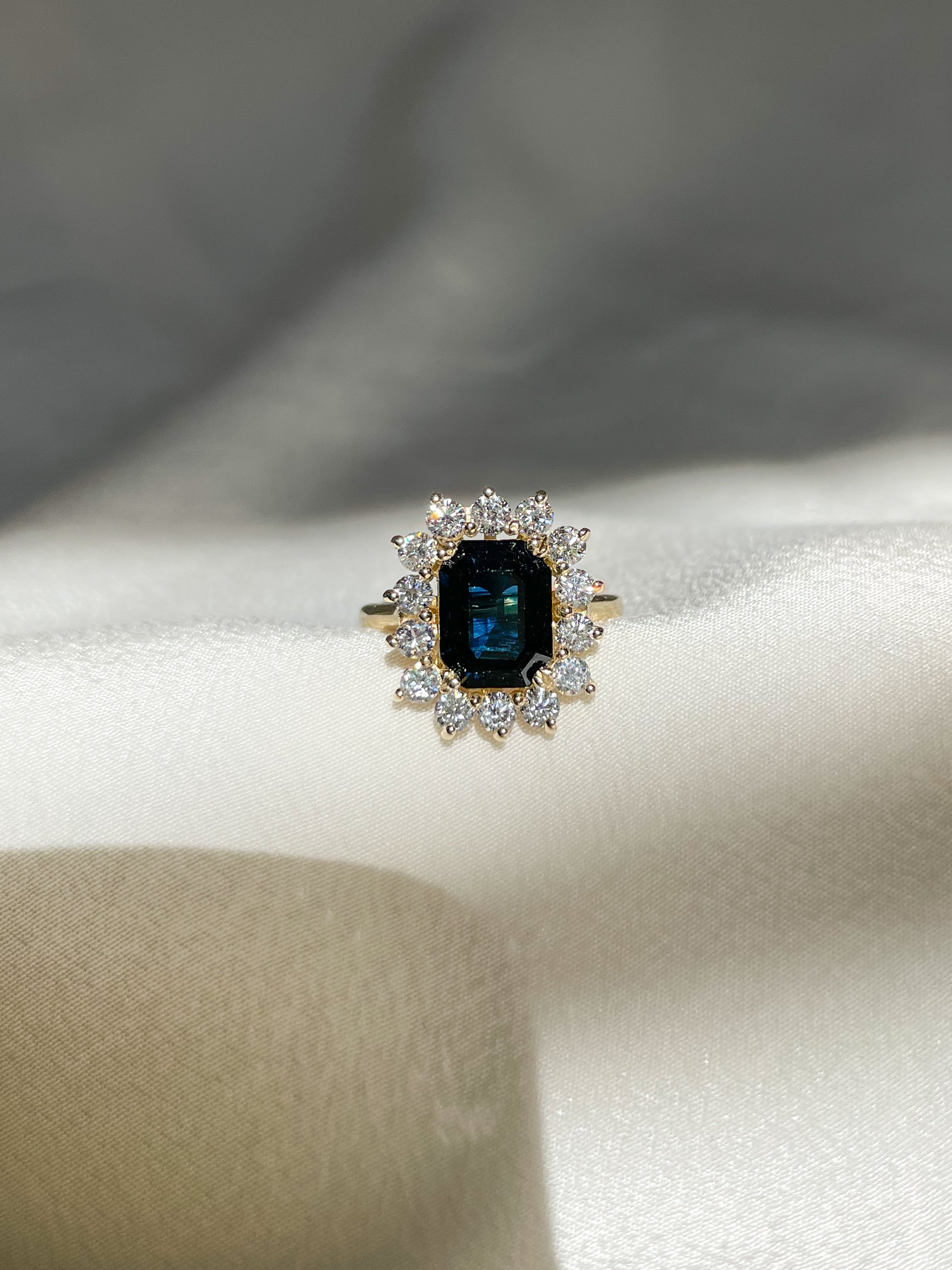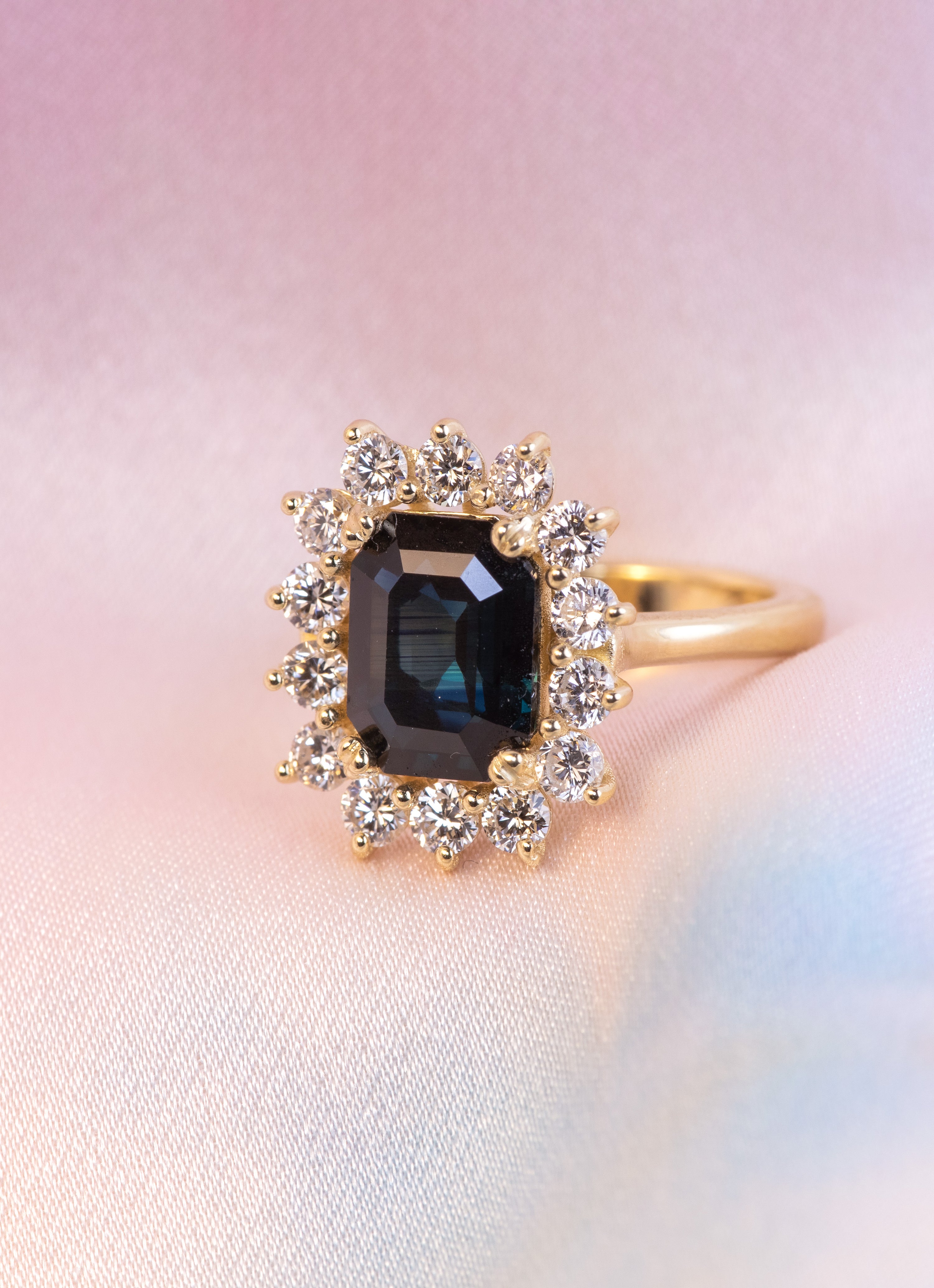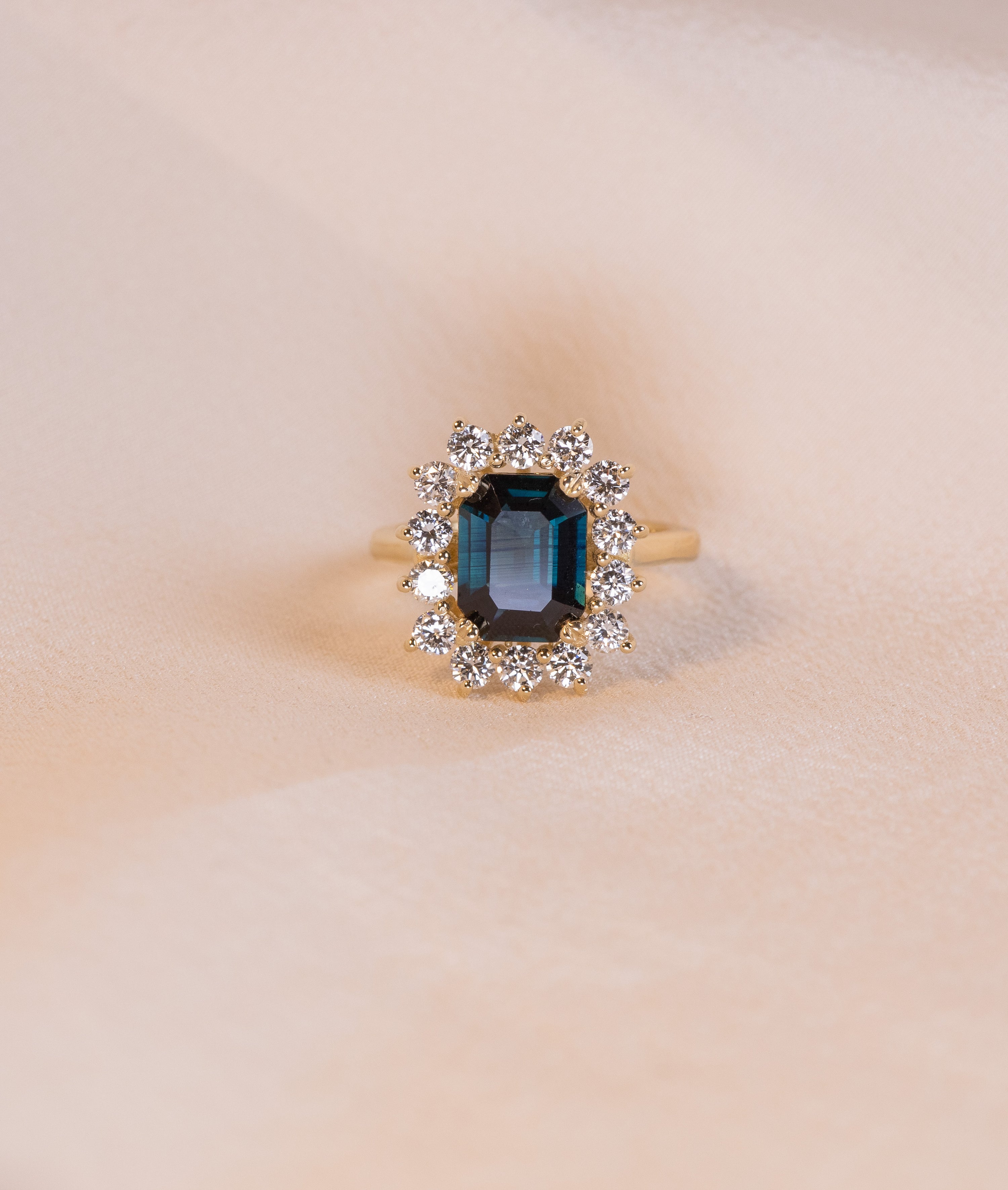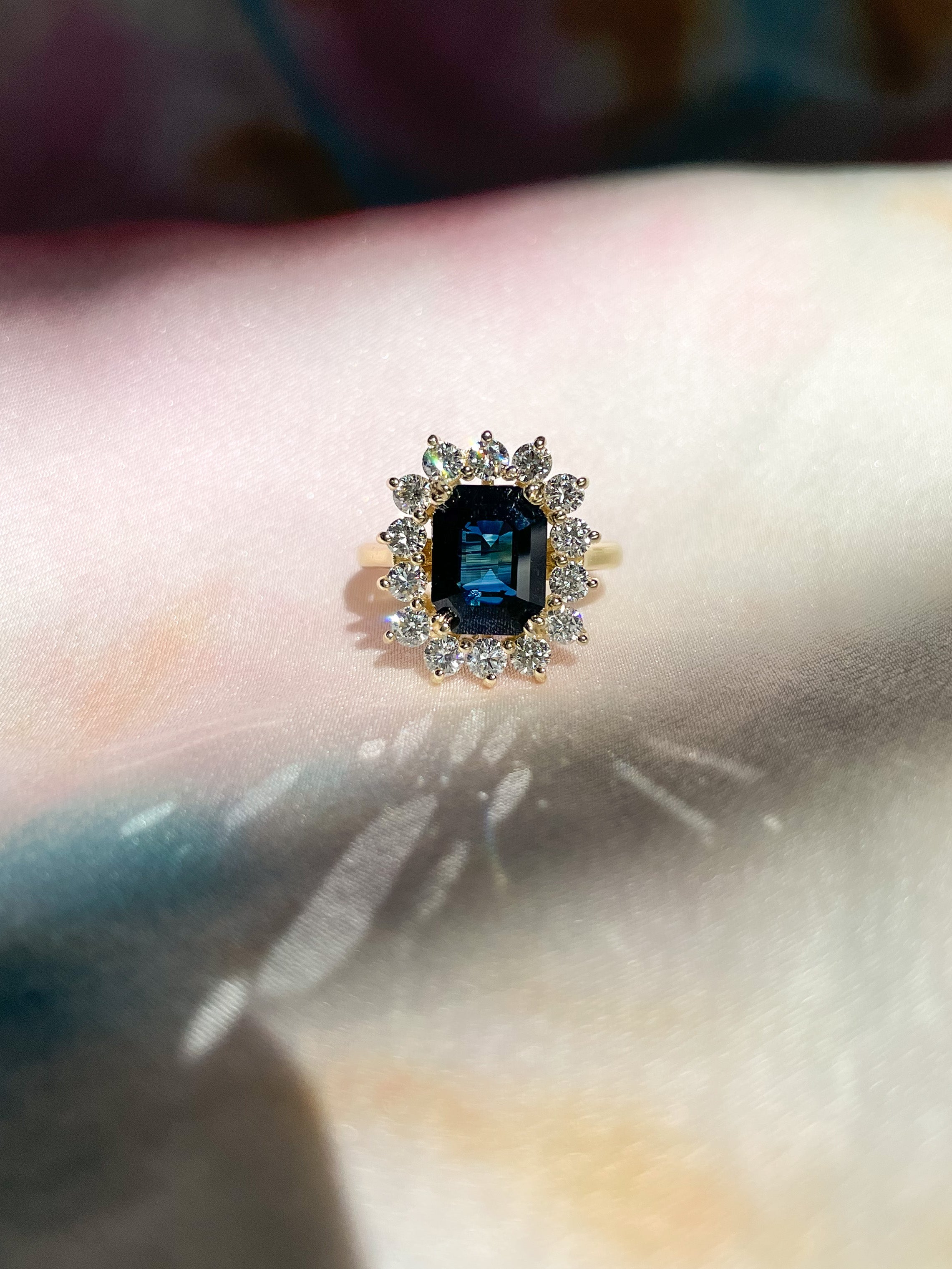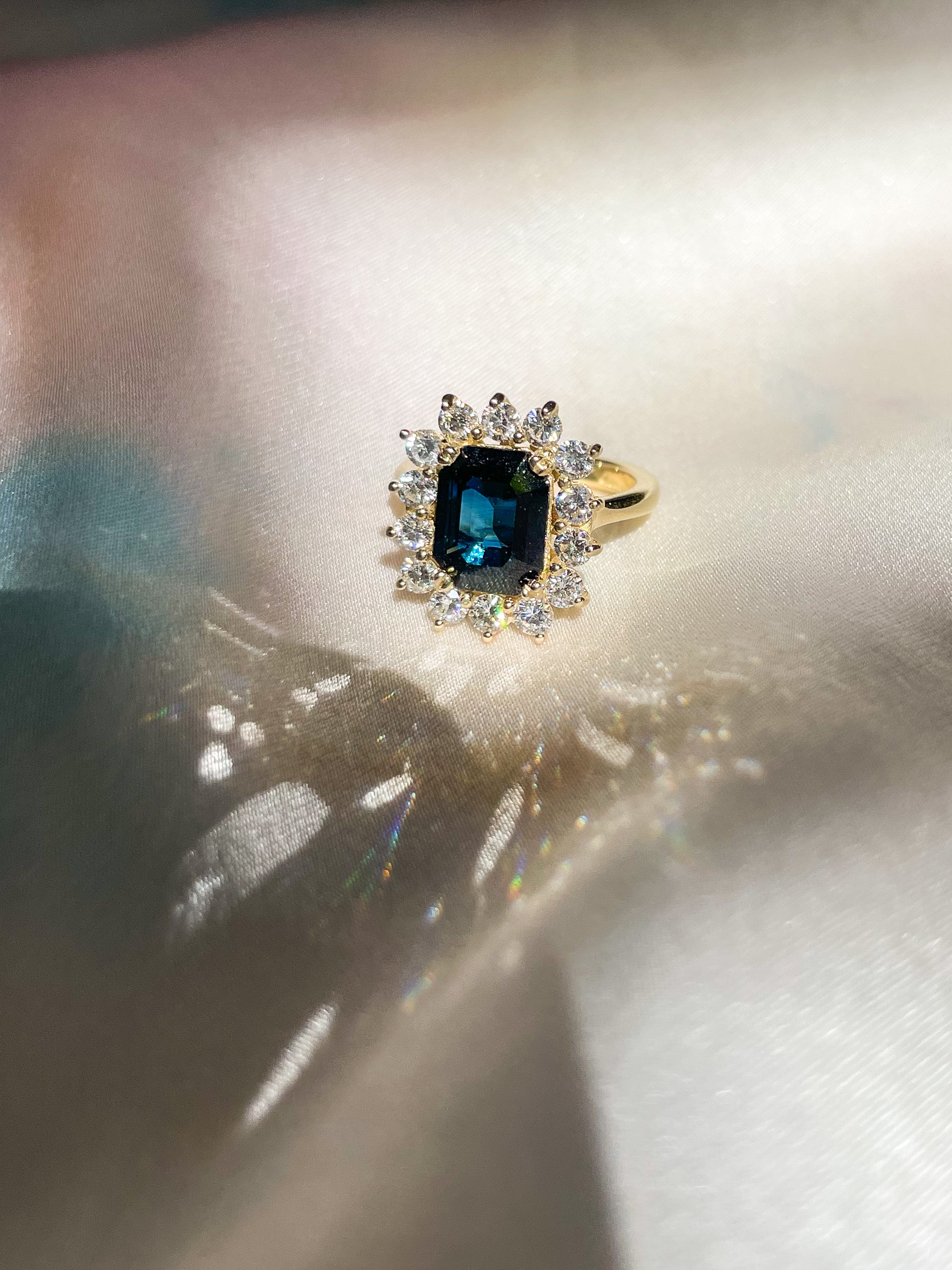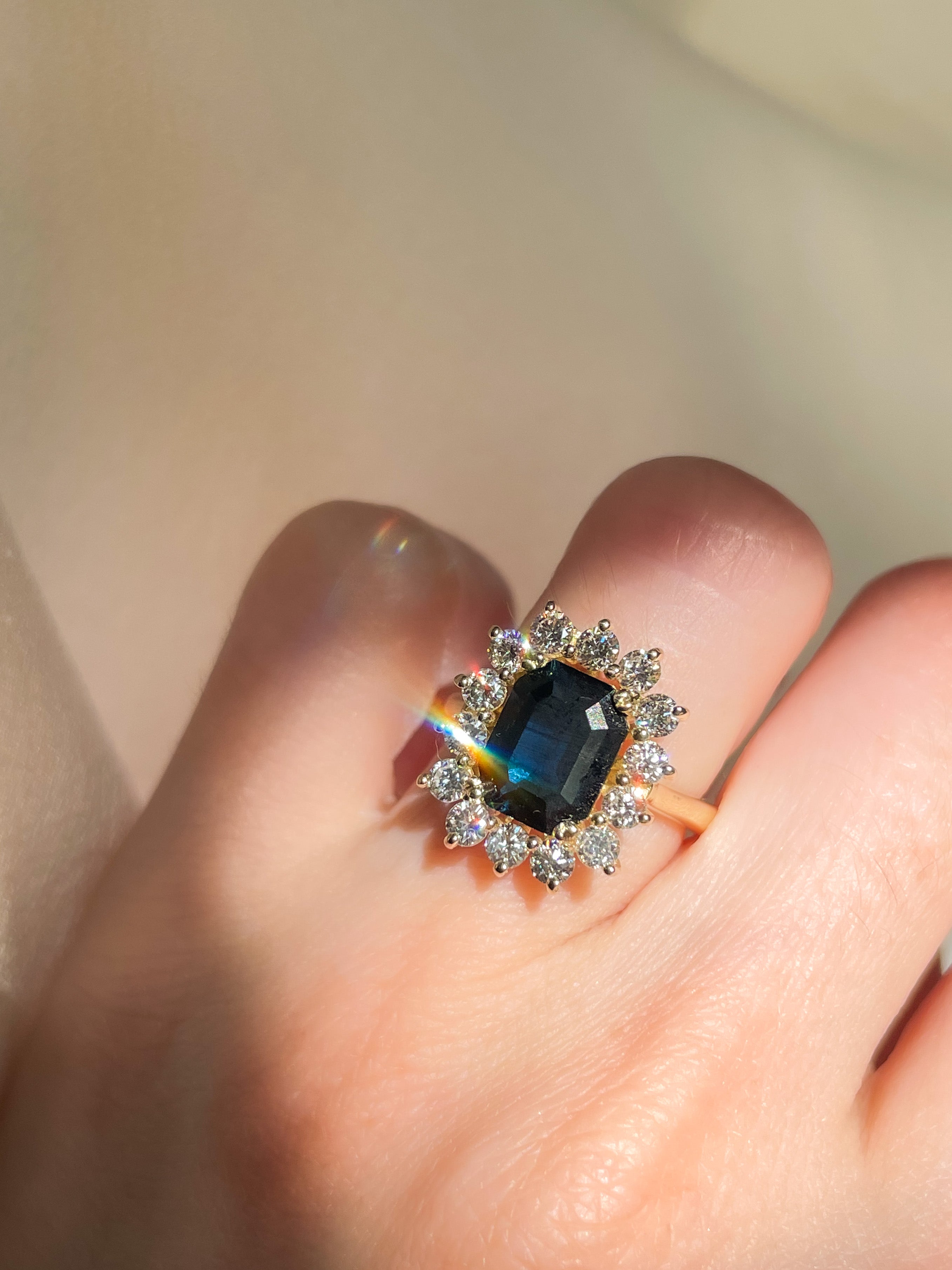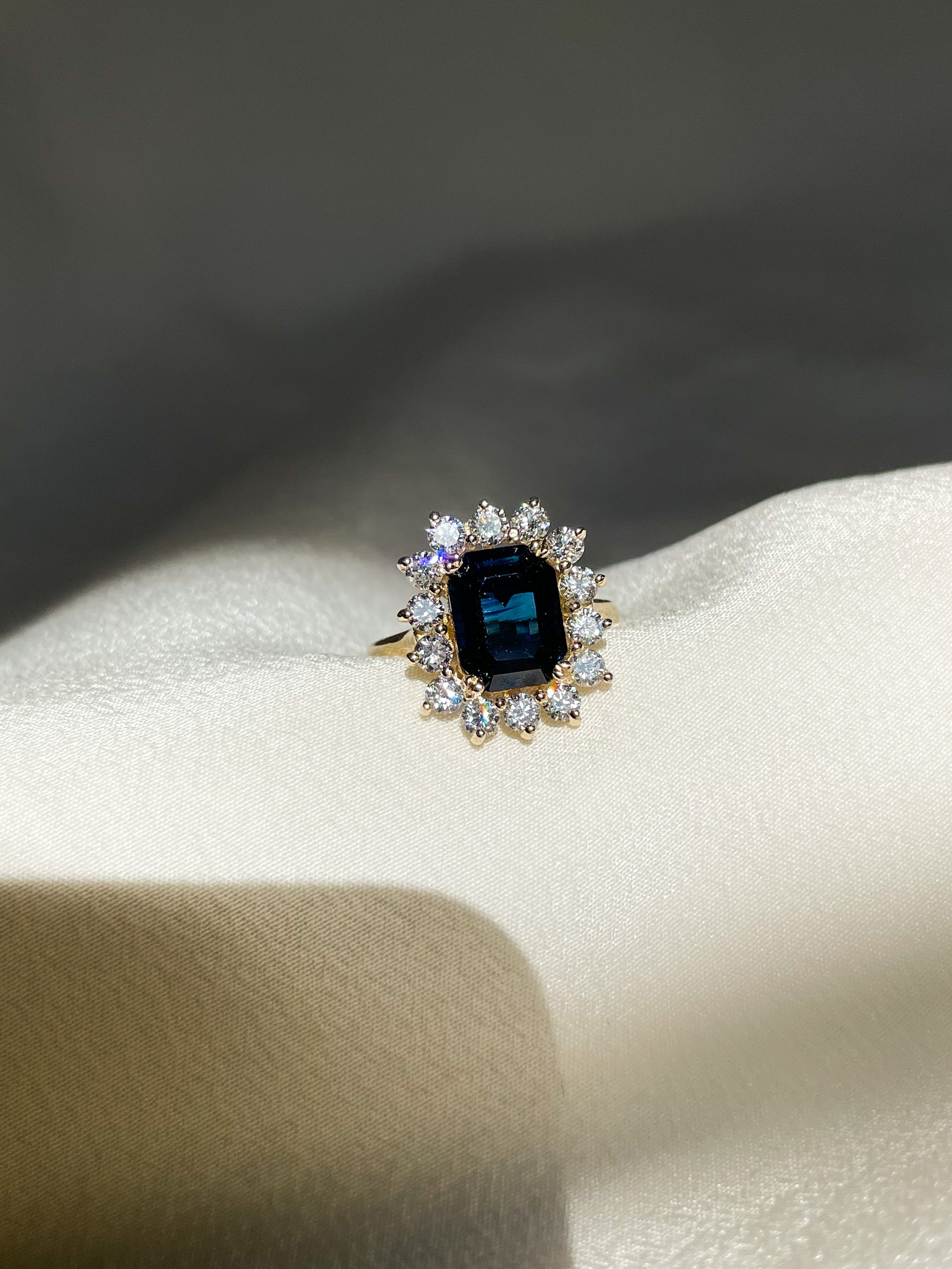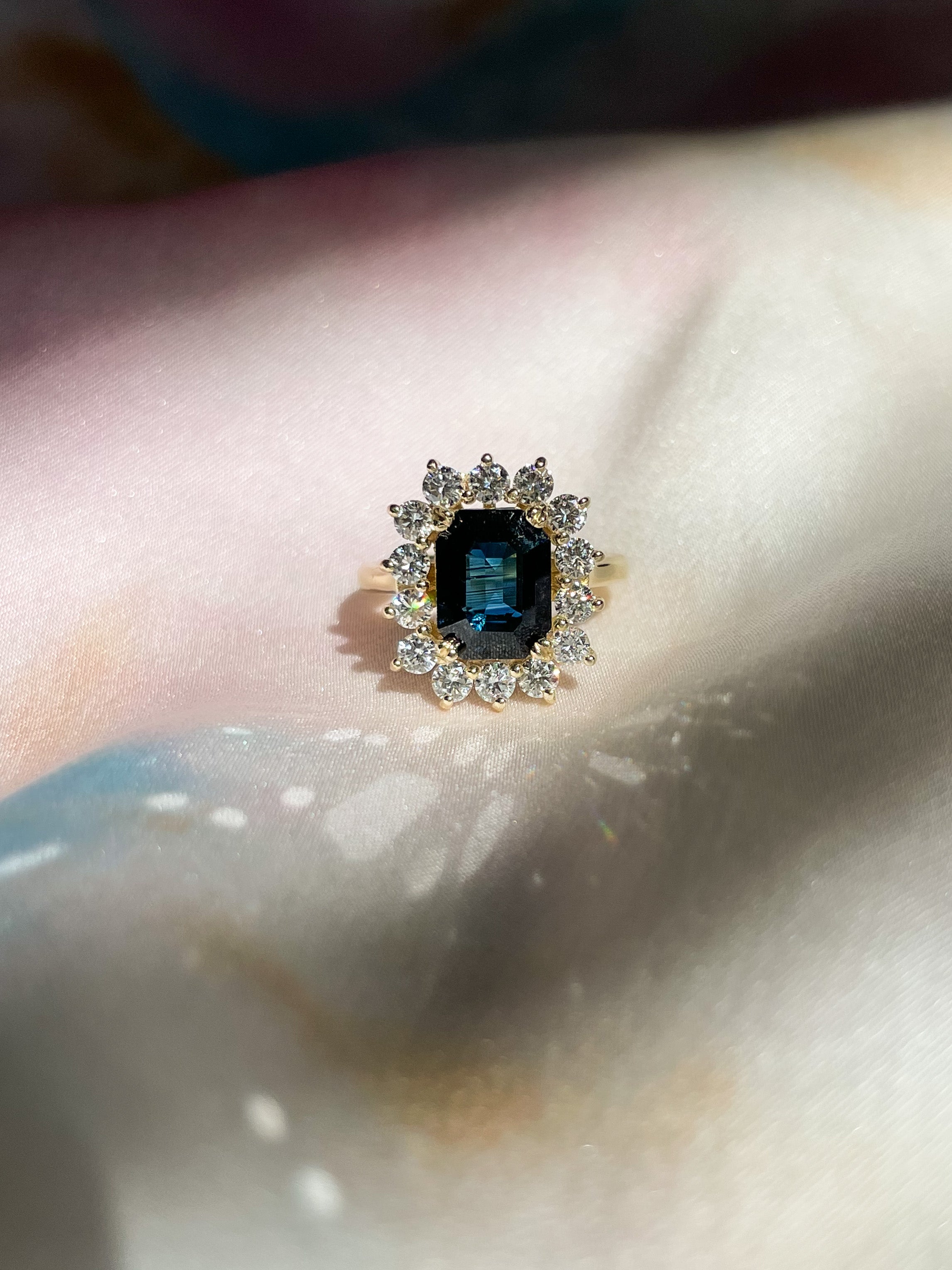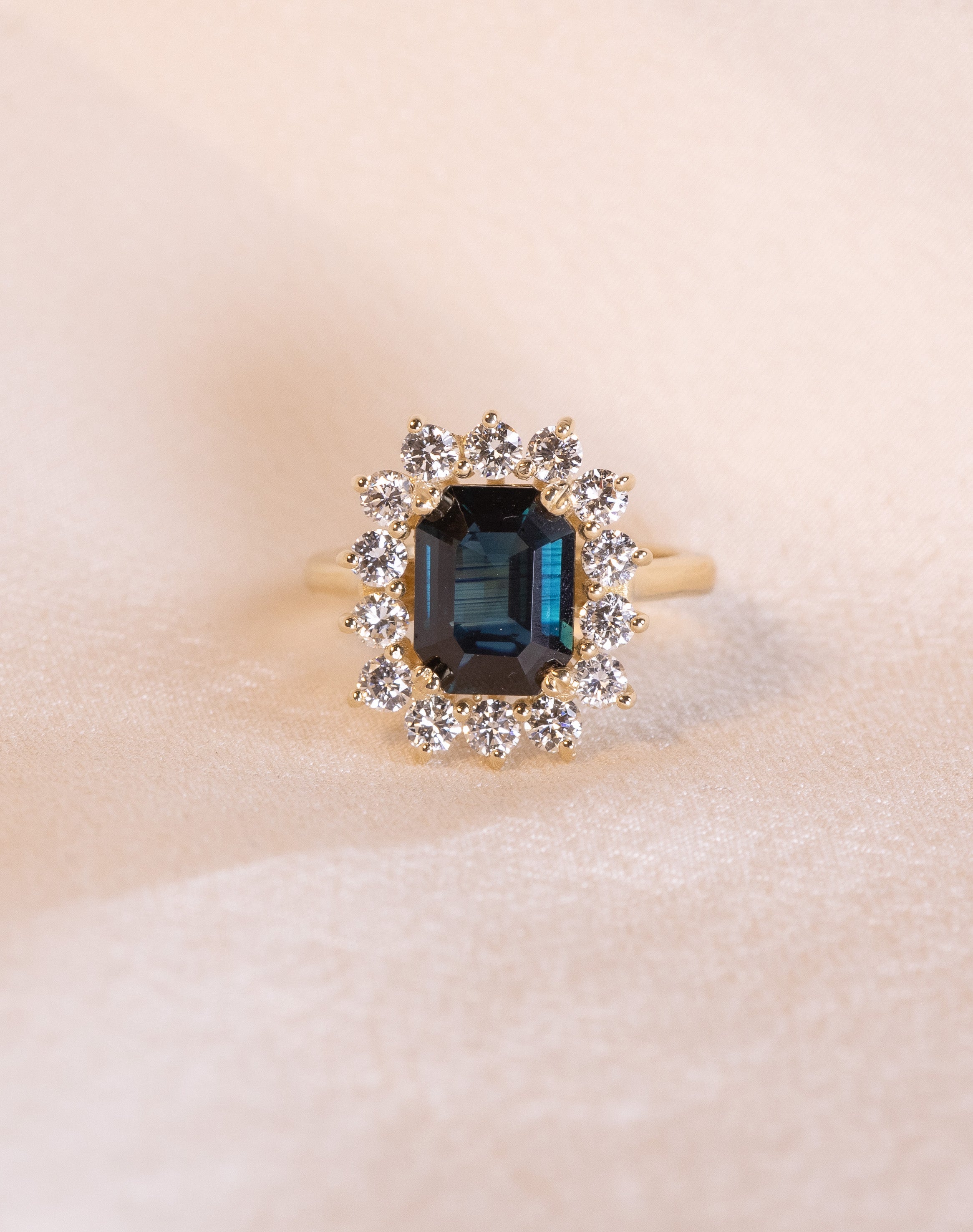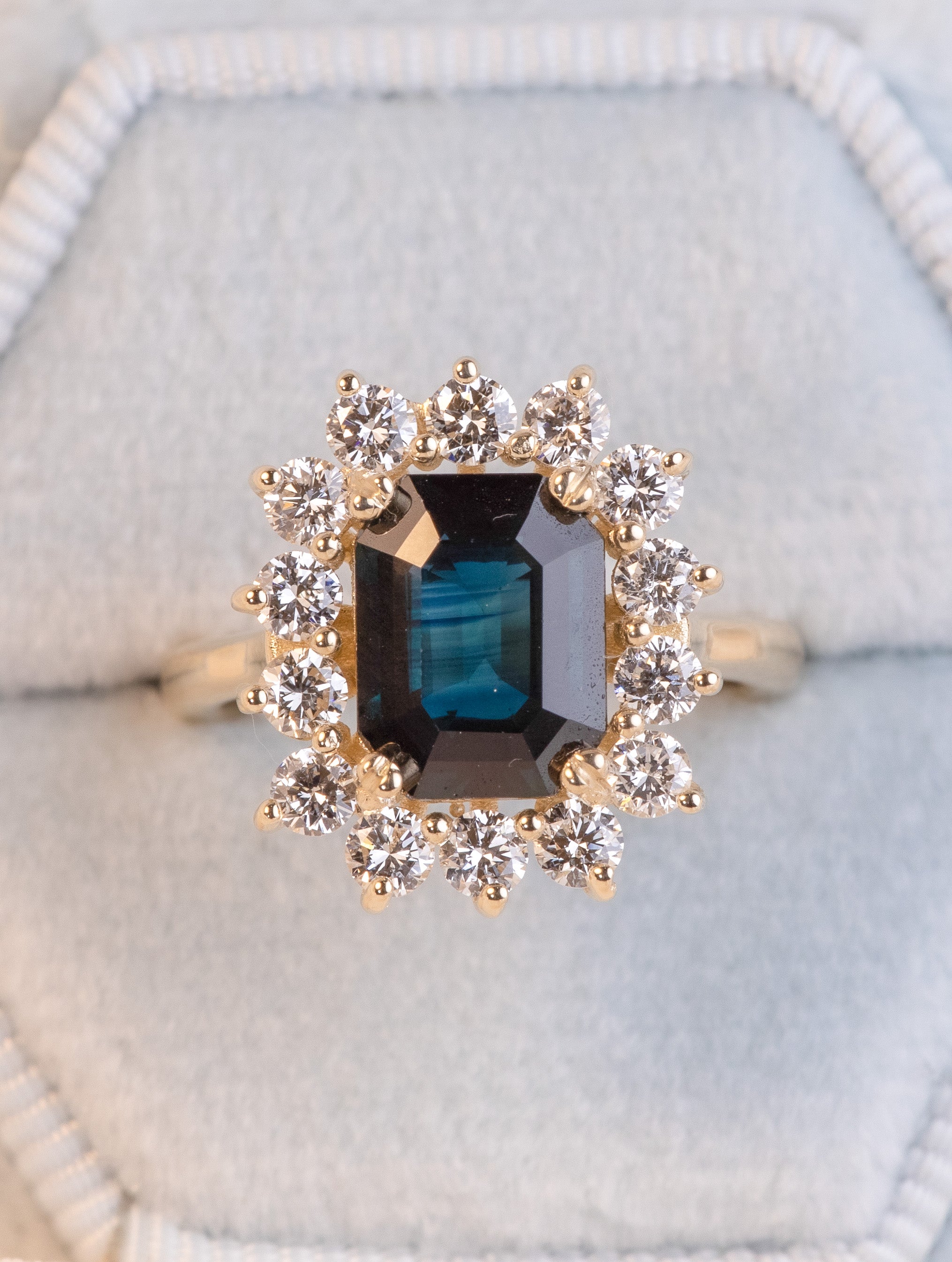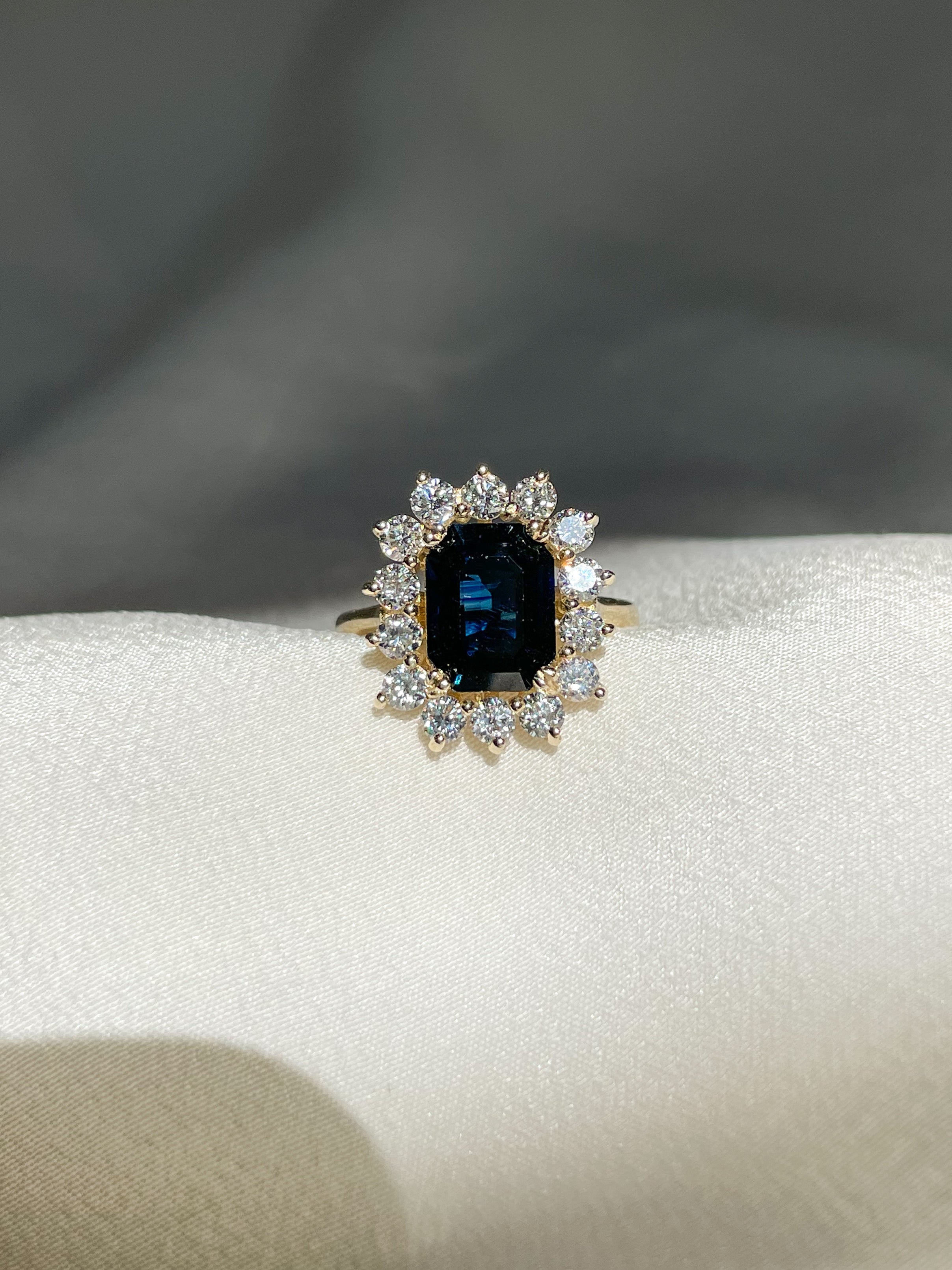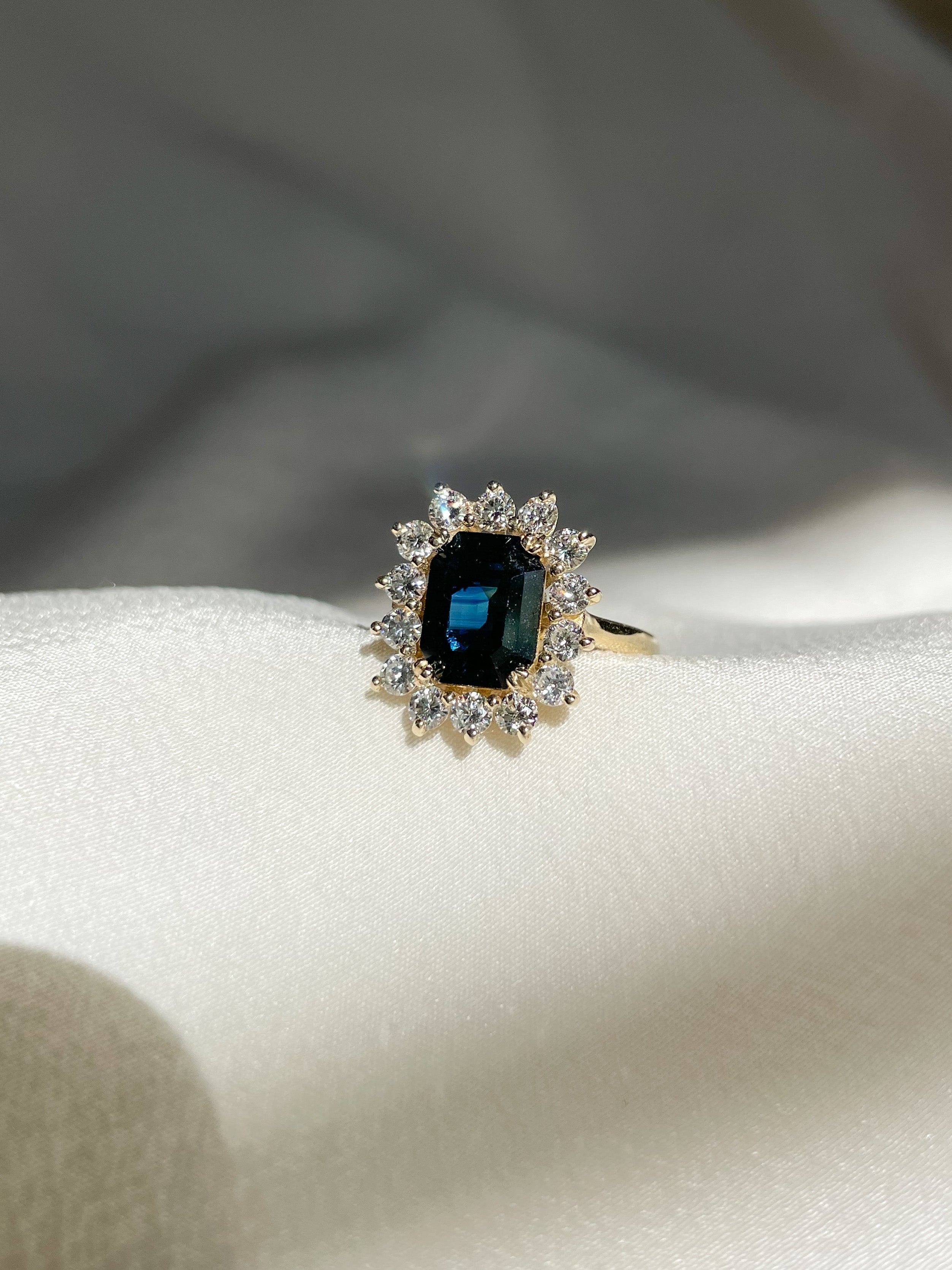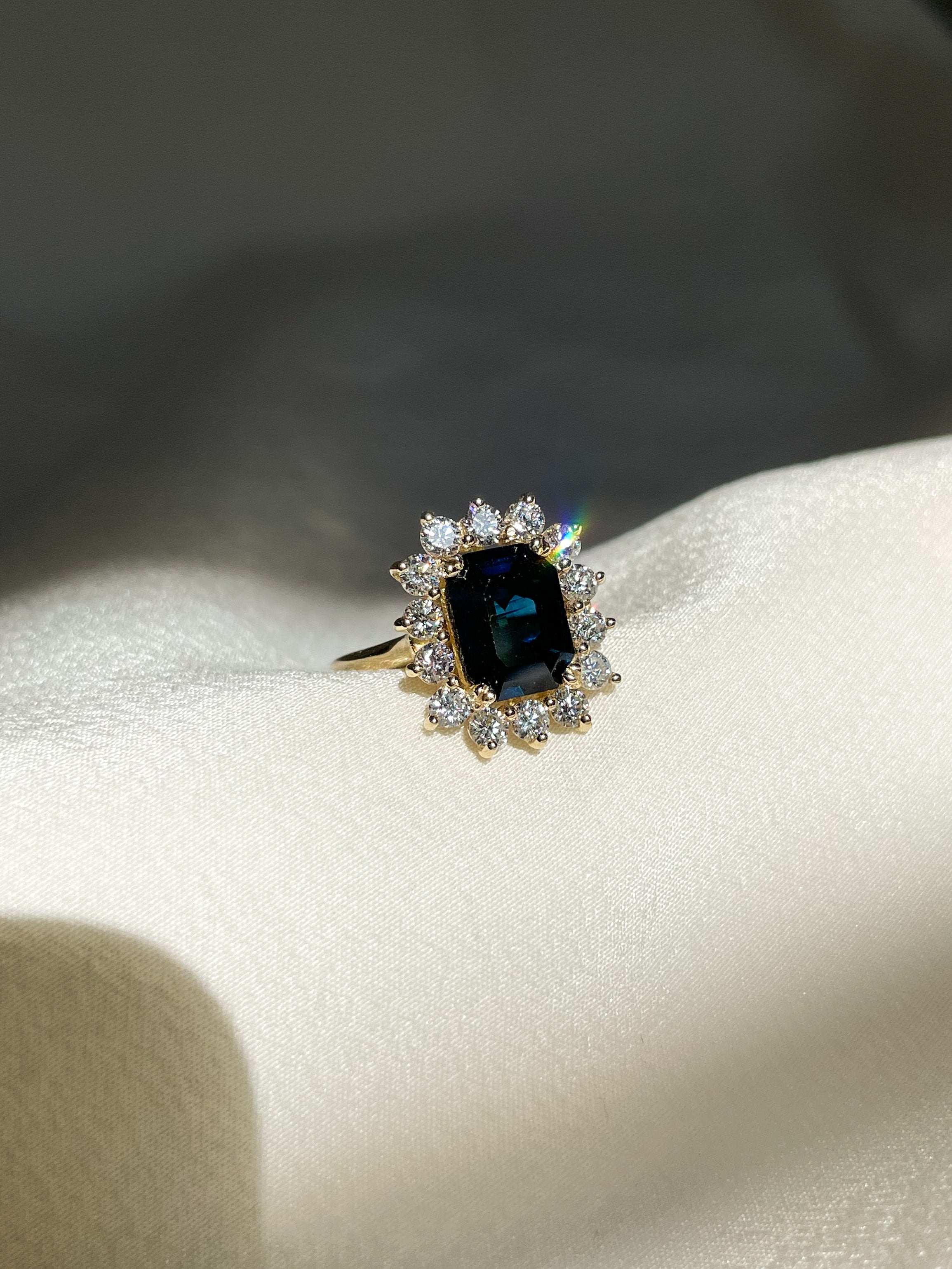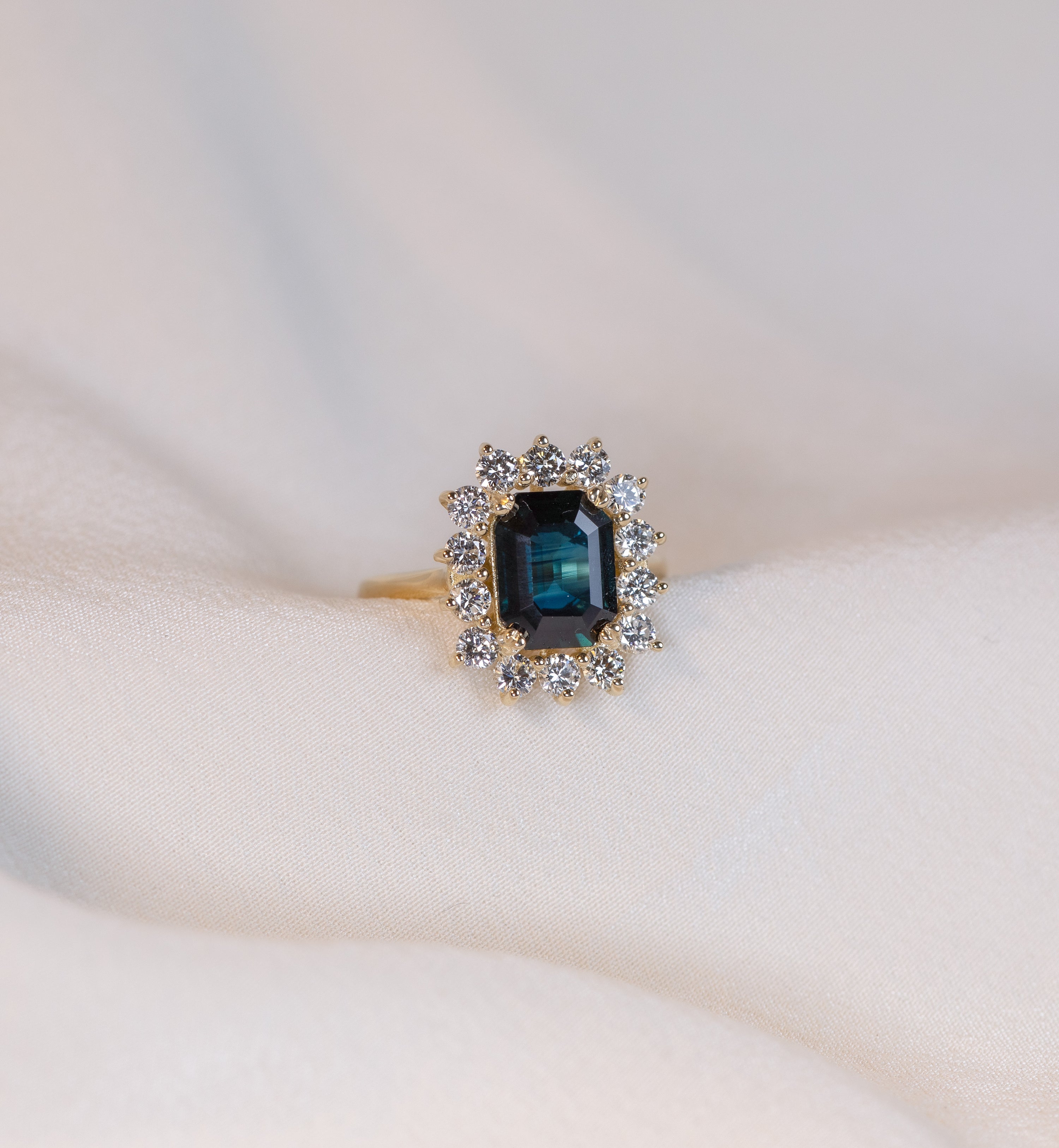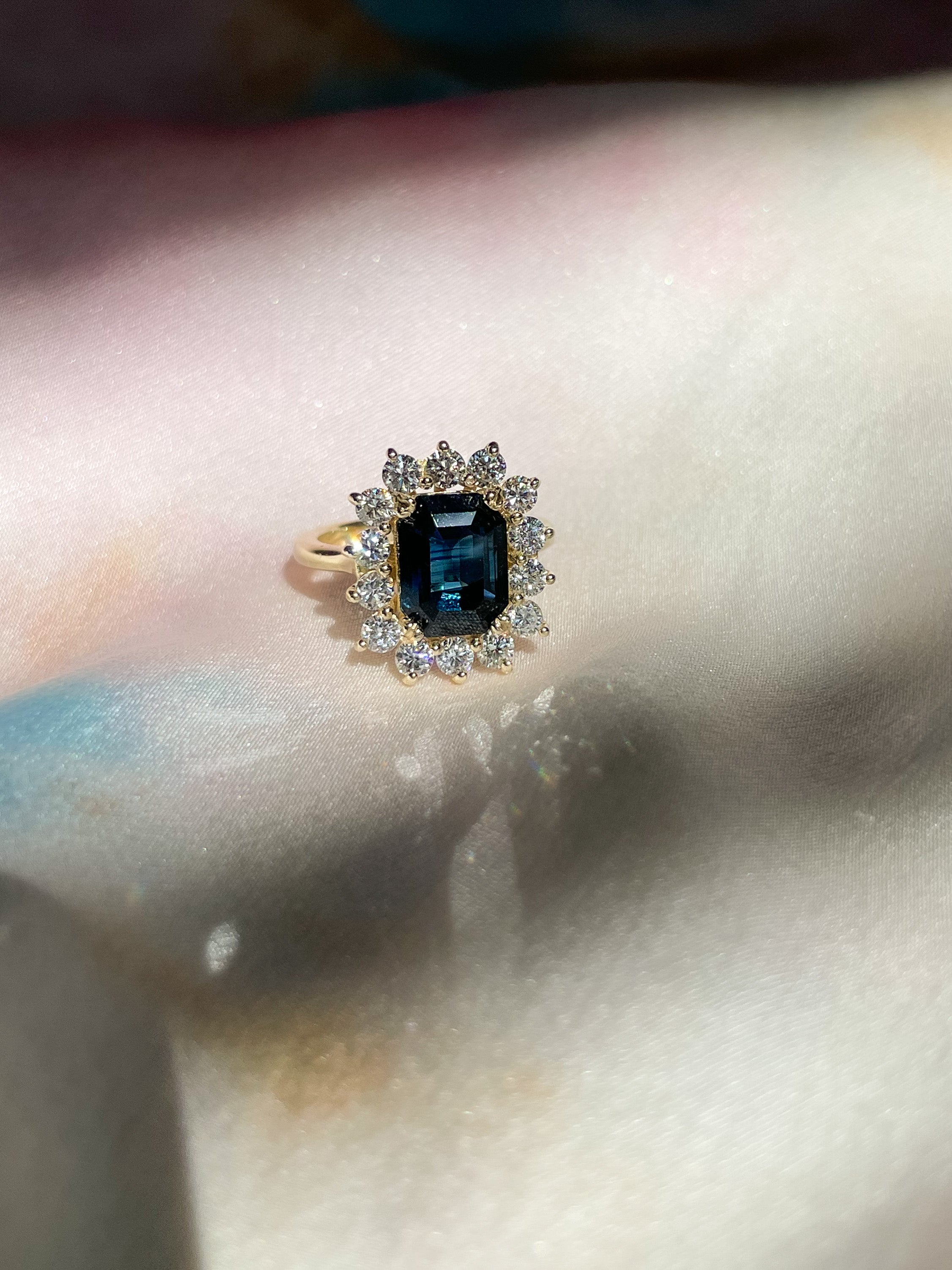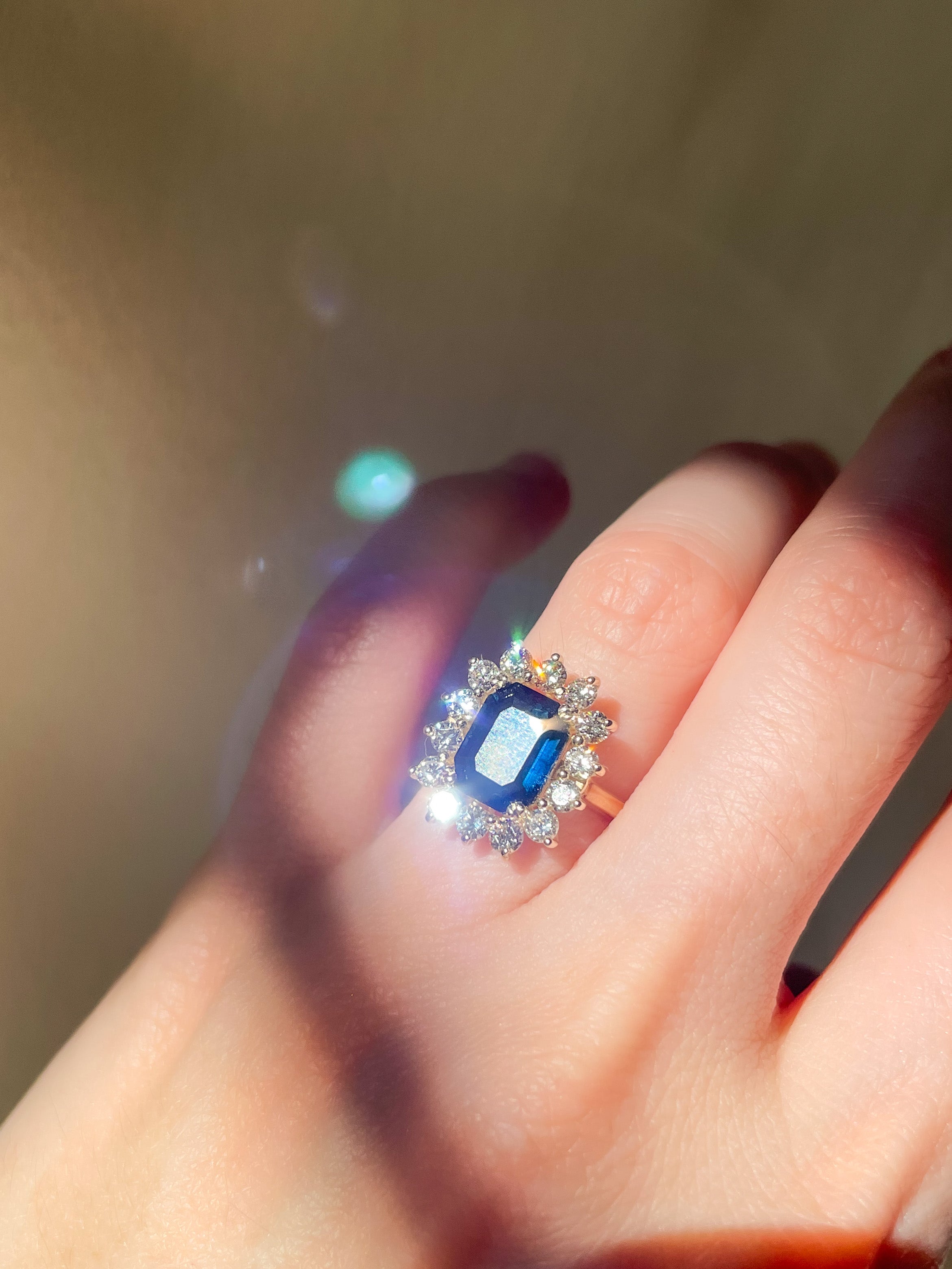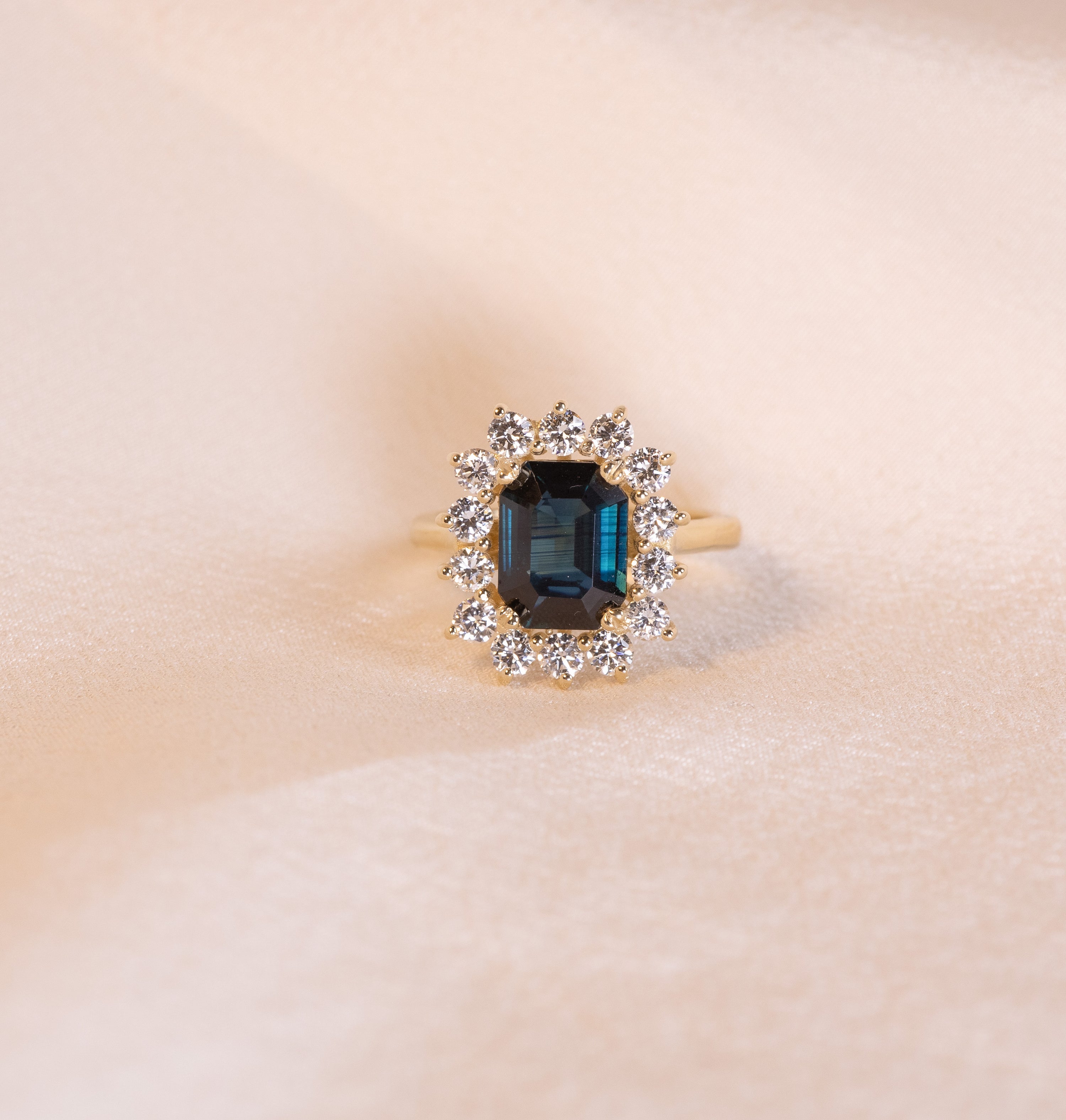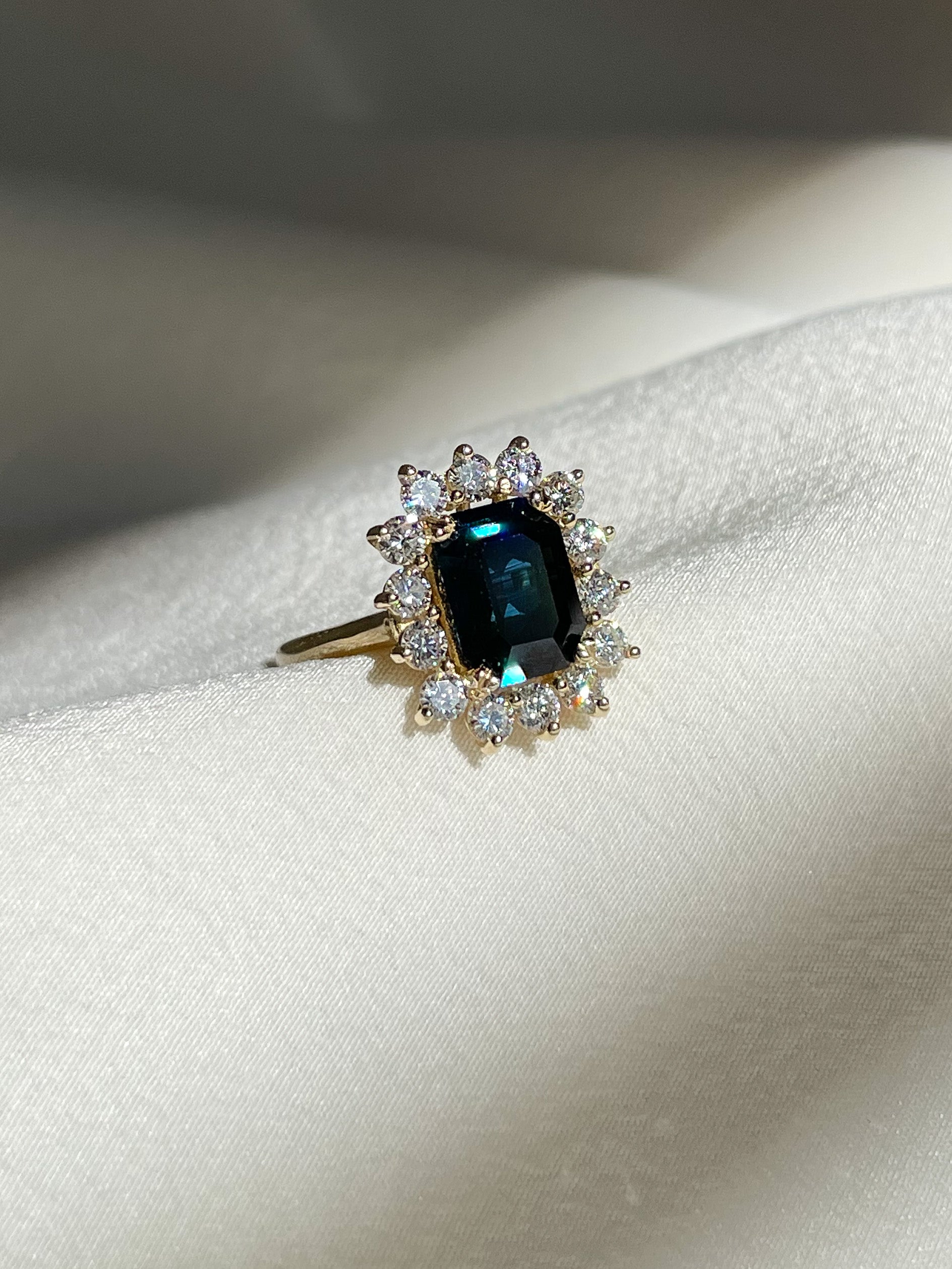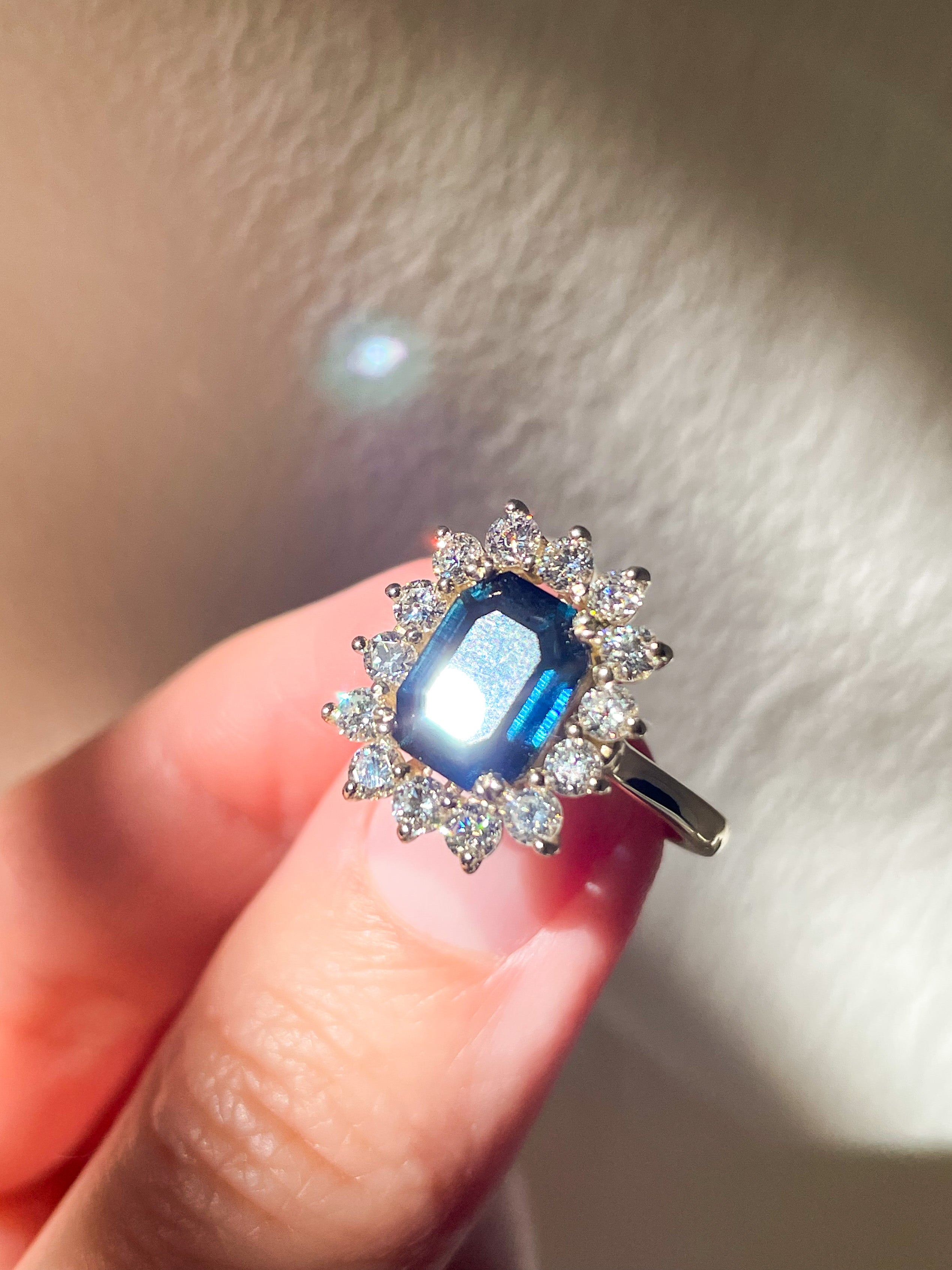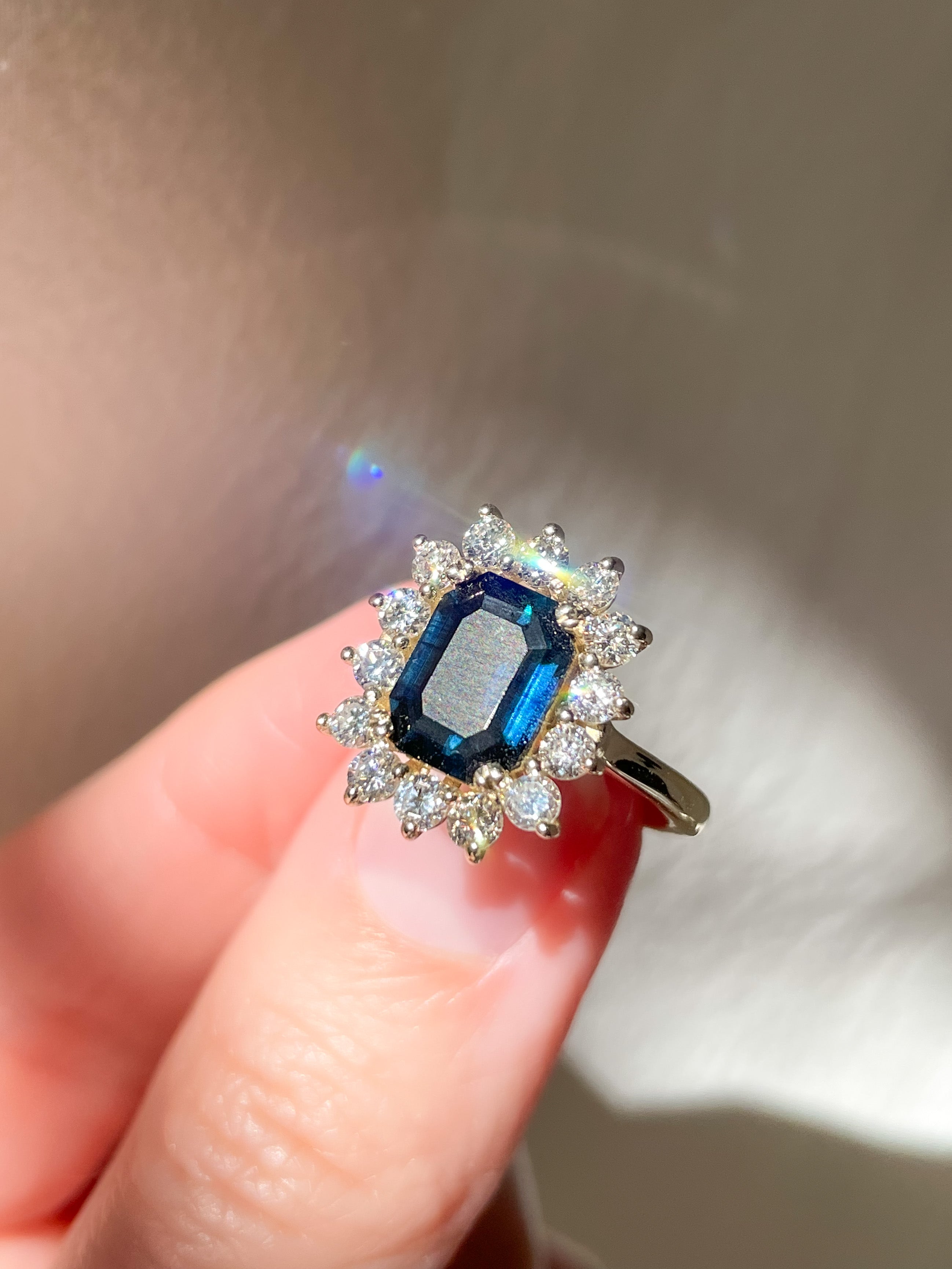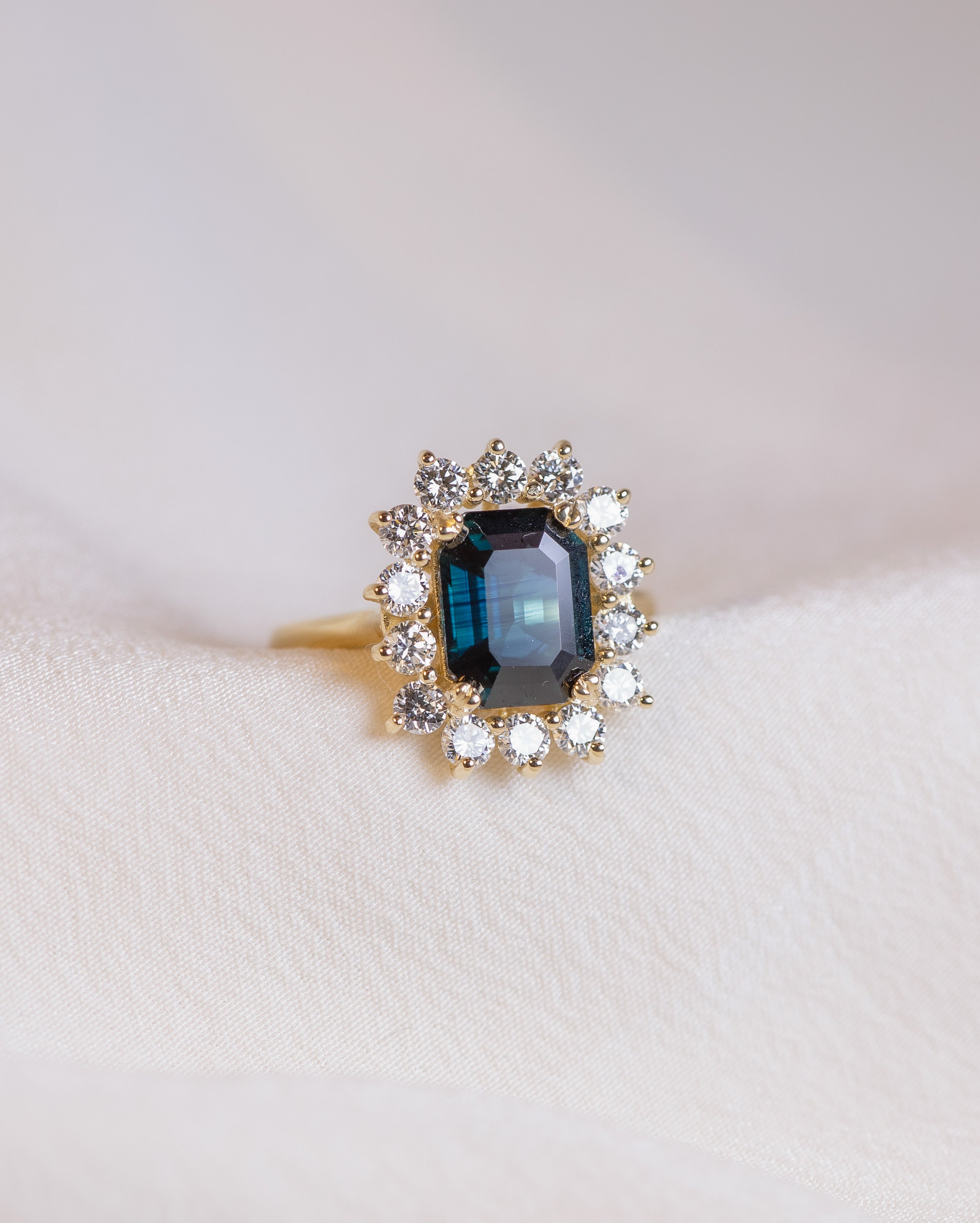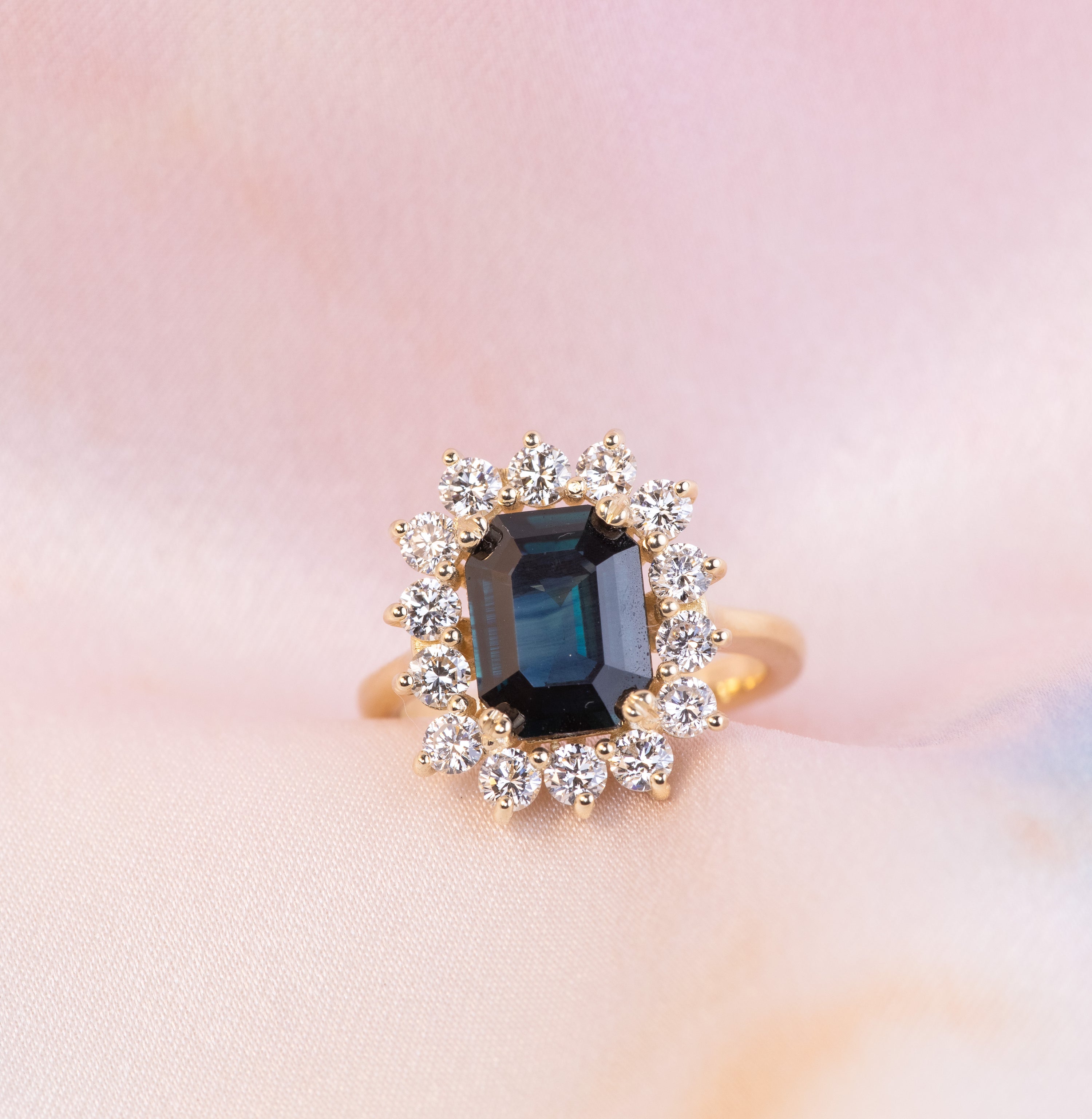 The Ring of Ethereal Grace
Description
Inspired by the Divinity of Princess Diana: My most beloved muse and eternal source of inspiration; the ultimate high priestess symbol of nurturing, unconditional love, compassion and selflessness, embodied in effortlessly chic style. I have always felt a deep connection to Princess Diana, and a desire to follow in her incarnation of unbridled love, unwavering strength, and altruistic compassion for humanity. I have always felt she is so close to my heart - she represents sacred devotion entirely.
I have long had a dream that I would create my own version of her astonishing engagement ring as a talisman to embody all of the steadfast strength and unshifting love Diana encapsulated, to carry each day and serve as a reminder to be rebellious in your own way, elegantly humanitarian and the ultimate embodiment of love.
*Limited Availability* 14k Yellow Gold ring featuring a beautiful emerald-cut deep Blue Sapphire (approx. 9x7mm and 2.2+ CT), surrounded by a stunning halo of 2.4mm White Diamonds.
Only 4 of these incredible Blue Sapphires are available - once you place your order, your ring will be custom made for you. It can also be made in 14k White or Rose Gold.
💌 Please write desired size (between 4-8) in *Notes* section at checkout
Blue Sapphires are stones for the seeker searching for deep spiritual truths, imparting serenity and peace of mind, providing harmony, love and the purification of the auric field. It encourages you to stay devoted on your spiritual path, and is often used during shamanic ceremonies to transmute dense, heavy or negative energies into lighter vibrations which will benefit and align with you. Awakening your ability to communicate openly, it facilitates an honest expression of self, providing the clarity and courage to speak your truth. Aligned with the planet Saturn, the archetype which brings meaning and purpose to our lives, it further develops your intuition, providing a protective shield and lending deep wisdom while providing calm to the mind. Long cherished as a stone of royalty, it activates psychic awareness, enhances insight and provides mental discipline and focus to manifest any goal you've set your sights upon. It awakens the throat and third-eye chakras, providing you the ability to communicate your dreams in a powerful way. Connecting you with higher planes, it is an ideal stone for those wanting to ascend spiritually. Awakening psychic visions and stimulating your sense of inner knowing, it brings healing and alignment to the mind, bearing the strength to overcome negative thoughts. Encouraging astral travel, lucid-dreaming and accessing higher realms of consciousness throughout meditation, Blue Sapphire is all about learning, imparting wisdom, and remembering past lifetimes to recall the lessons they provided so you can be fully present to the karmic bonds, ancestral lineage and Soul's journey that led you into this life.
White Diamonds are stones of enlightenment, clarity of mind, imagination and inventiveness, fearlessness and the purity of love. Long valued for their magical properties and believed to have fallen from the sky after a battle between dragons, Hindus, over fifteen centuries ago, believed they provided their keepers with protection, courageousness, victory and the enhancement of love as they create a deep bond between relationships. An energy amplifier, they are incredibly effective when used with other crystals, as they raise their energetic frequency. They help pinpoint that which requires transformation, cleansing remnants of darkness that shrouds your inner light. They facilitate spiritual evolution, manifestation and abundance while encouraging the soul's light to shine, accessing Divine energies, enhancing visions and intuitive connection with the higher domains of Spirit. Used to evoke and tap into your inner Spiritual King or Queen energy, it allows you to recognize your worth through the Divine archetypes within the Self that convey power, knowledge and sovereignty. Combining spiritual insight with the wisdom of your inner Knowing, what is revealed is a sense of clarity and certainty about your desires and the actionable steps to reach your goals. They accelerate your spiritual evolution and ignites psychic ability, generating the focus needed to manifest your dreams. Emanates a potent energy to reveal underlying emotional issues within the subconscious, encouraging you to become more objective about the emotional state you are in, and what you need to process and release. A stone of spiritual initiation, it helps us in becoming beacons of Light, teaching us that our behavior can reveal our true inner beauty and our Soul's knowledge. Illuminating densities, difficulties and illusions, it calls upon us to seek light within and radiate it outward. Acts as a reminder of your spiritual destiny in this life, as its energy penetrates the veils that can keep you reluctant or unable to step firmly into your path.
*Please note: all pieces are made by my hands to order with up to a 3-4 week production time. If you have a rush-order, please email to discuss! For more information about Jewelry Care, Warranty and Returns, please see our FAQ page.
Production Info
*Please note: all pieces are made by my hands to order with up to a 3-4 week production time. If you have a rush-order, please email to discuss! For more information about Jewelry Care, Warranty and Returns, please see our FAQ page.
FAQ
DO YOU GIFT WRAP?
Each order comes gift wrapped, please ensure you fill out the "Gift" notes section upon checkout, as your item will be thoughtfully wrapped and personalized with recipients name, along with description cards of each piece and selected stones!
DO YOU CAST IN ROSE OR WHITE GOLD?
Any piece that is not a ready-made one of a kind is available to custom order in 14k White or 14k Rose Gold.
Please enter your preferred metal in the notes section upon checkout, or feel free to contact us before ordering!
PRODUCTION & SHIPPING
All Fine Jewelry items are handcrafted and made to order. All of our pieces require up to 3-4 weeks for turnaround production time, to allow for sizing, polishing, and making sure your jewelry is perfect! 
If you have a specific deadline you need to meet, please contact us to let us know. We may request that you pay for upgraded expedited shipping, and may not be able to accommodate all requests.
HOW DO I KNOW WHICH STONE IS FOR ME?
I always, always recommend as first priority to go with what you're drawn to. Oftentimes, your first instinct as led by your intuition will be spot on for what energy you're wanting to align with or needing in your life at this time - don't overthink it!
An easy way to clear your mind and become present with your current state of being:
Close your eyes and take a few slow, deep breaths.
Focus your attention on the ground beneath your feet, gradually relaxing into a naturally comfortable state. Picture your body within a bright, warm pyramid of white light as you exhale.
Release any impeding stresses that pop into mind, and ask your subconscious to come to the forefront.
See what you're drawn to aesthetically, then proceed by reading about each energy to determine which one feels right.