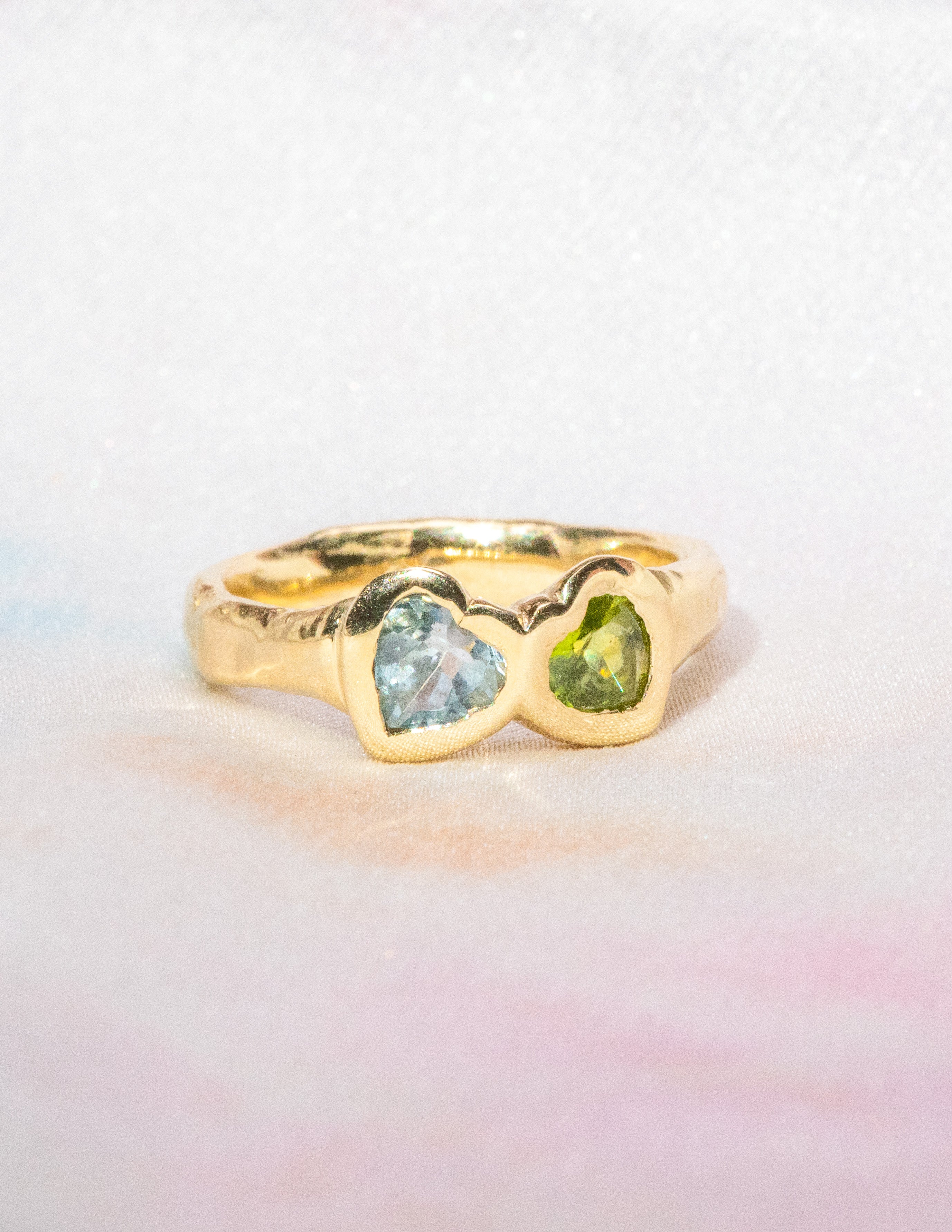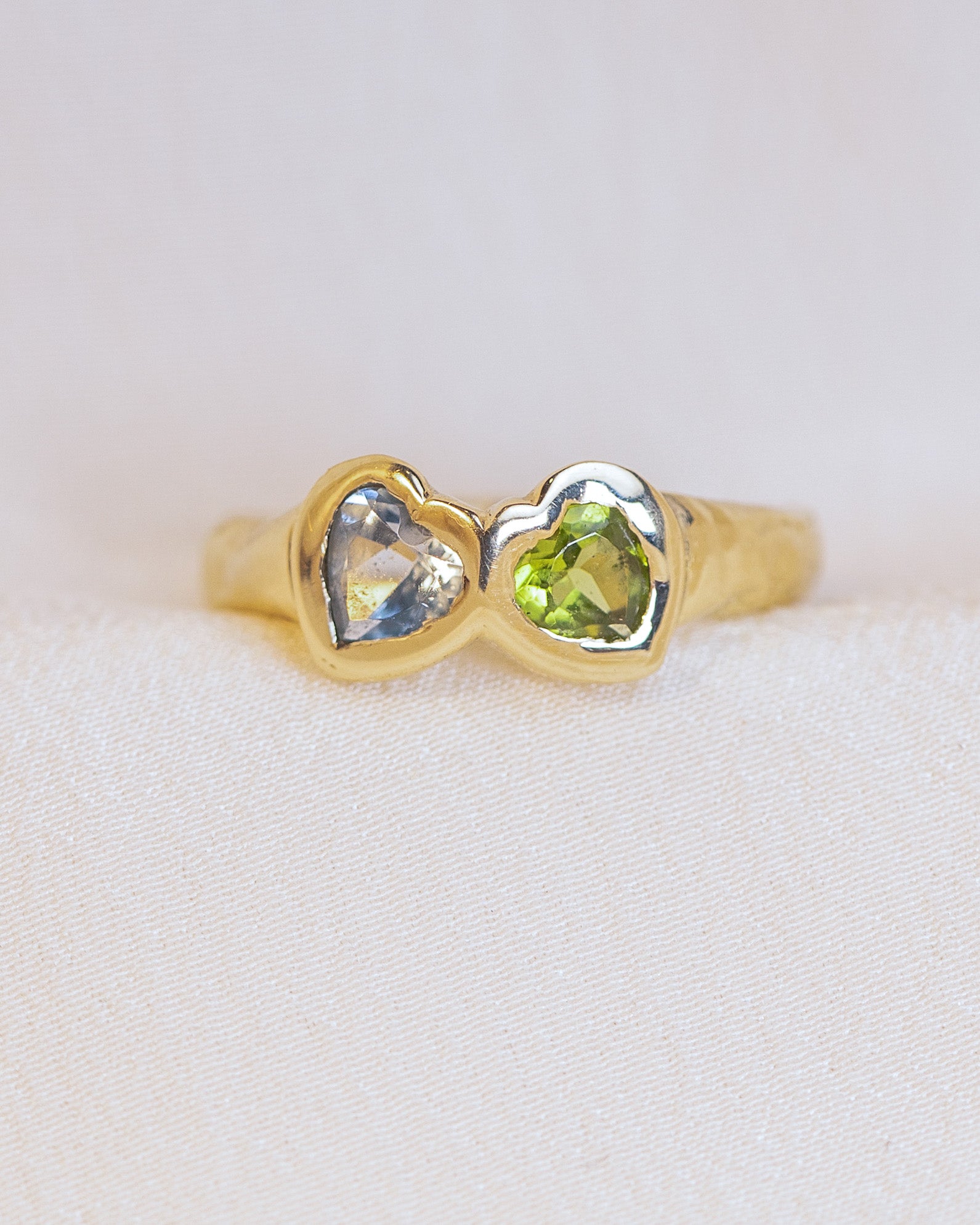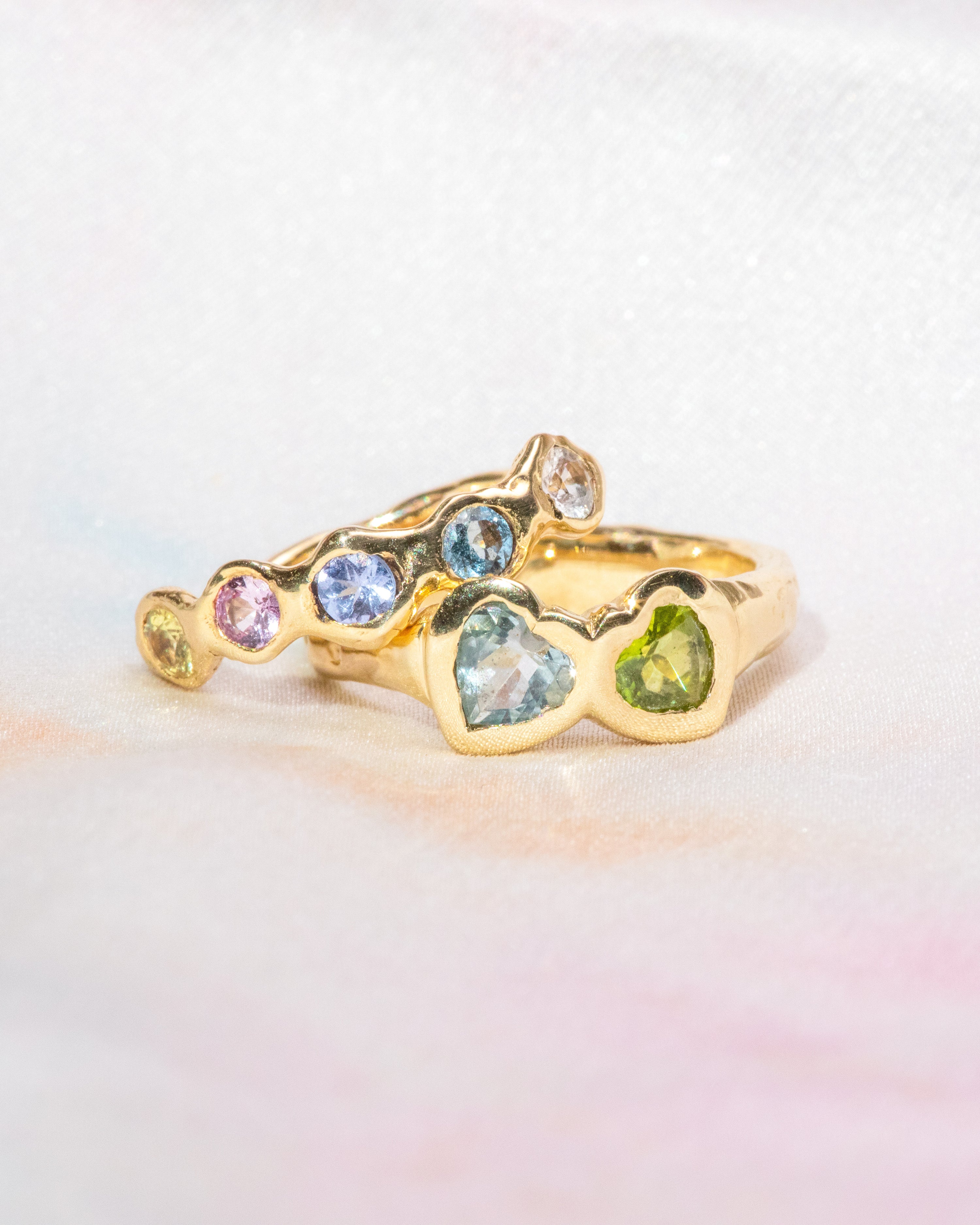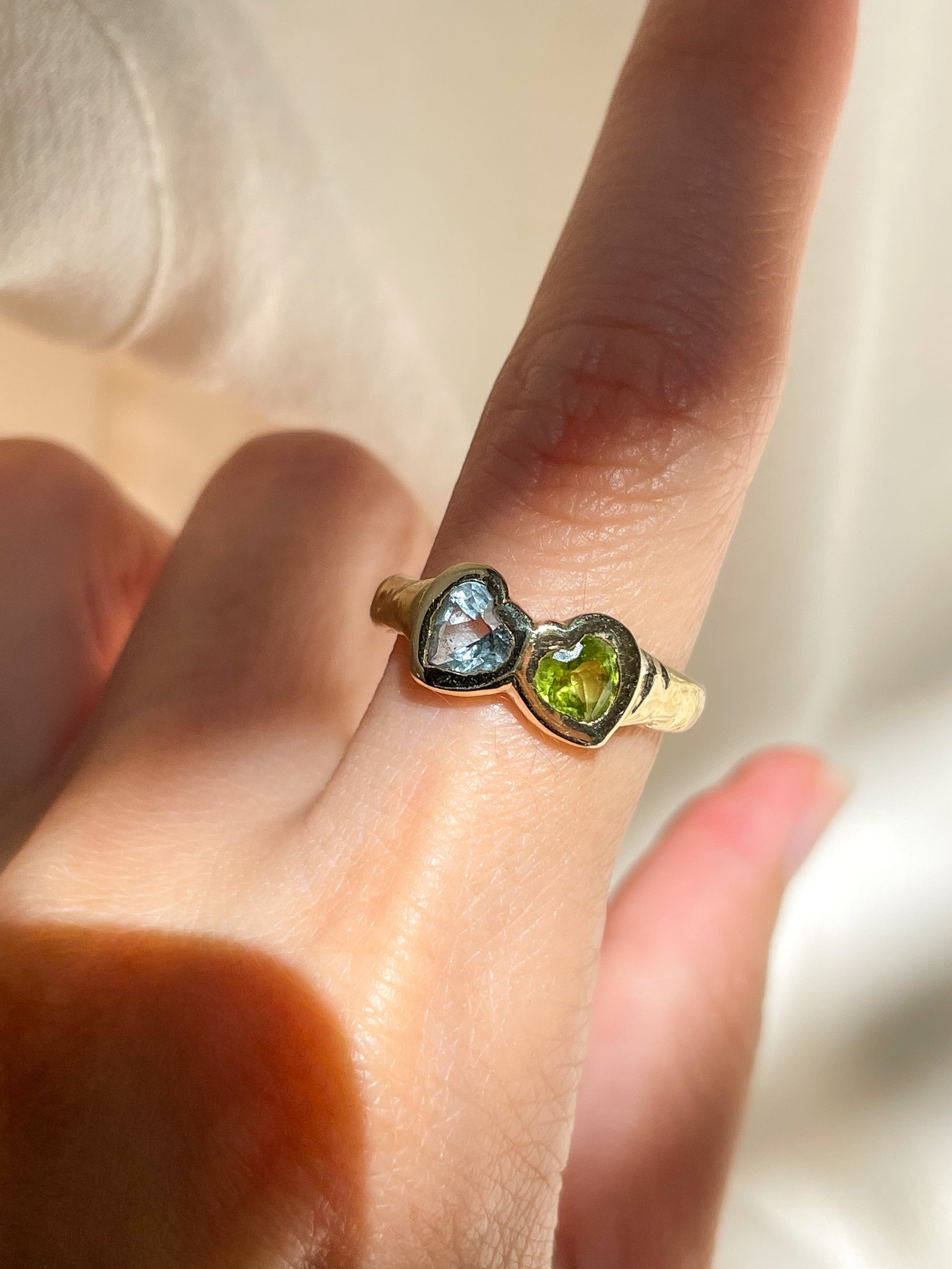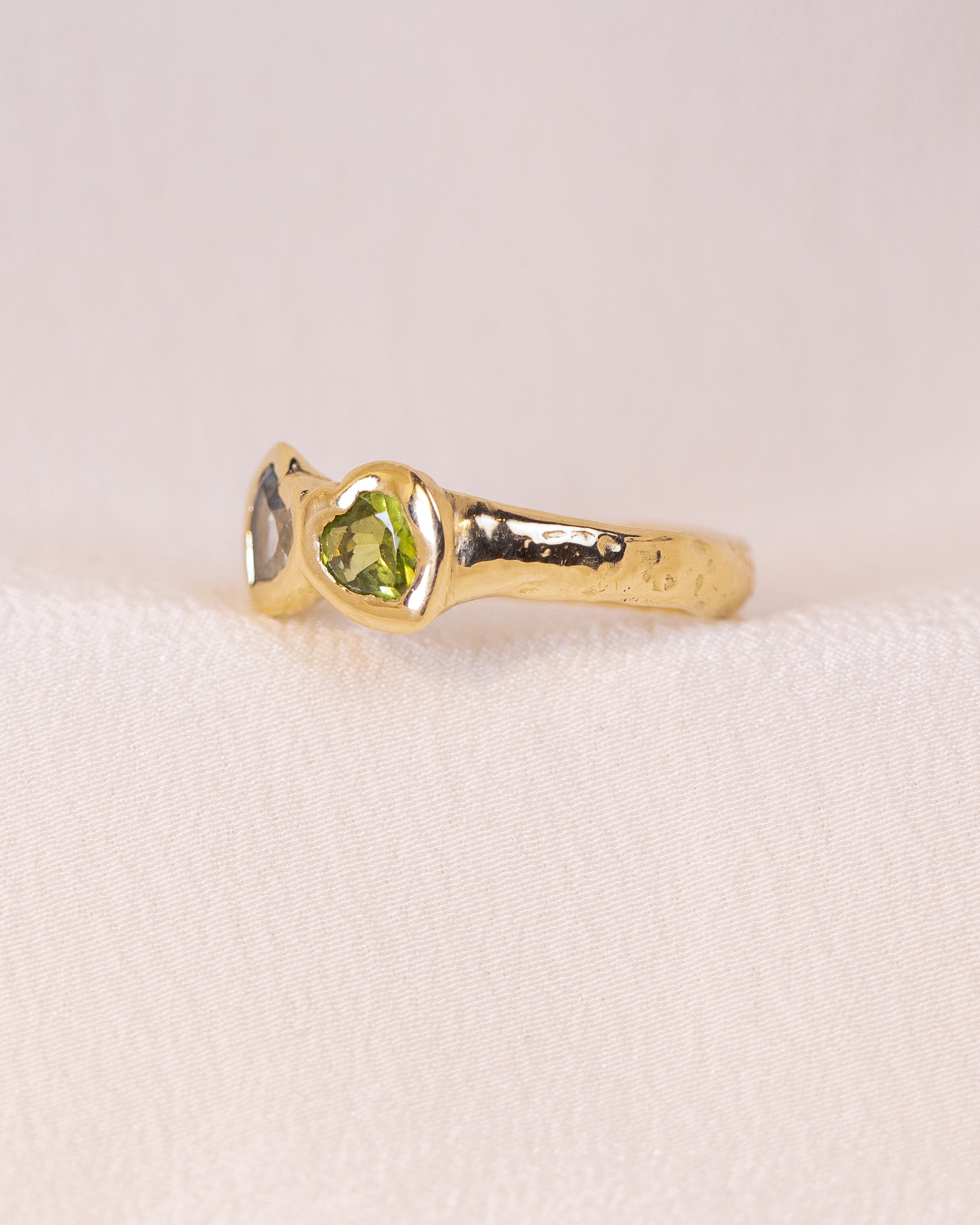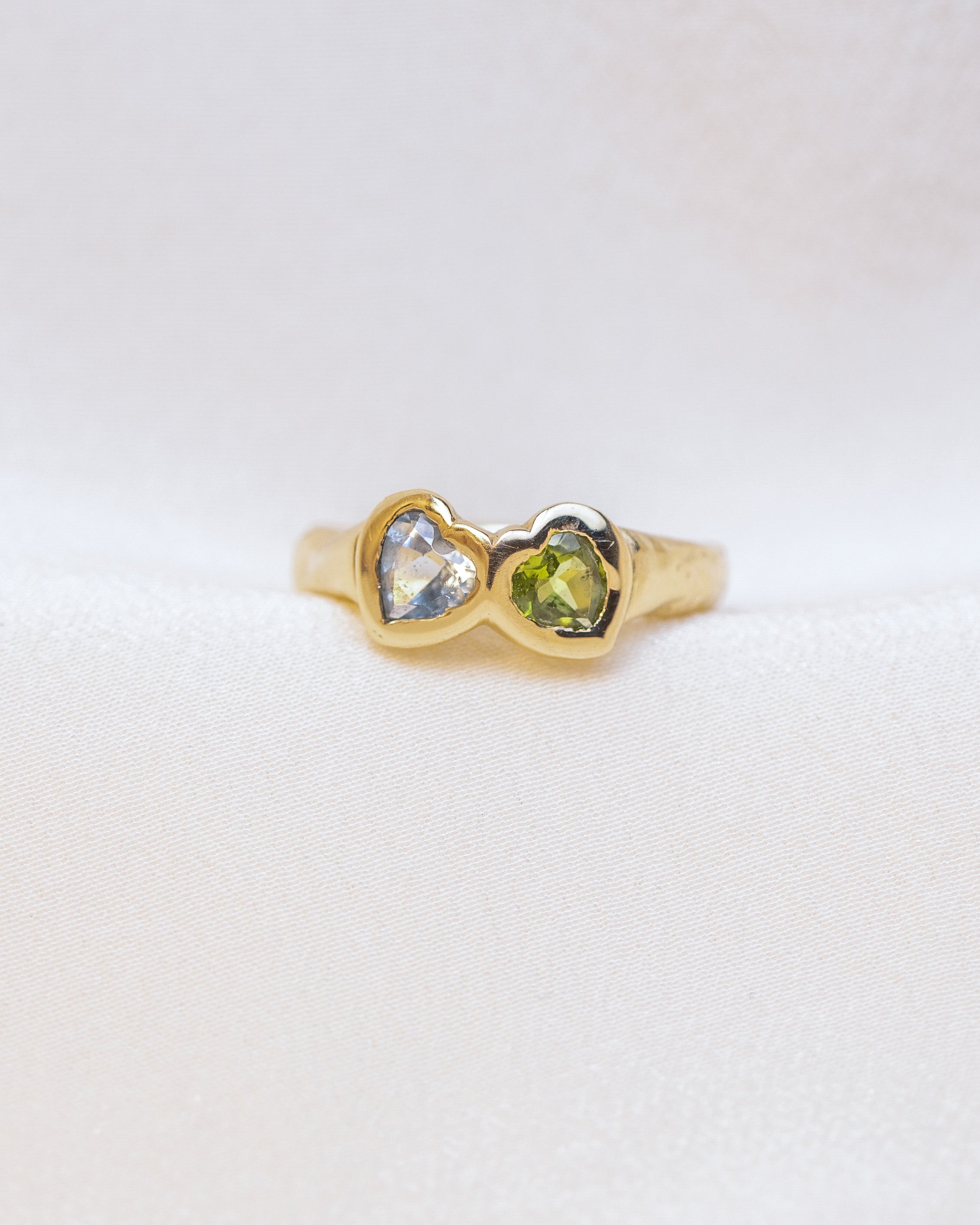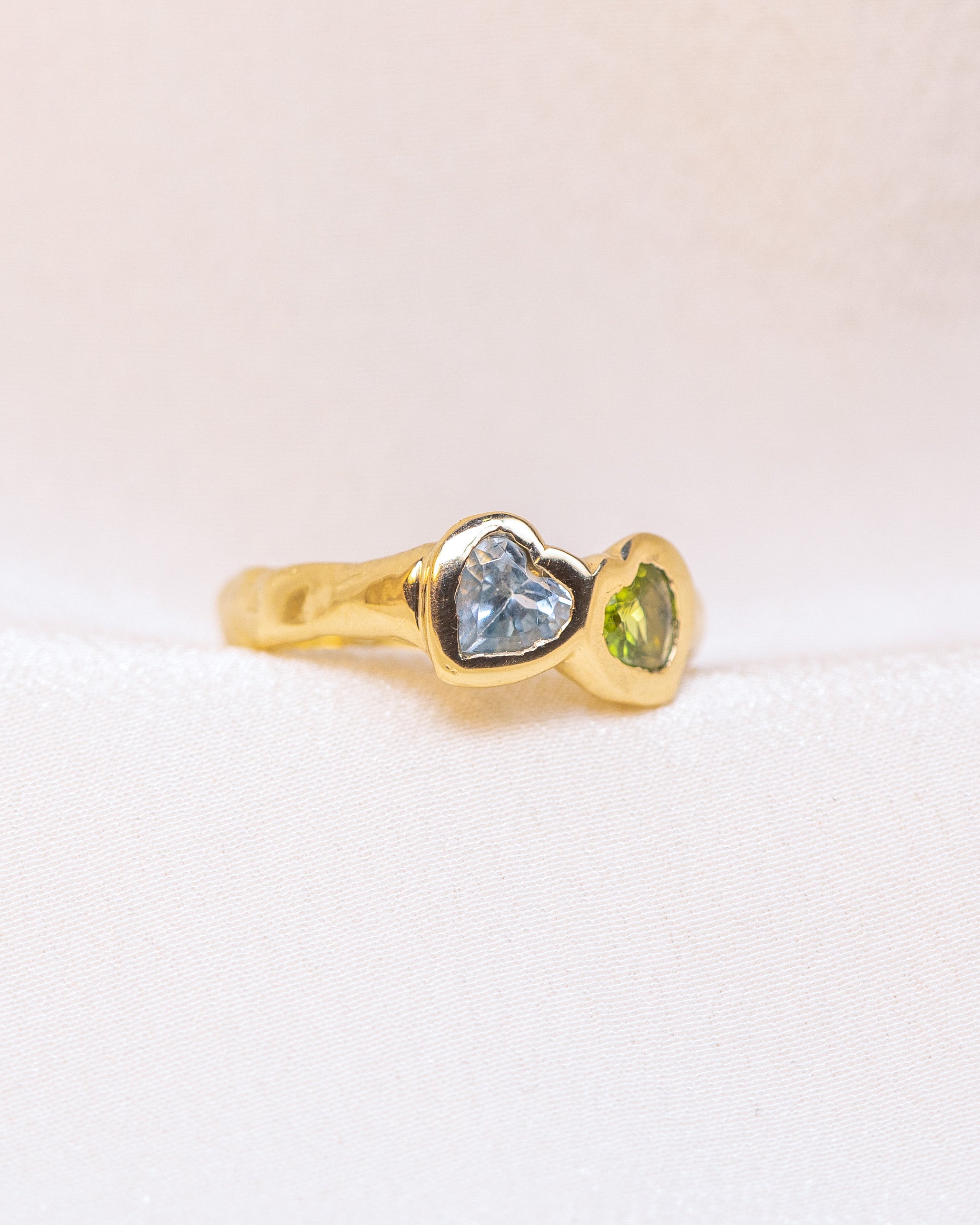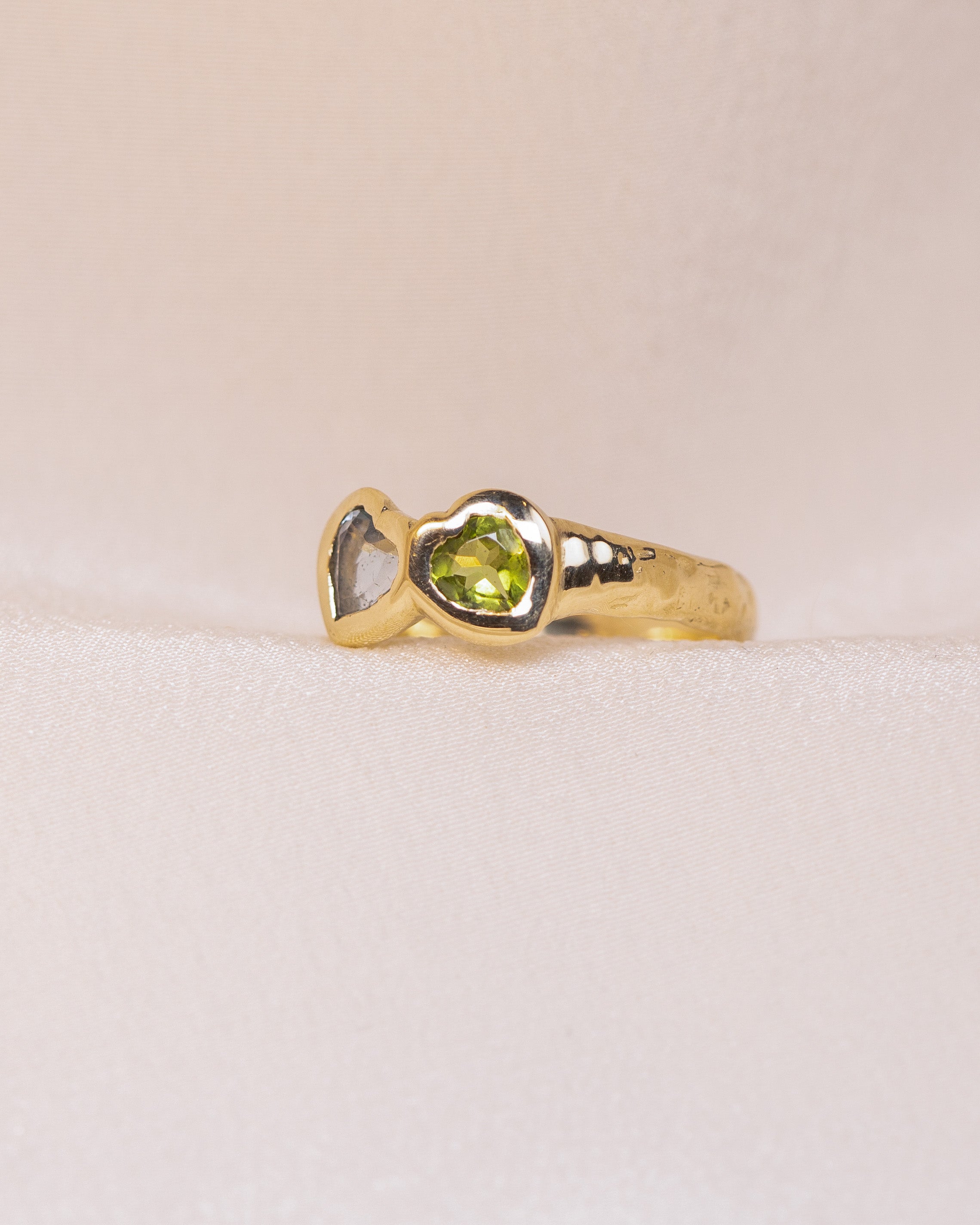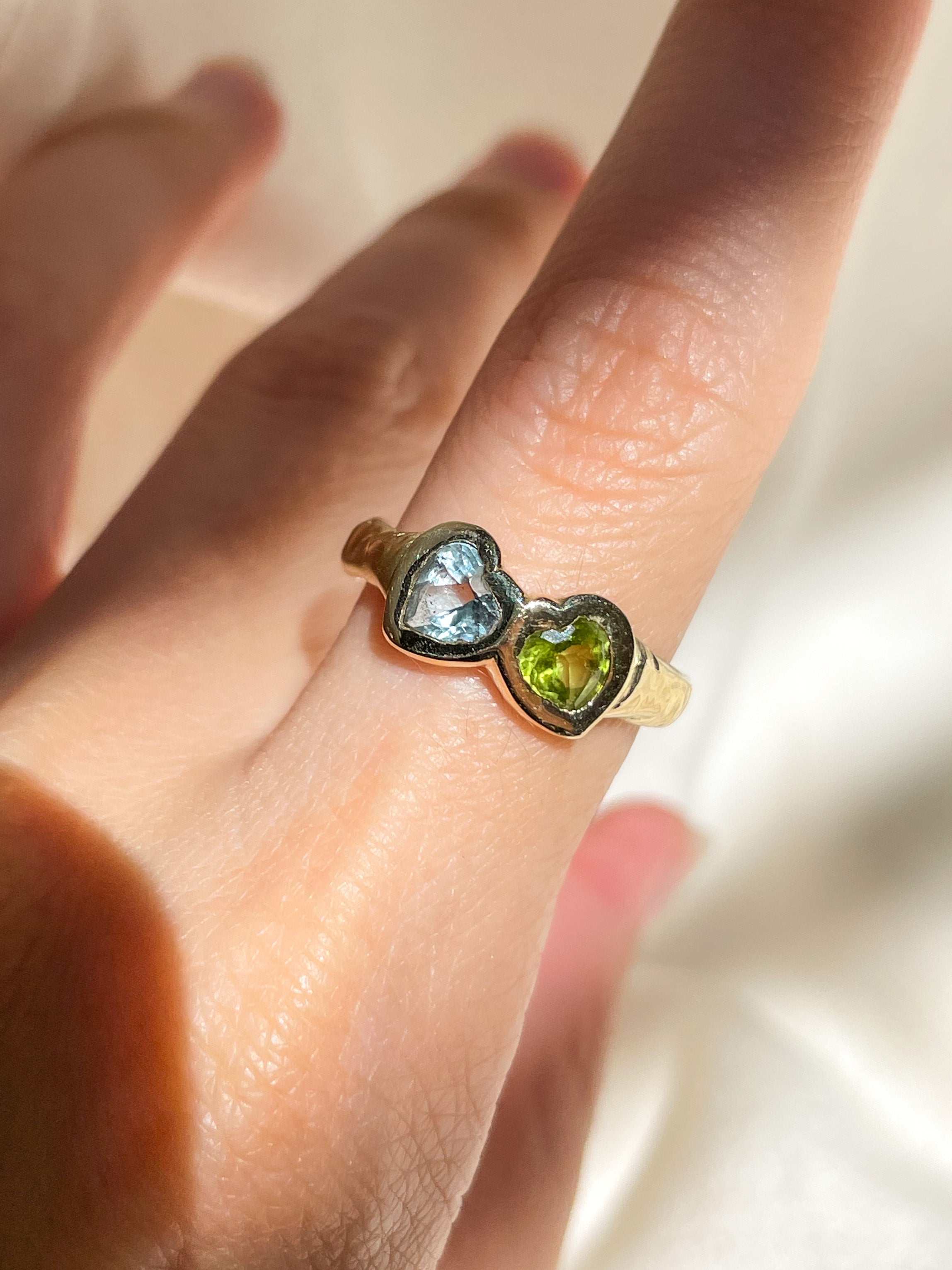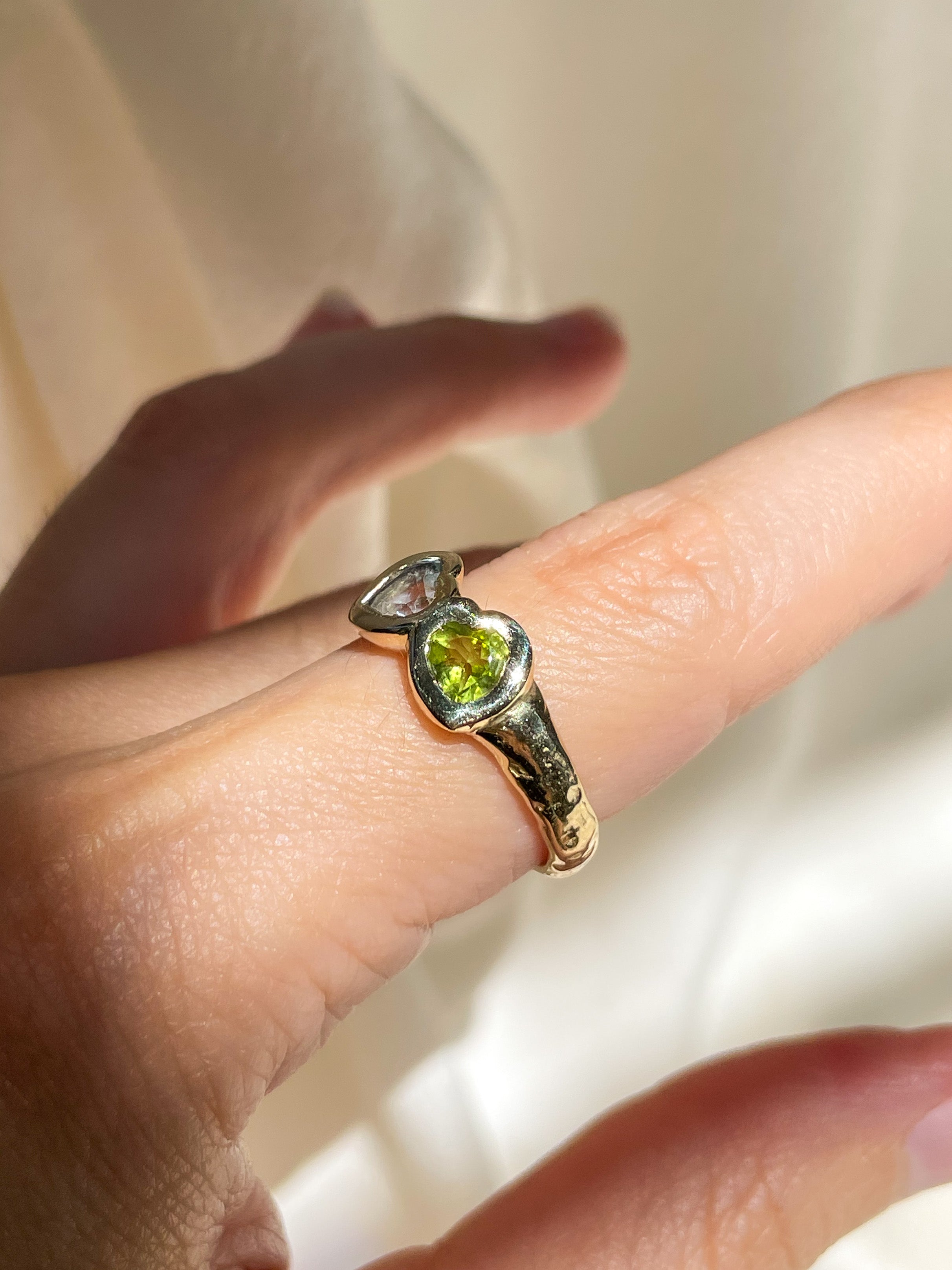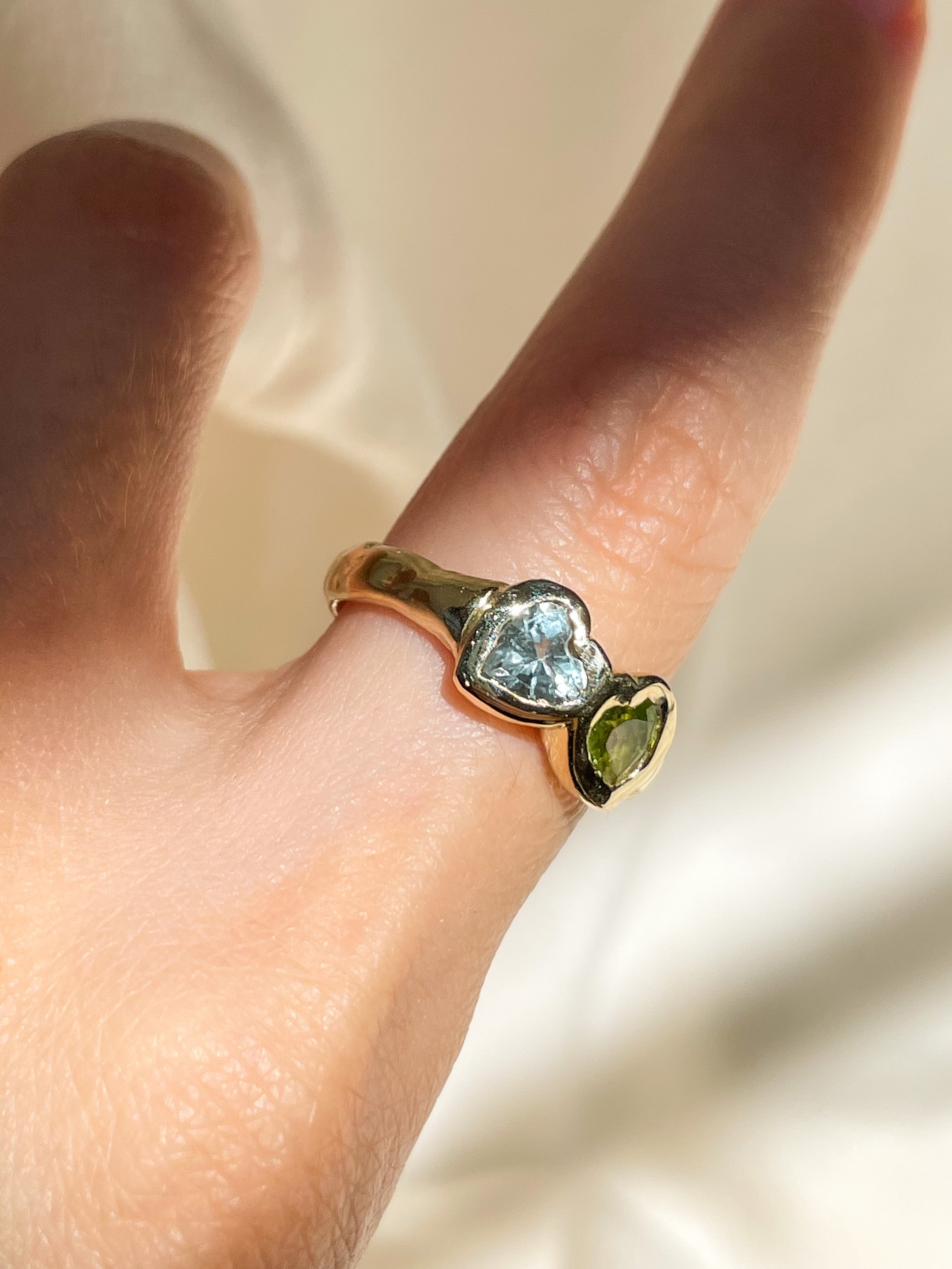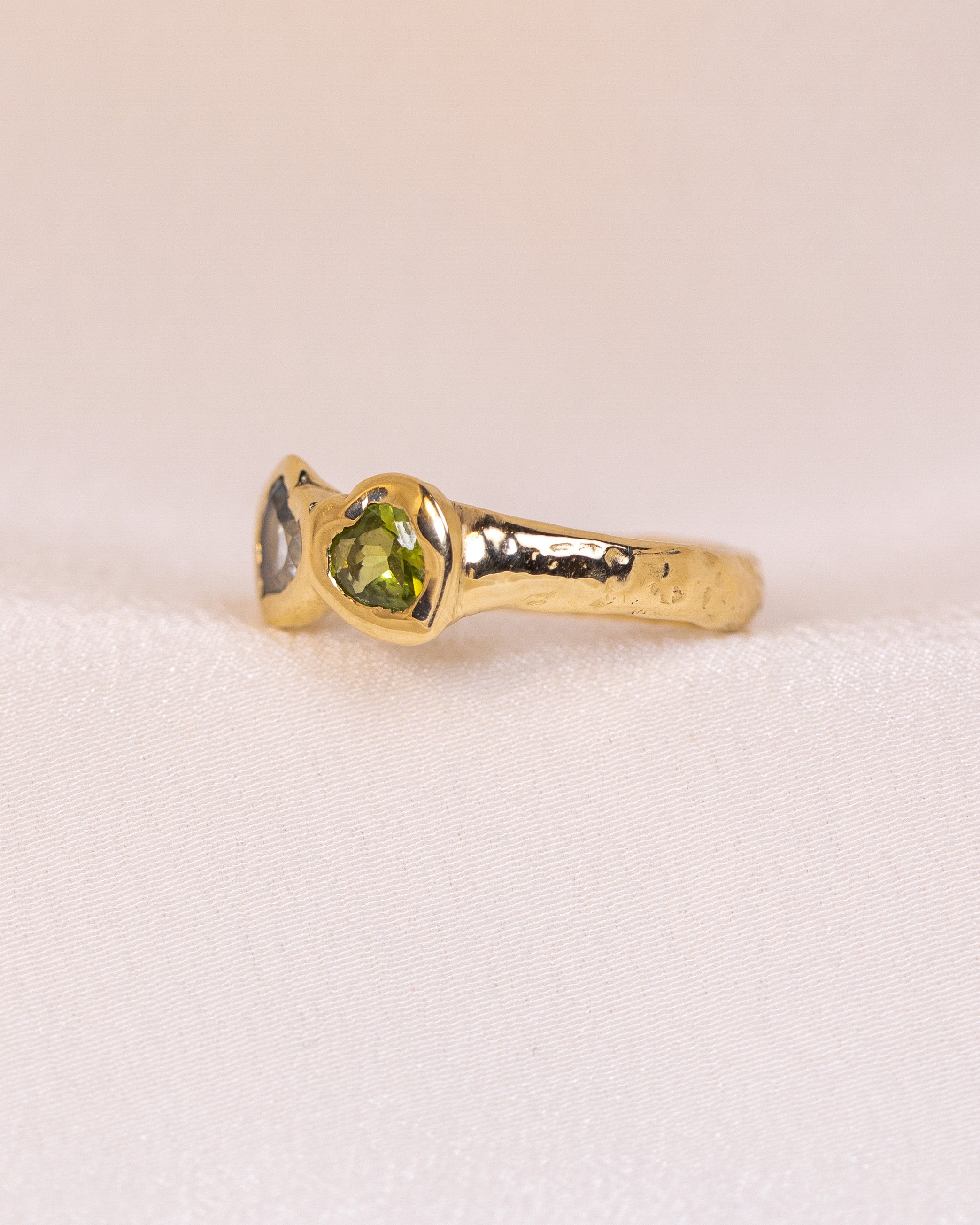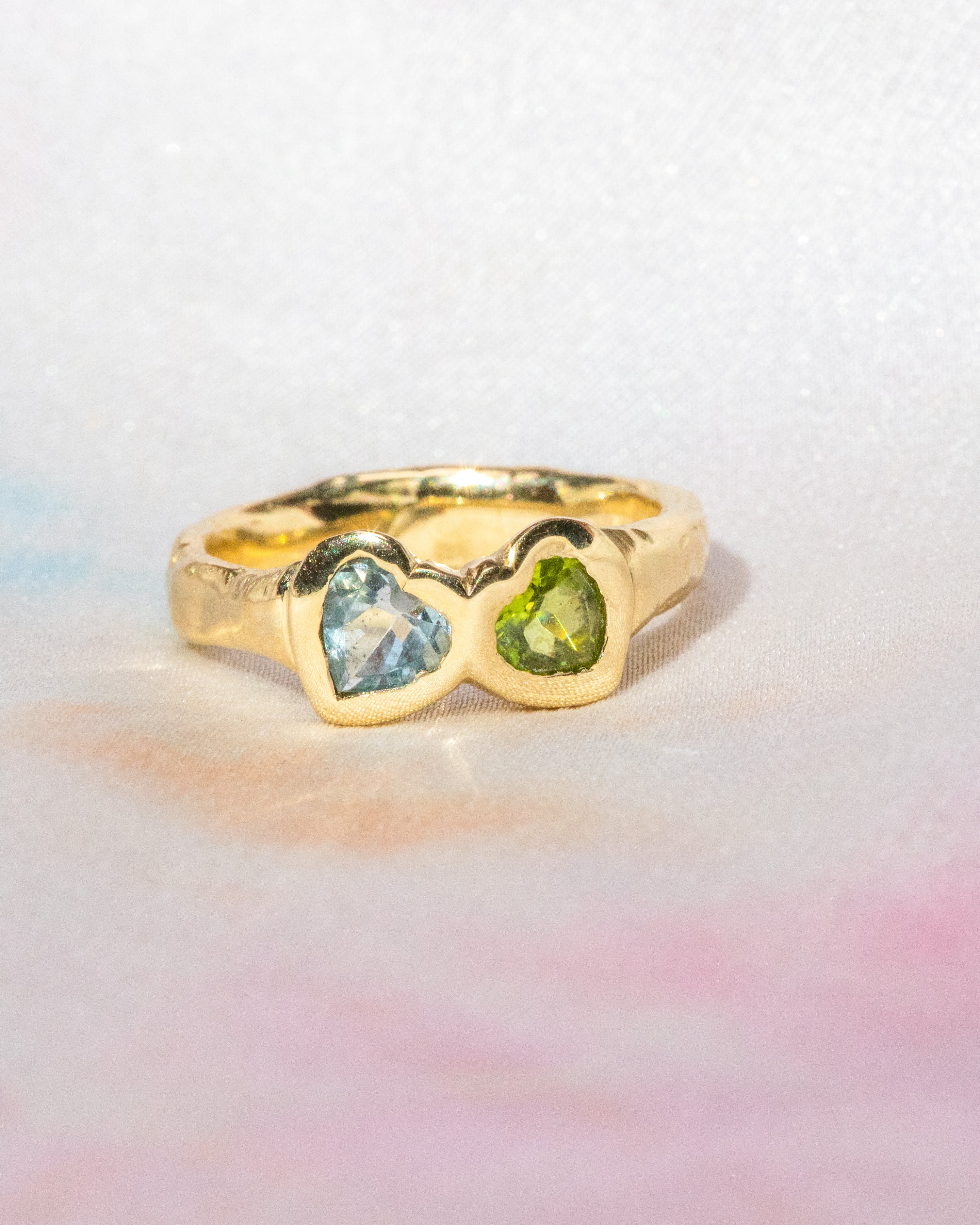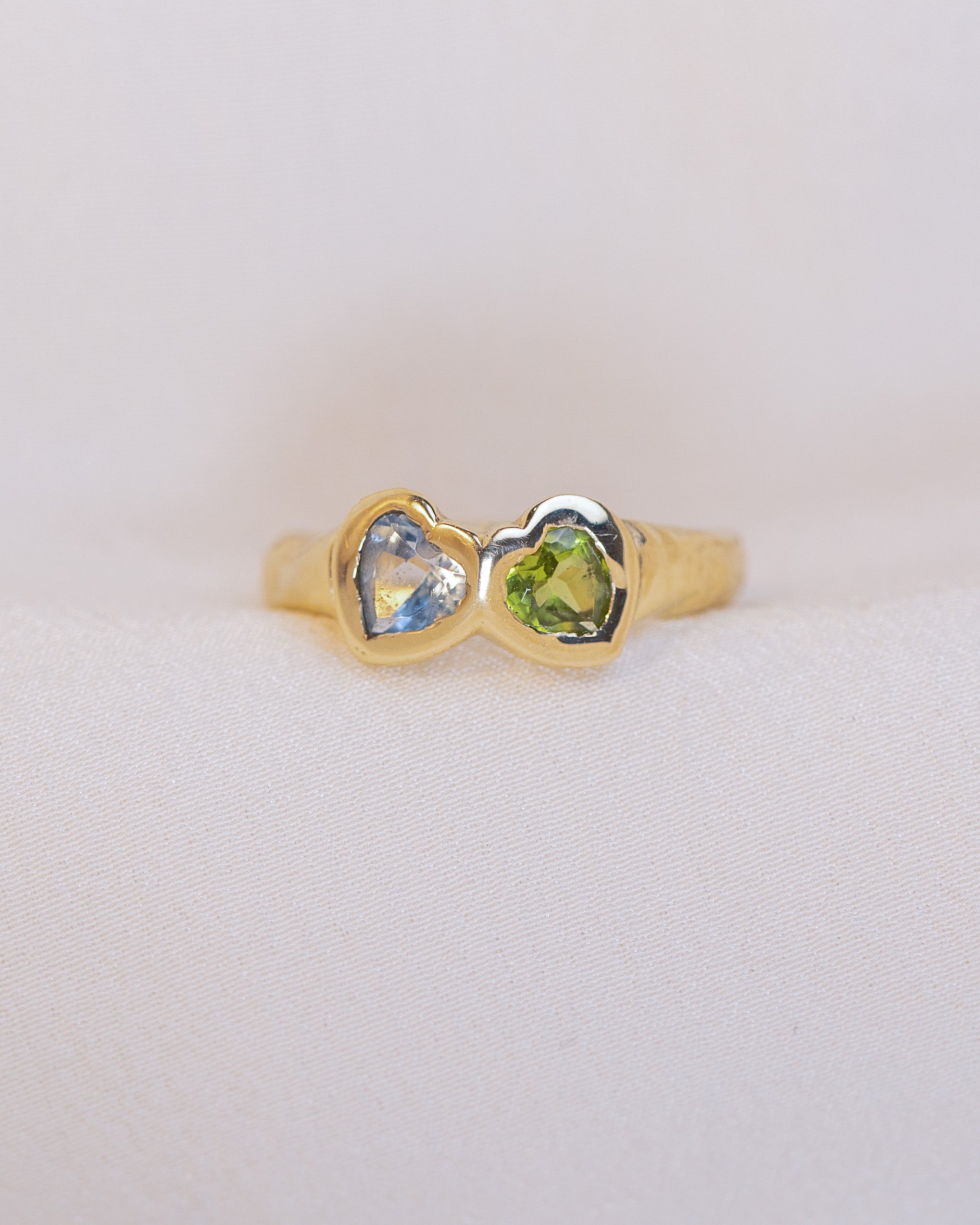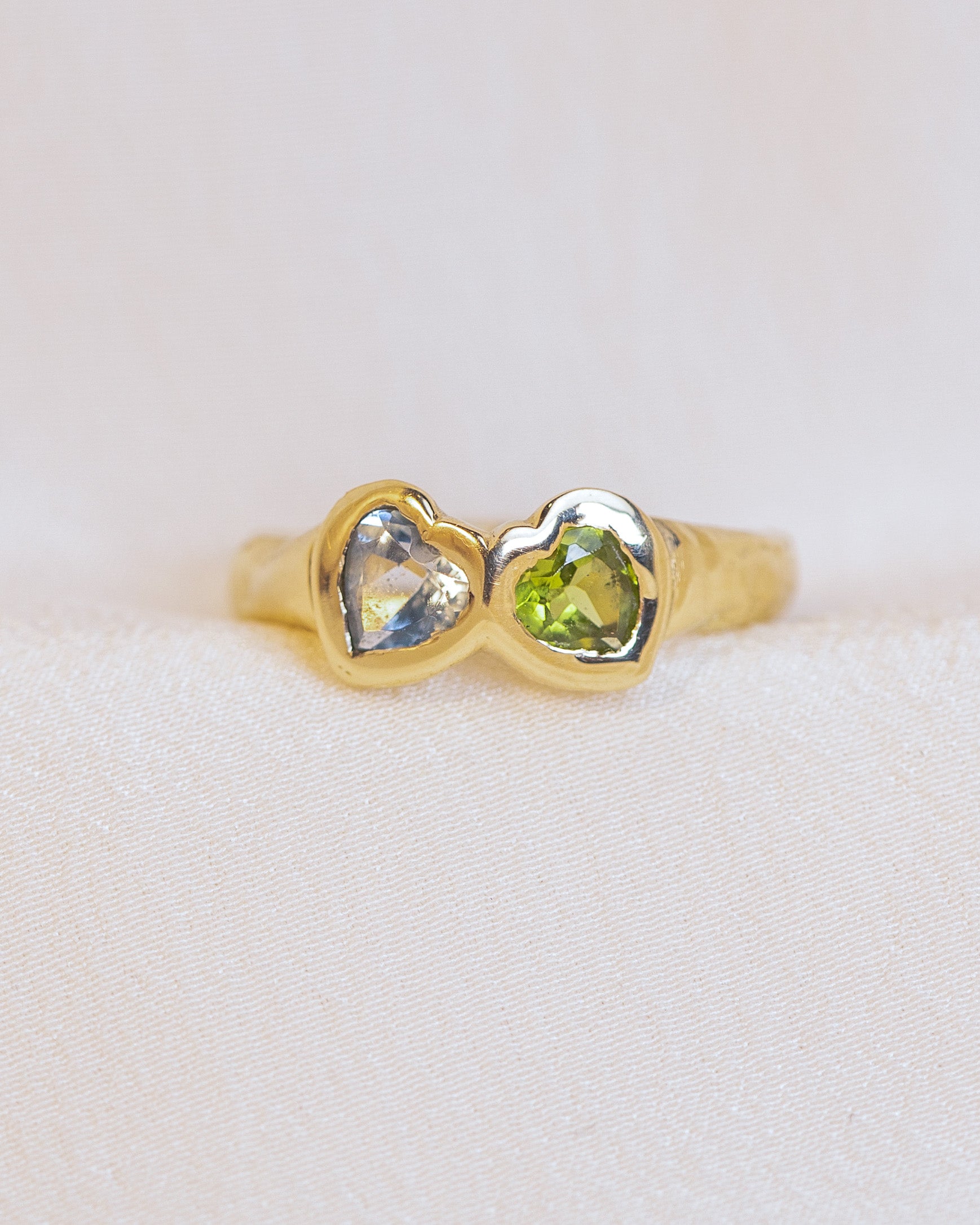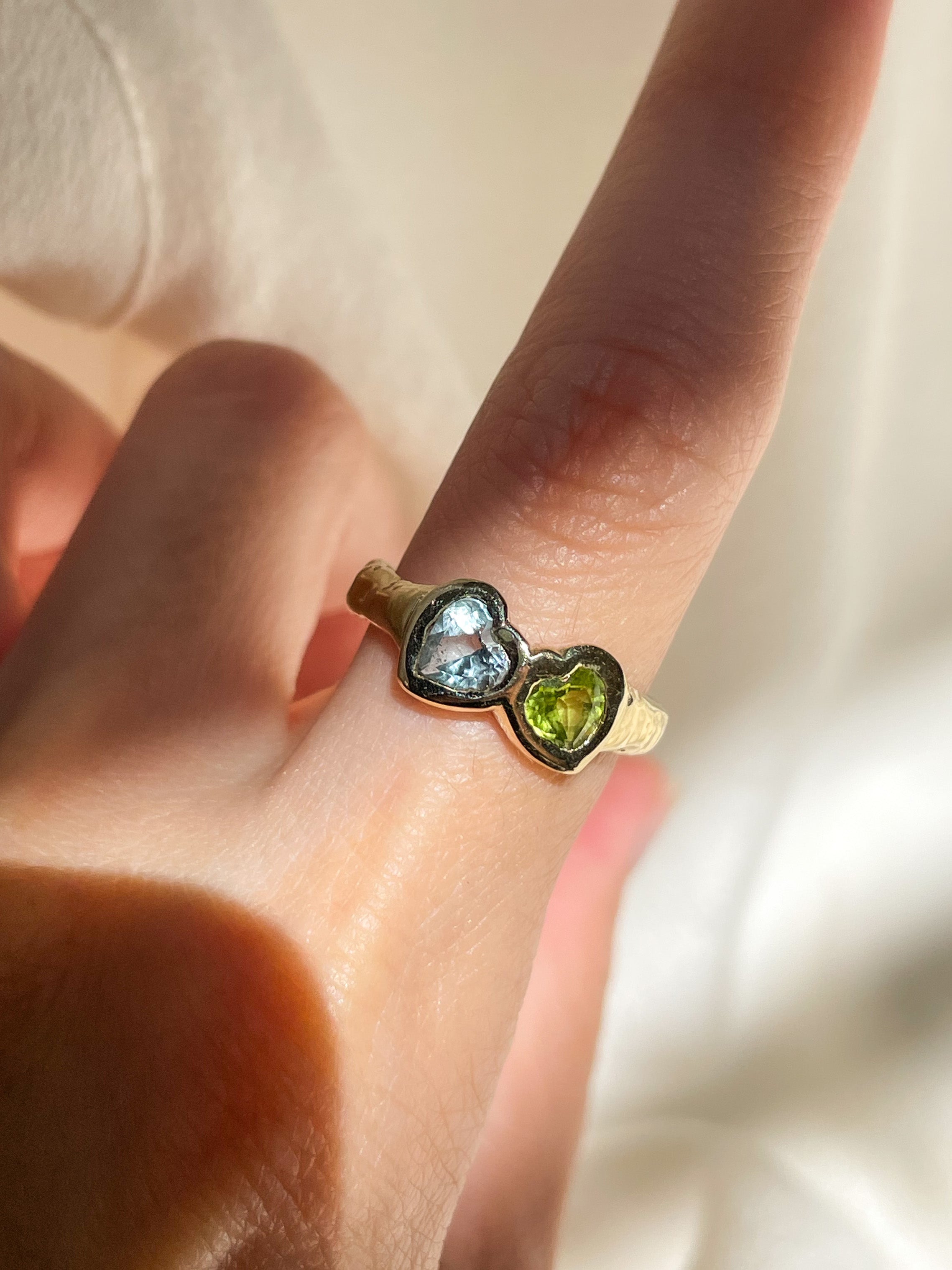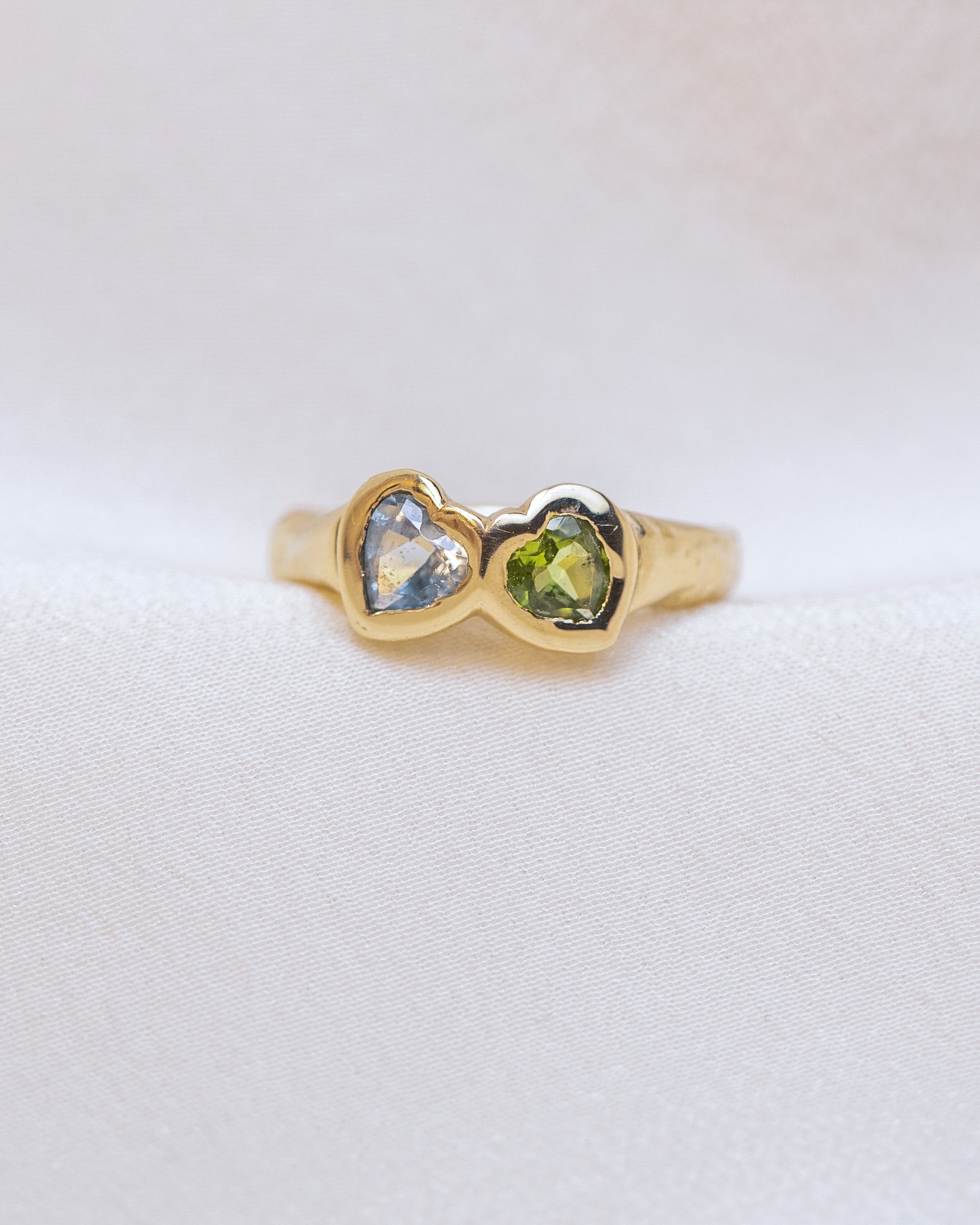 Description
One of a kind hand-carved 14k yellow gold band featuring (1) 4mm Blue Topaz Heart and (1) 4mm Peridot Heart. 
💌 Please write desired size (between 4-8) in *Notes* section at checkout
 *Topaz aligns your willpower with desire, confidently pushing you forward to manifest your intentions into reality. It is a community stone, connecting you to new friends while strengthening existing relationships, activating your solar plexus so you may feel inspired and empowered. Topaz increases generosity, self-worth and helps overcome feeling of limitations as its exciting energy brings the right people into alignment for profitable business ventures. Topaz is a creative, prosperous stone increasing abundance, positivity and channeling love into everything you do. It is a vitality stone, allowing you to recharge depleted energy and relieve stress so you can use your energy for productivity toward your goals. It represents luxury, generosity, strength and wisdom, calling success in for all endeavors. Topaz channels the sun's energy, giving as much love and care to the Self as it shines outward. It provides clarity and focus while boosting an action-oriented attitude to benefit your affirmations and visualization process and bring your desires to the physical realm.
* Peridot has long been believed to keep evil spirits at bay, and is a highly protective stone for the auric field. A powerful cleansing stone, Peridot releases and neutralizes toxic energies, aligning the mind, body and spirit while allowing you to recognize the potent strength of your own Higher Self and to look within for guidance. Peridot reminds you of the importance of letting go and when it's time to cut cords with toxic emotions, situations or people who no longer align with your highest good, encouraging you to understand your spiritual destiny and your soul's purpose. It is an ideal stone for attracting wealth, prosperity and abundance, and is a sacred totem for good luck. Viewed from ancient times as the symbol of the sun, representing the sunlit personality, and conferring the energy of royalty to the wearer. Protects against evil spirits and brings wealth, ignites a spark of positive energy and an uplifting mindset. Peridot boosts well-being, increases generosity and a revitalized energy to your daily life, aligning the dimensions of physical reality with your inner Truth. Peridot reestablishes a sense of self-worth, relinquishes old feelings of guilt or regret, and increases wealth, joy and emotional vivacity. It encourages you to gently yet powerfully expand your ability to receive from the Universe, accepting your Divine birthright of complete abundance on all levels of life, including your openness and willingness to receive.
Production Info
*Please note: all pieces are made by my hands to order with up to a 3-4 week production time. If you have a rush-order, please email to discuss! For more information about Jewelry Care, Warranty and Returns, please see our FAQ page.
FAQ
DO YOU GIFT WRAP?
Each order comes gift wrapped, please ensure you fill out the "Gift" notes section upon checkout, as your item will be thoughtfully wrapped and personalized with recipients name, along with description cards of each piece and selected stones!
DO YOU CAST IN ROSE OR WHITE GOLD?
Any piece that is not a ready-made one of a kind is available to custom order in 14k White or 14k Rose Gold.
Please enter your preferred metal in the notes section upon checkout, or feel free to contact us before ordering!
PRODUCTION & SHIPPING
All Fine Jewelry items are handcrafted and made to order. All of our pieces require up to 3-4 weeks for turnaround production time, to allow for sizing, polishing, and making sure your jewelry is perfect! 
If you have a specific deadline you need to meet, please contact us to let us know. We may request that you pay for upgraded expedited shipping, and may not be able to accommodate all requests.
HOW DO I KNOW WHICH STONE IS FOR ME?
I always, always recommend as first priority to go with what you're drawn to. Oftentimes, your first instinct as led by your intuition will be spot on for what energy you're wanting to align with or needing in your life at this time - don't overthink it!
An easy way to clear your mind and become present with your current state of being:
Close your eyes and take a few slow, deep breaths.
Focus your attention on the ground beneath your feet, gradually relaxing into a naturally comfortable state. Picture your body within a bright, warm pyramid of white light as you exhale.
Release any impeding stresses that pop into mind, and ask your subconscious to come to the forefront.
See what you're drawn to aesthetically, then proceed by reading about each energy to determine which one feels right.