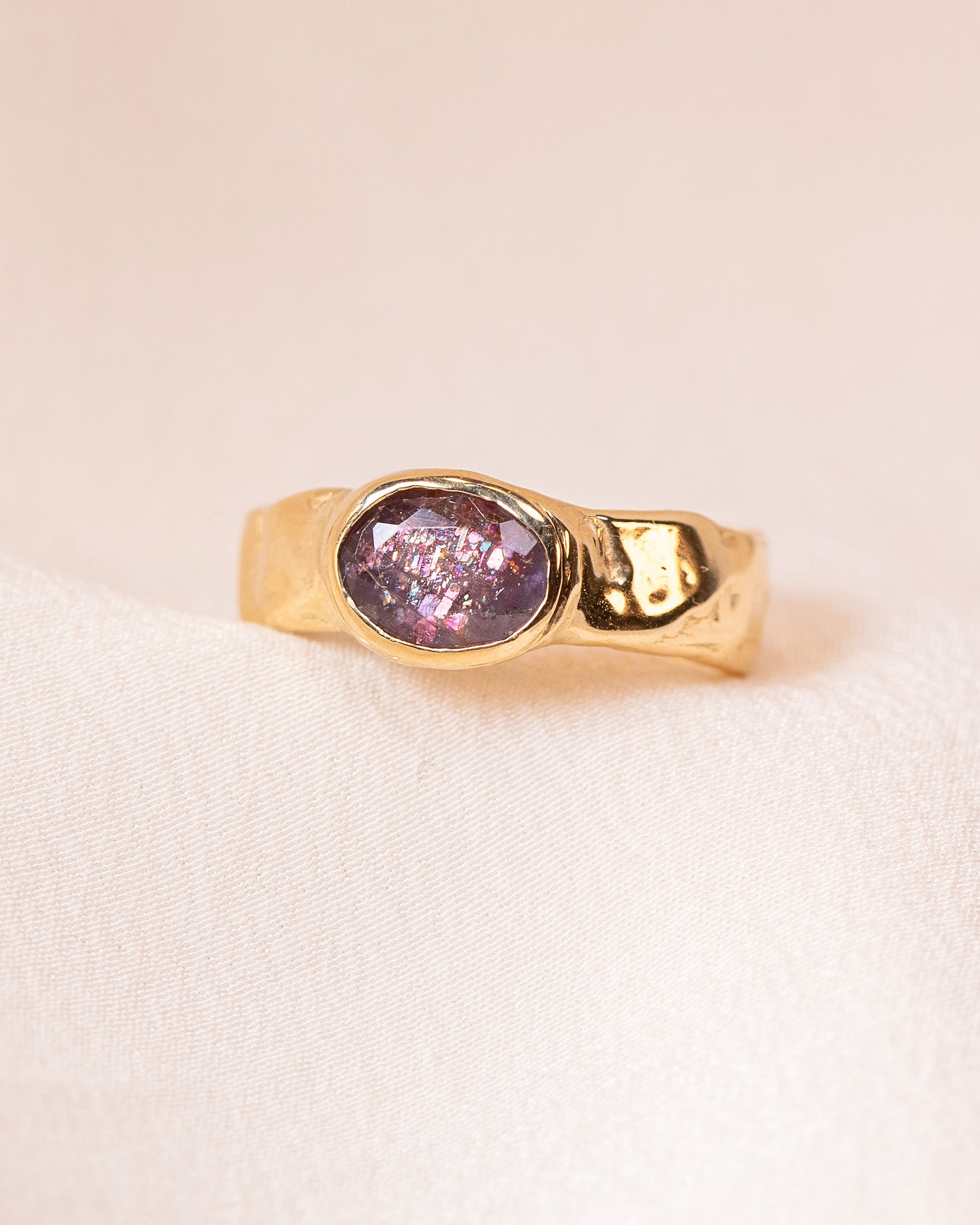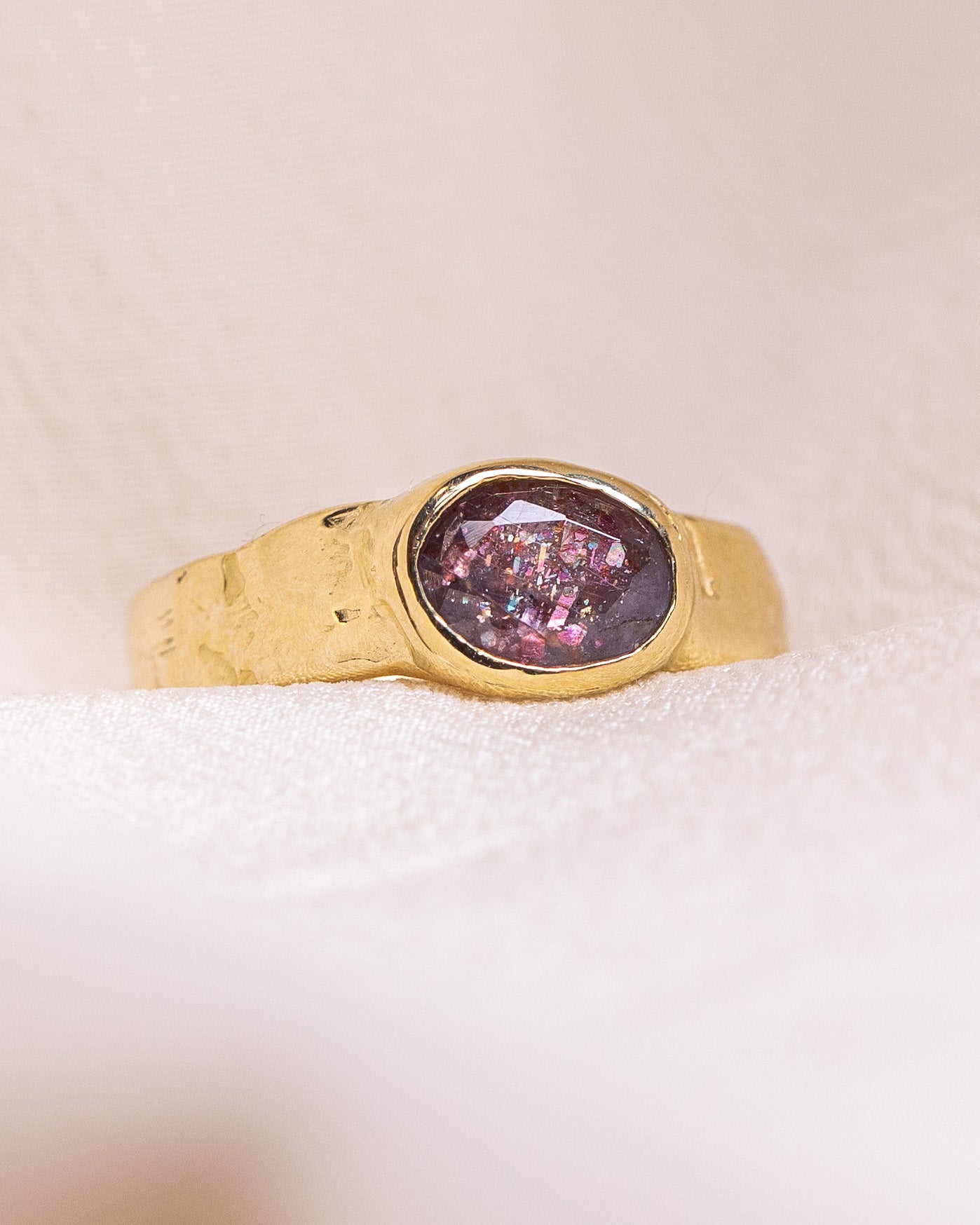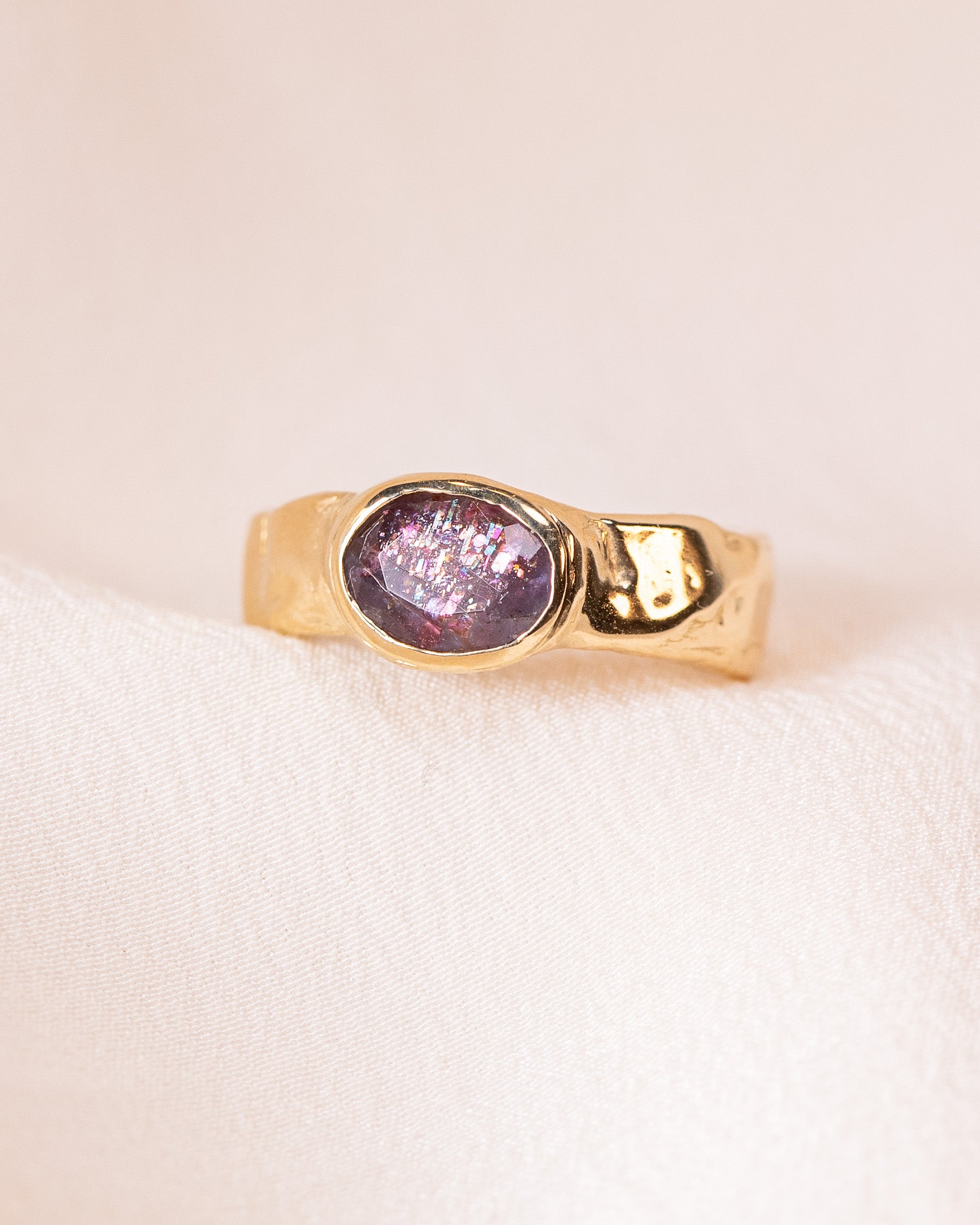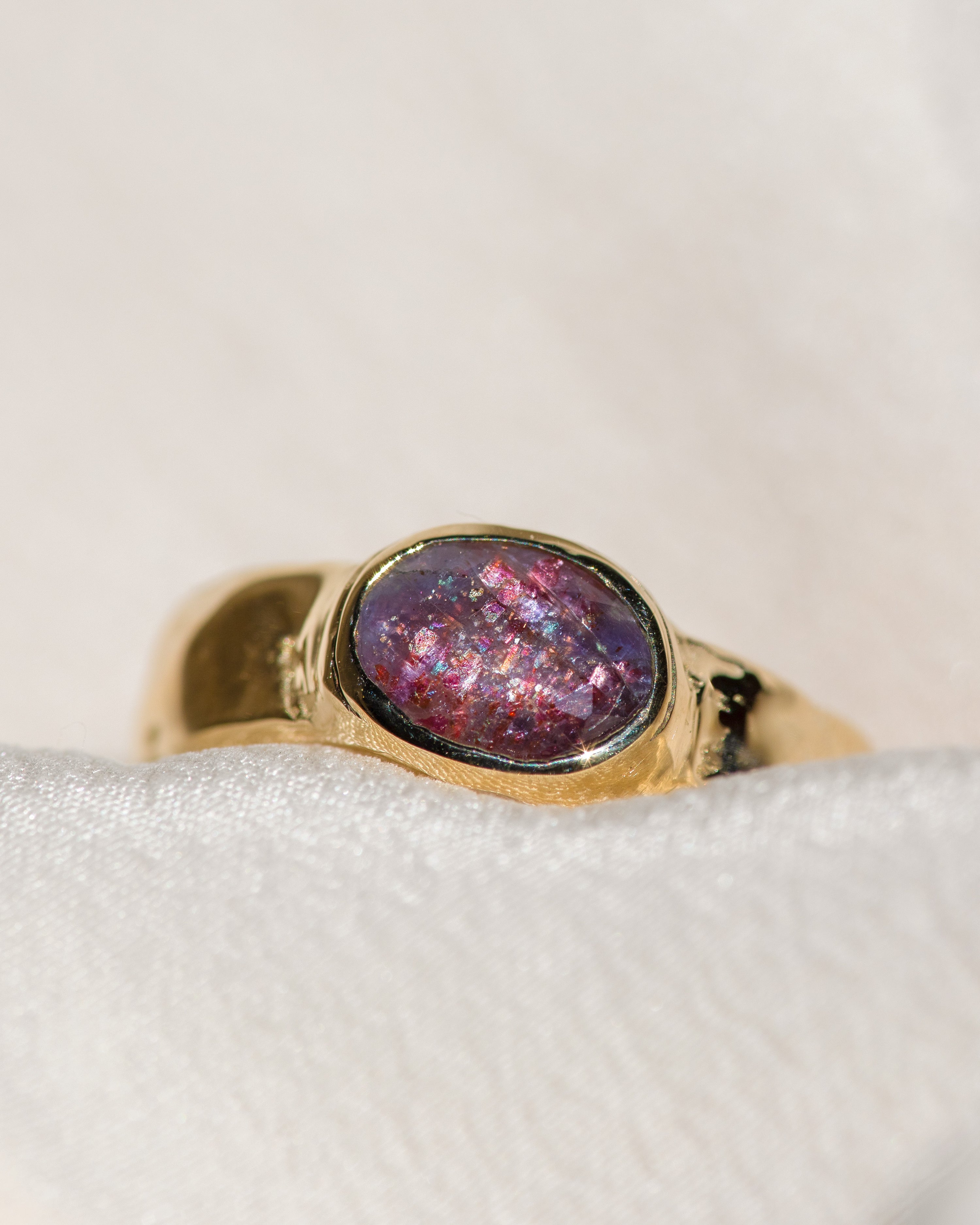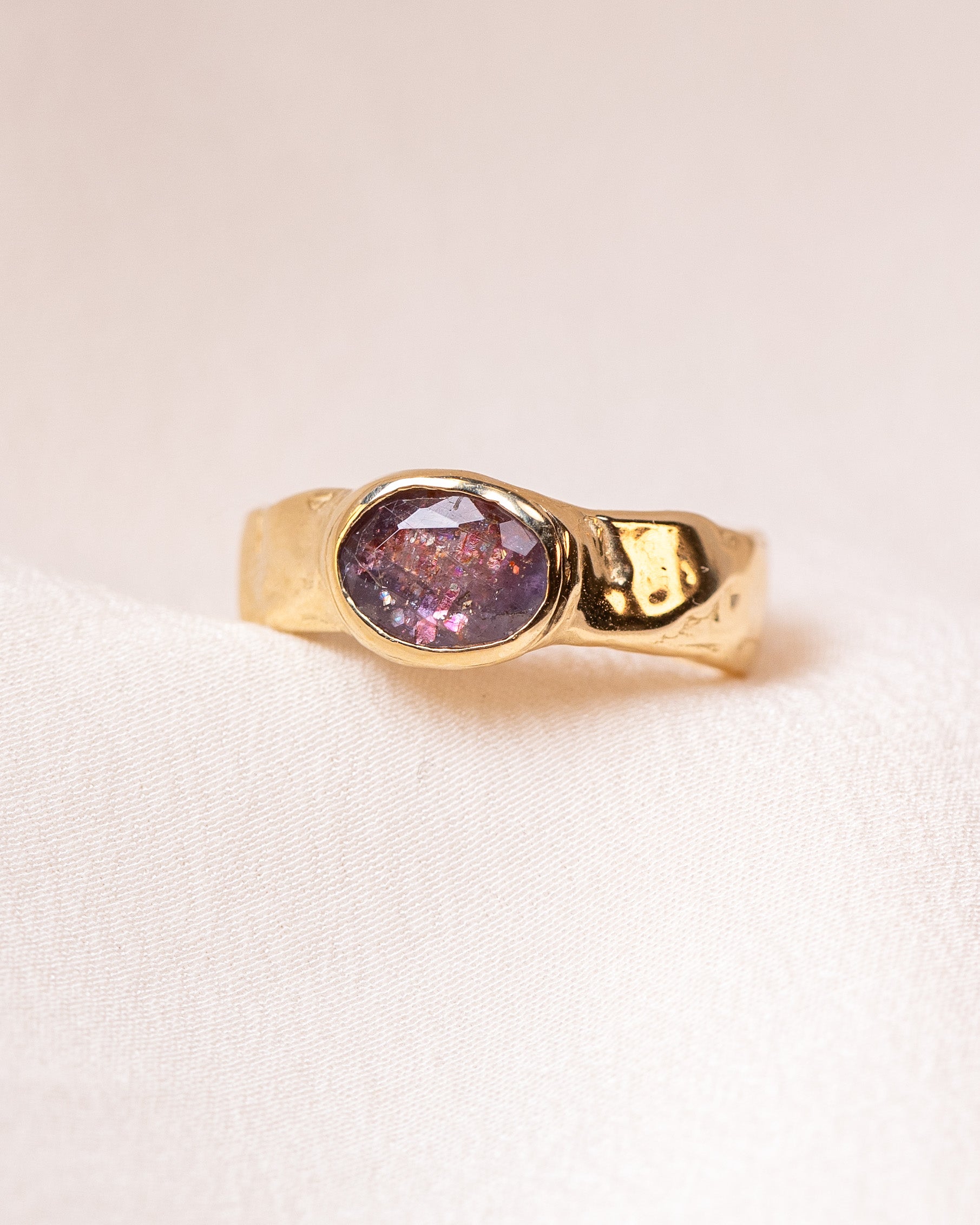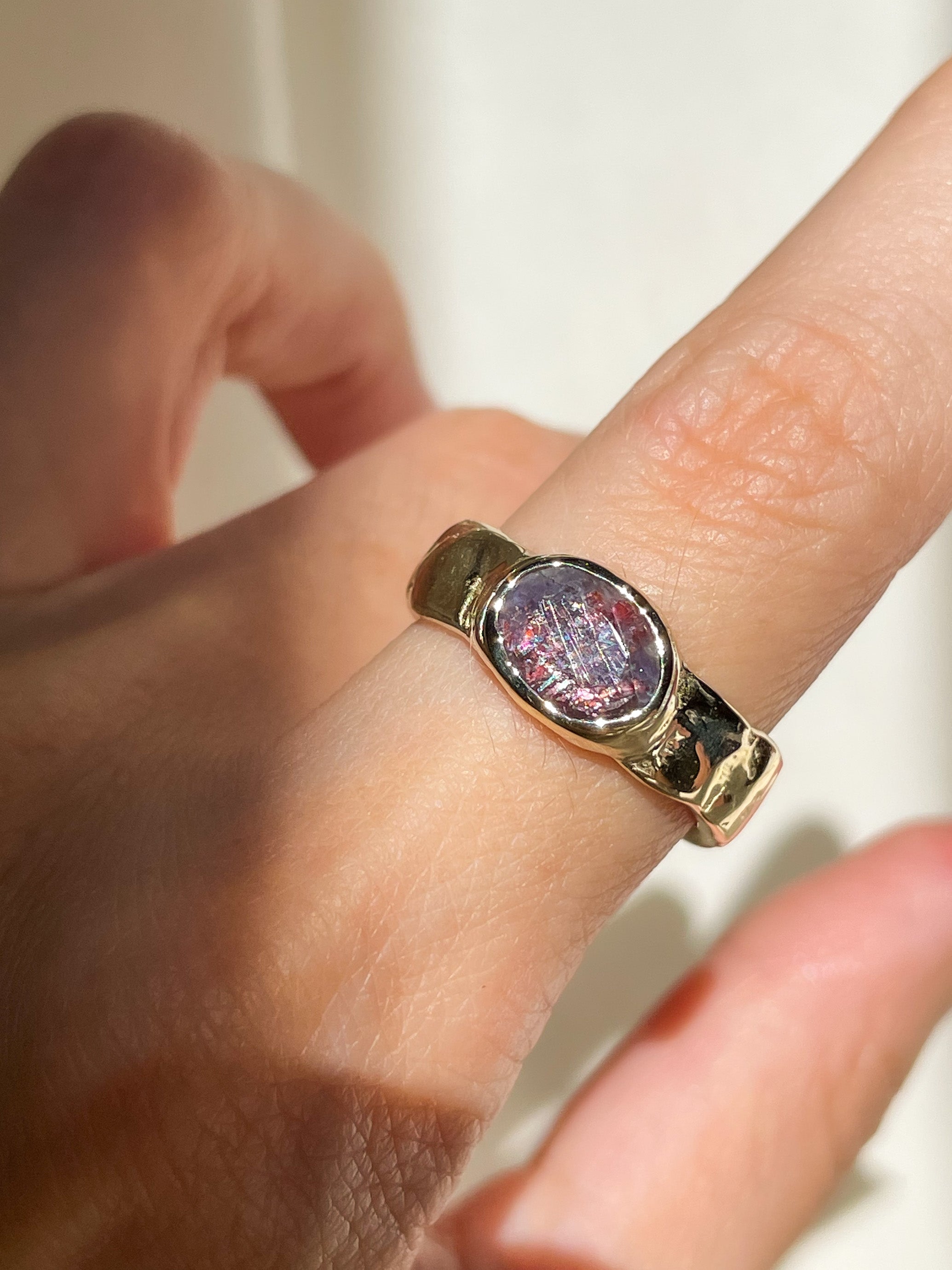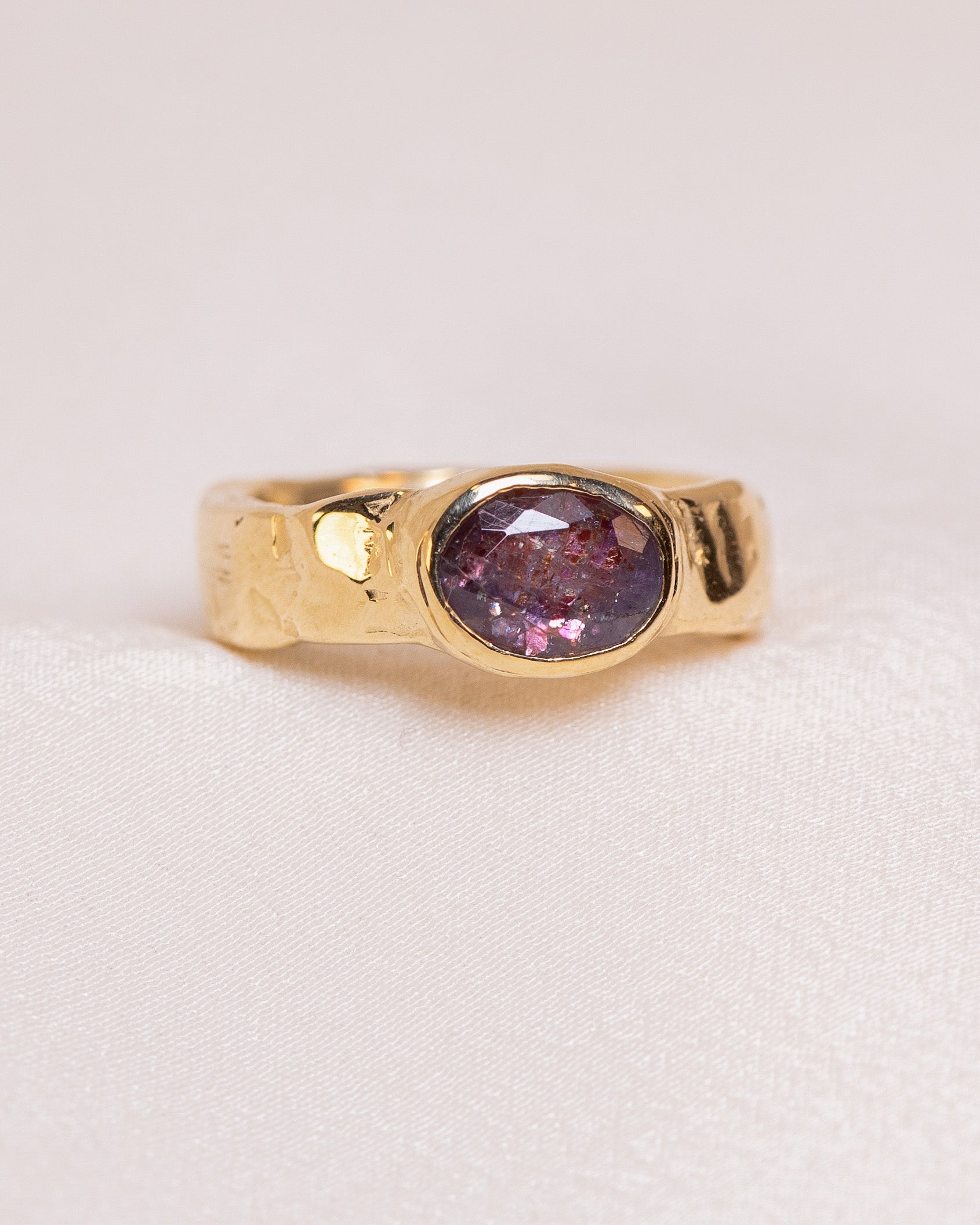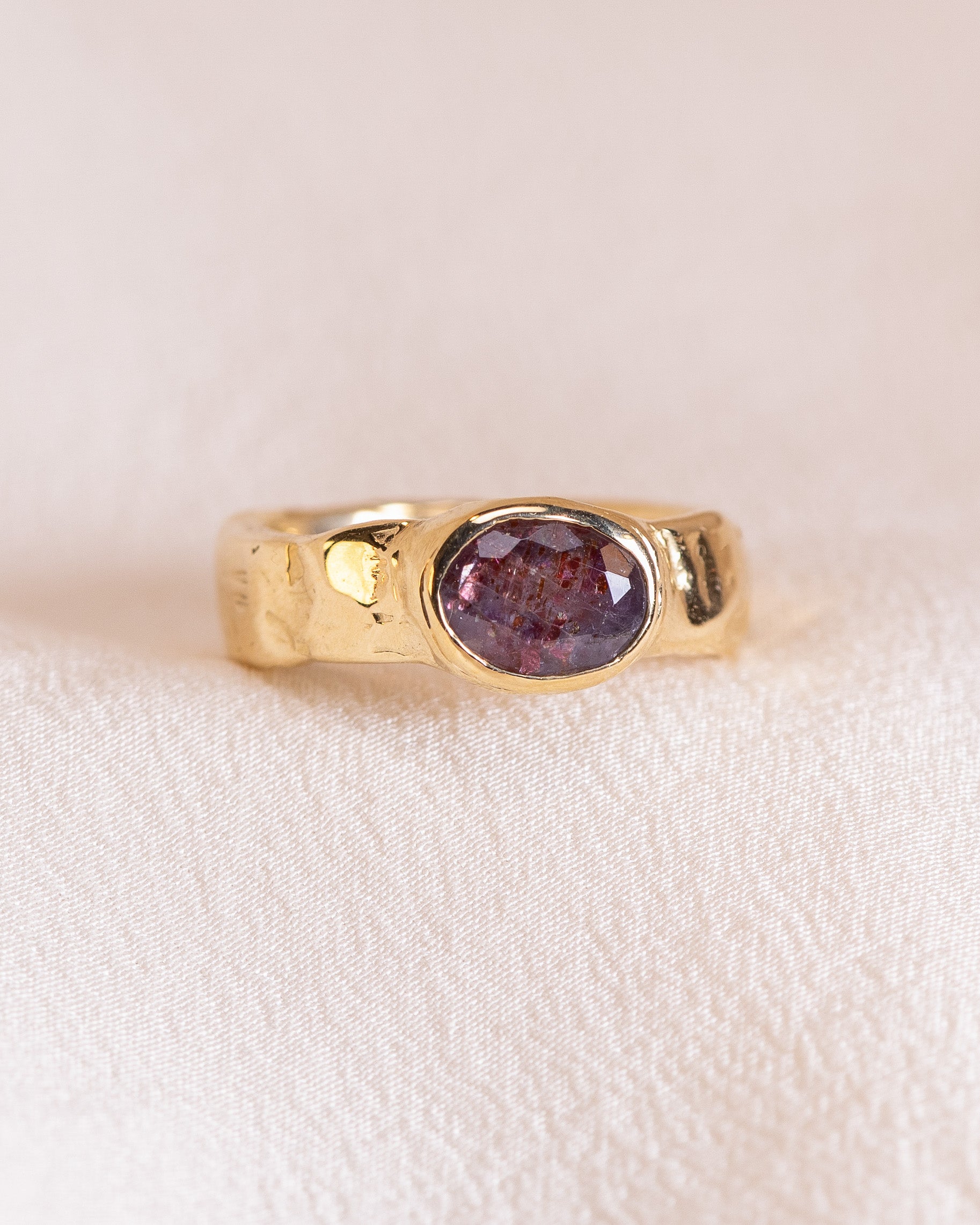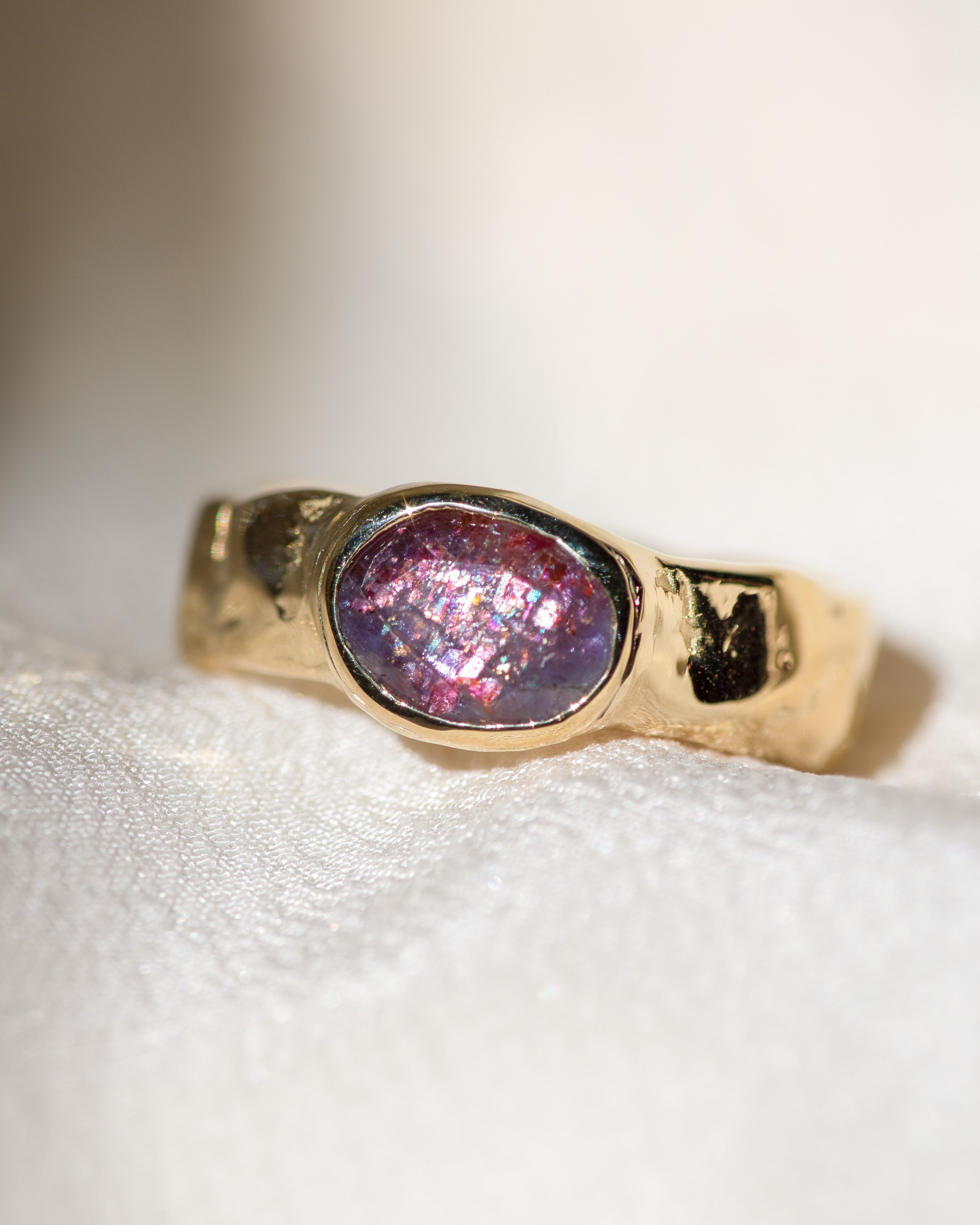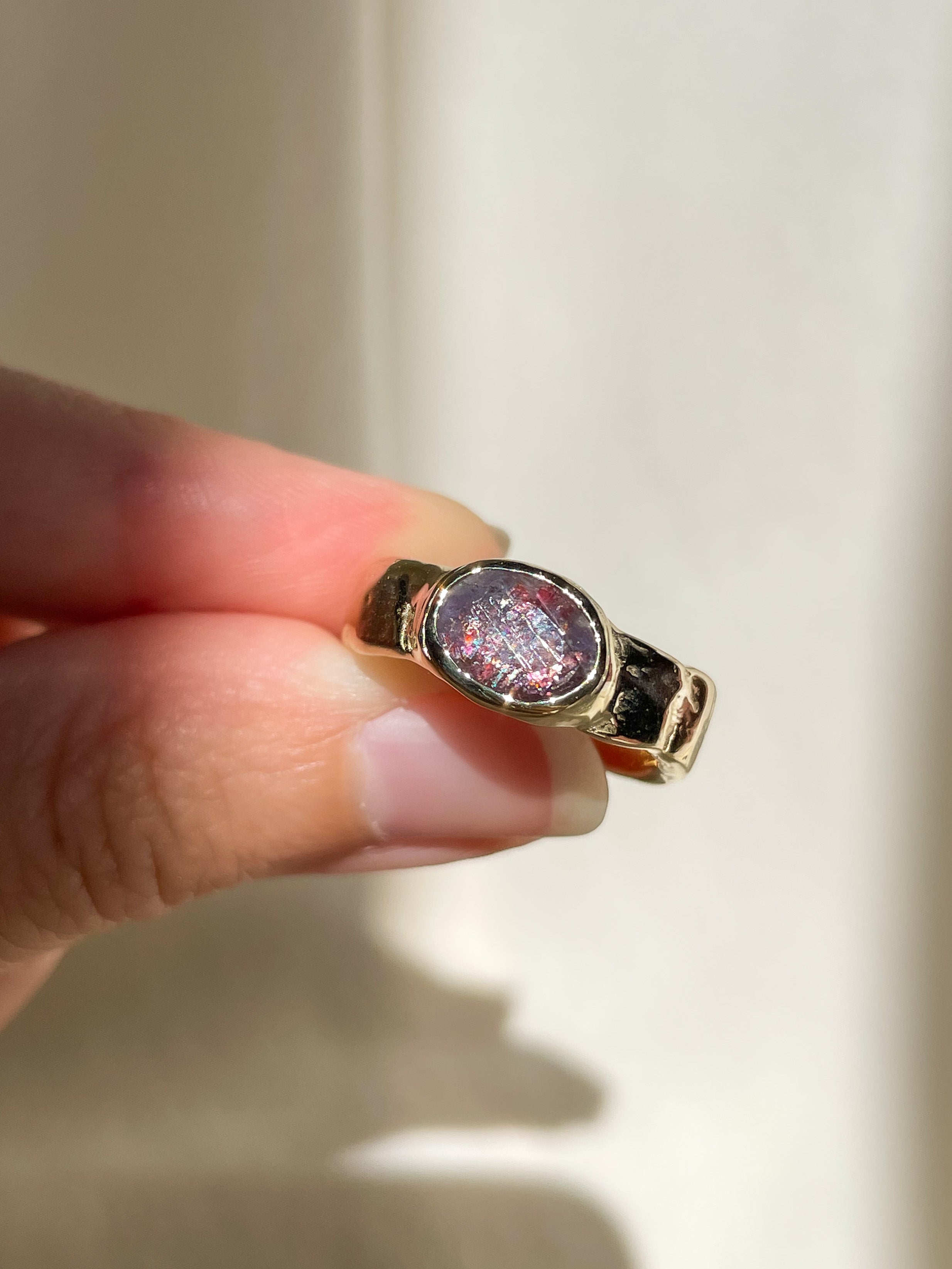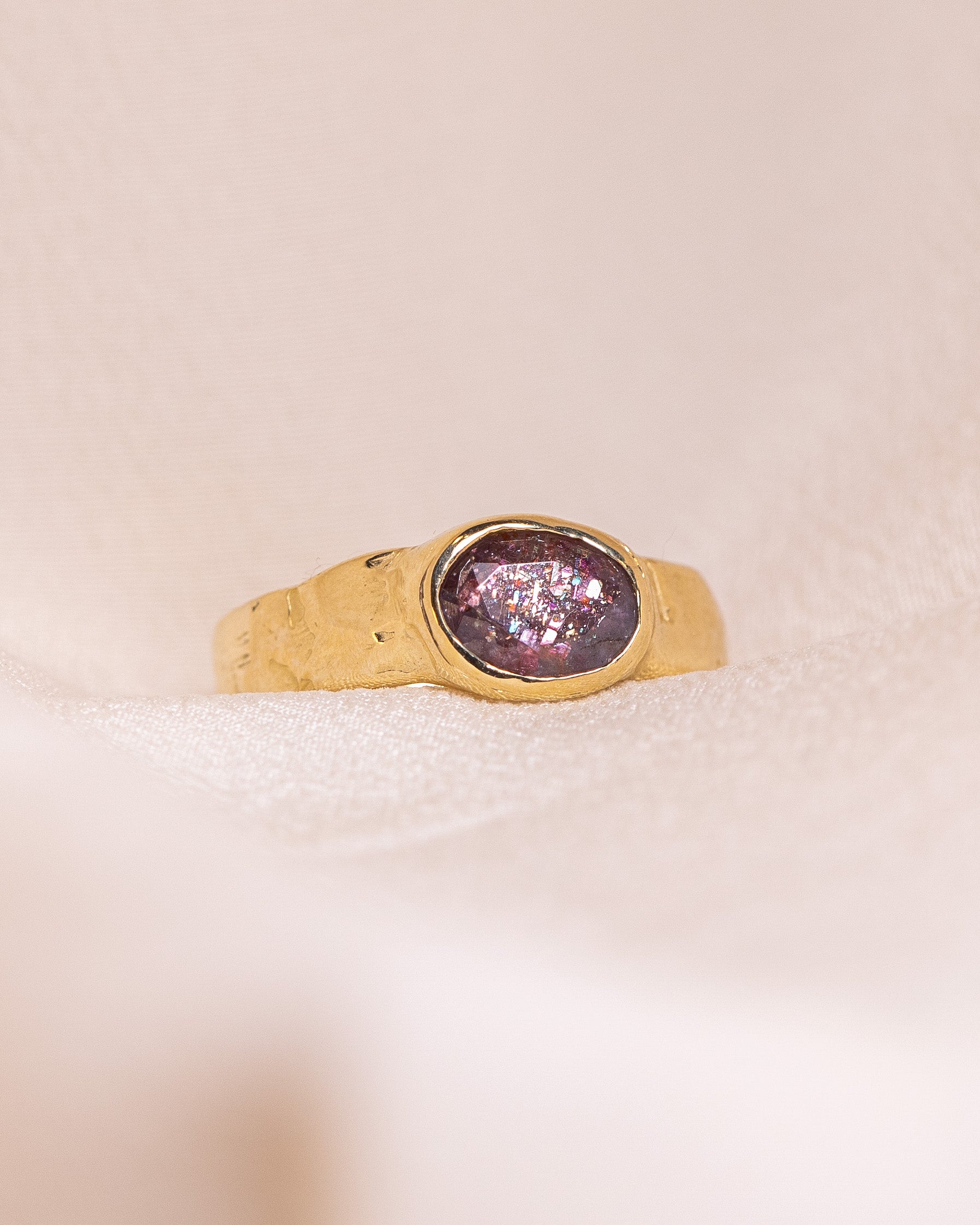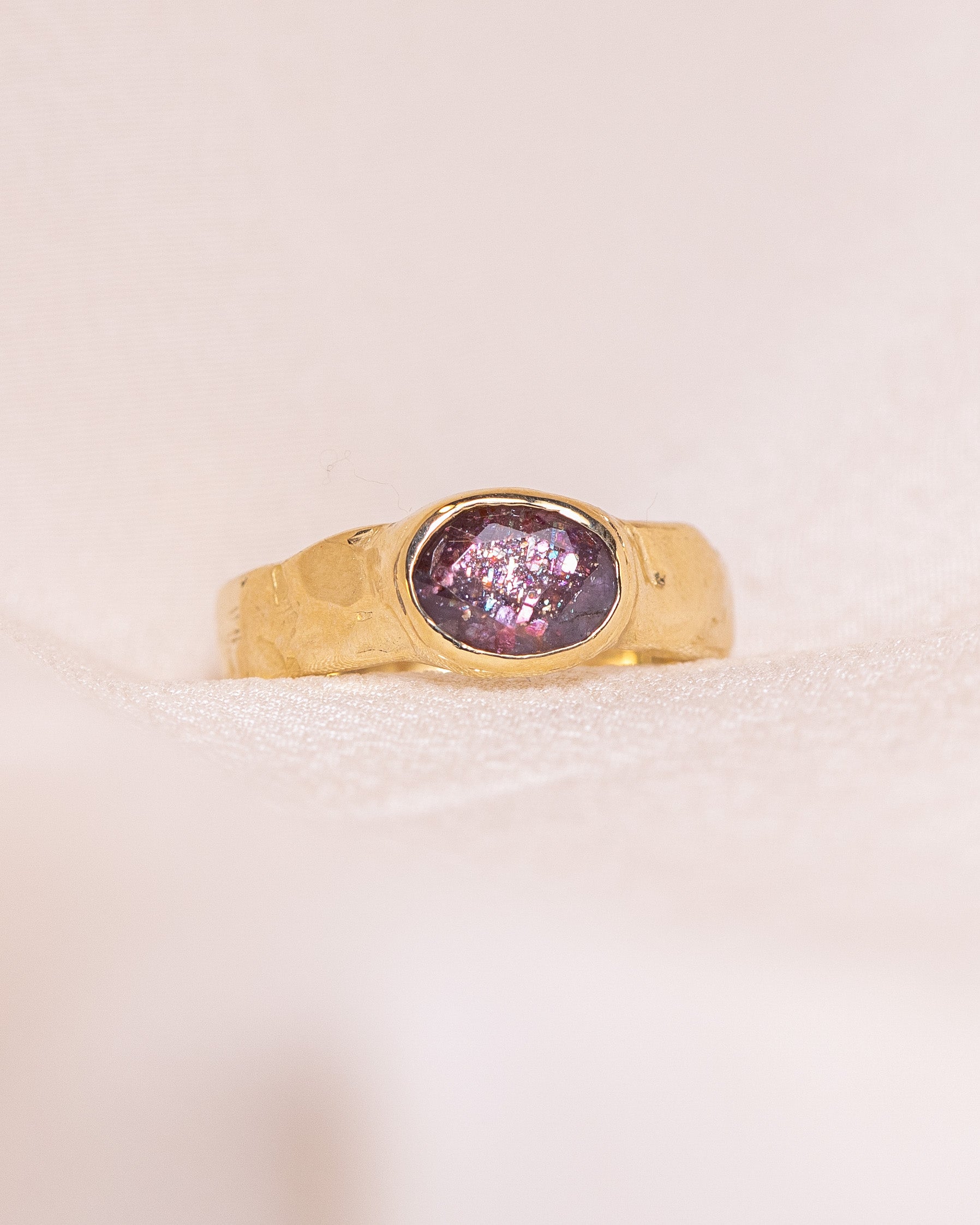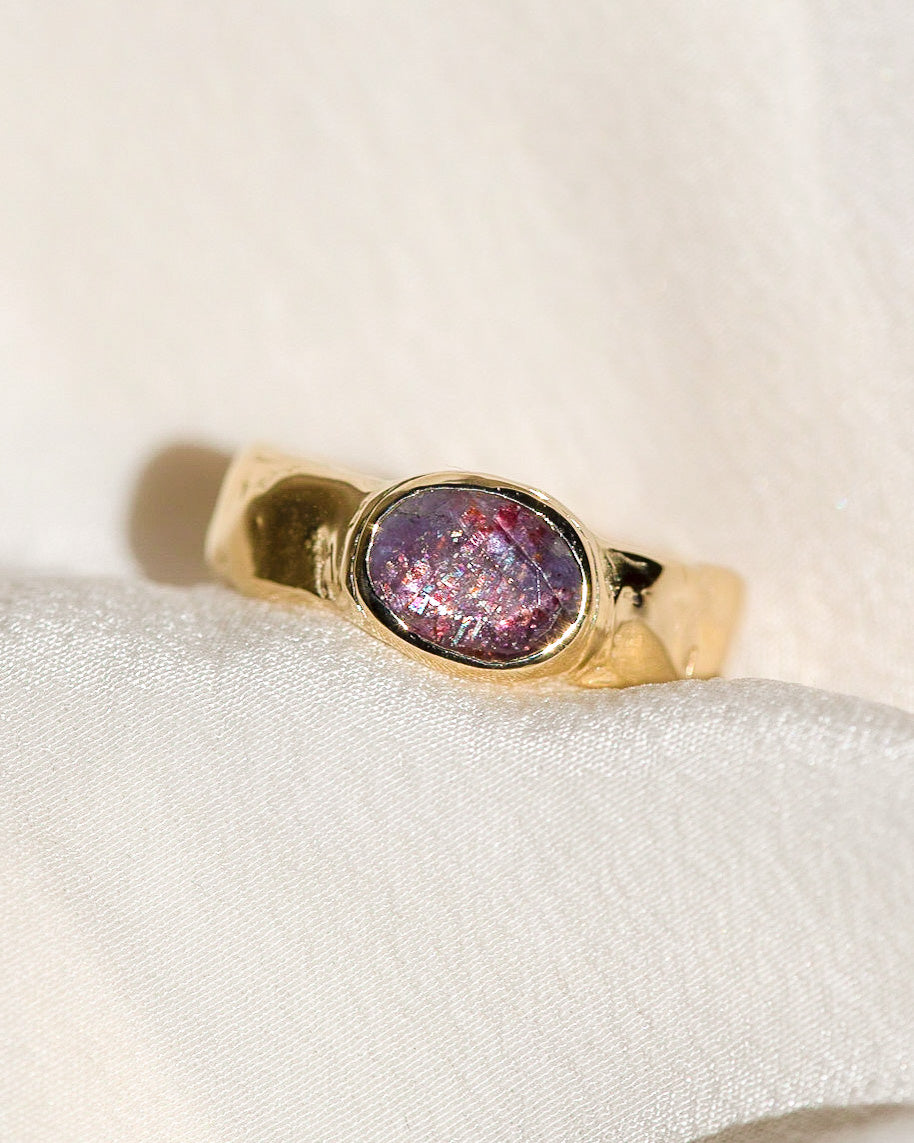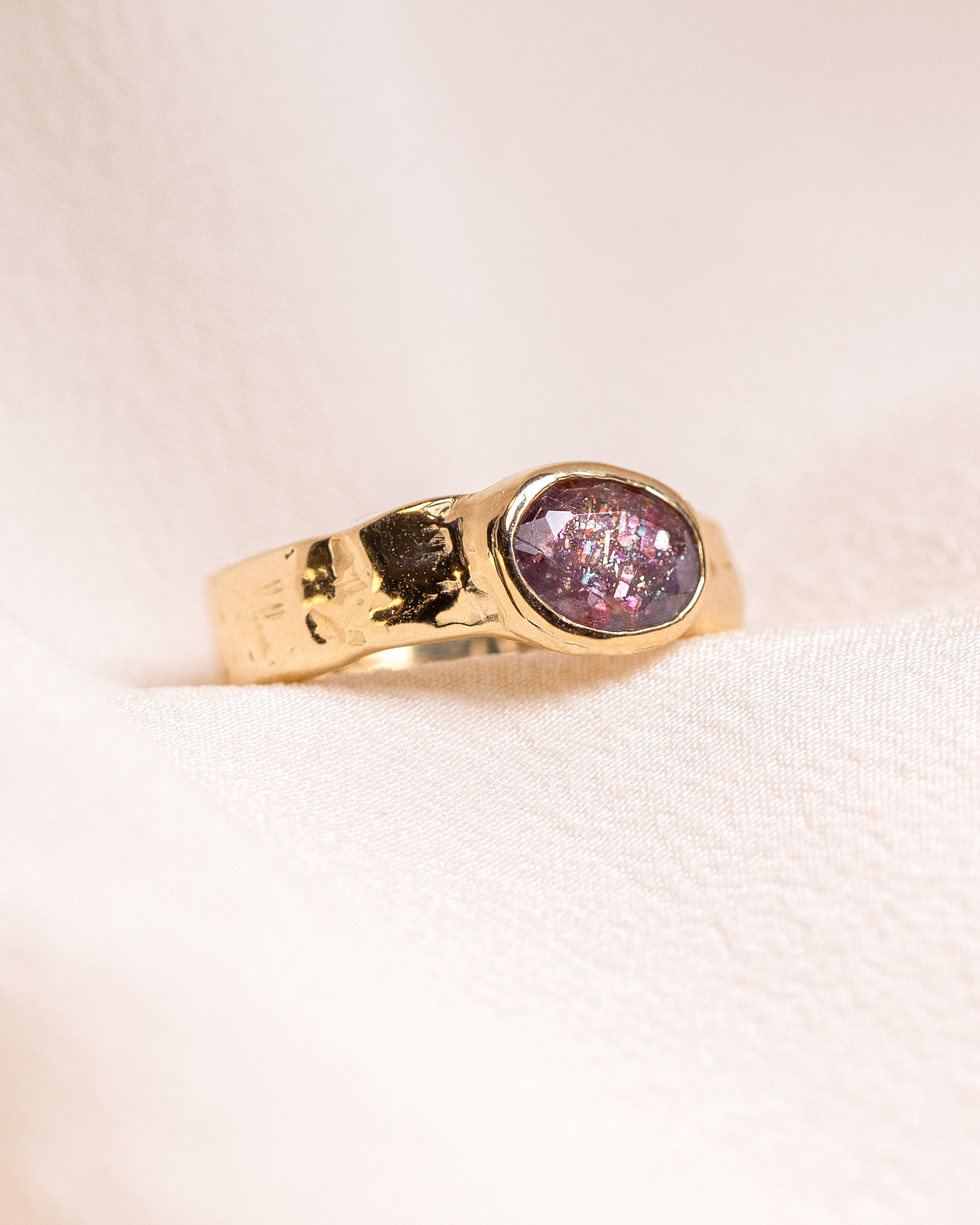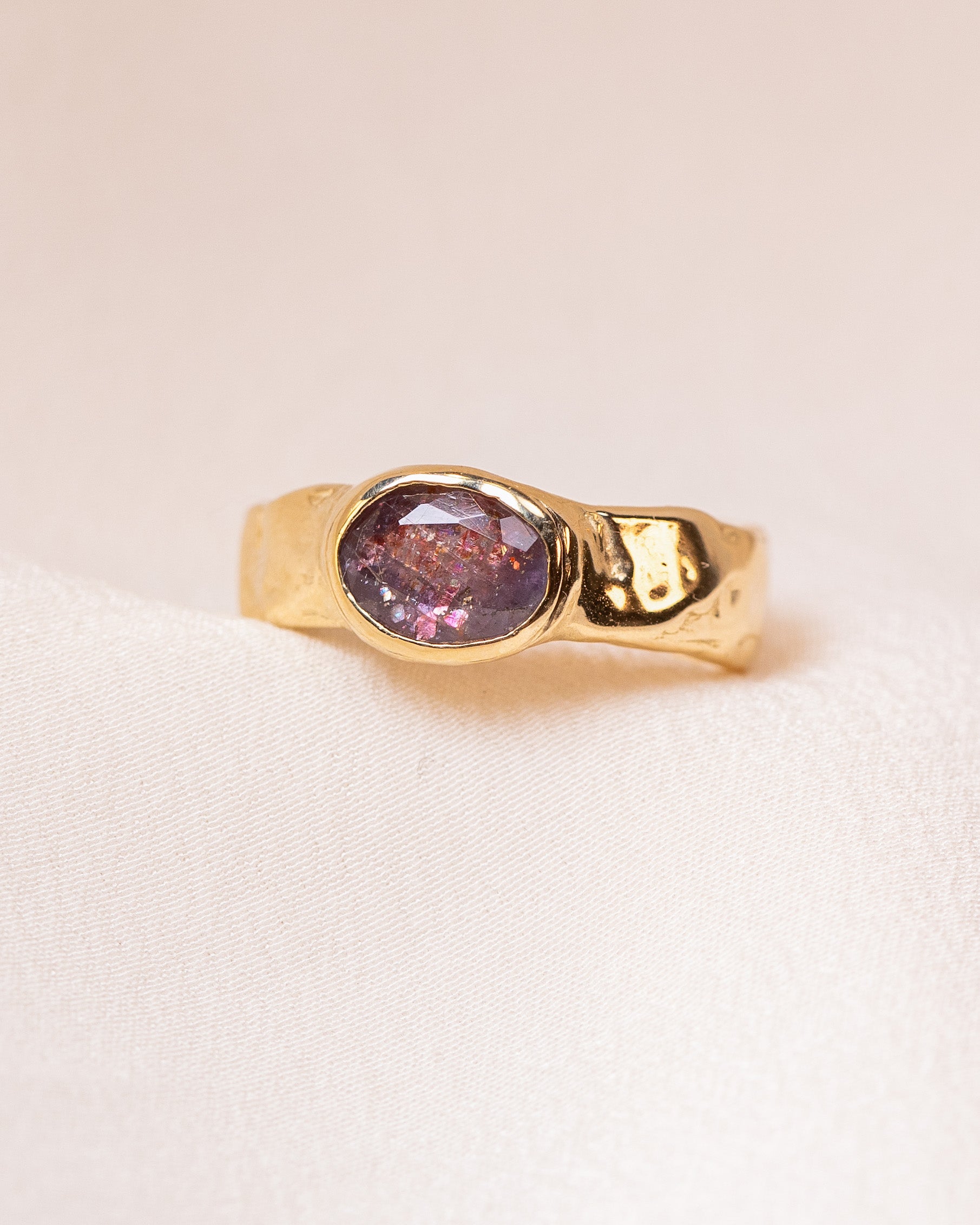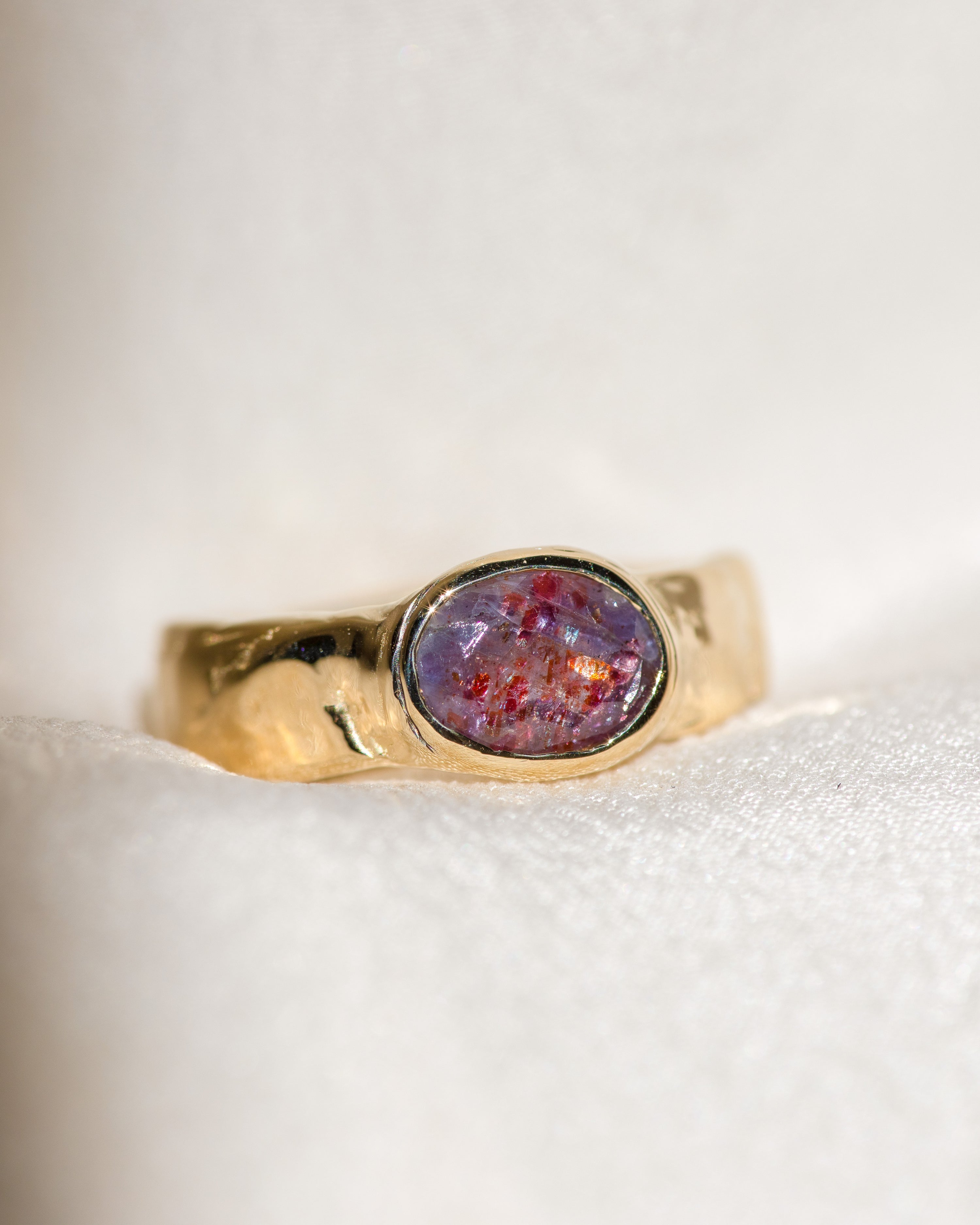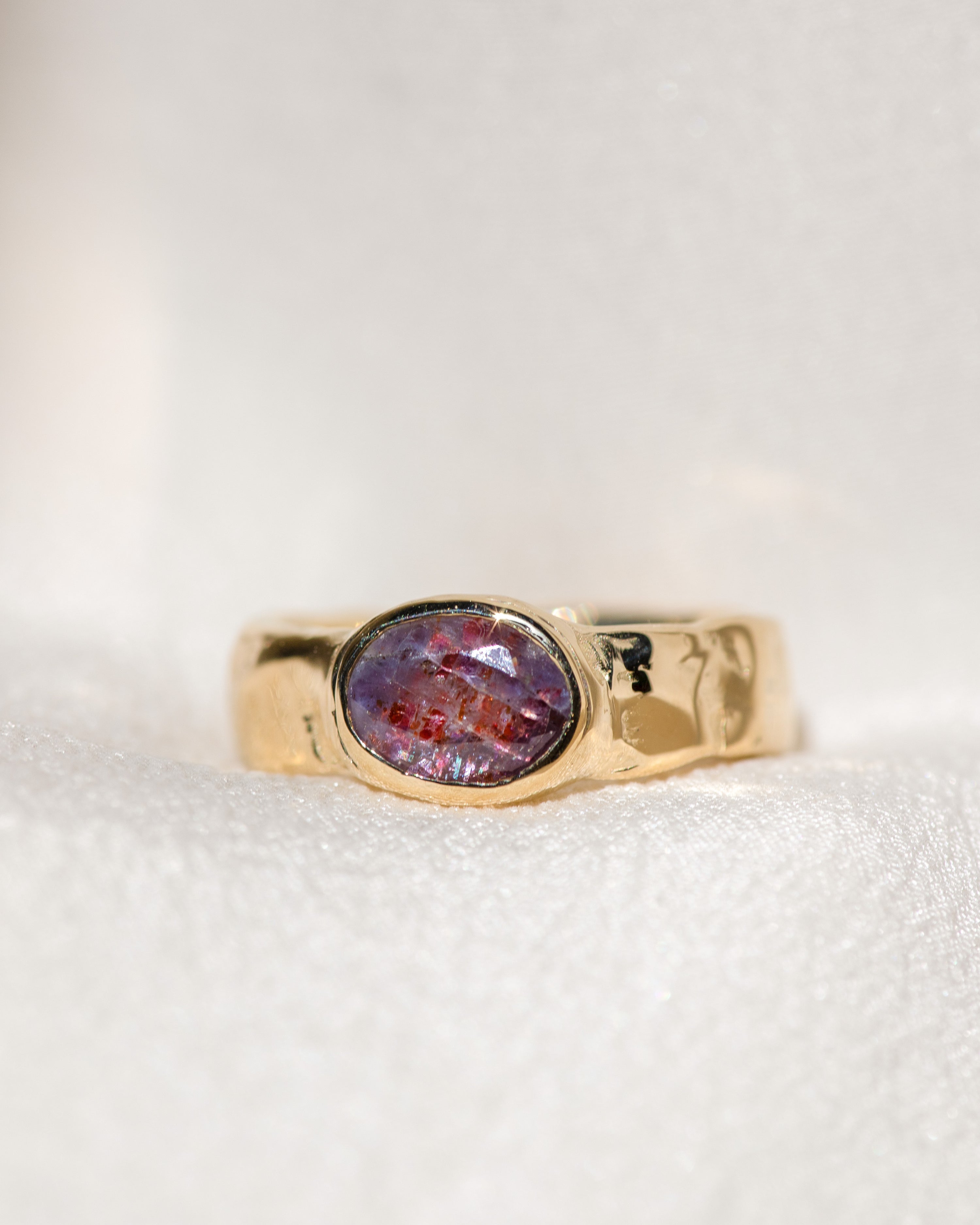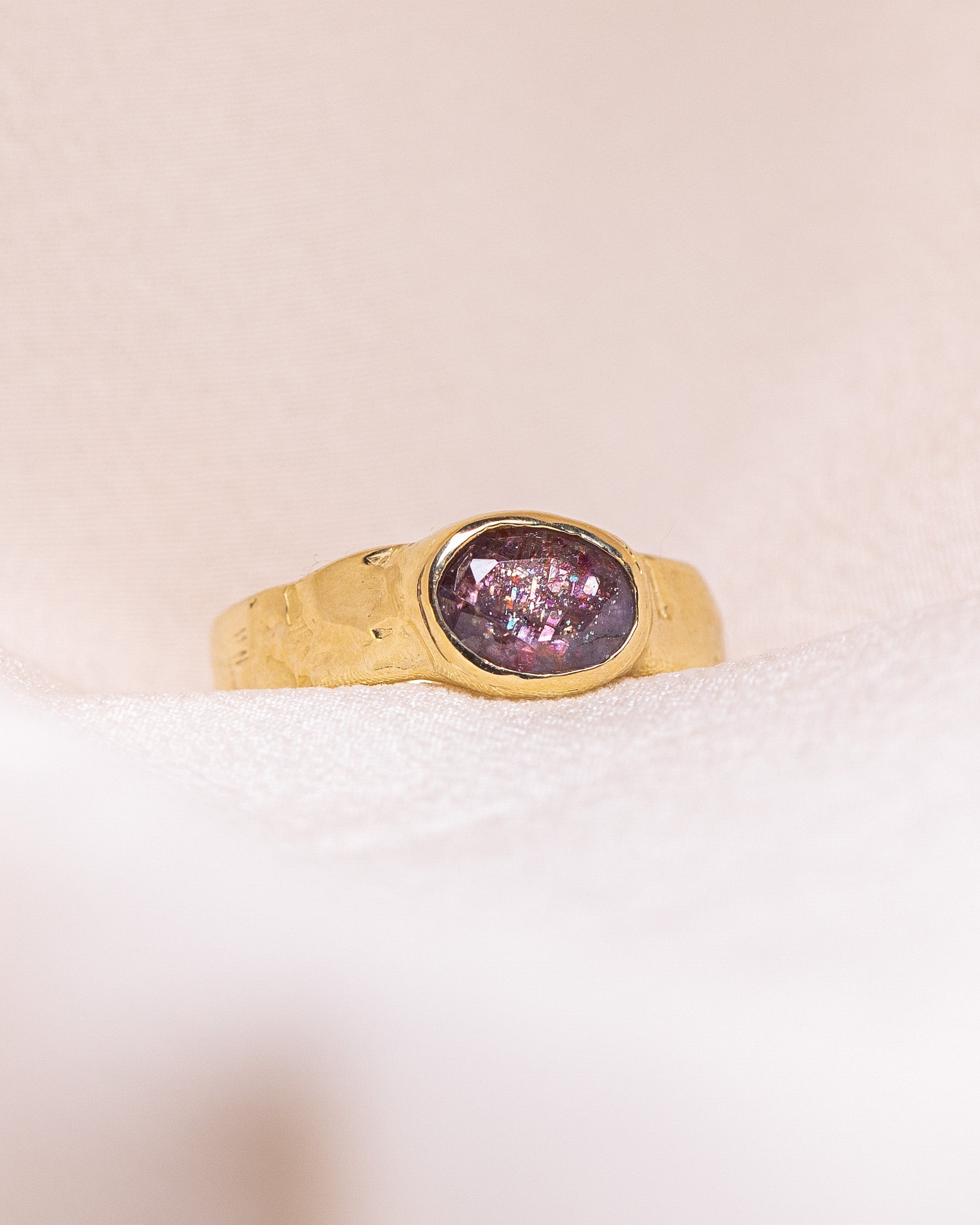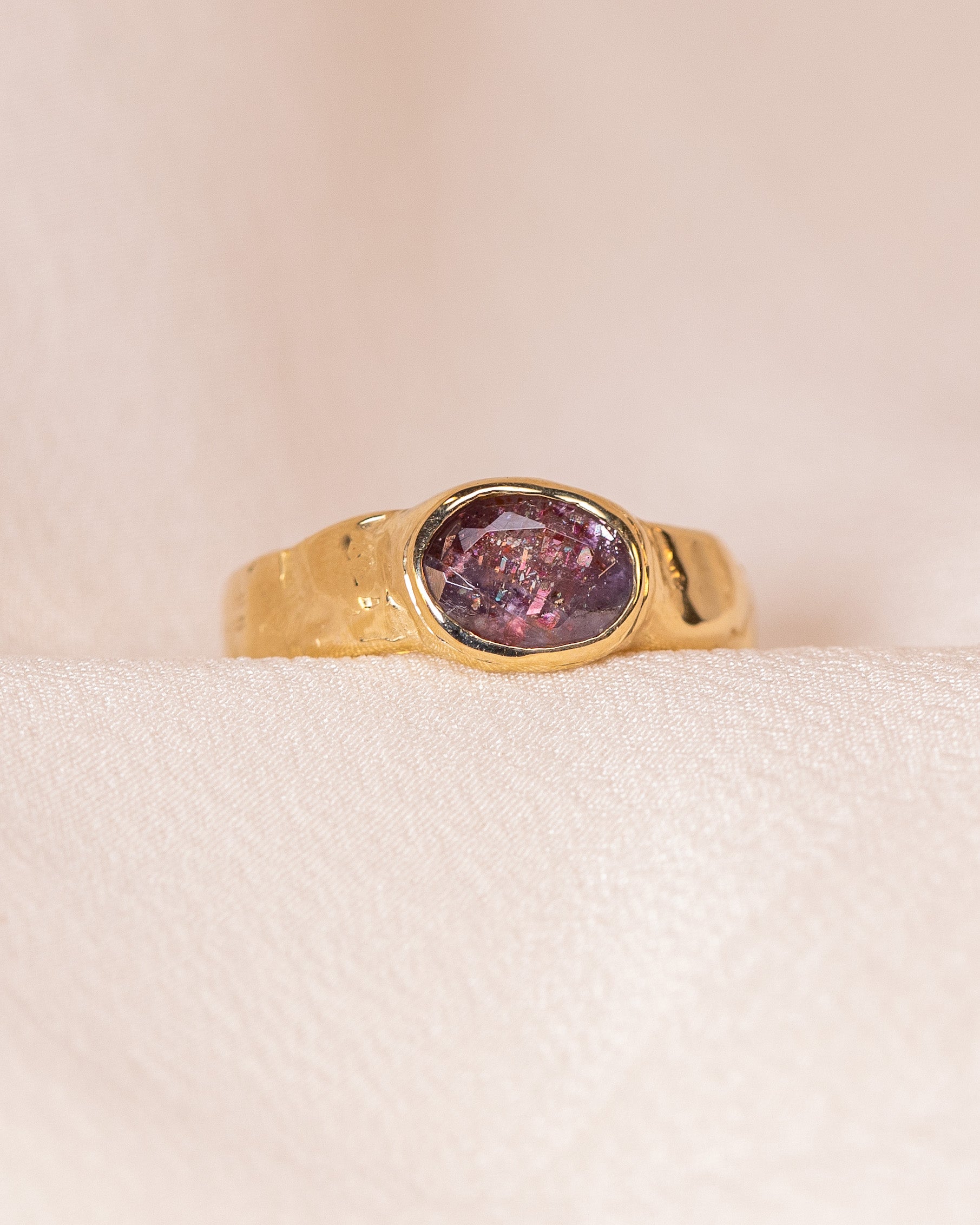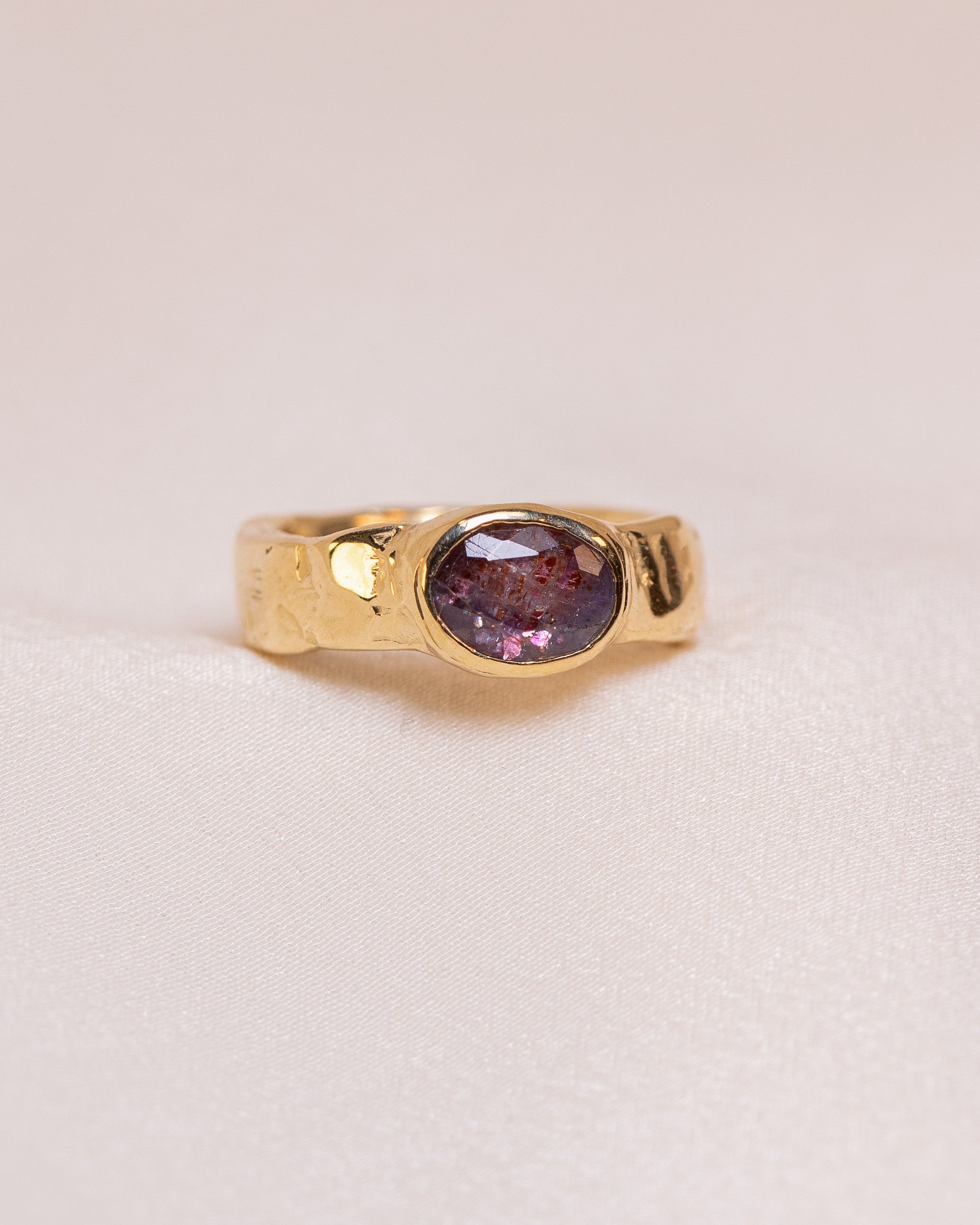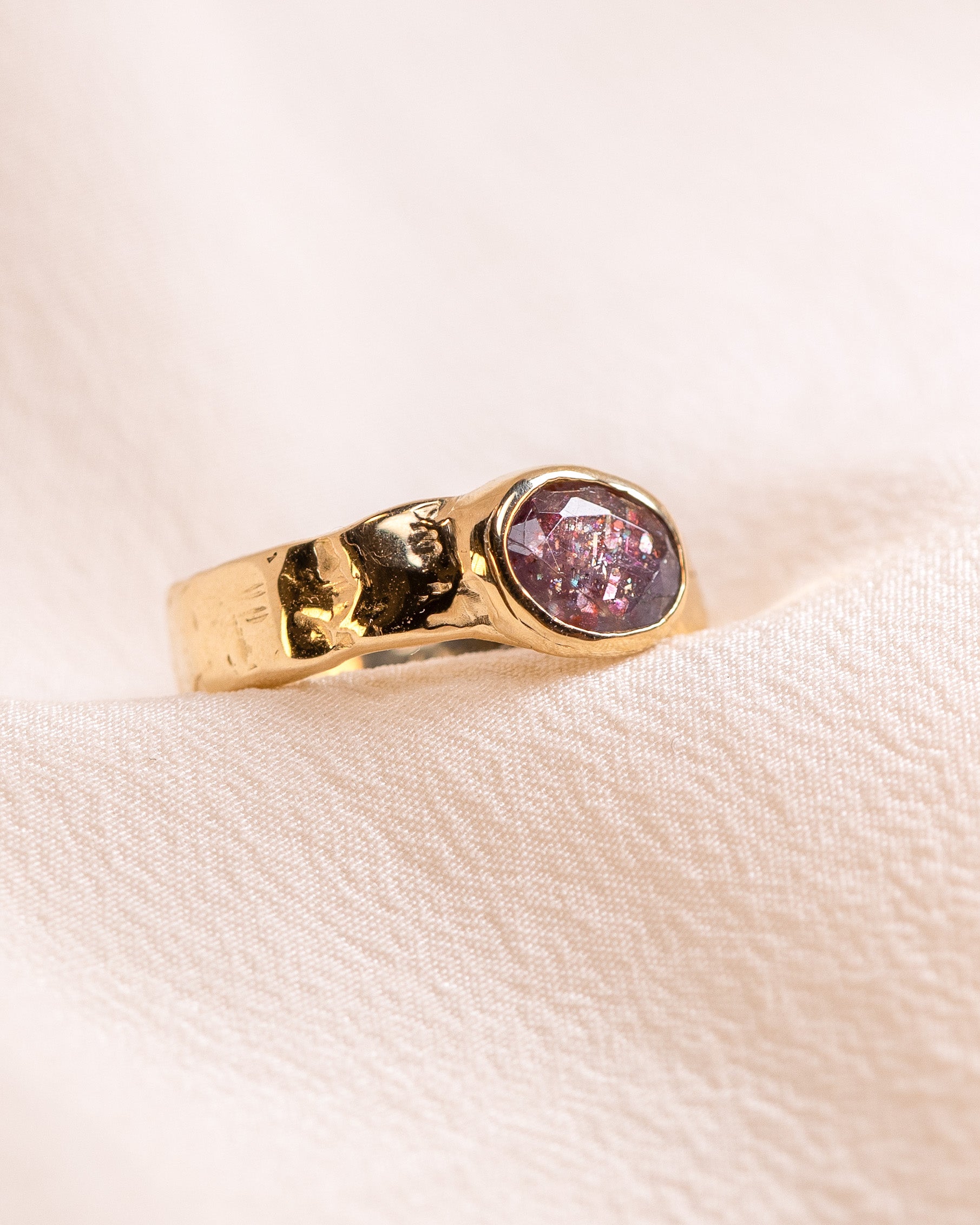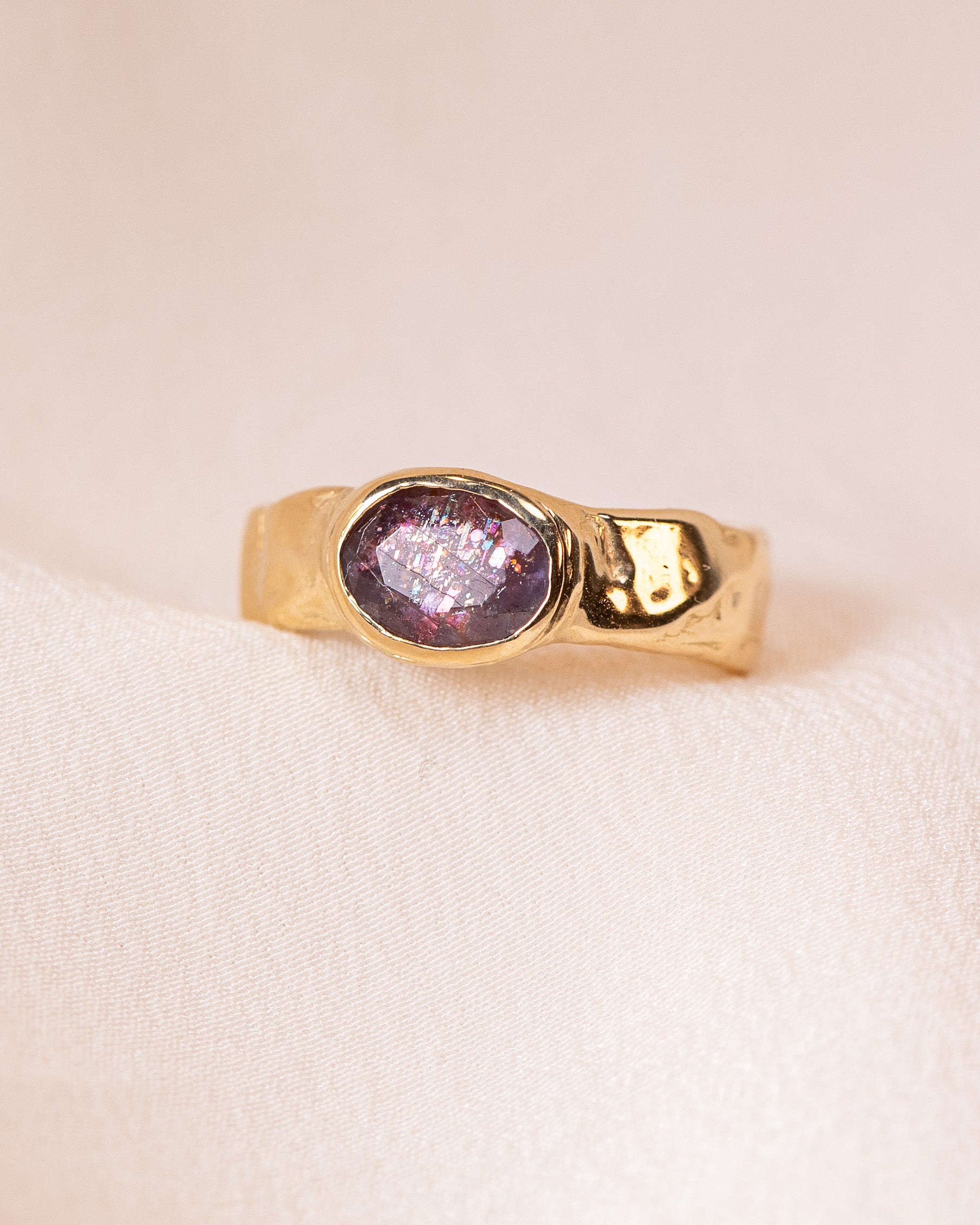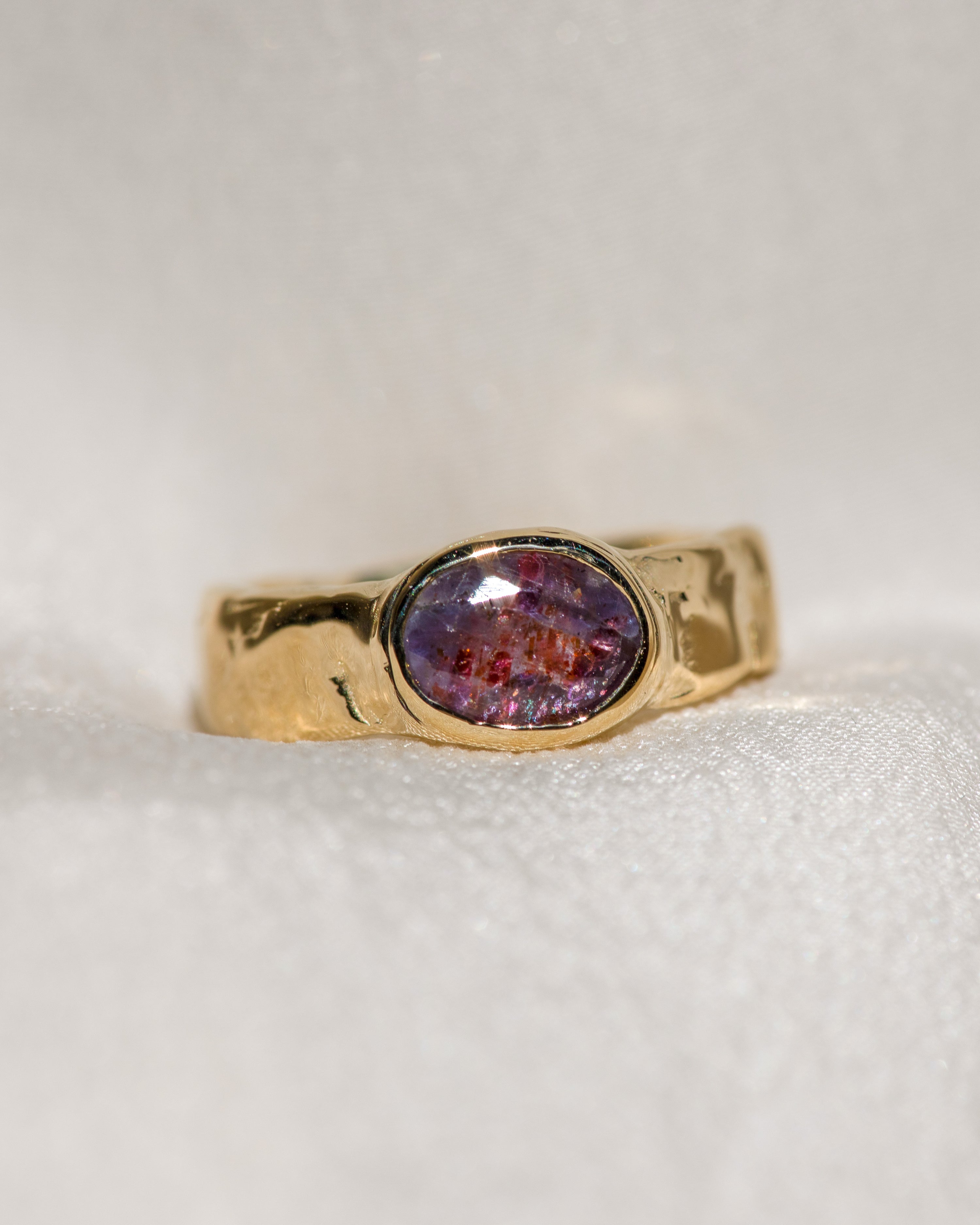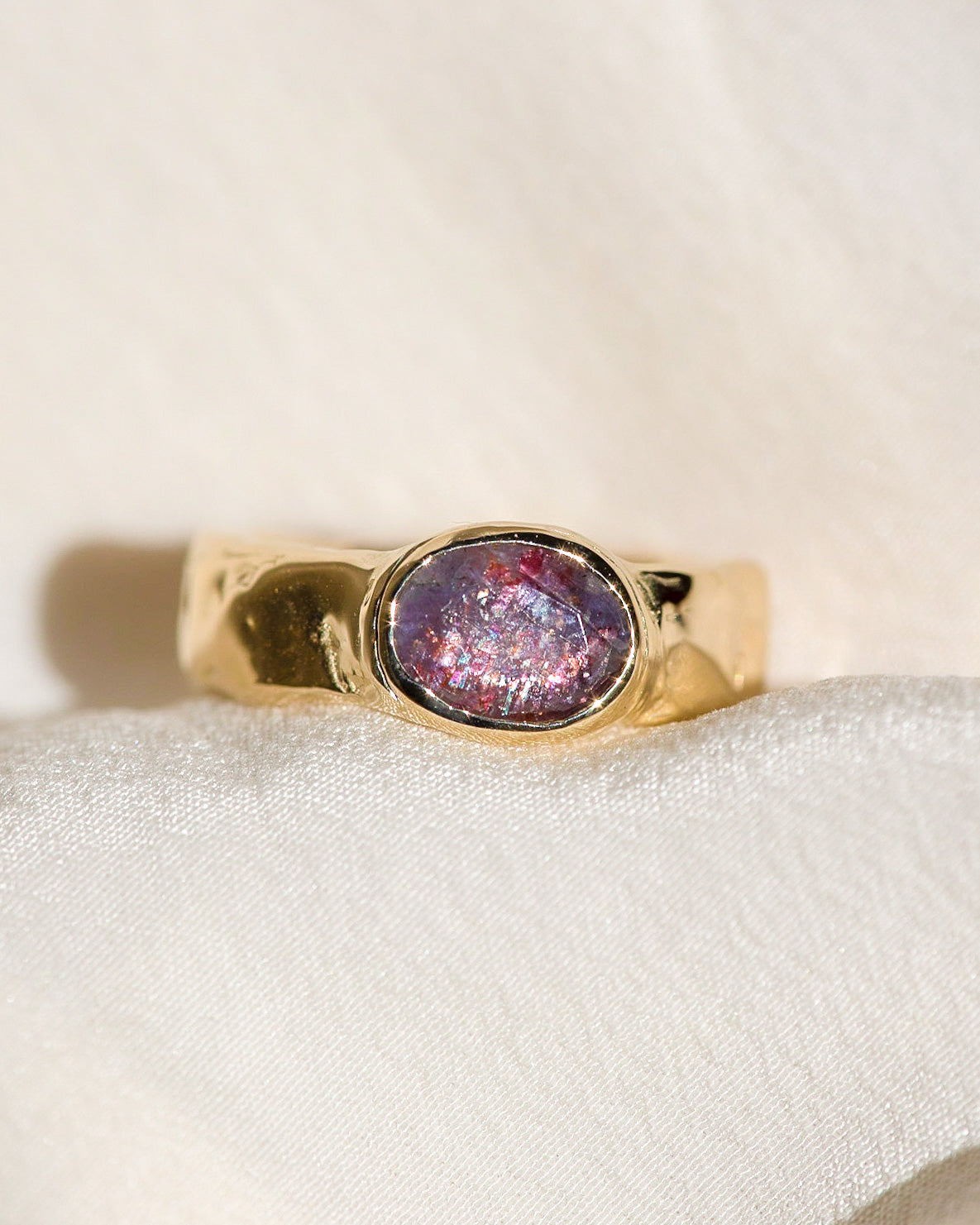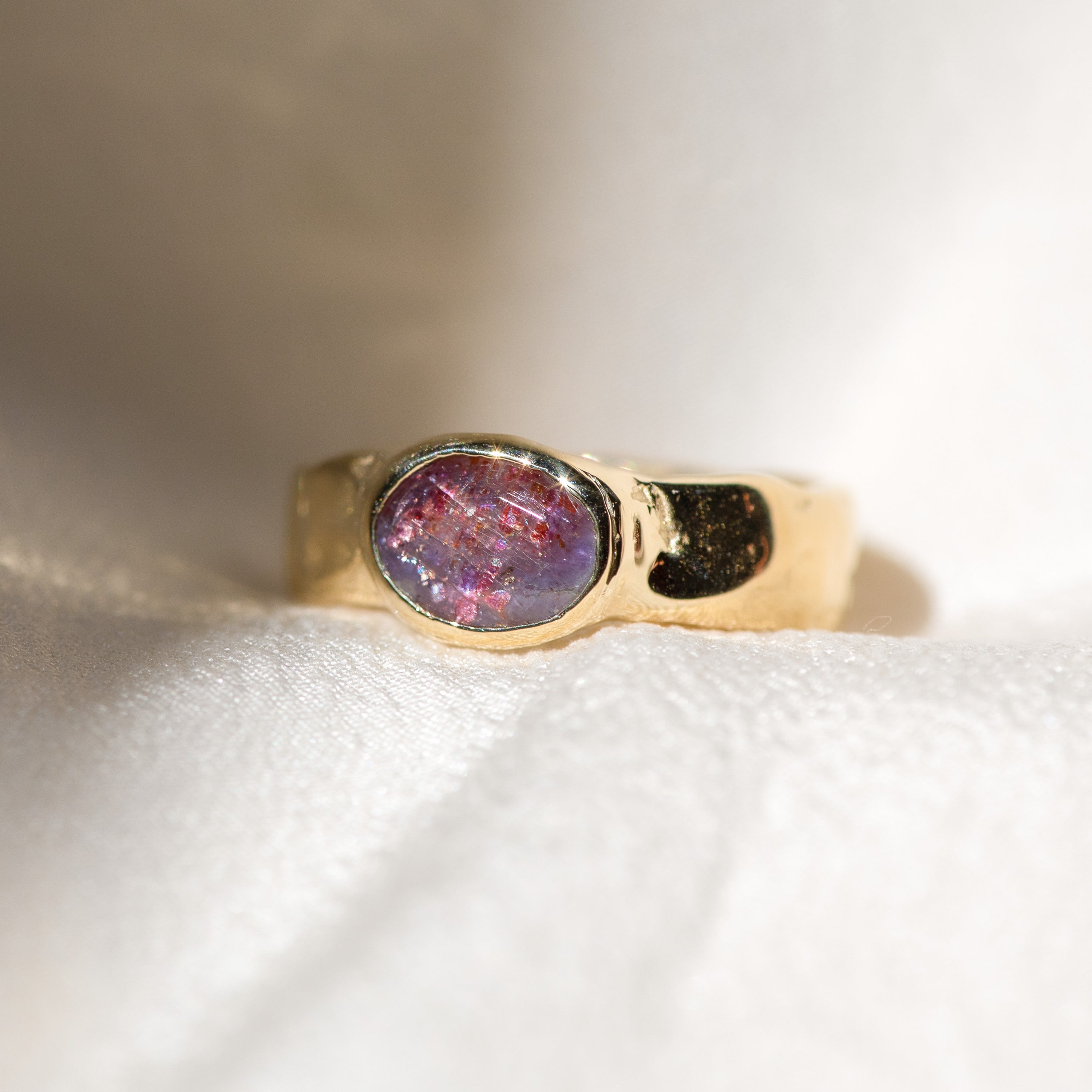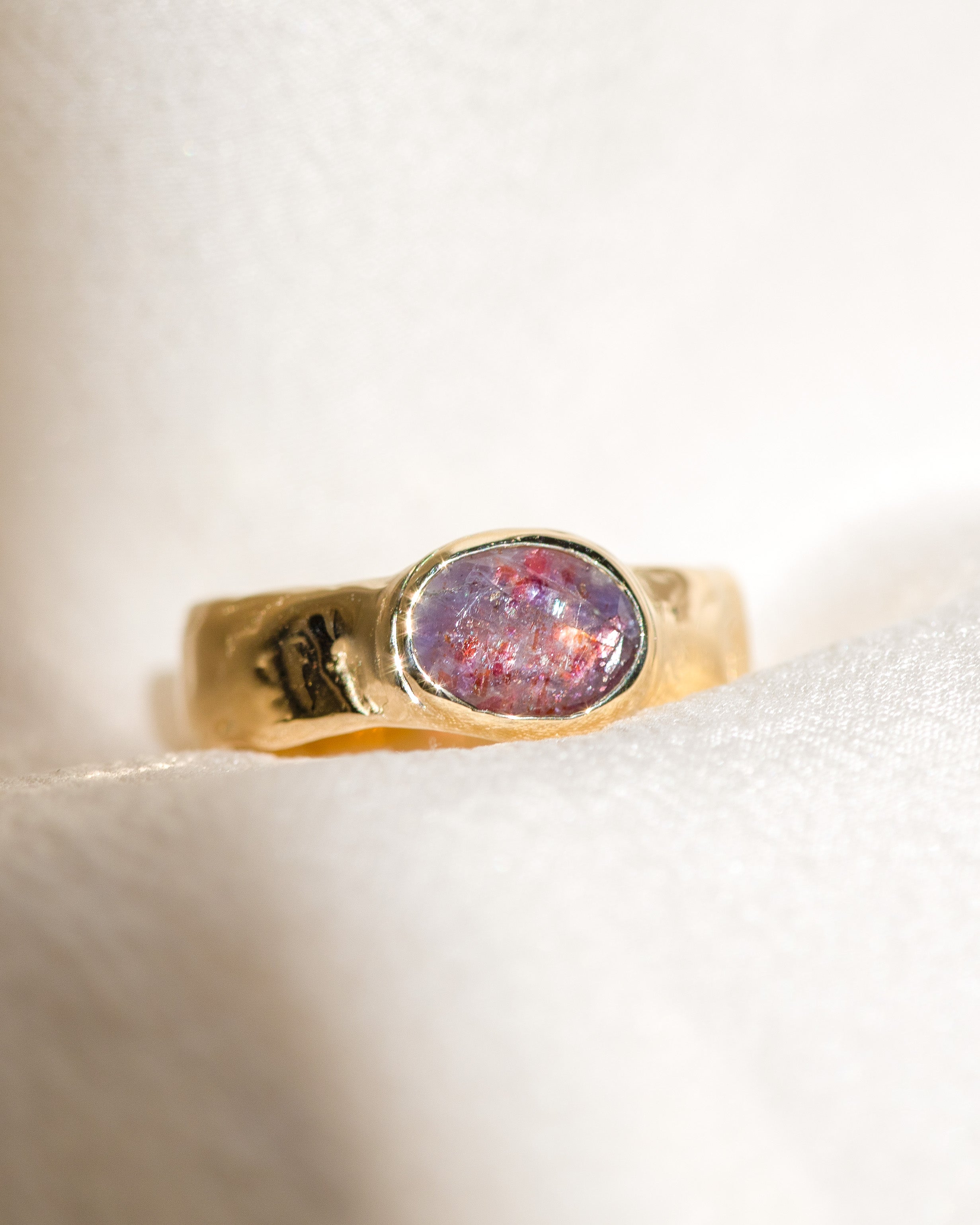 Intergalactic Iolite Sunstone Band
Description
One of a kind Sunstone Iolite band, cast in hand-carved solid 14k yellow gold, filled with speckled confetti spots and iridescent rainbows, cosmically dancing within the stunning indigo stone.
💌 Please write desired size (between 5-8) in *Notes* section at checkout
Iolite Sunstone: A stone aligning your Third eye, Solar Plexus and Sacral chakras, Iolite Sunstone celebrates your artistic inspiration, inspires productive action, embraces intuitive abilities and boosts physical vitality. This powerhouse stone is all about alignment, its confetti-like inclusions are reflections of light, reminiscent of the sun and the cosmos. It allows you to see more deeply, decide powerfully what steps need to be taken, and encourages the follow through with those actions over time. A stone of deep inner vision, it awakens psychic abilities and self-discipline, emanating the powerful vibration of courage and leadership. It sparks a zest for enthusiasm to actualize your dreams into reality, embodies lucid dreaming and interdimensional travel while remaining self-assured and seated within your sense of purpose on the physical plane. An ideal stone for conscious creators, Iolite Sunstone stimulates the mind, extrasensory perceptions while inspiring communion with higher planes. By allowing your inner eye to awaken, your sensitivities grow in perceiving beautiful visions of all realms of possibility readily available to you. IT provides a clear channel for communication with your spirit guides, allowing their wisdom to be channeled through you by way of your artistic expression. Sunstone allows those dreams to be made manifest, grounding the Iolite's dreamy frequency to apply them in clear expression into reality. A powerful manifestation tool, it embodies the cosmic spectrum of creative flow energy, from inspiration and conception to manifestation. It allows you to push past self-imposed limitations and blockages in simply providing the inspiration when you've run out of ideas or the energy to execute them. The Wind (Iolite) element energy fuels the Fire (Sunstone) element energy, for a powerful embodiment of self-confidence encouraging you to step outside of the box and blossom beyond your comfort zone.
Production Info
*Please note: all pieces are made by my hands to order with up to a 3-4 week production time. If you have a rush-order, please email to discuss! For more information about Jewelry Care, Warranty and Returns, please see our FAQ page.
FAQ
DO YOU GIFT WRAP?
Each order comes gift wrapped, please ensure you fill out the "Gift" notes section upon checkout, as your item will be thoughtfully wrapped and personalized with recipients name, along with description cards of each piece and selected stones!
DO YOU CAST IN ROSE OR WHITE GOLD?
Any piece that is not a ready-made one of a kind is available to custom order in 14k White or 14k Rose Gold.
Please enter your preferred metal in the notes section upon checkout, or feel free to contact us before ordering!
PRODUCTION & SHIPPING
All Fine Jewelry items are handcrafted and made to order. All of our pieces require up to 3-4 weeks for turnaround production time, to allow for sizing, polishing, and making sure your jewelry is perfect! 
If you have a specific deadline you need to meet, please contact us to let us know. We may request that you pay for upgraded expedited shipping, and may not be able to accommodate all requests.
HOW DO I KNOW WHICH STONE IS FOR ME?
I always, always recommend as first priority to go with what you're drawn to. Oftentimes, your first instinct as led by your intuition will be spot on for what energy you're wanting to align with or needing in your life at this time - don't overthink it!
An easy way to clear your mind and become present with your current state of being:
Close your eyes and take a few slow, deep breaths.
Focus your attention on the ground beneath your feet, gradually relaxing into a naturally comfortable state. Picture your body within a bright, warm pyramid of white light as you exhale.
Release any impeding stresses that pop into mind, and ask your subconscious to come to the forefront.
See what you're drawn to aesthetically, then proceed by reading about each energy to determine which one feels right.