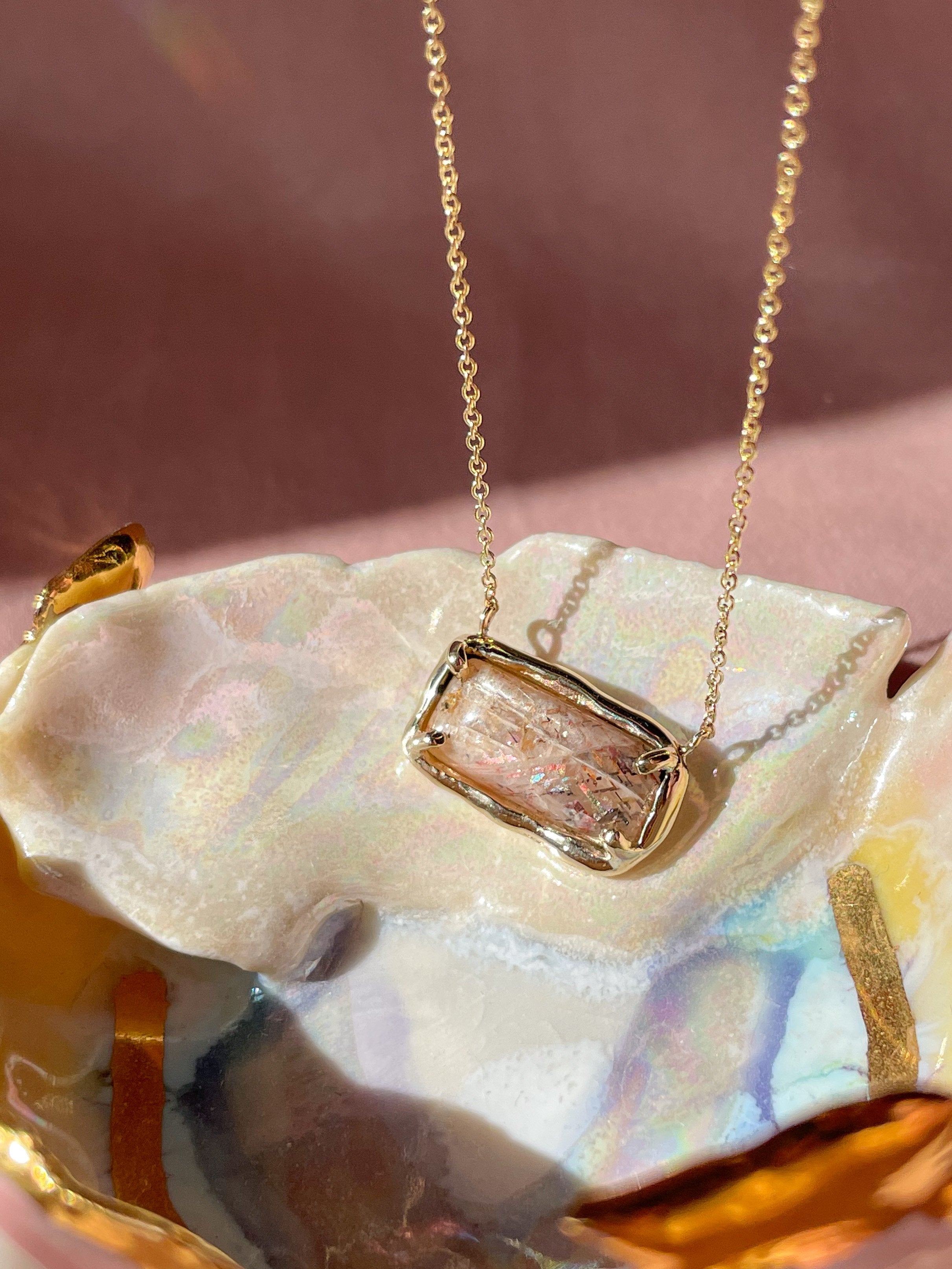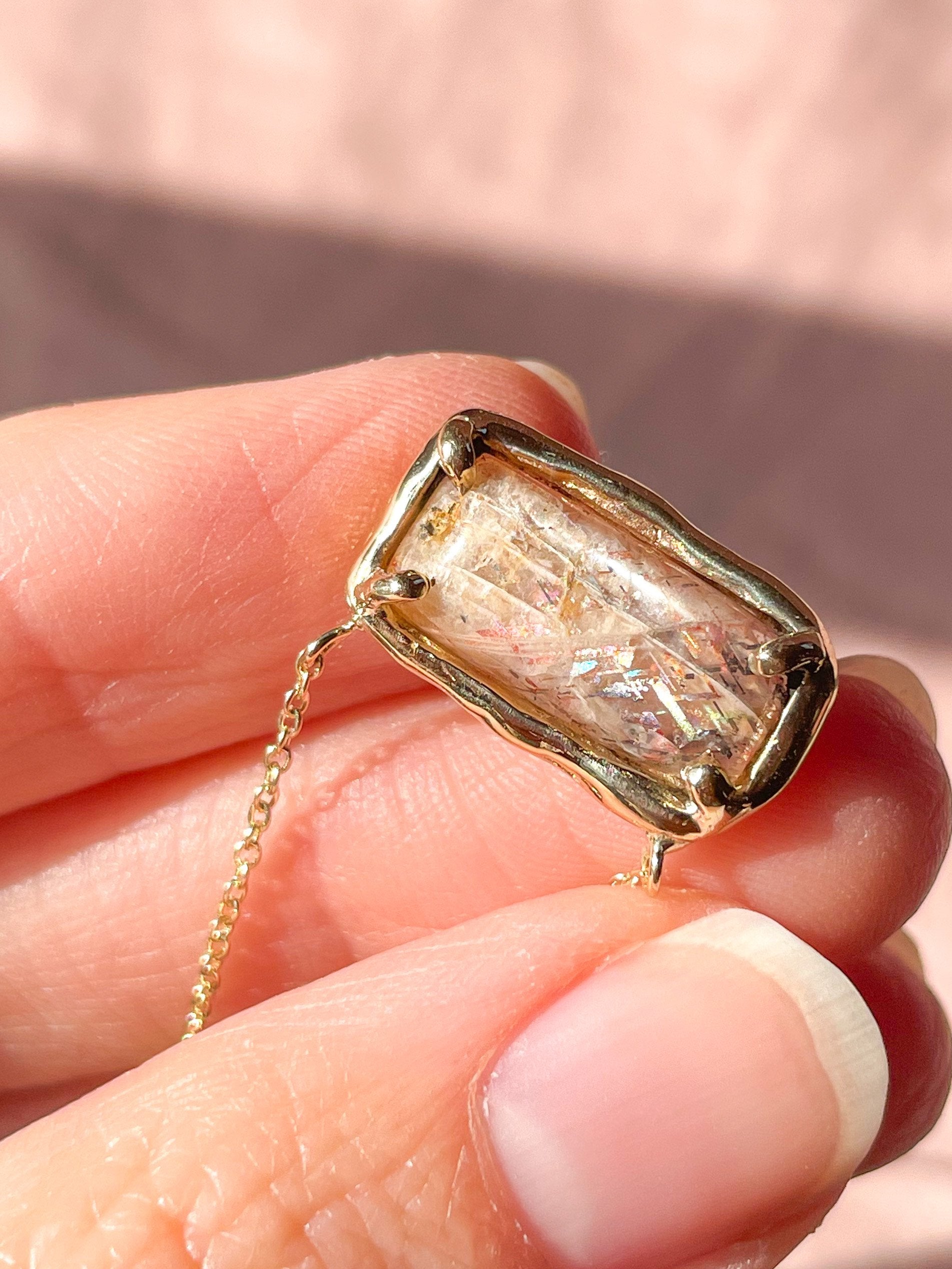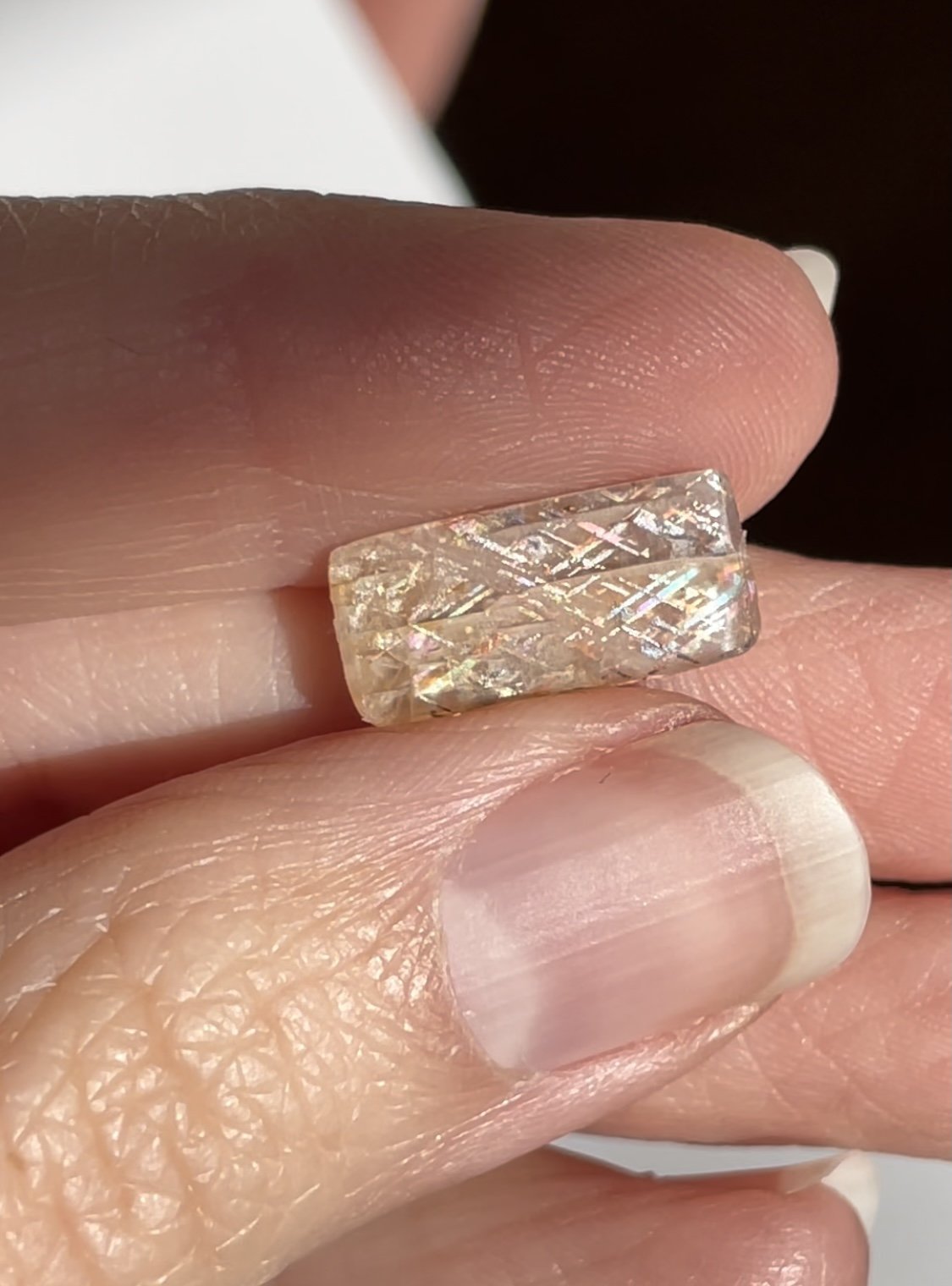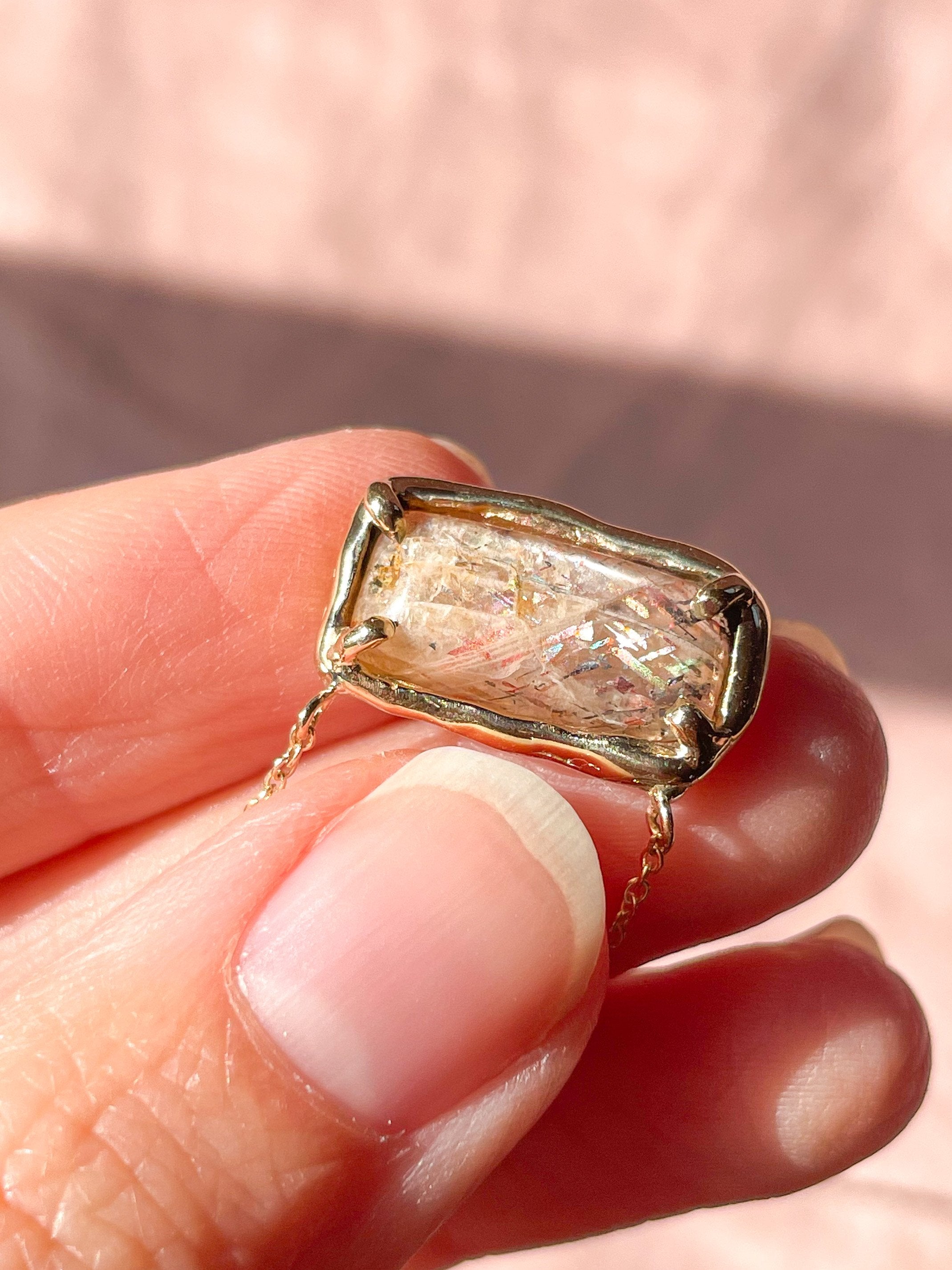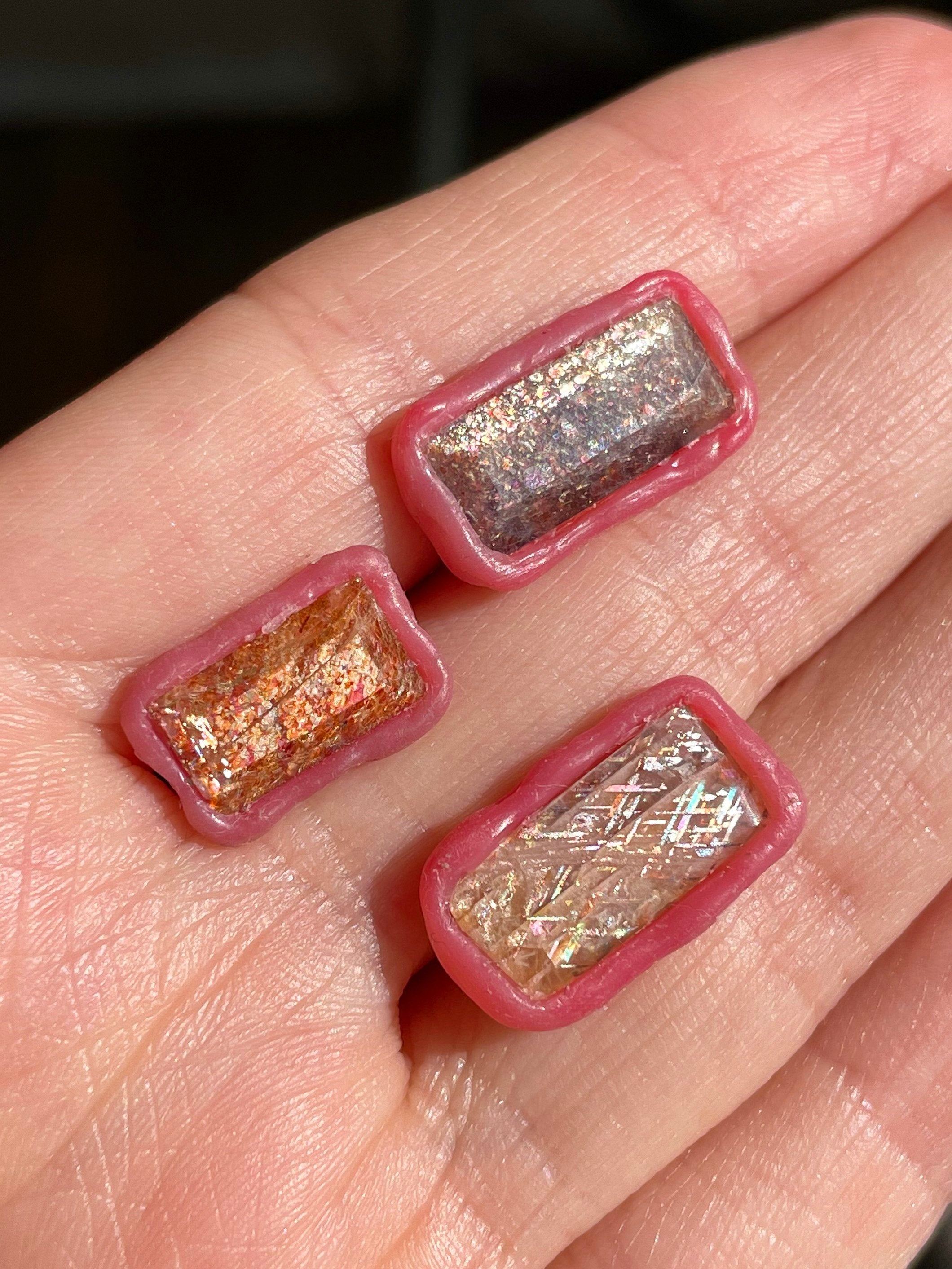 Description
Rainbow Lattice Pendant - one of a kind
16.5" chain, hugged by 14k yellow gold
RAINBOW LATTICE STONE: A sacredly rare gemstone found only in the mine Utnerrengatye in the Northern Territory Australia, Rainbow Lattice stone is mesmerizing in its dancing ribbons of rainbows, lending a deep connection to light and the regenerative, radiant power of the Sun. A stone of abundant good fortune, it carries the energy of Ra, the sun god, invoking self-esteem, confidence, embracing your personal power through all the perfect interweaving ribbons that make you uniquely you. Its energy holds expanded consciousness, openness, warmth. Allows you to disconnect from our 3D reality and reintegrate into the multidimensional creative cosmic realm. A quantum-field crystal, it holds a pure force of light, filled with magic, miracles and unbounded personal evolution and expansion. Liberating you from your mind, it creates an energetic space between cells, so as to release the toxic programming held within them. It aligns you with the frequencies between dimensions, aligning your auric frequency to reconnect that of your spirit guides, light-beings and your higher self. Rainbow Lattice activates all nine chakras to align and strengthen your entire auric field. It allows you to tap into a form of holographic healing, an interdimensional process whereby we access a healed hologram of our current self, to manifest greater health and alignment in the now. It works to clear and activate aspects of your cellular memory, as its field holds a deep connection to light and the regenerative power of the Sun. It holds the magic of willingness to help others, with compassion, warmth and encouraging openness from all at the forefront. It activates inner wisdom, optimism and unlimited possibilities through a deep knowing of self through the Universal consciousness. It creates connections between worlds, holding an otherworldly energetic frequency to tune every cell of your body in harmonic resonance to access your highest potential and recognize your worthiness of it. Its golden light rays reflect personal power, inner strength and the openness to give freely without fear.
Primarily made up of Orthoclase and Albite, Rainbow Lattice is part of the feldspar family. Not too dissimilar to its Labradorite and Moonstone sisters in its chatoyancy, it also holds within Hematite, native Copper to Australia, Goethite and Magnetite triangles and ribbons which reflect a striations of rainbows on alternating planes throughout the stone, pairing with its illustrious sheet, glittering inclusions and flashes of rainbows, make for a striking cosmic cocktail. One of the rarest stones on earth.
*Please note: all pieces are made by my hands to order with up to a 3-4 week production time. If you have a rush-order, please email to discuss! For more information about Jewelry Care, Warranty and Returns, please see our FAQ page.
Production Info
*Please note: all pieces are made by my hands to order with up to a 3-4 week production time. If you have a rush-order, please email to discuss! For more information about Jewelry Care, Warranty and Returns, please see our FAQ page.
FAQ
DO YOU GIFT WRAP?
Each order comes gift wrapped, please ensure you fill out the "Gift" notes section upon checkout, as your item will be thoughtfully wrapped and personalized with recipients name, along with description cards of each piece and selected stones!
DO YOU CAST IN ROSE OR WHITE GOLD?
Any piece that is not a ready-made one of a kind is available to custom order in 14k White or 14k Rose Gold.
Please enter your preferred metal in the notes section upon checkout, or feel free to contact us before ordering!
PRODUCTION & SHIPPING
All Fine Jewelry items are handcrafted and made to order. All of our pieces require up to 3-4 weeks for turnaround production time, to allow for sizing, polishing, and making sure your jewelry is perfect! 
If you have a specific deadline you need to meet, please contact us to let us know. We may request that you pay for upgraded expedited shipping, and may not be able to accommodate all requests.
HOW DO I KNOW WHICH STONE IS FOR ME?
I always, always recommend as first priority to go with what you're drawn to. Oftentimes, your first instinct as led by your intuition will be spot on for what energy you're wanting to align with or needing in your life at this time - don't overthink it!
An easy way to clear your mind and become present with your current state of being:
Close your eyes and take a few slow, deep breaths.
Focus your attention on the ground beneath your feet, gradually relaxing into a naturally comfortable state. Picture your body within a bright, warm pyramid of white light as you exhale.
Release any impeding stresses that pop into mind, and ask your subconscious to come to the forefront.
See what you're drawn to aesthetically, then proceed by reading about each energy to determine which one feels right.