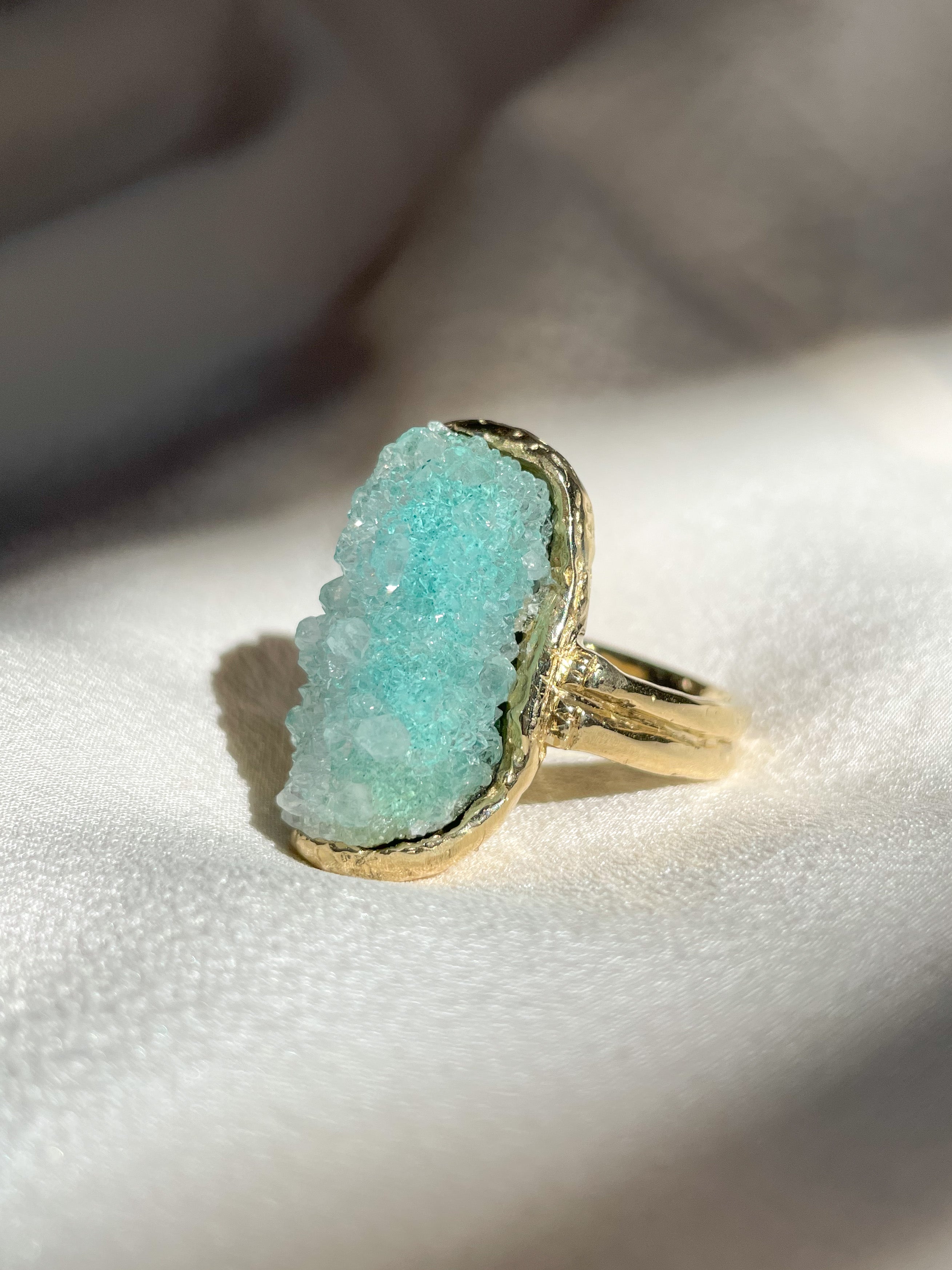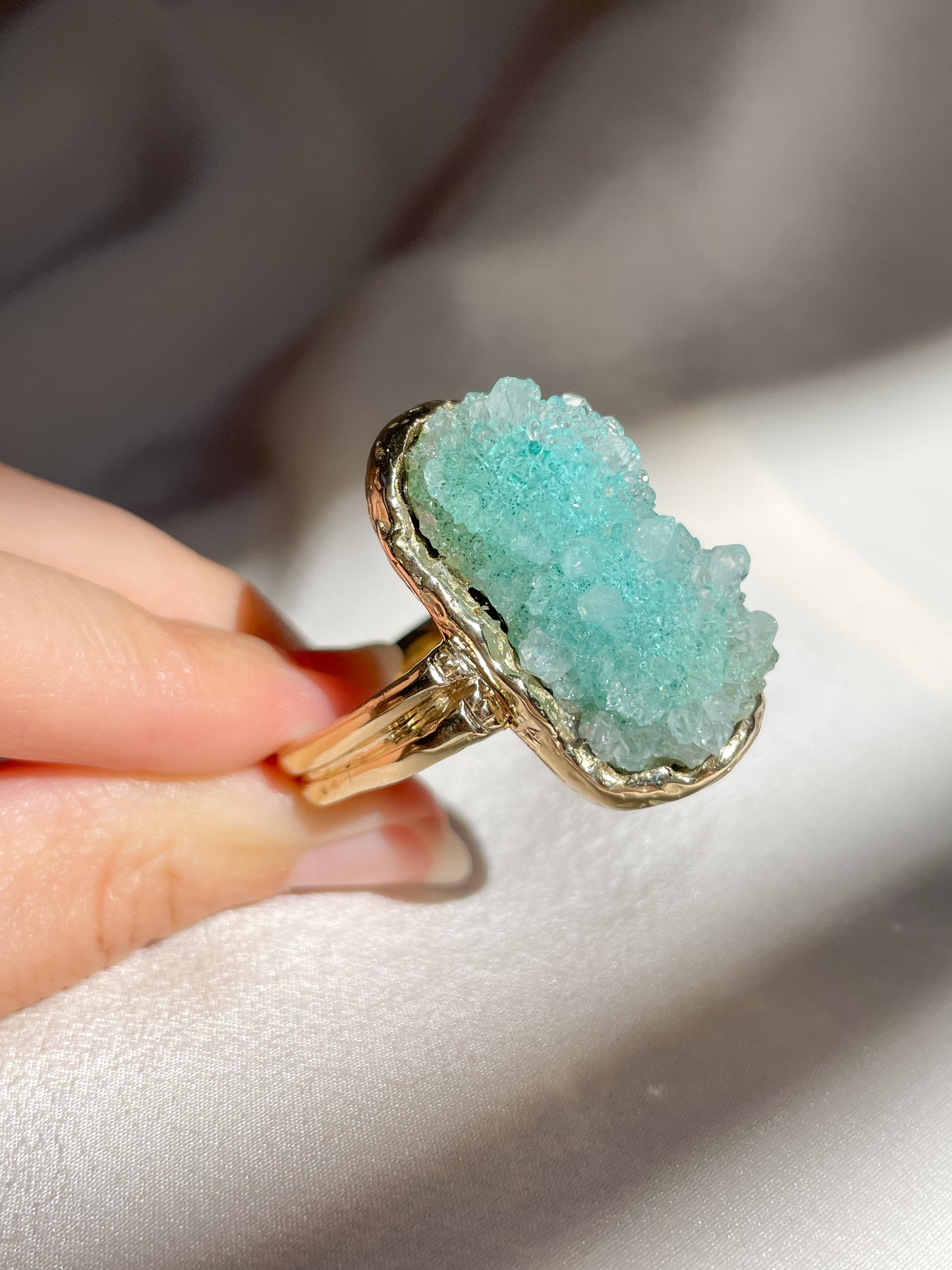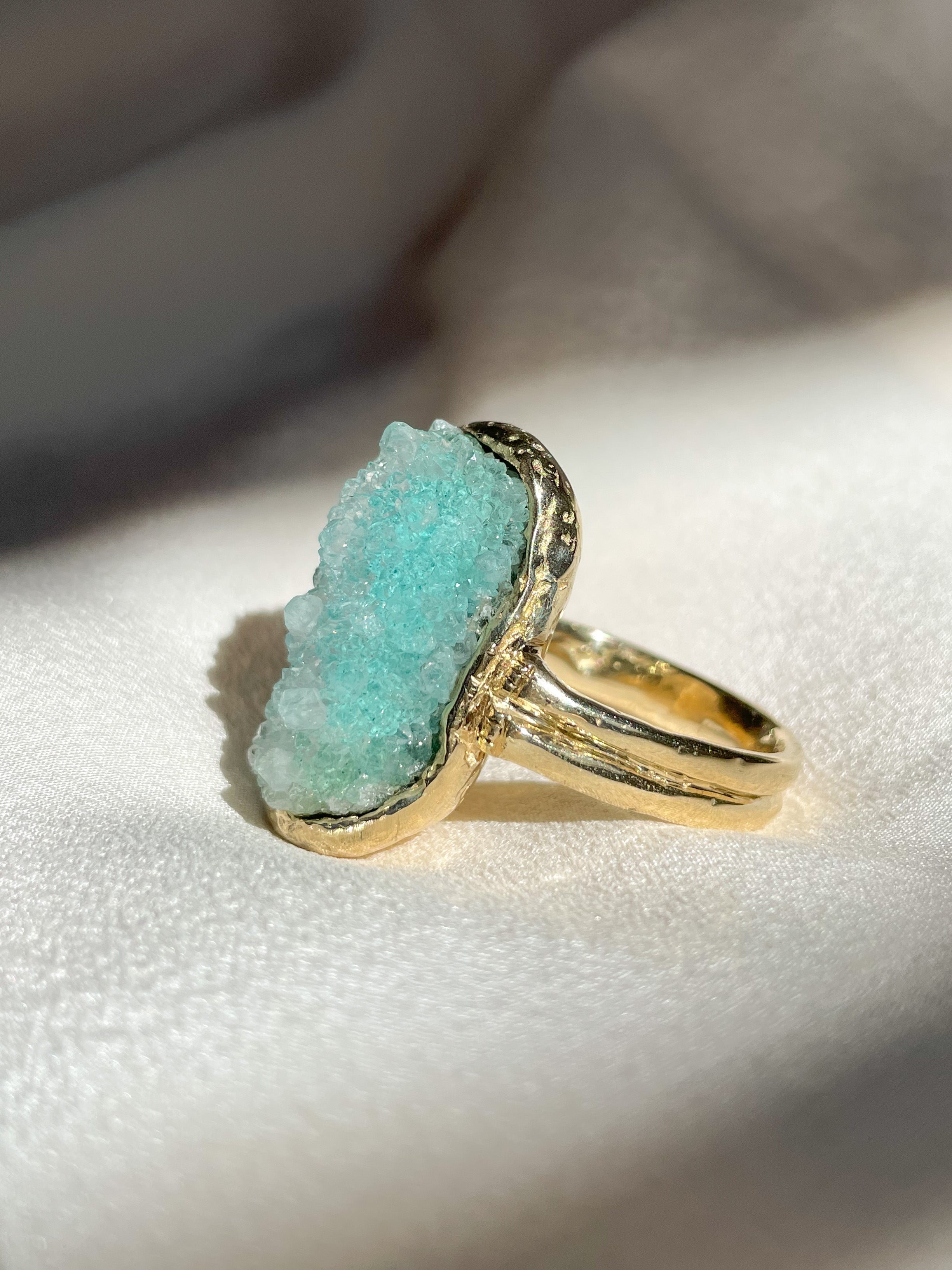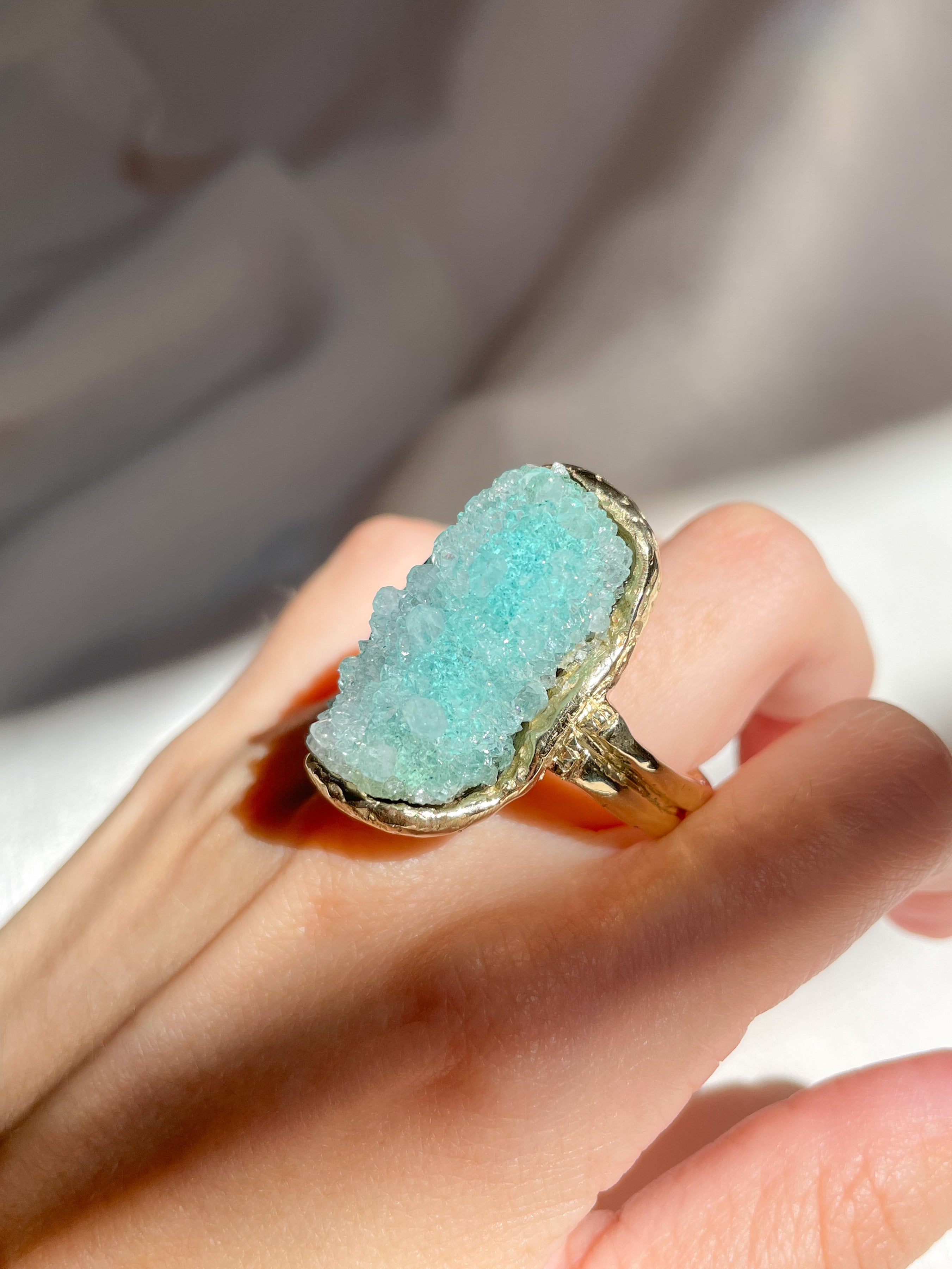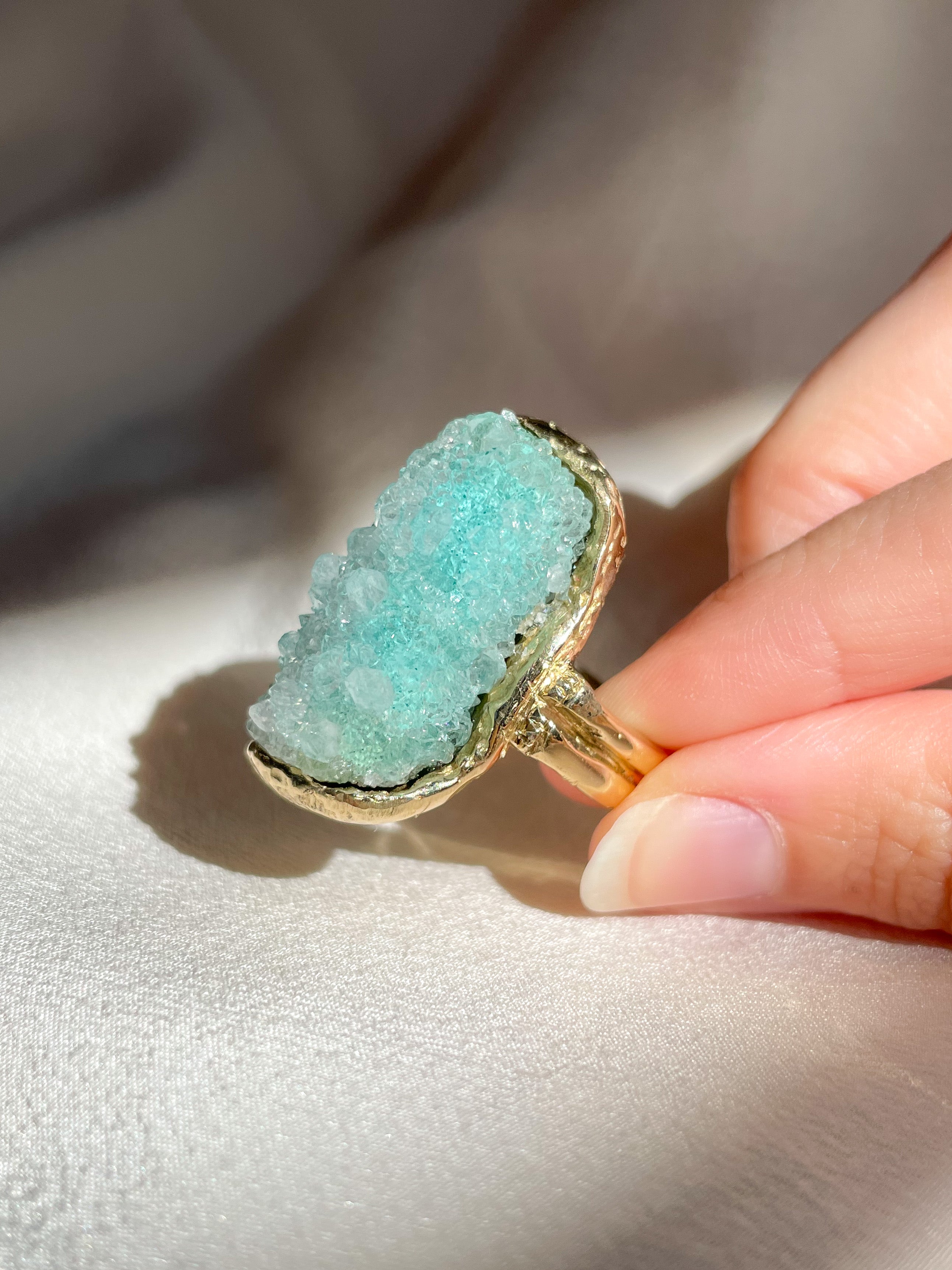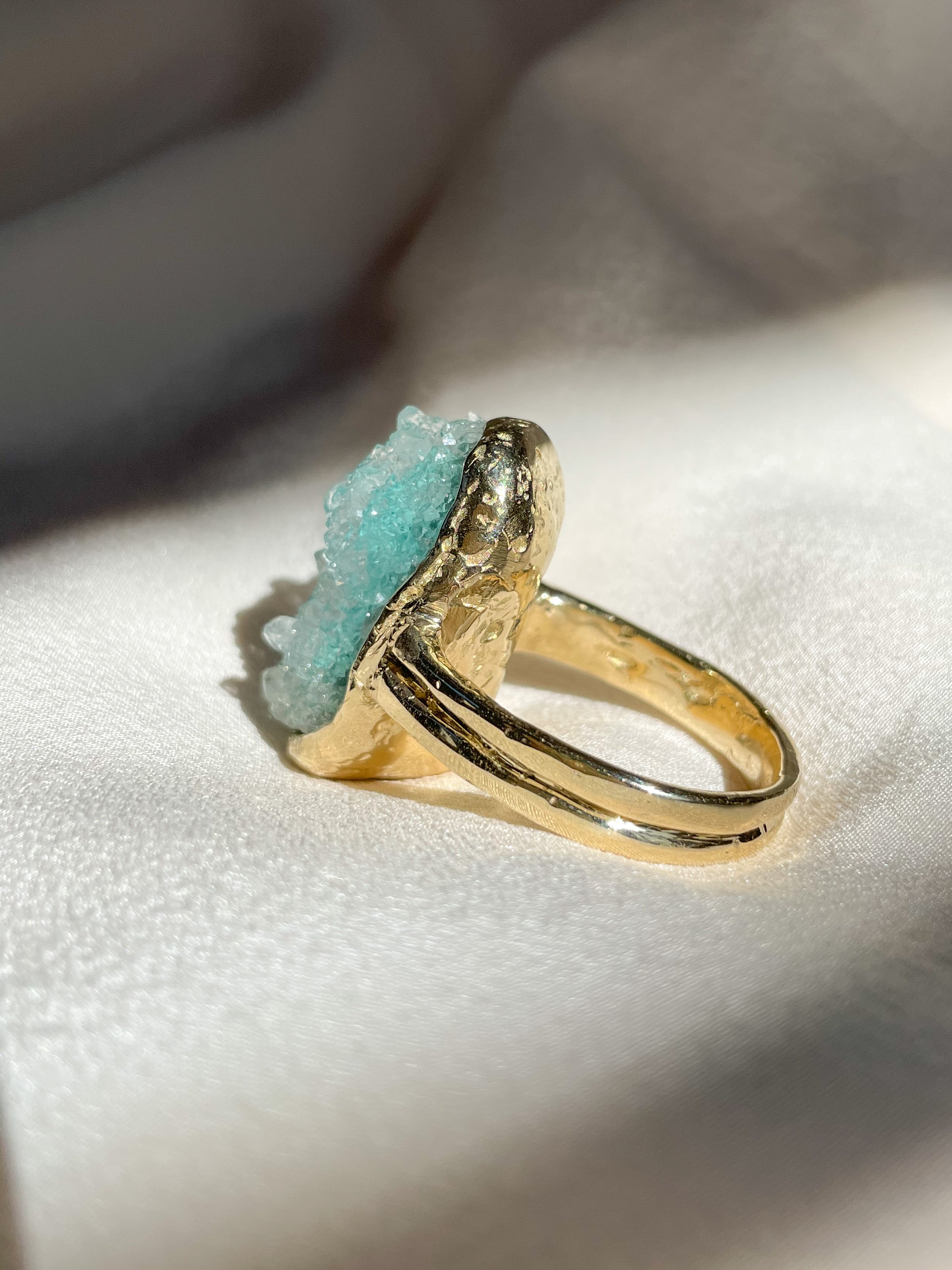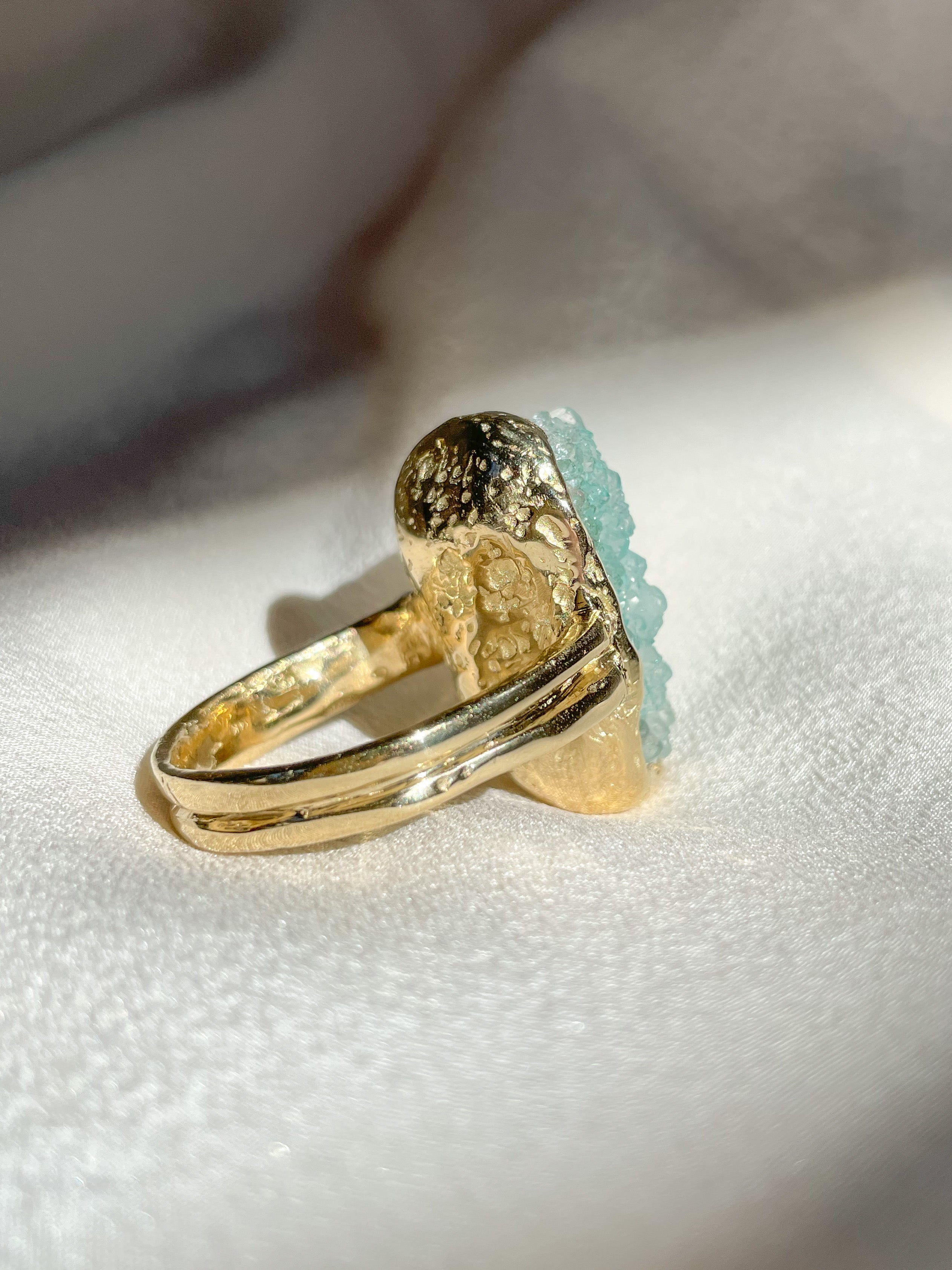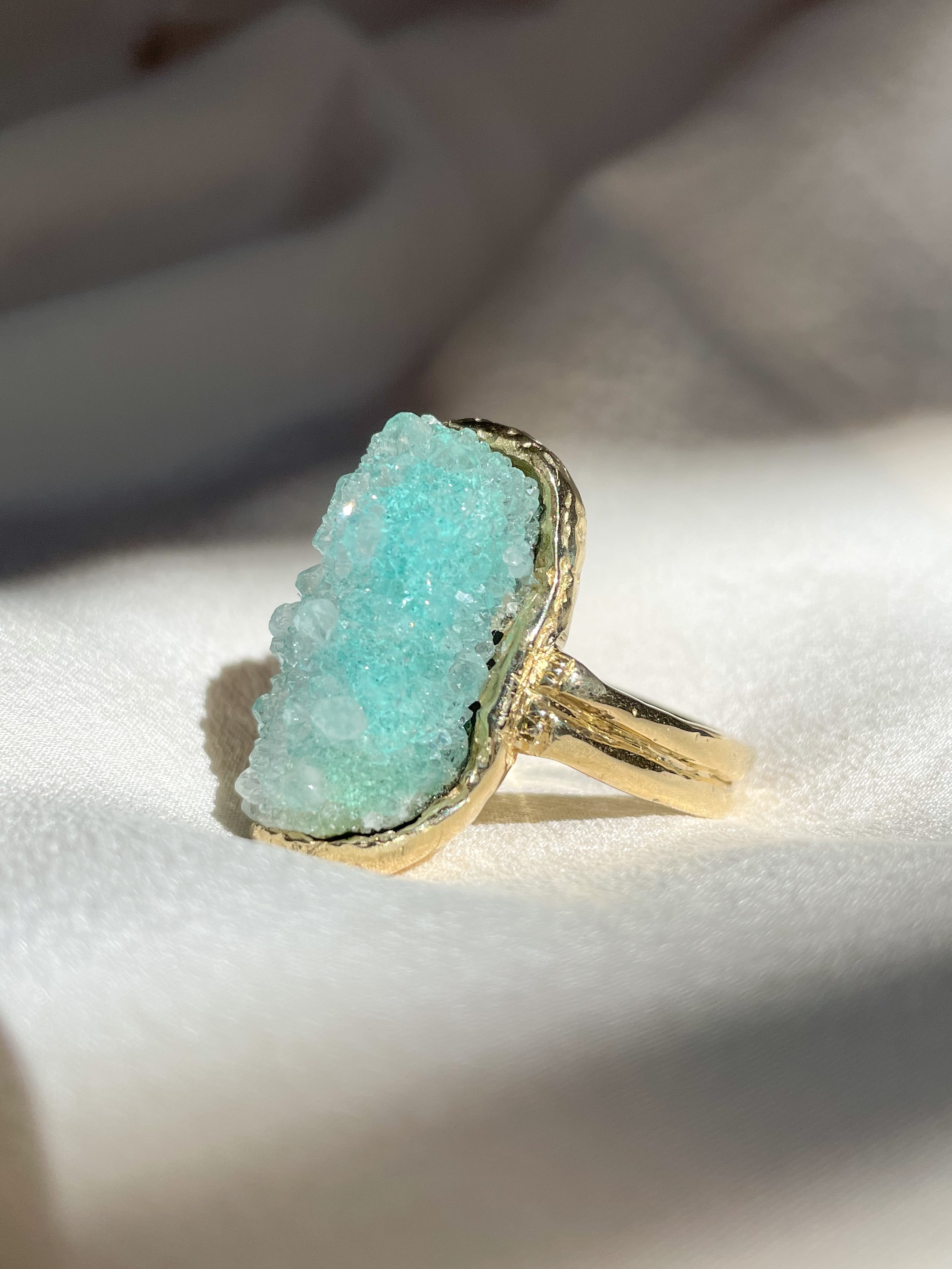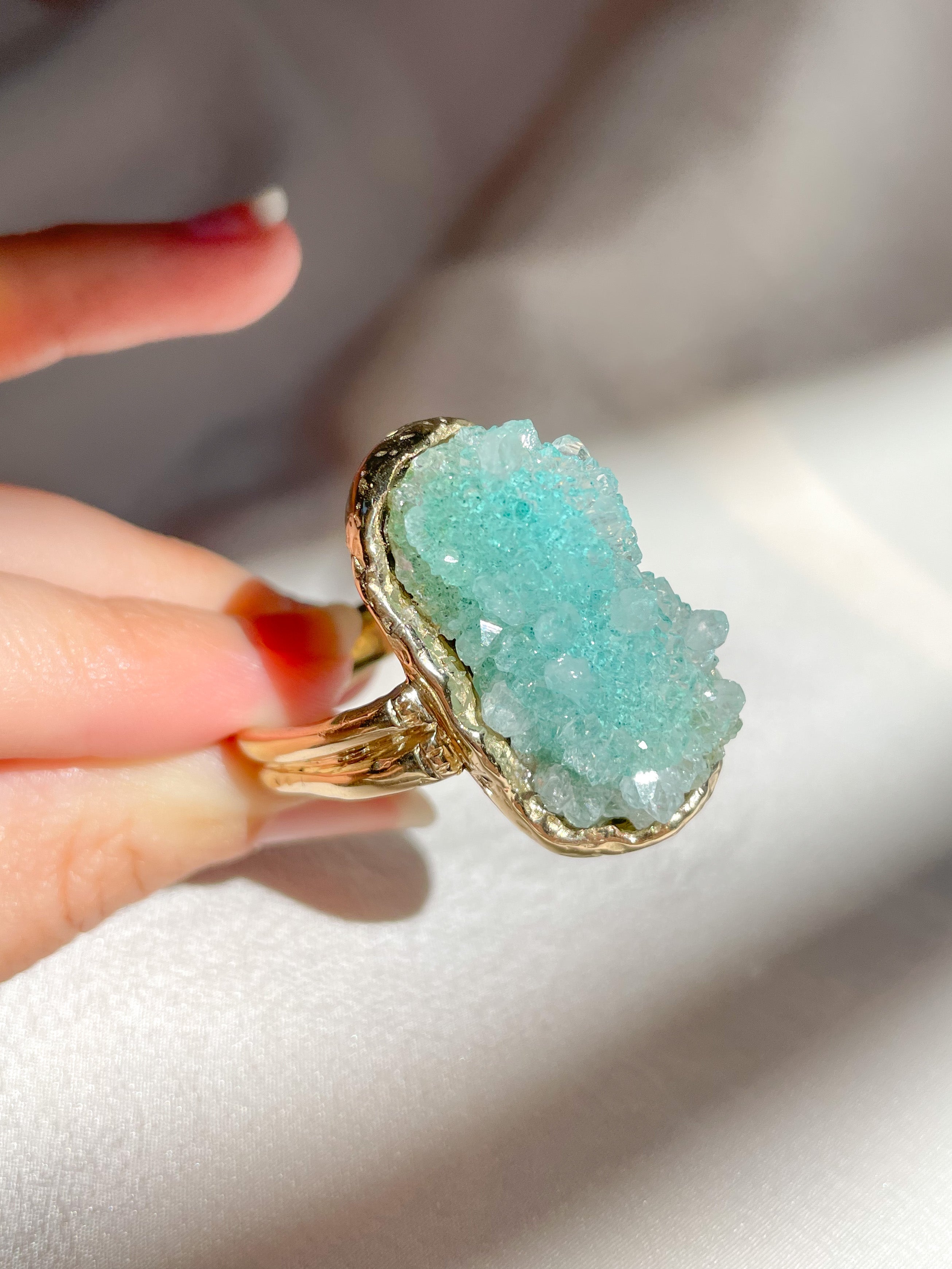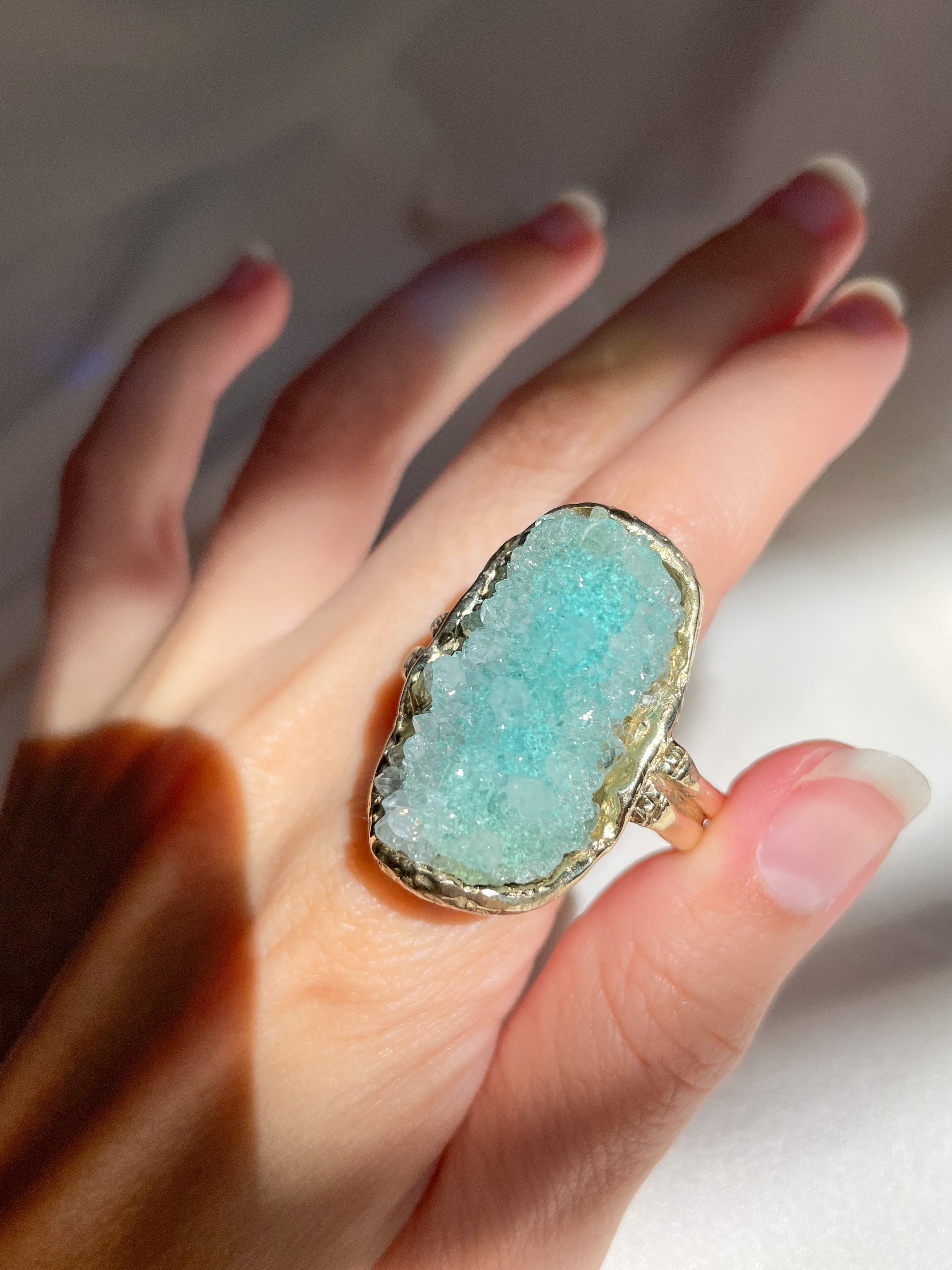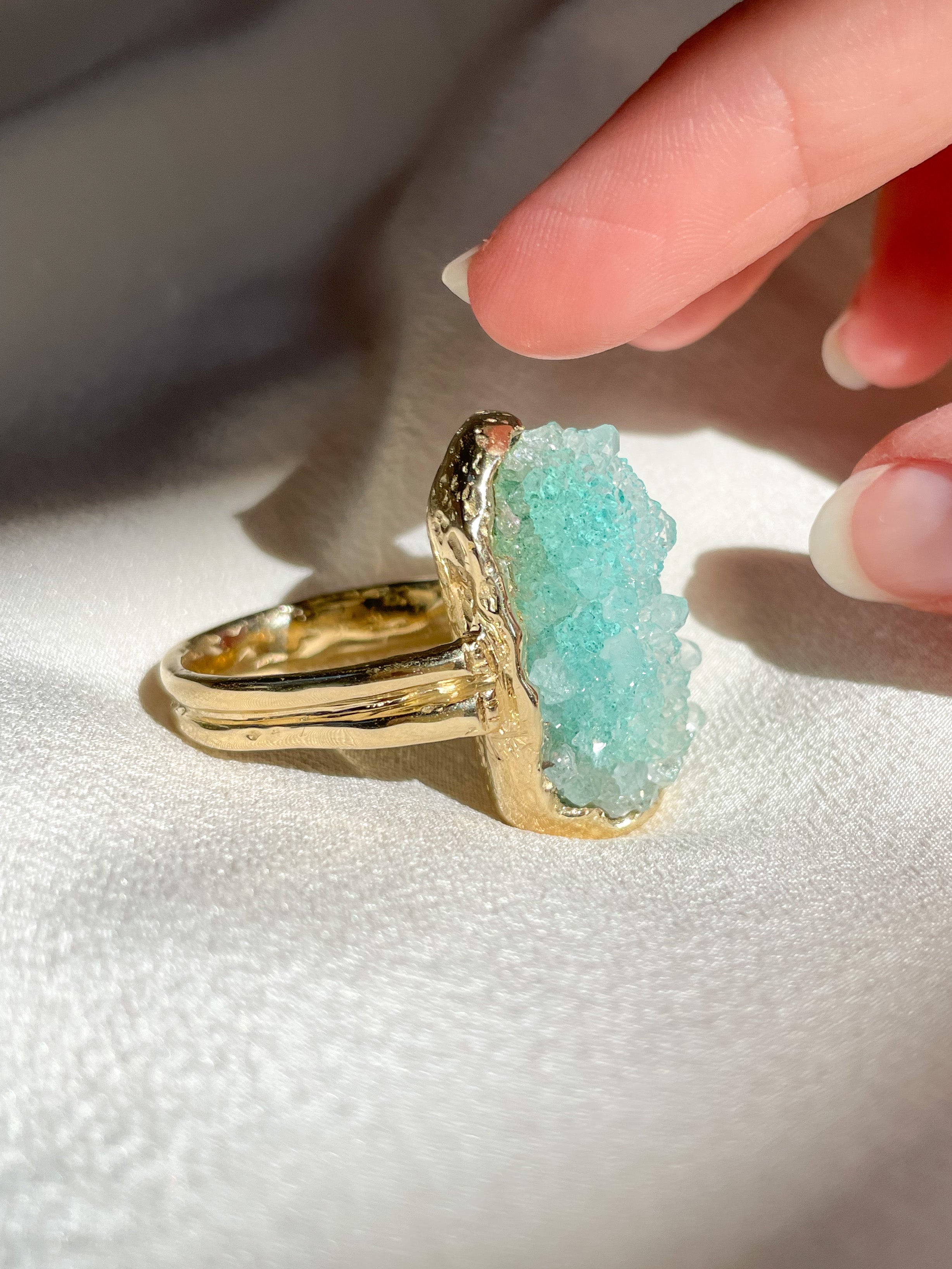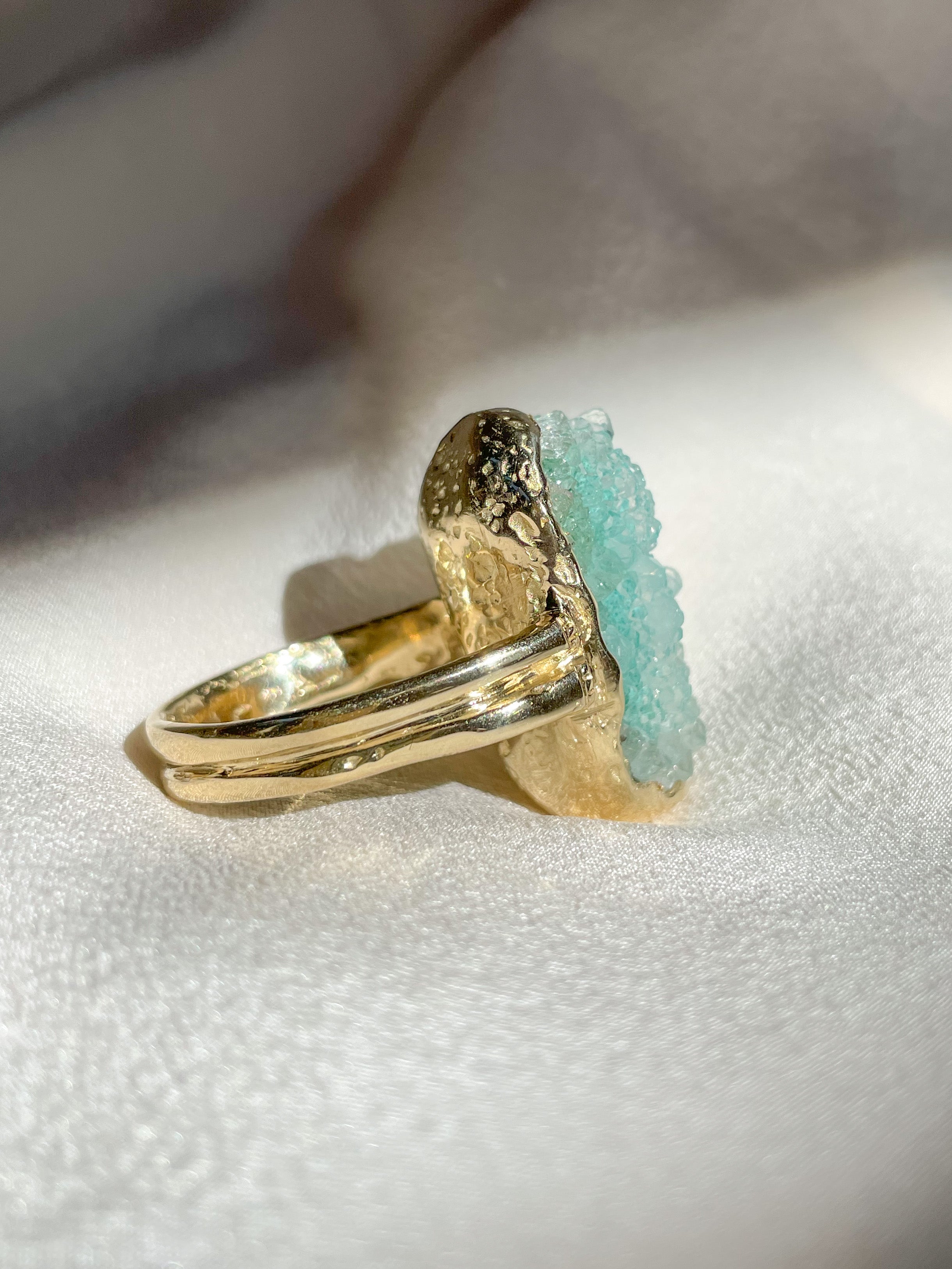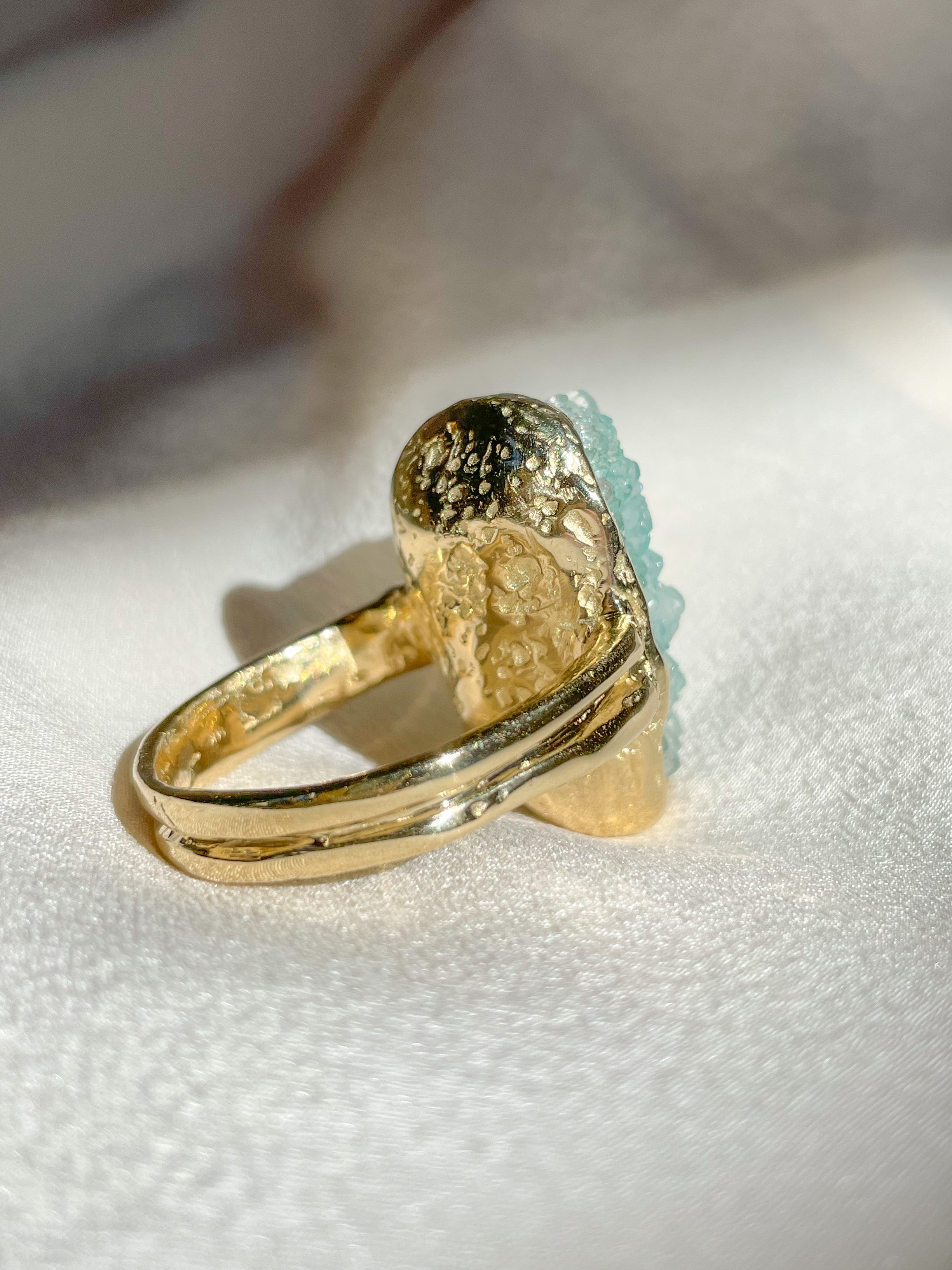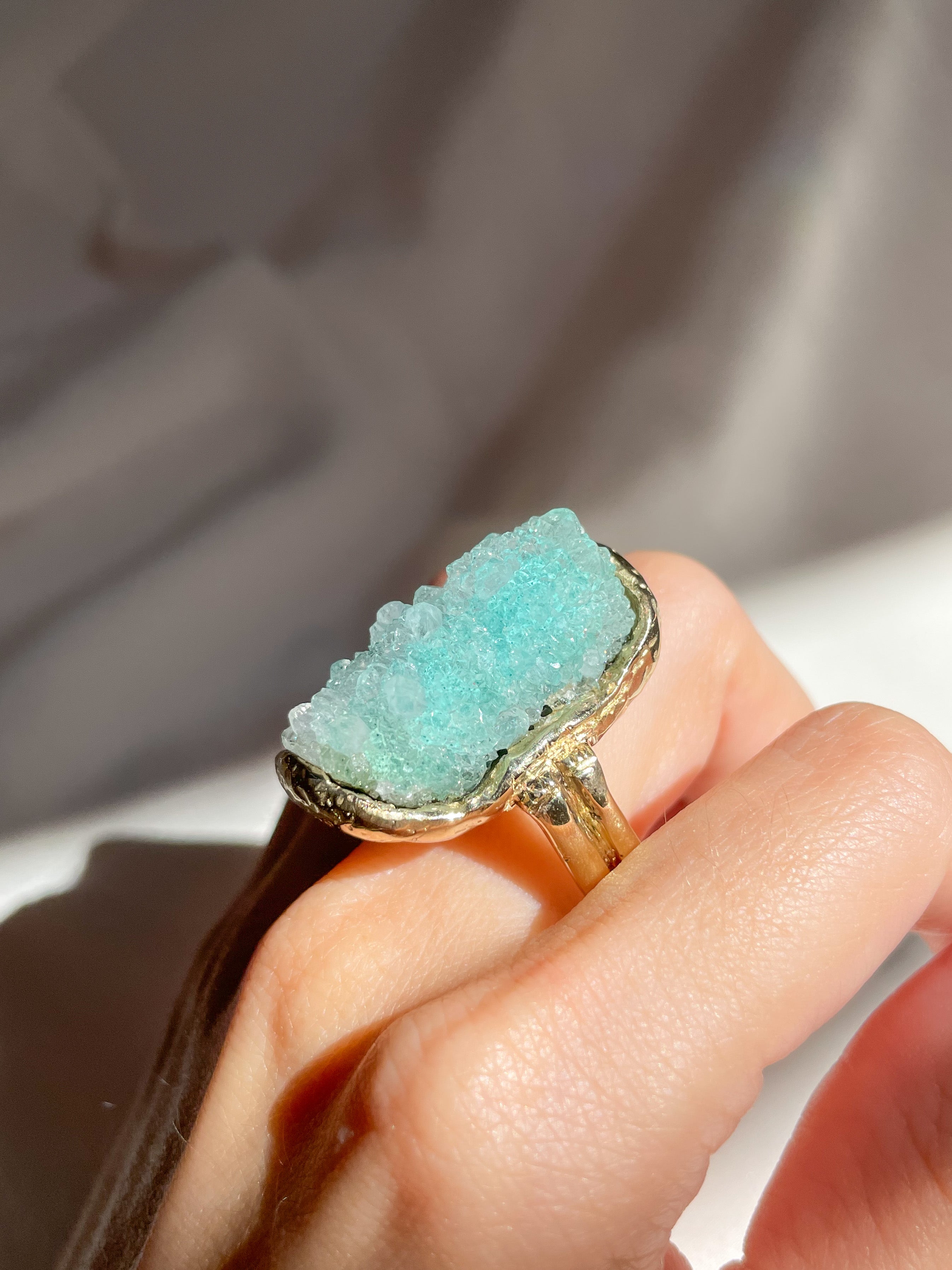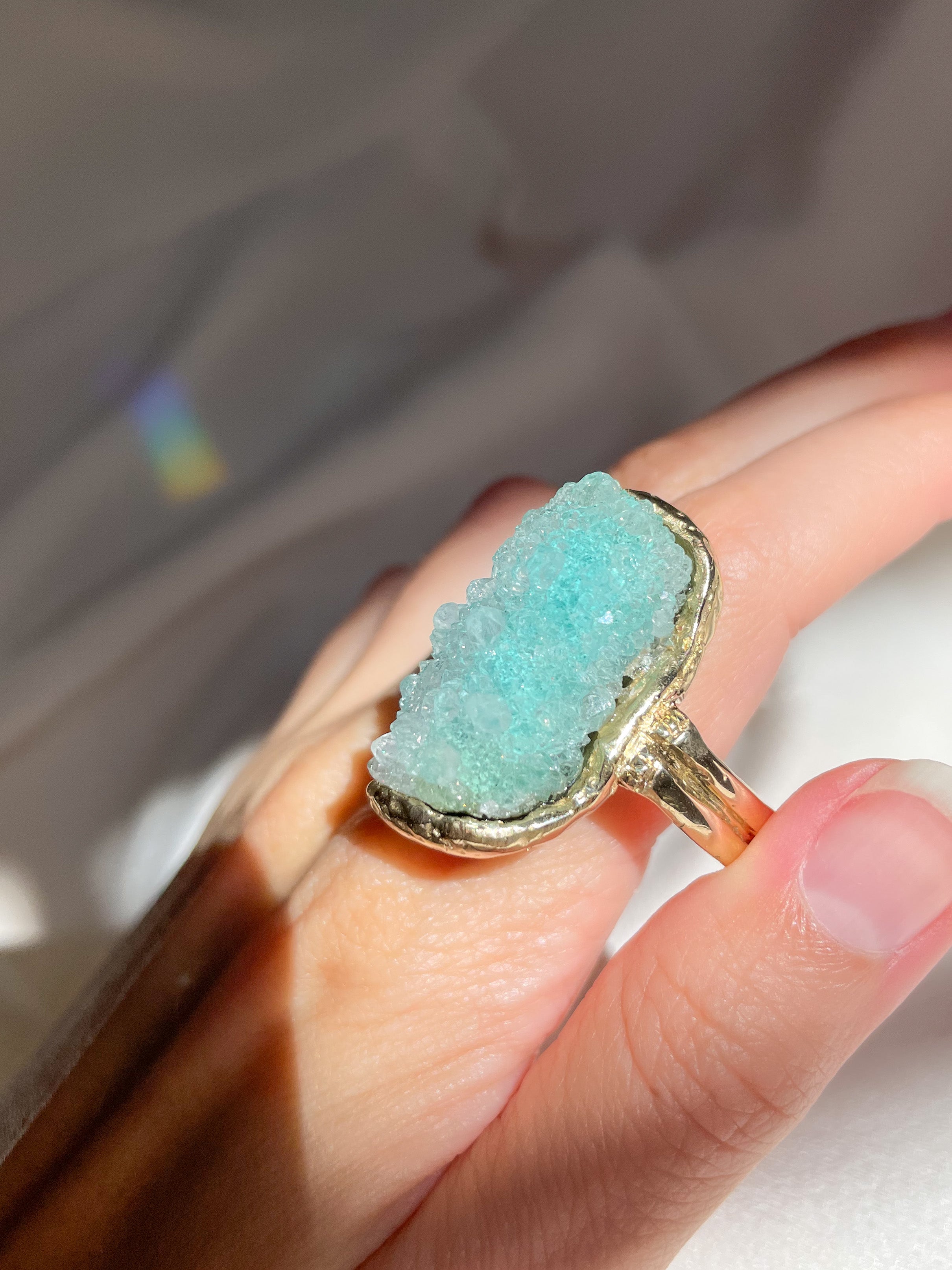 Description
A custom 14k yellow gold ring created around a stunningly rare Ajoite in druzied Quartz, weighing a whopping 31.3 grams.
This sacred piece instantly resembled a guardian spirit being to me; it held an angel energy within its essence, instantly I saw it framed in gold, as a wearable work of art. A protector keeper of light, this stone holds a miraculous history, and the story behind it was the reason I instantly felt so connected and so humbled to create this custom piece.
My client has held onto this stone since 1965. It was gifted to her by a dear friend who was working in the Peace Corps in Africa, who, in a mission alongside the Smithsonian, ended up as the guardian of this stone. He felt its essence resembled my client, and gifted it to her as a token of loving friendship, and then he died several days later. Knowing this piece kept so closely to her heart was destined to be kept for something special, she held onto the stone for 57 years. It's been a true honor to work with this stone and give it a beautiful frame, named in his honor.
Ajoite is an incredibly rare mineral, as the South African mine was closed in 1992. It emanates a deeply sweet, incredibly nurturing and loving energy of any stone on earth. It carries the vibrational resonance of the Divine Feminine life force of our planet, clearing negative thought patterns and clearing the heart of sadness, allowing the heart to open and receive the great cosmic love of the universe. It brings forth truth from oneself, its gentle energy pushing forth transformation, blessings, strength, healing and harmonization of the emotional light body. It is a great stone of shifting toward joy, and true, unbound happiness. A stone that encourages us to release old grief and pain, replacing the heaviness with the gift of growth, strength and the courage to carry forward on our spiritual path. It reminds us to impart beauty and lightness into the world through all we speak and create, allowing us to become the channel of the Divine and a beacon of angelic communication.
Production Info
*Please note: all pieces are made by my hands to order with up to a 3-4 week production time. If you have a rush-order, please email to discuss! For more information about Jewelry Care, Warranty and Returns, please see our FAQ page.
FAQ
DO YOU GIFT WRAP?
Each order comes gift wrapped, please ensure you fill out the "Gift" notes section upon checkout, as your item will be thoughtfully wrapped and personalized with recipients name, along with description cards of each piece and selected stones!
DO YOU CAST IN ROSE OR WHITE GOLD?
Any piece that is not a ready-made one of a kind is available to custom order in 14k White or 14k Rose Gold.
Please enter your preferred metal in the notes section upon checkout, or feel free to contact us before ordering!
PRODUCTION & SHIPPING
All Fine Jewelry items are handcrafted and made to order. All of our pieces require up to 3-4 weeks for turnaround production time, to allow for sizing, polishing, and making sure your jewelry is perfect! 
If you have a specific deadline you need to meet, please contact us to let us know. We may request that you pay for upgraded expedited shipping, and may not be able to accommodate all requests.
HOW DO I KNOW WHICH STONE IS FOR ME?
I always, always recommend as first priority to go with what you're drawn to. Oftentimes, your first instinct as led by your intuition will be spot on for what energy you're wanting to align with or needing in your life at this time - don't overthink it!
An easy way to clear your mind and become present with your current state of being:
Close your eyes and take a few slow, deep breaths.
Focus your attention on the ground beneath your feet, gradually relaxing into a naturally comfortable state. Picture your body within a bright, warm pyramid of white light as you exhale.
Release any impeding stresses that pop into mind, and ask your subconscious to come to the forefront.
See what you're drawn to aesthetically, then proceed by reading about each energy to determine which one feels right.