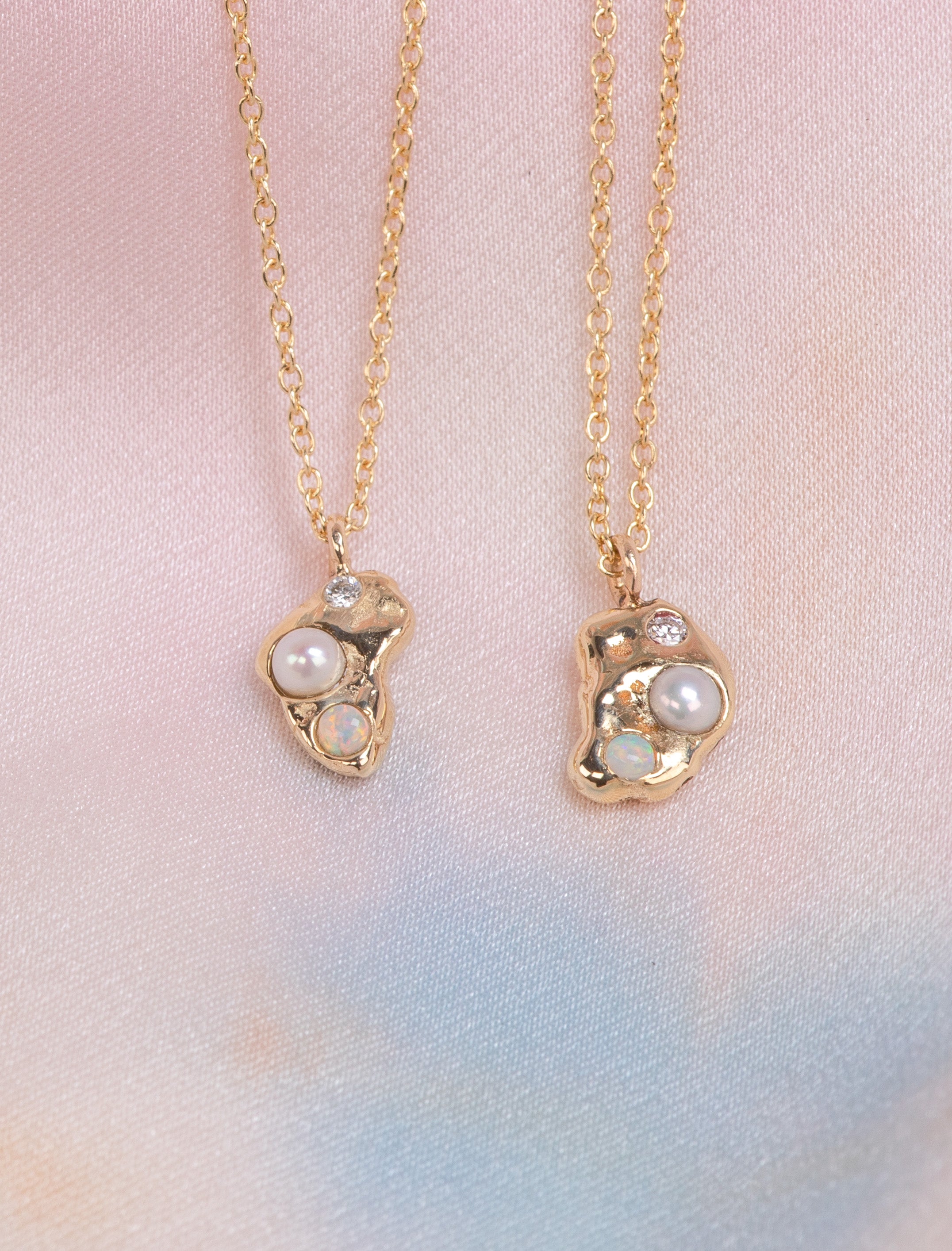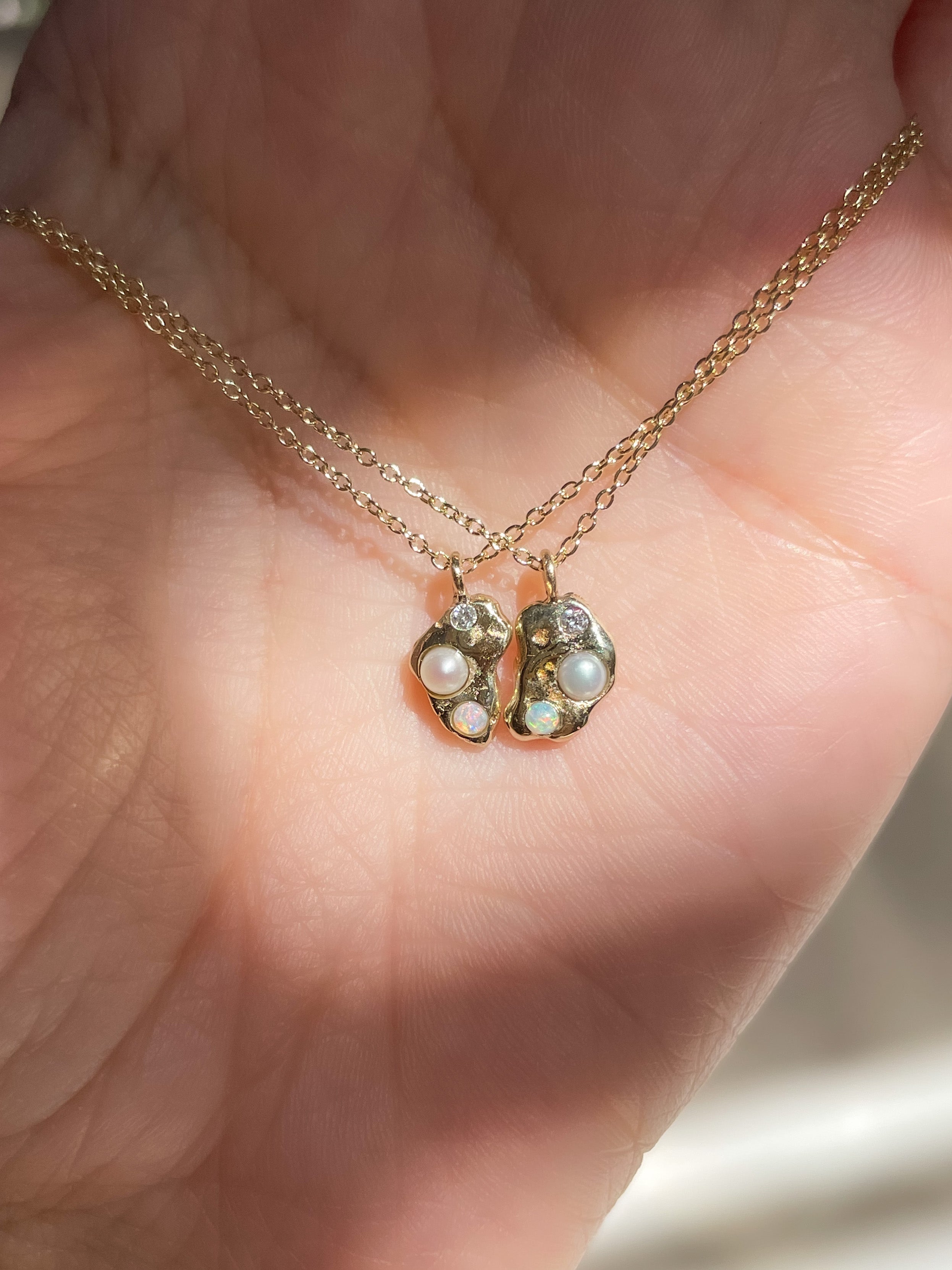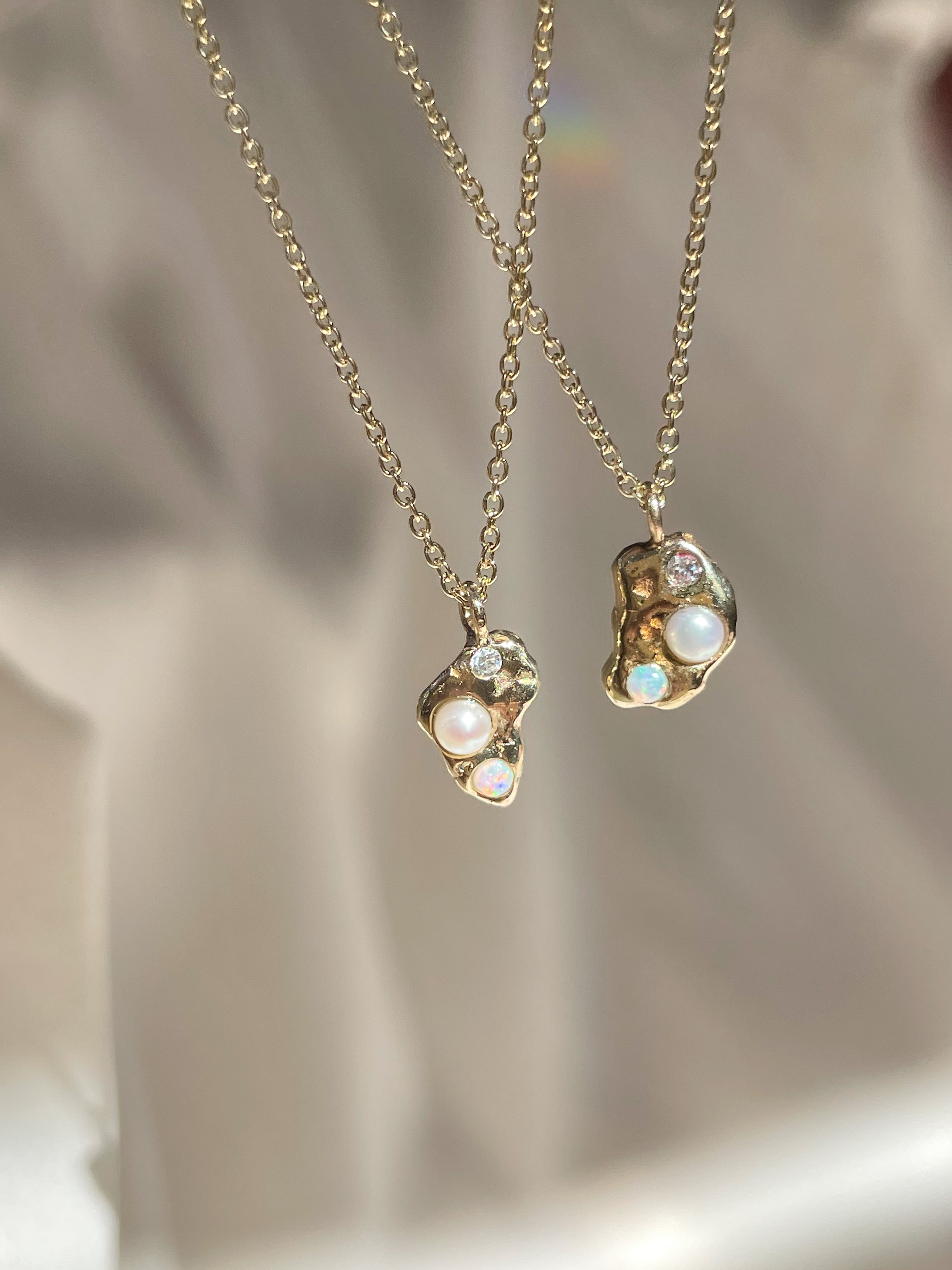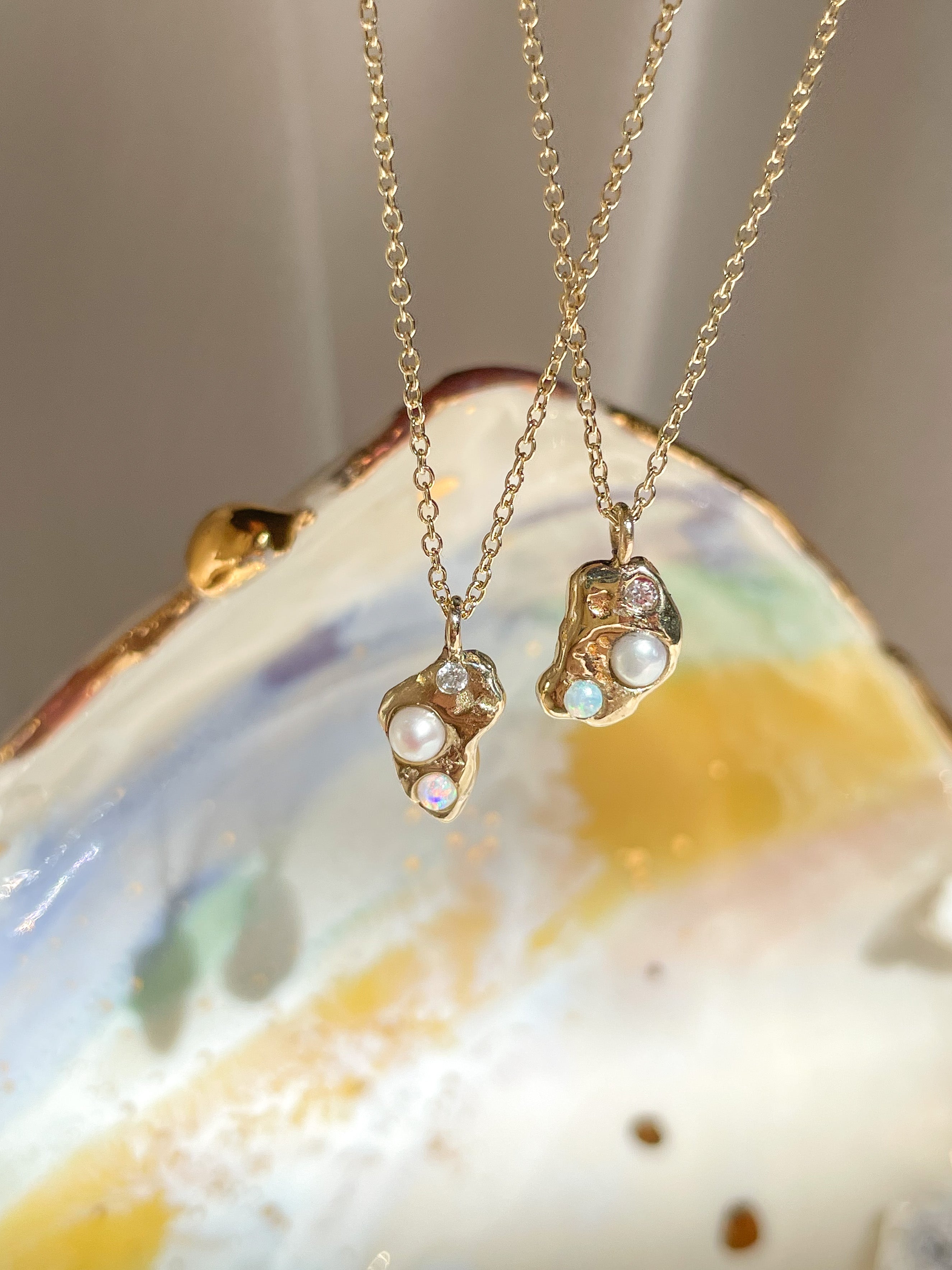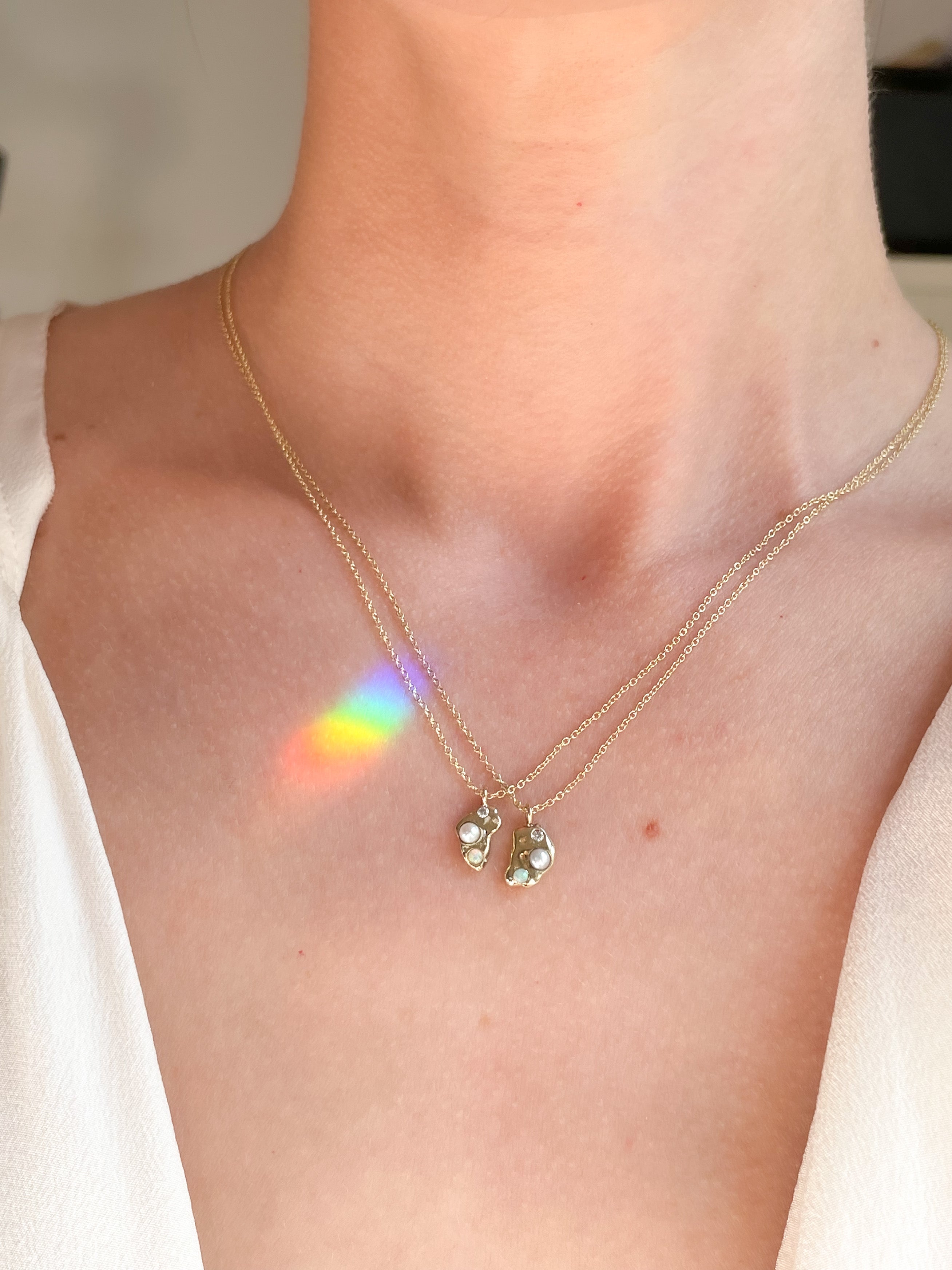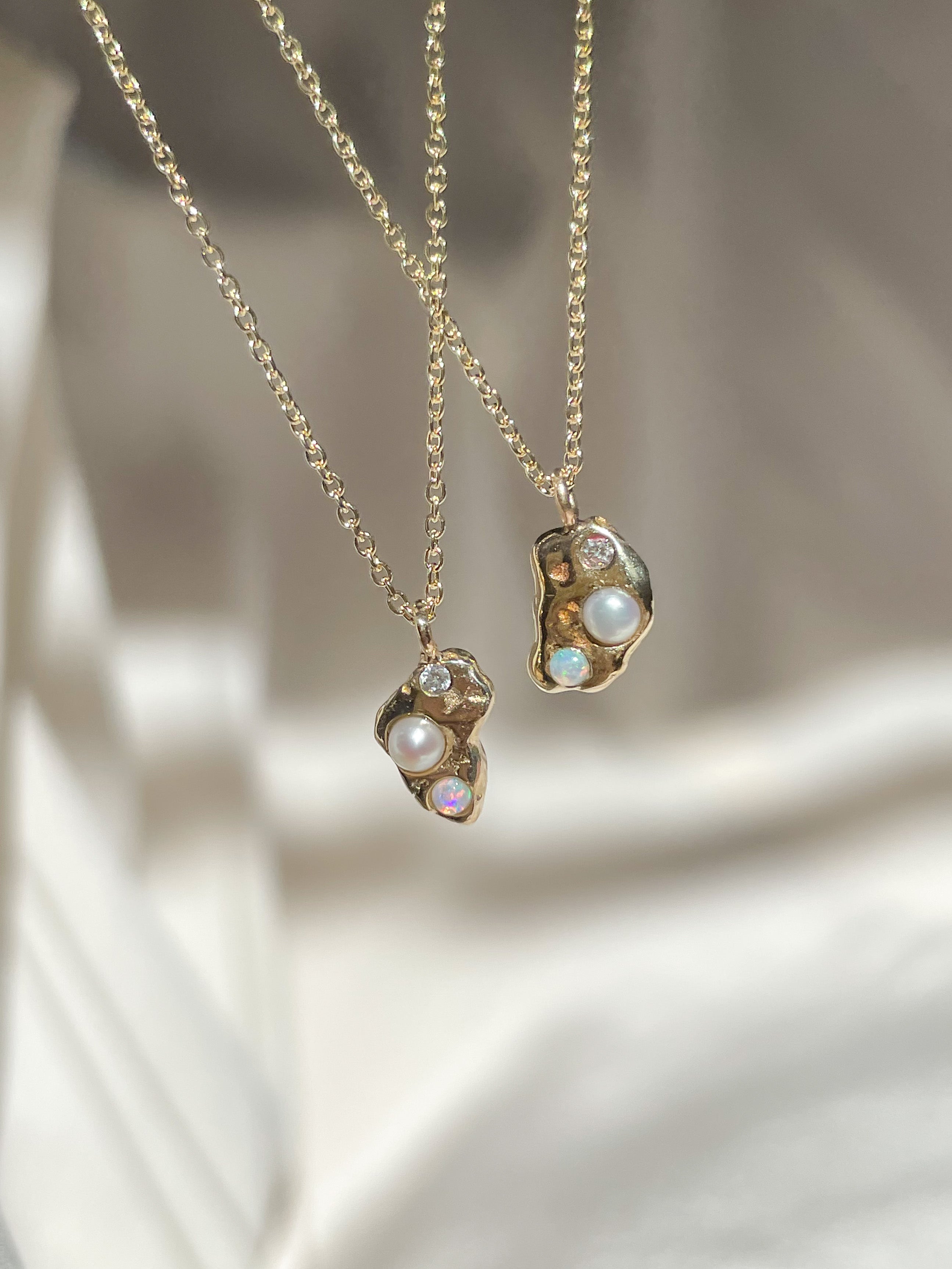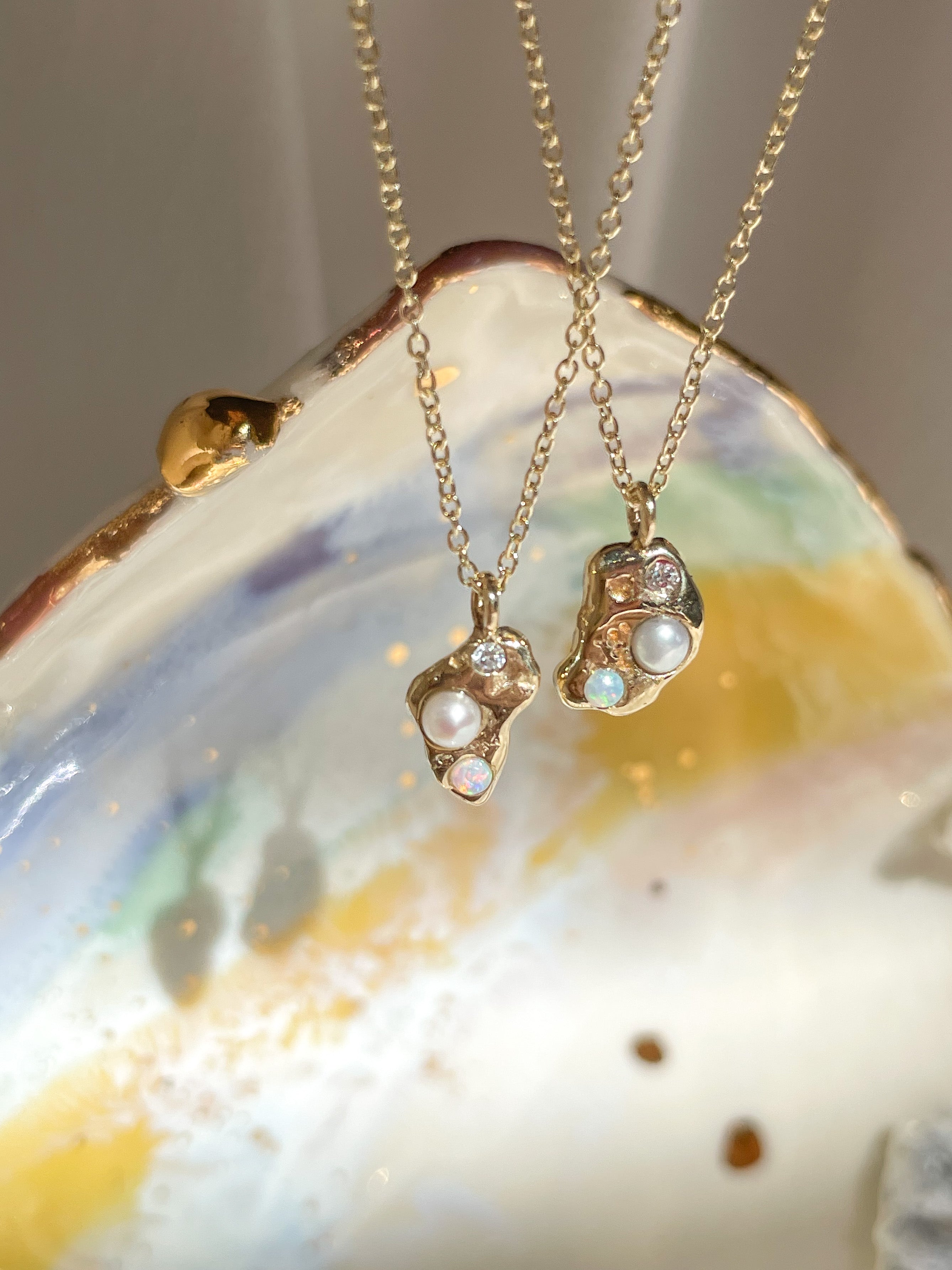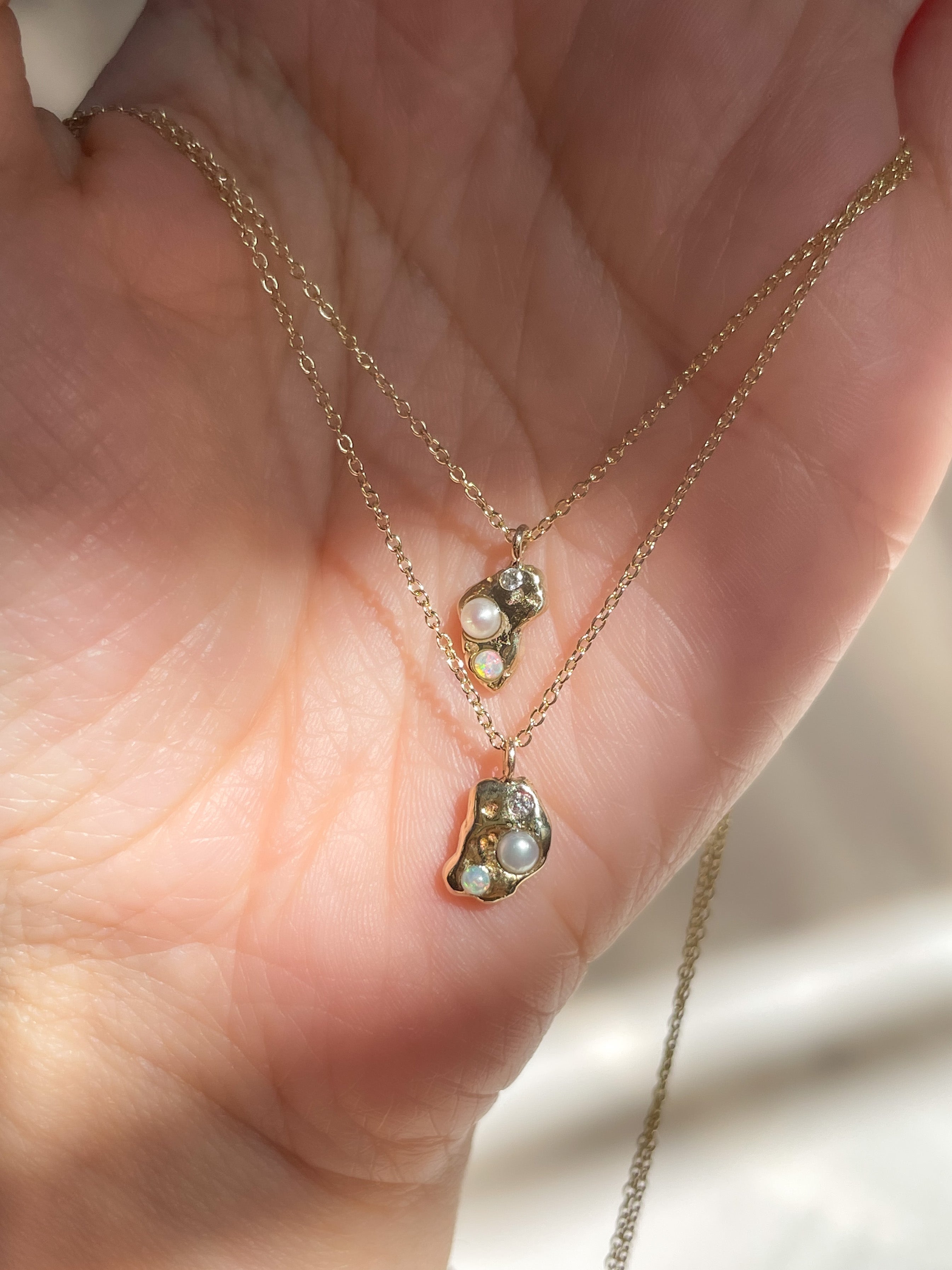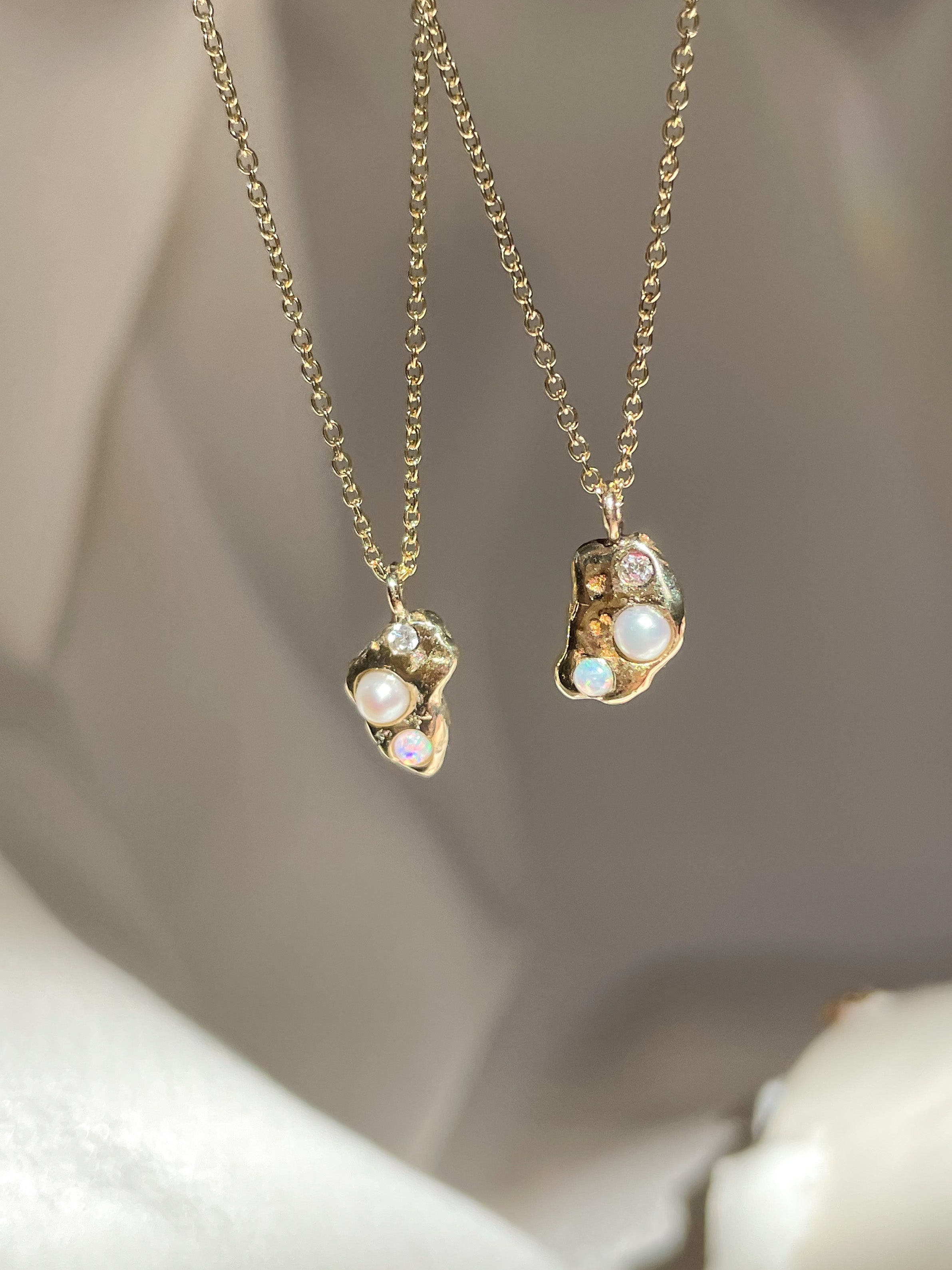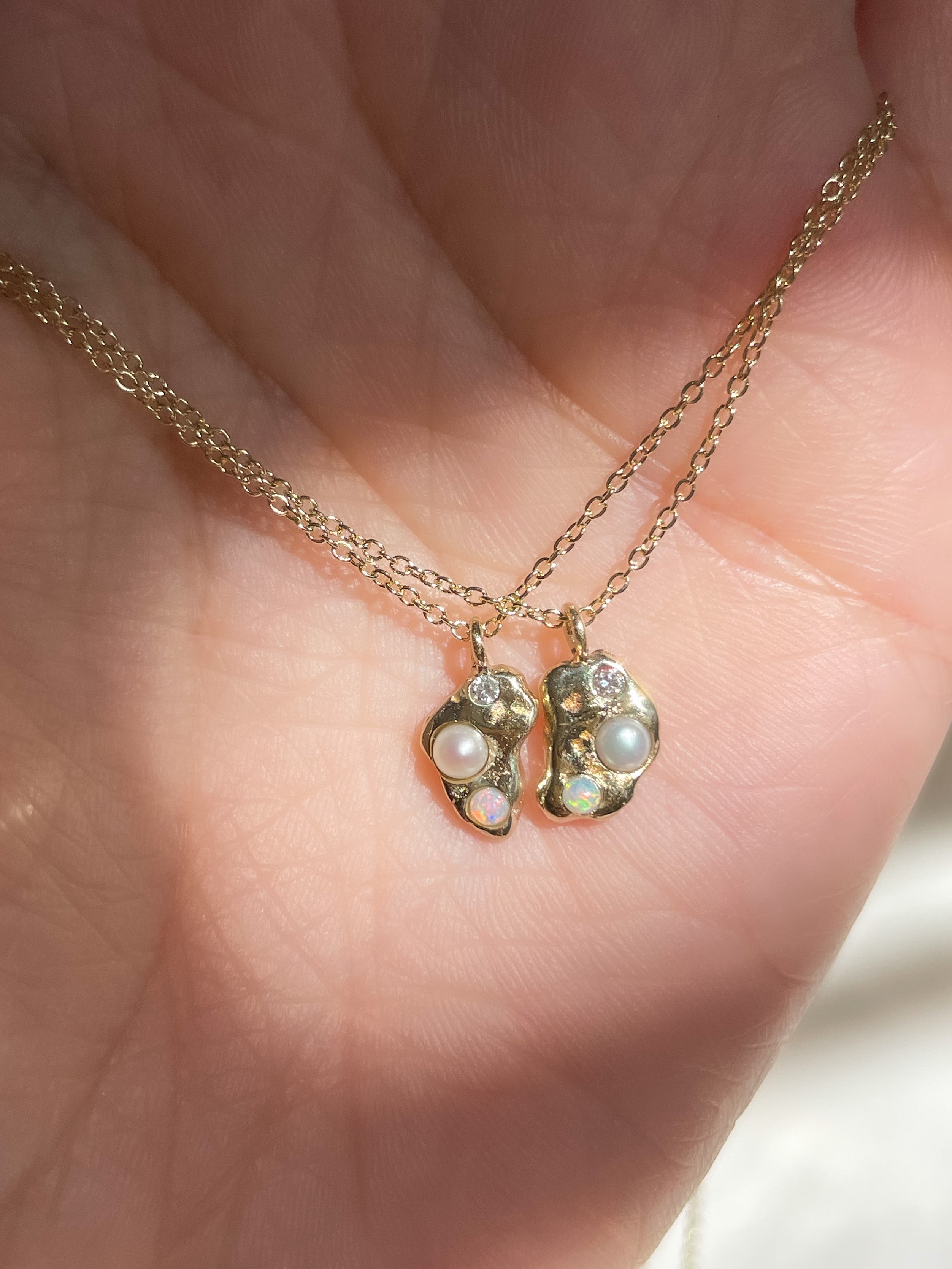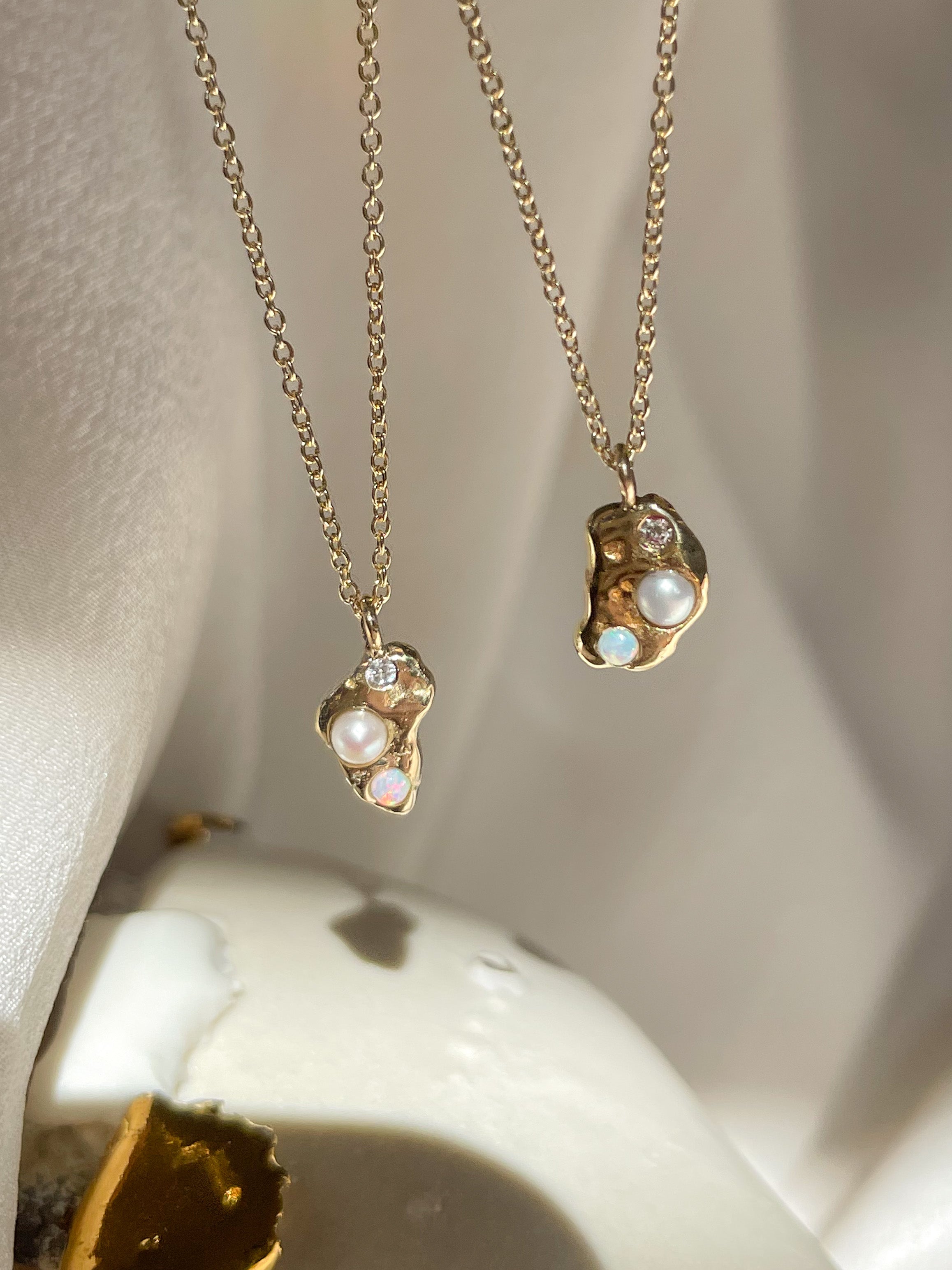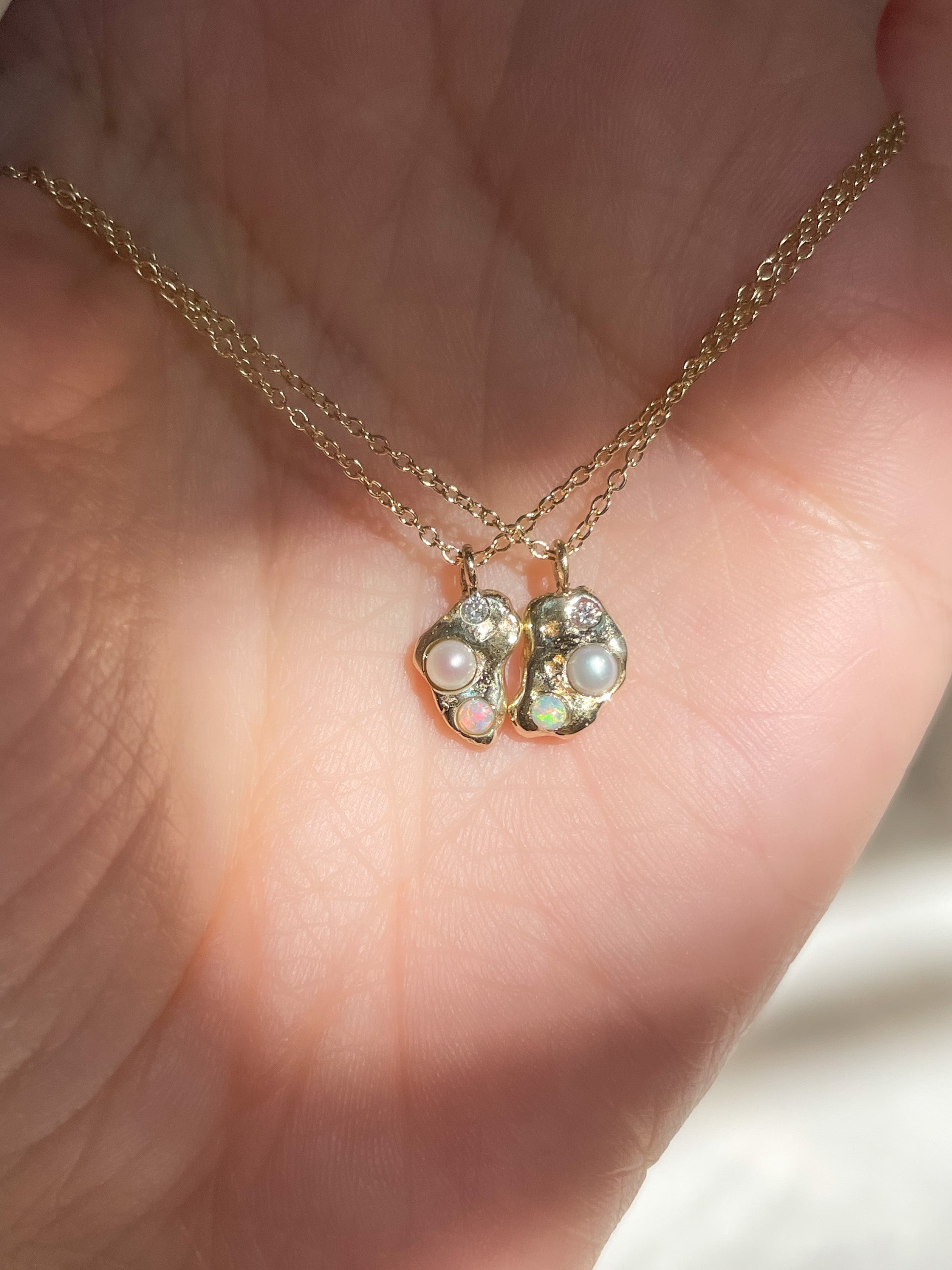 Description
Sold as a Pair, featuring a mirror image one of each Pearl, Opal and Diamond.
*Can also be customized instead with your birthstones, email us to create your own personalized bestie set!
Inspired by the classic nostalgic BFF talismans from our youth, I wanted to create my ethereal envisioning of what dreamy-duo encapsulates to me. Voila: an abstract pair of necklaces to adorn you and your loved one, representative of the luminous beauty, unbridled love, uniqueness and deep strength of your bond.
Created around an envisioned dreamscape of stained glass (the French translation of vitrail), this pair of asymmetrical shield pendants are a talisman embodying the Venusian energy of the goddess Aphrodite. Perfect within her imperfections, this collection was inspired by the ocean, featuring an ethereal Opal, Diamond and a single Pearl - representing both intimate power, and the unique beauty we each carry within ourselves, embracing our own Divine magic. A gift from the Gods, a treasure from the sea, this set holds a delicate strength, illuminated from deeply within.
Solid 14k Yellow Gold.
Pearls are the June birthstone, representing purity, innocence, humility and love, and are created from the result of a living Being choosing to self-nurture itself, thus wholly embodying the watery, lunar Cancerean energy. The only gem created through a conscious and nurturing process in partnership with a living creature, each Pearl is an illustrious treasure, born perfectly in its imperfection. Long cherished as a beacon of light for those who see the world through a spiritual lens, it invites enlightenment while acting as an energetic magnet to deepen our connection with our core nature. Native islanders have stated that long ago, the wisest oysters would face the moon when adding their final layers of nacre to their creations - this is why the Pearl is known to be representing the powerful feminine energy, a creator of life and worlds. Carrying an enlightened energy facilitating self-acceptance and Divine foresight, Pearls teach us to connect with the wisdom of the Goddess to uplift the spirit and learn to love ourselves wholly. Emotionally balancing by nature, the Pearl holds the vibration of the sea, gently connecting you with the waves of life to harmonize the auric and etheric bodies. Heightening your intuition and developing the imagination, Pearls are a powerful tool to shield yourself from negative outside forces while transmuting dense energies. It holds within deep introspection, encouraging you to discover your true self and your purpose on this planet. It embodies the energetic frequencies necessary to create harmonic balance in depletions within the human body and spirit. In Hinduism, the flaming pearl celebrates our own inner wisdom, strengthening our connection with the Divine energies of the cosmos. 
White Diamonds are stones of enlightenment, clarity of mind, imagination and inventiveness, fearlessness and the purity of love. Long valued for their magical properties and believed to have fallen from the sky after a battle between dragons, Hindus, over fifteen centuries ago, believed they provided their keepers with protection, courageousness, victory and the enhancement of love as they create a deep bond between relationships. An energy amplifier, they are incredibly effective when used with other crystals, as they raise their energetic frequency. They help pinpoint that which requires transformation, cleansing remnants of darkness that shrouds your inner light. They facilitate spiritual evolution, manifestation and abundance while encouraging the soul's light to shine, accessing Divine energies, enhancing visions and intuitive connection with the higher domains of Spirit. Used to evoke and tap into your inner Spiritual King or Queen energy, it allows you to recognize your worth through the Divine archetypes within the Self that convey power, knowledge and sovereignty. Combining spiritual insight with the wisdom of your inner Knowing, what is revealed is a sense of clarity and certainty about your desires and the actionable steps to reach your goals. They accelerate your spiritual evolution and ignites psychic ability, generating the focus needed to manifest your dreams. Emanates a potent energy to reveal underlying emotional issues within the subconscious, encouraging you to become more objective about the emotional state you are in, and what you need to process and release. A stone of spiritual initiation, it helps us in becoming beacons of Light, teaching us that our behavior can reveal our true inner beauty and our Soul's knowledge. Illuminating densities, difficulties and illusions, it calls upon us to seek light within and radiate it outward. Acts as a reminder of your spiritual destiny in this life, as its energy penetrates the veils that can keep you reluctant or unable to step firmly into your path.
Opal enhances cosmic consciousness and imparts mystical visions. Acting as a mirror, it reflects your thoughts and feelings back to you while shielding you as a karmic protector to deflect empathic emotions that are shone onto you by others. Opal is a teacher - amplifying our emotions so that we can become self-aware to where our attachments lie. A stone of transformation and seduction, Opal is deeply connected with love, passion, desire and focus, healing depleted energies and revitalizing your energetic field. Stimulating rebirth and karmic growth, it imparts past, present and future spiritual holograms, awakening your intuitive Knowledge.  A high vibrational stone aligned with good luck and hope, Opal encourages you to face your deepest fears and face deep layers of repressed fears and traumas, so that new growth can occur. Acting as an auric prism, it instills the frequency of joy, splitting Light into iridescent rainbow frequencies, nourishing you within a vast spectrum of Light. This illumination shines a light on the heaviness within one's energy field, inspiring you to do the necessary work to clear the energetic body. Australian legend believes a gigantic Opal governs the stars and true, human love. It holds within the seed of the 'holy fire', the intense spiritual energy that consumes the impure aspects of the self without burning us down. The more we lean in and are willing to release our attachments to our anger, fear or negative patterns, the better Opal will work for us.  
***Opals and Pearls are both extremely delicate, brittle and fragile - should you choose to add this piece to your collection, please be mindful to treat it carefully like silk, honoring its fragility with extra care. For more information on jewelry care, please see our FAQ page.
Production Info
*Please note: all pieces are made by my hands to order with up to a 3-4 week production time. If you have a rush-order, please email to discuss! For more information about Jewelry Care, Warranty and Returns, please see our FAQ page.
FAQ
DO YOU GIFT WRAP?
Each order comes gift wrapped, please ensure you fill out the "Gift" notes section upon checkout, as your item will be thoughtfully wrapped and personalized with recipients name, along with description cards of each piece and selected stones!
DO YOU CAST IN ROSE OR WHITE GOLD?
Any piece that is not a ready-made one of a kind is available to custom order in 14k White or 14k Rose Gold.
Please enter your preferred metal in the notes section upon checkout, or feel free to contact us before ordering!
PRODUCTION & SHIPPING
All Fine Jewelry items are handcrafted and made to order. All of our pieces require up to 3-4 weeks for turnaround production time, to allow for sizing, polishing, and making sure your jewelry is perfect! 
If you have a specific deadline you need to meet, please contact us to let us know. We may request that you pay for upgraded expedited shipping, and may not be able to accommodate all requests.
HOW DO I KNOW WHICH STONE IS FOR ME?
I always, always recommend as first priority to go with what you're drawn to. Oftentimes, your first instinct as led by your intuition will be spot on for what energy you're wanting to align with or needing in your life at this time - don't overthink it!
An easy way to clear your mind and become present with your current state of being:
Close your eyes and take a few slow, deep breaths.
Focus your attention on the ground beneath your feet, gradually relaxing into a naturally comfortable state. Picture your body within a bright, warm pyramid of white light as you exhale.
Release any impeding stresses that pop into mind, and ask your subconscious to come to the forefront.
See what you're drawn to aesthetically, then proceed by reading about each energy to determine which one feels right.