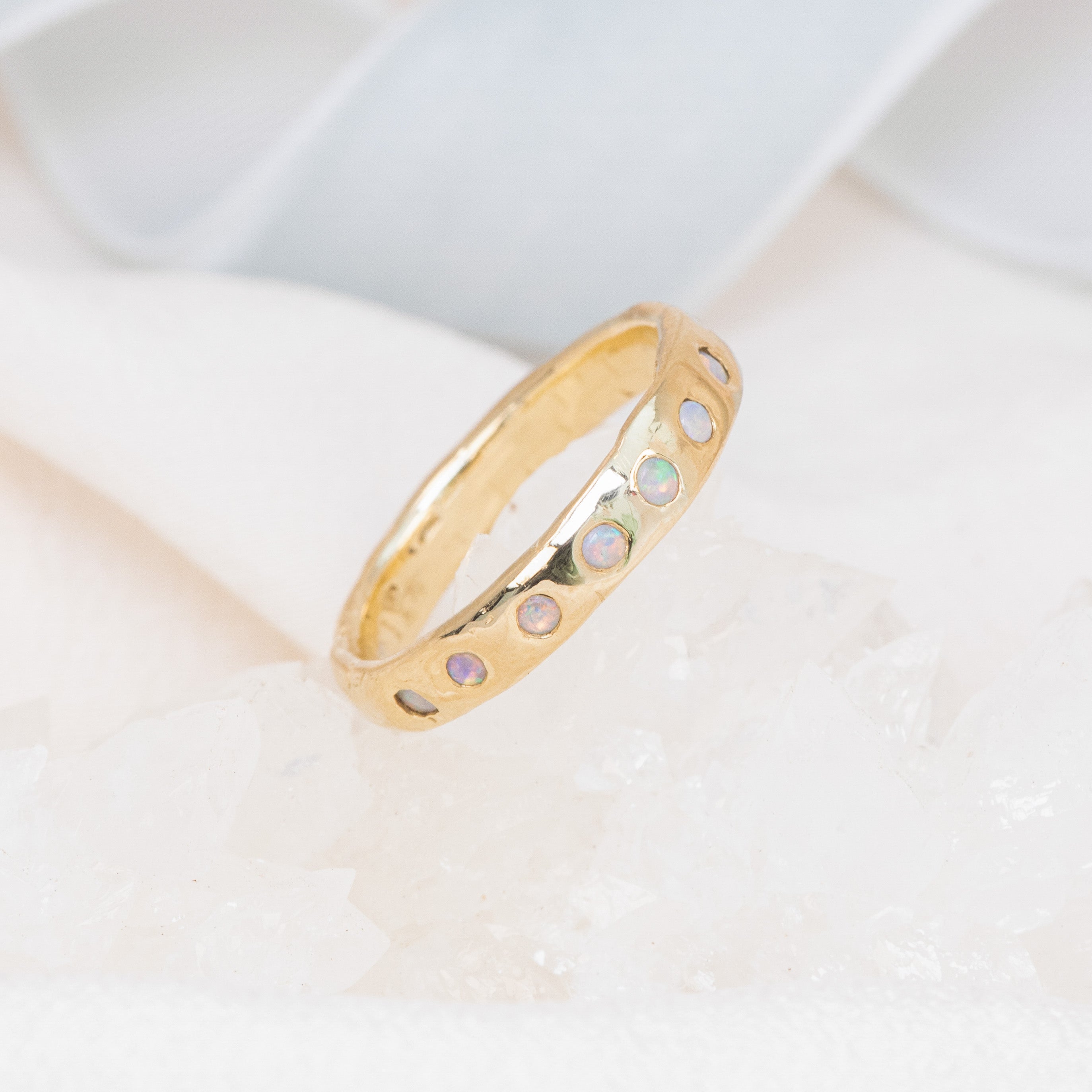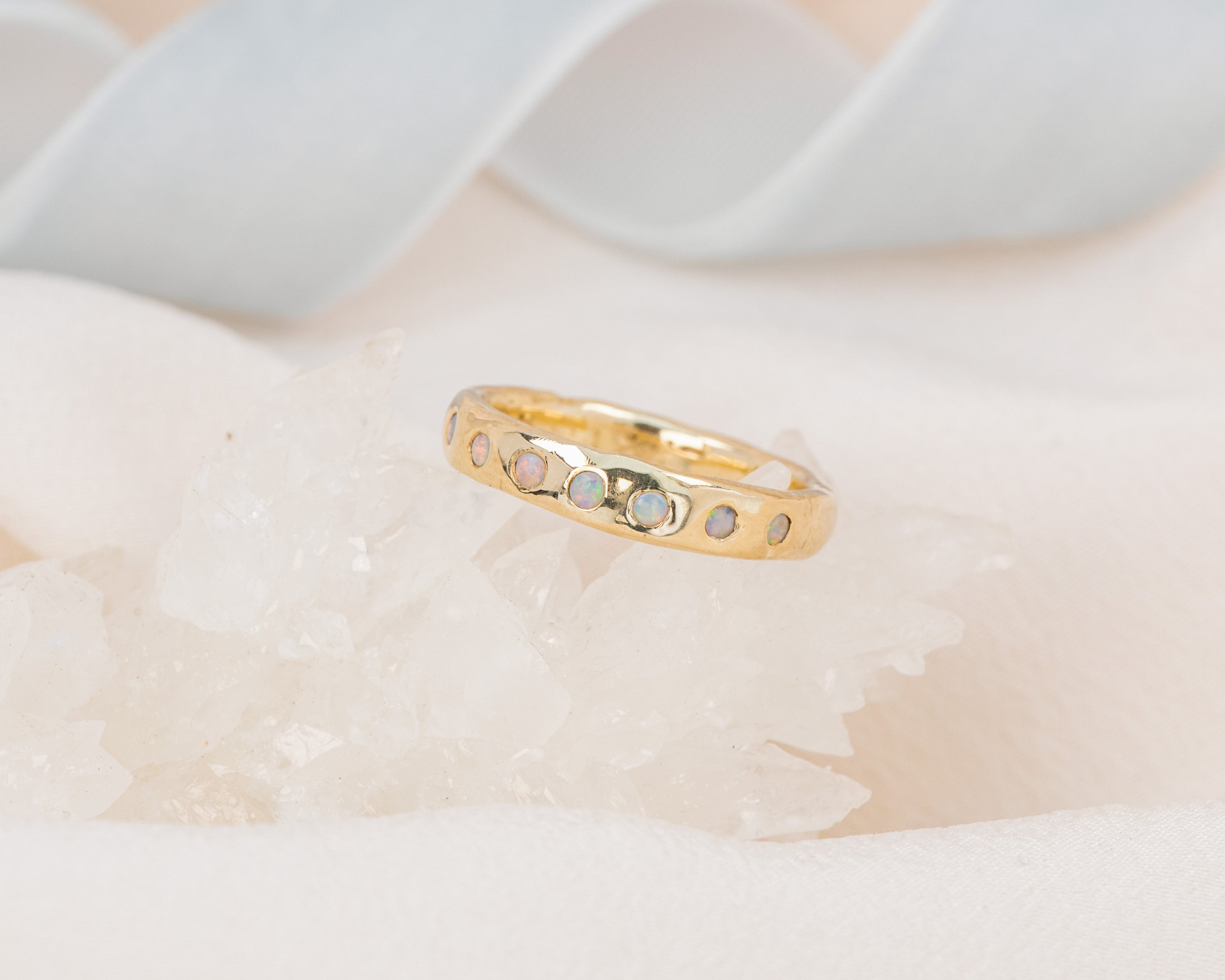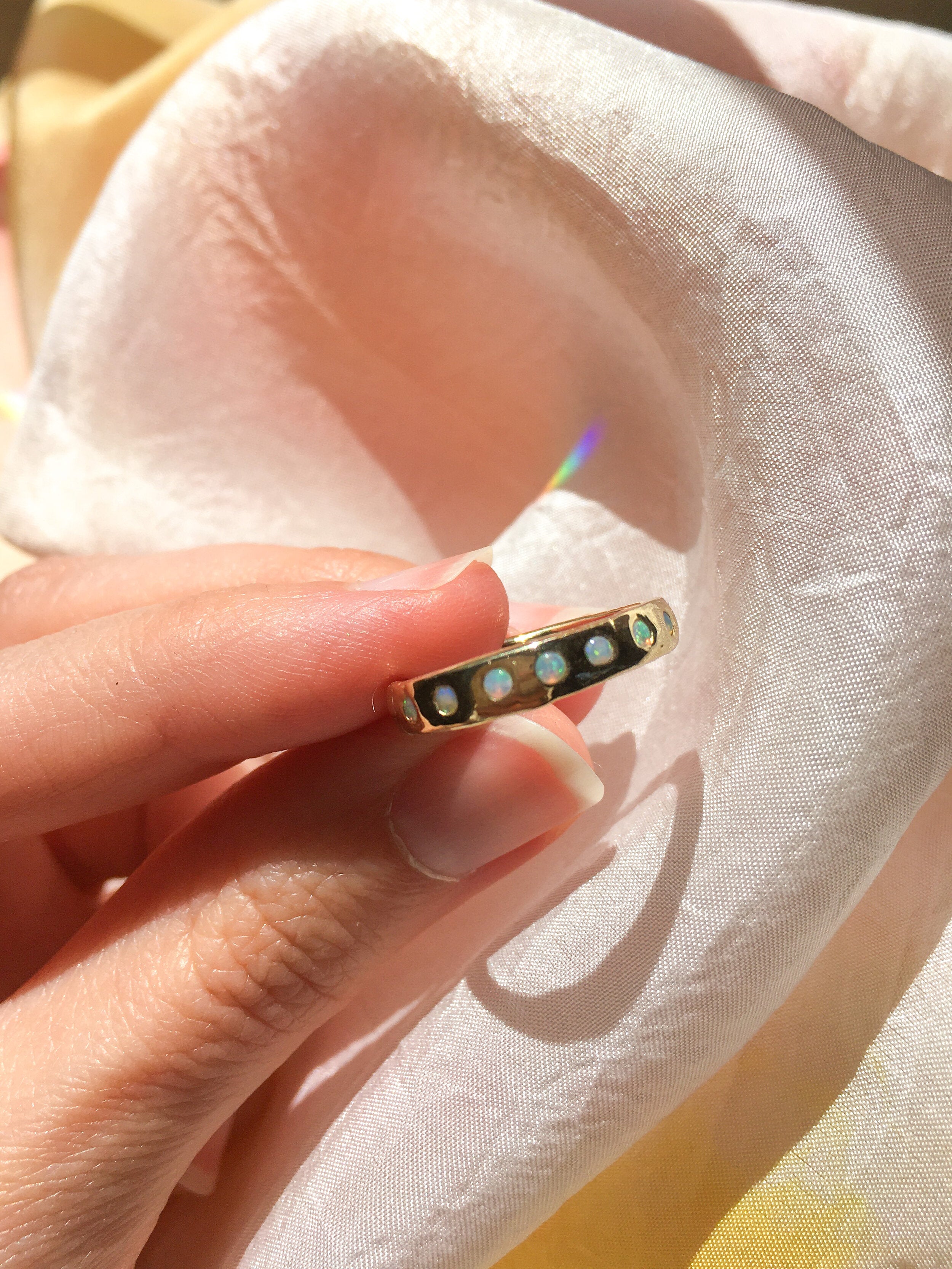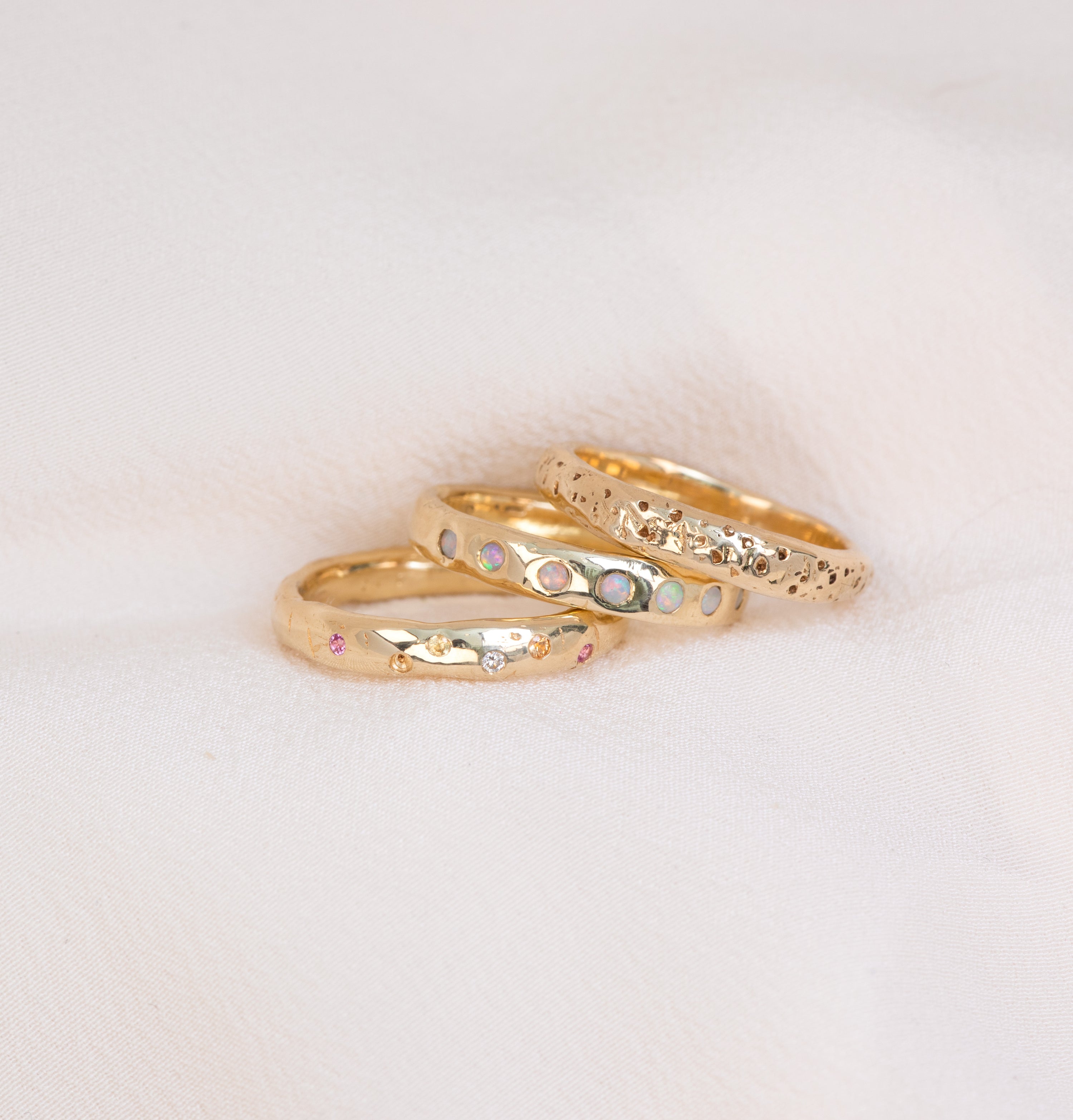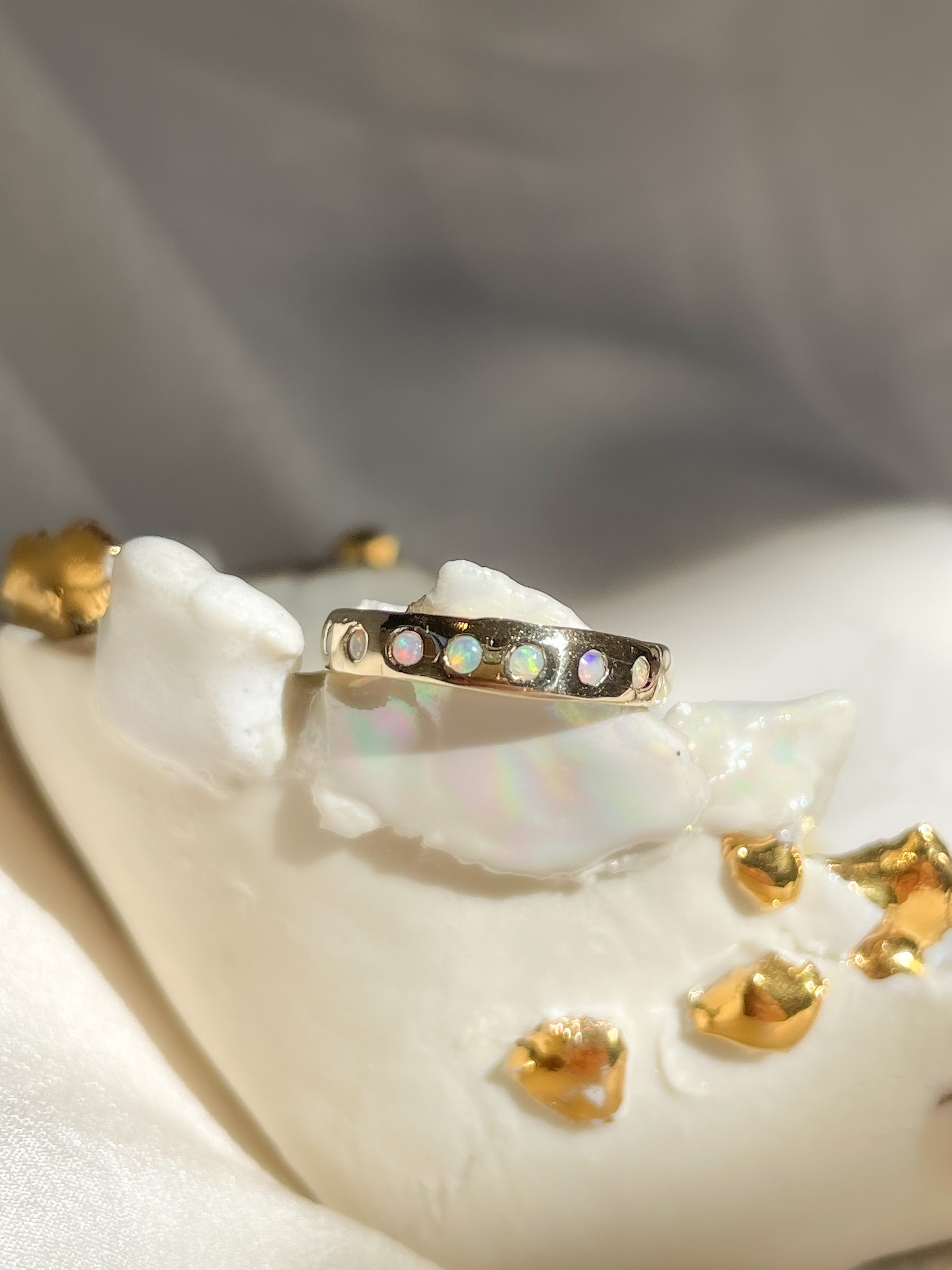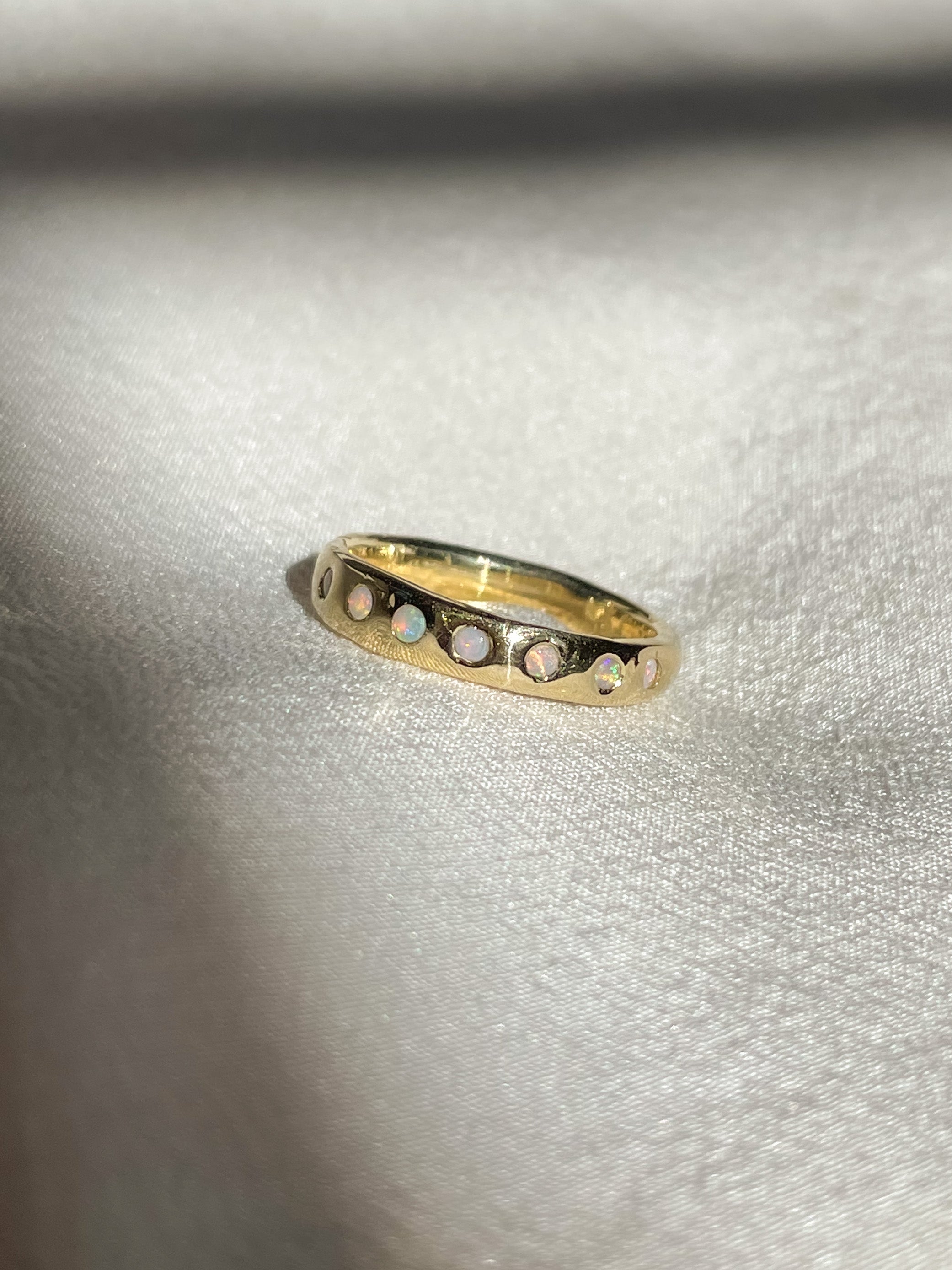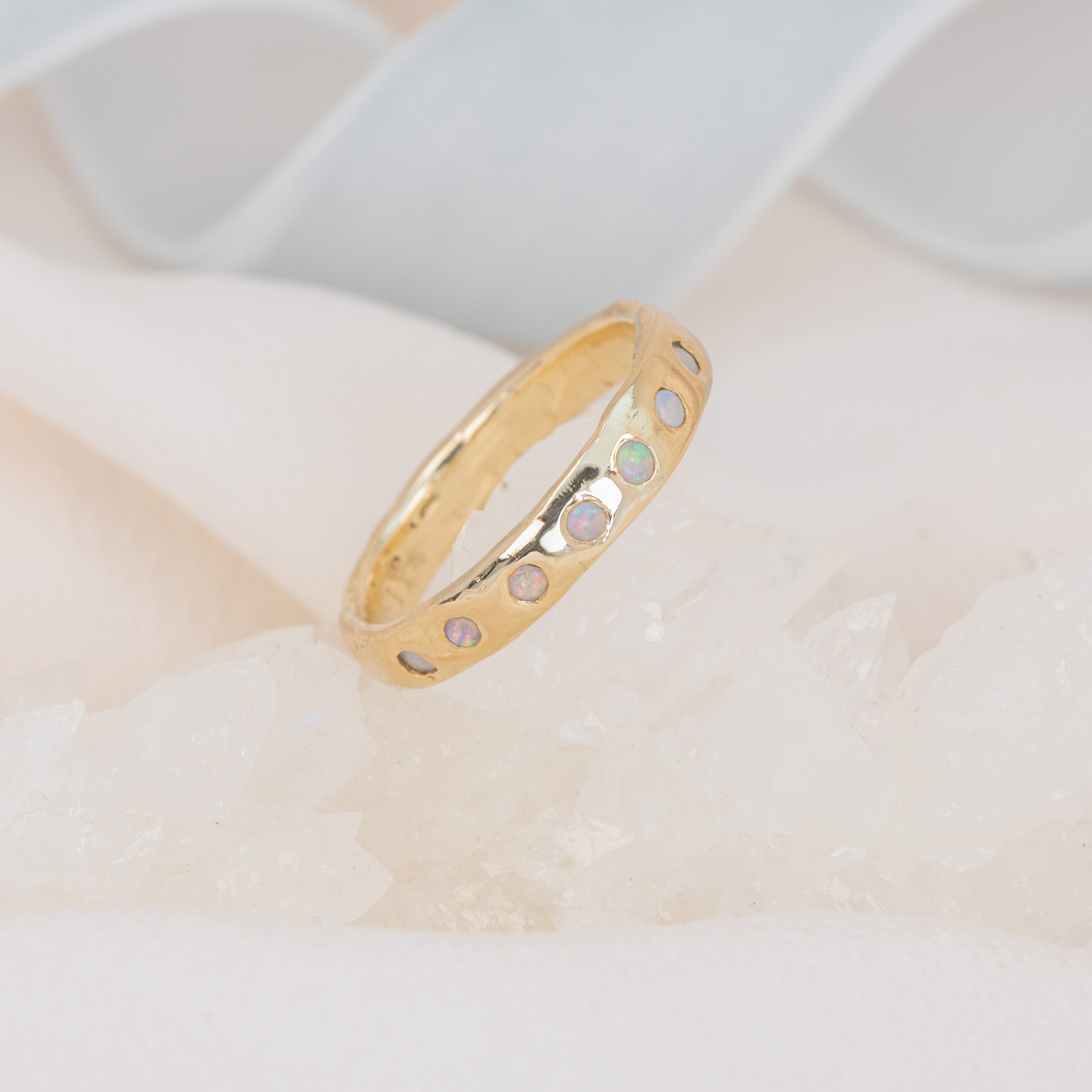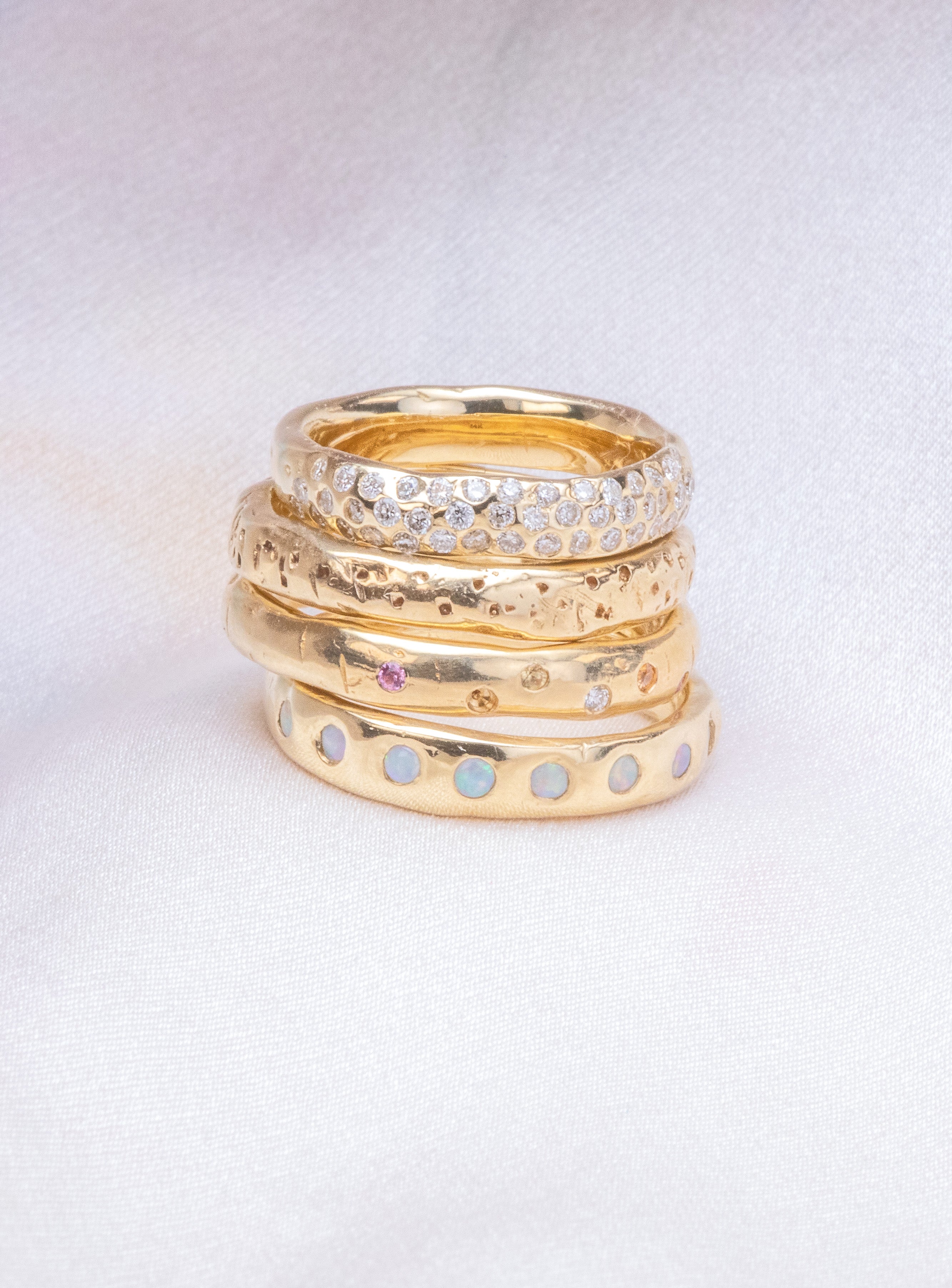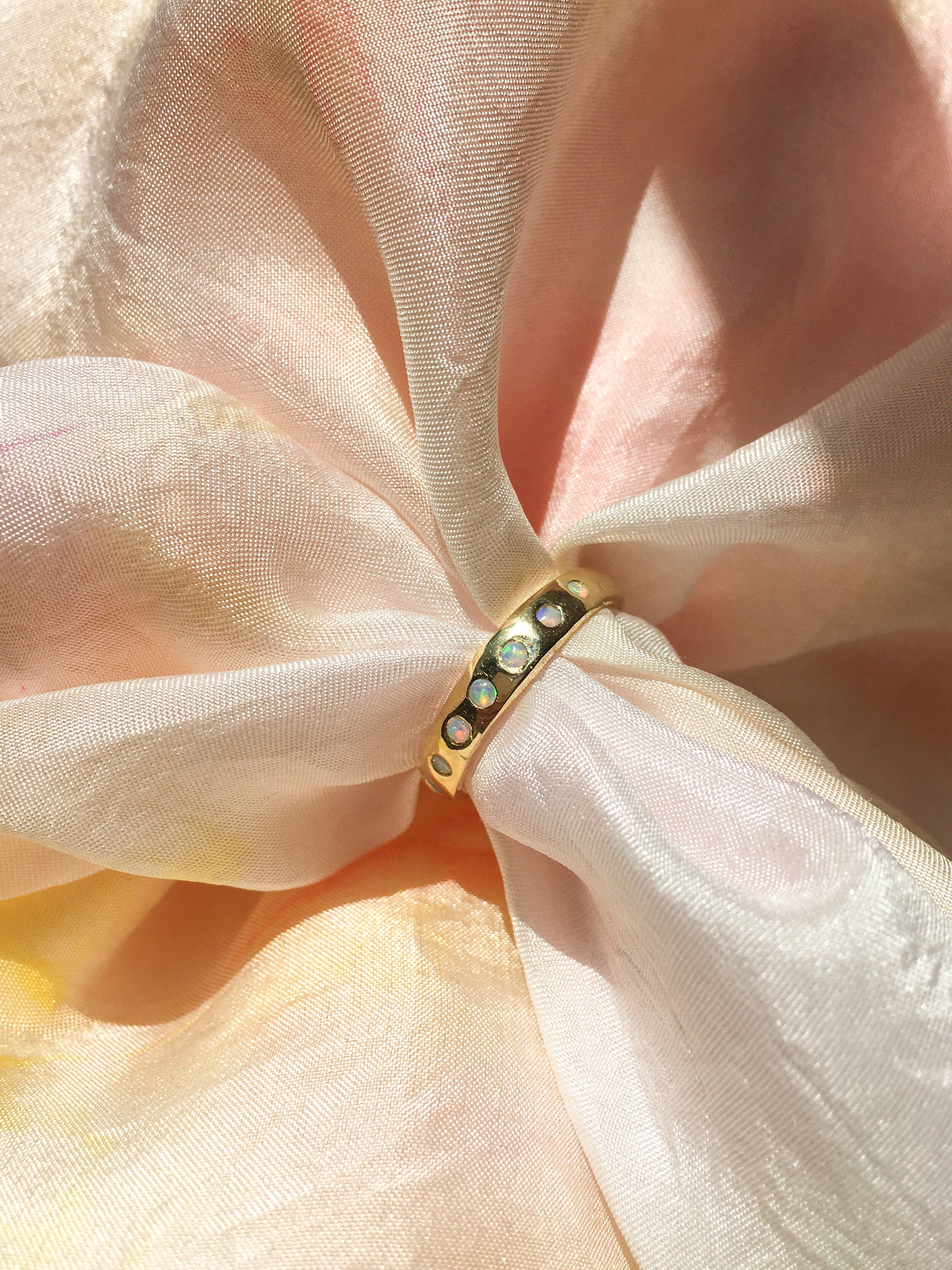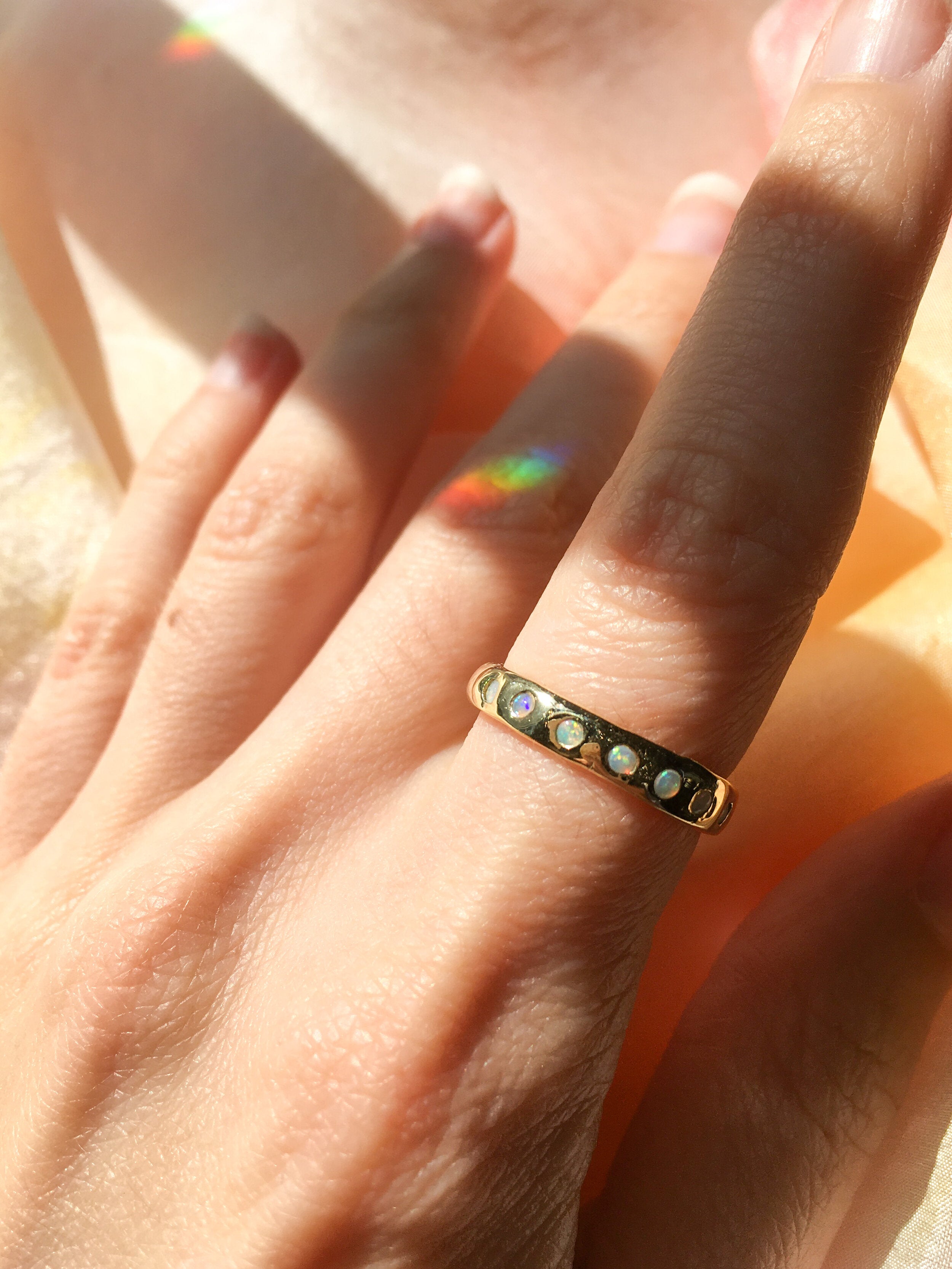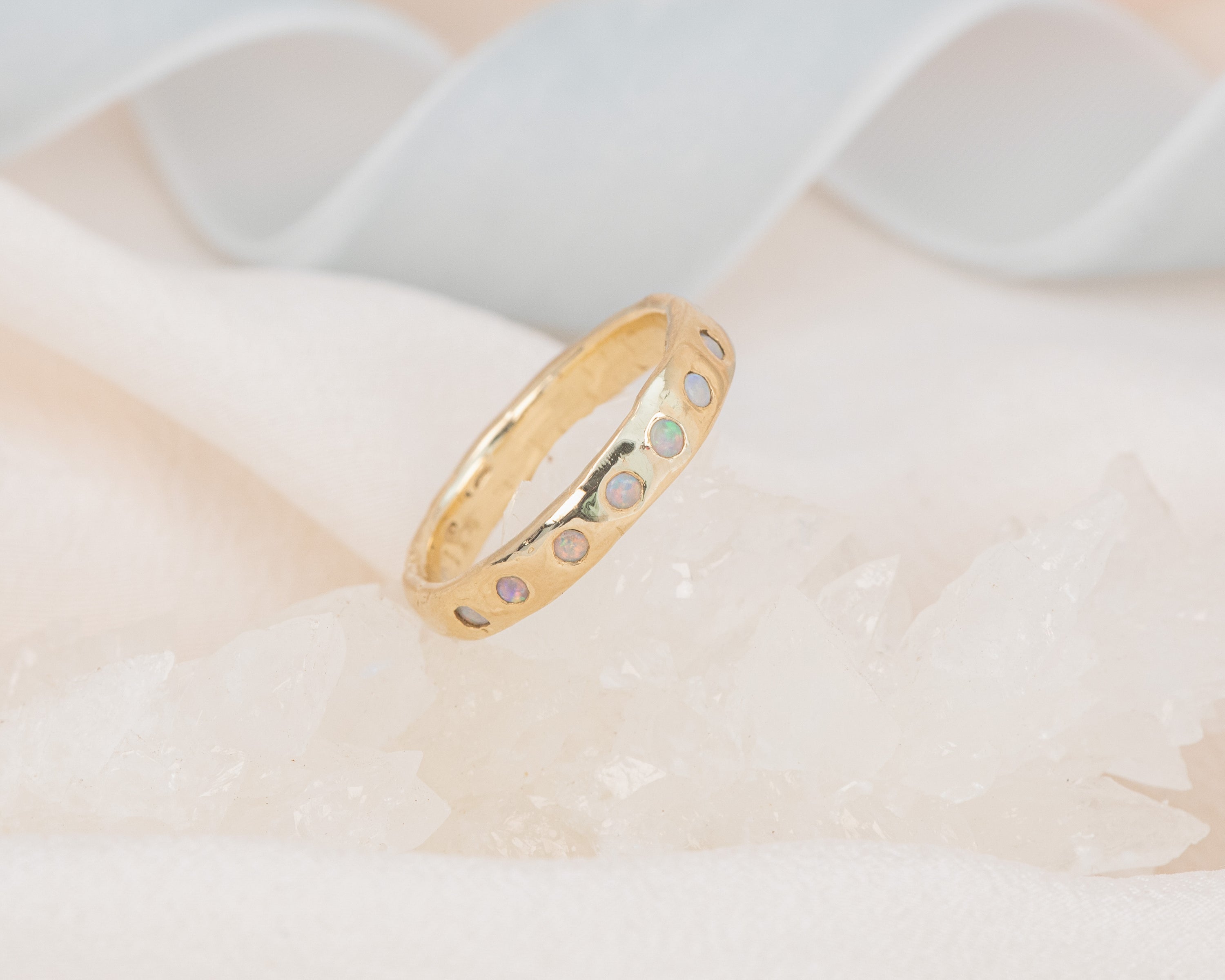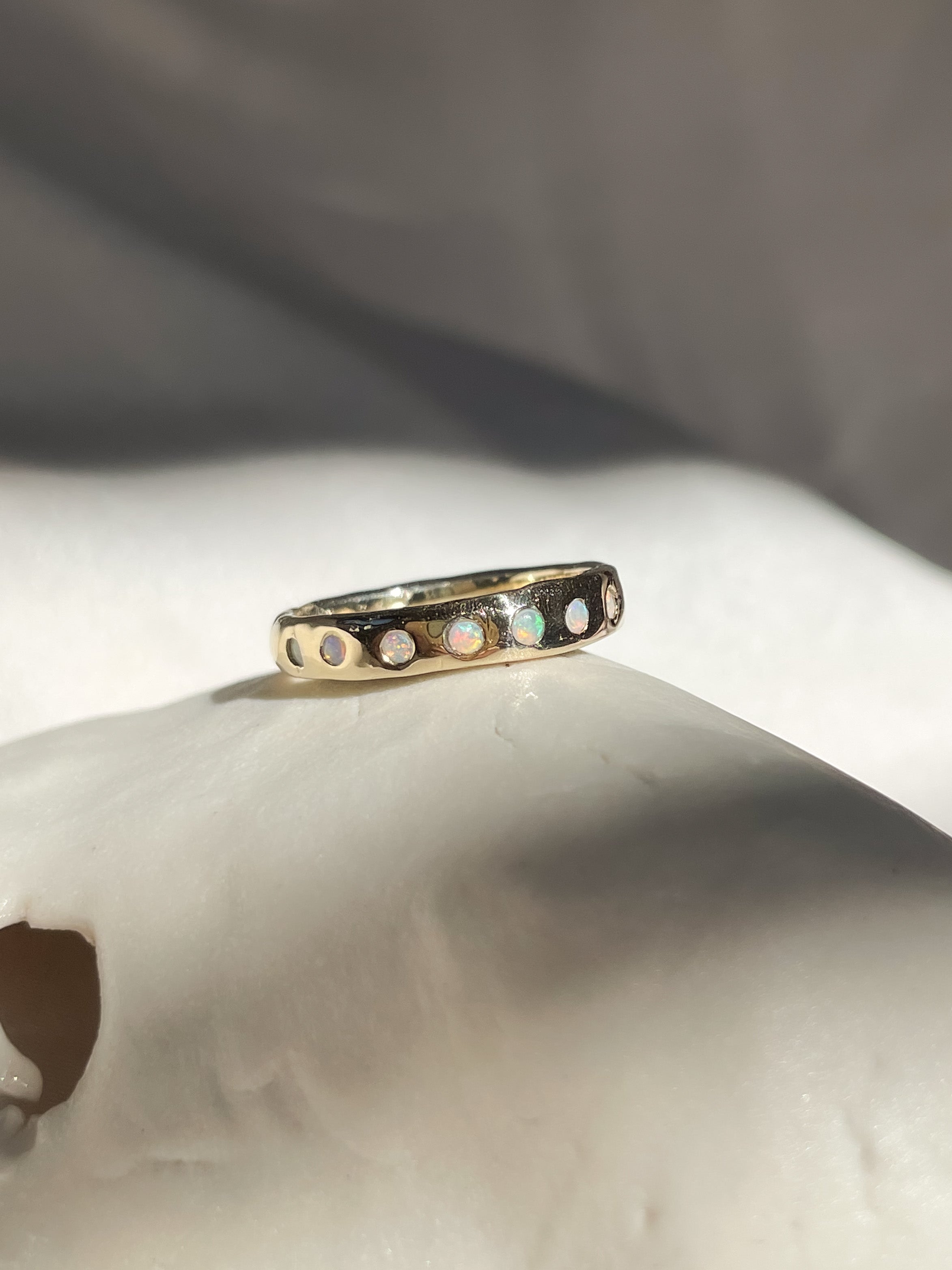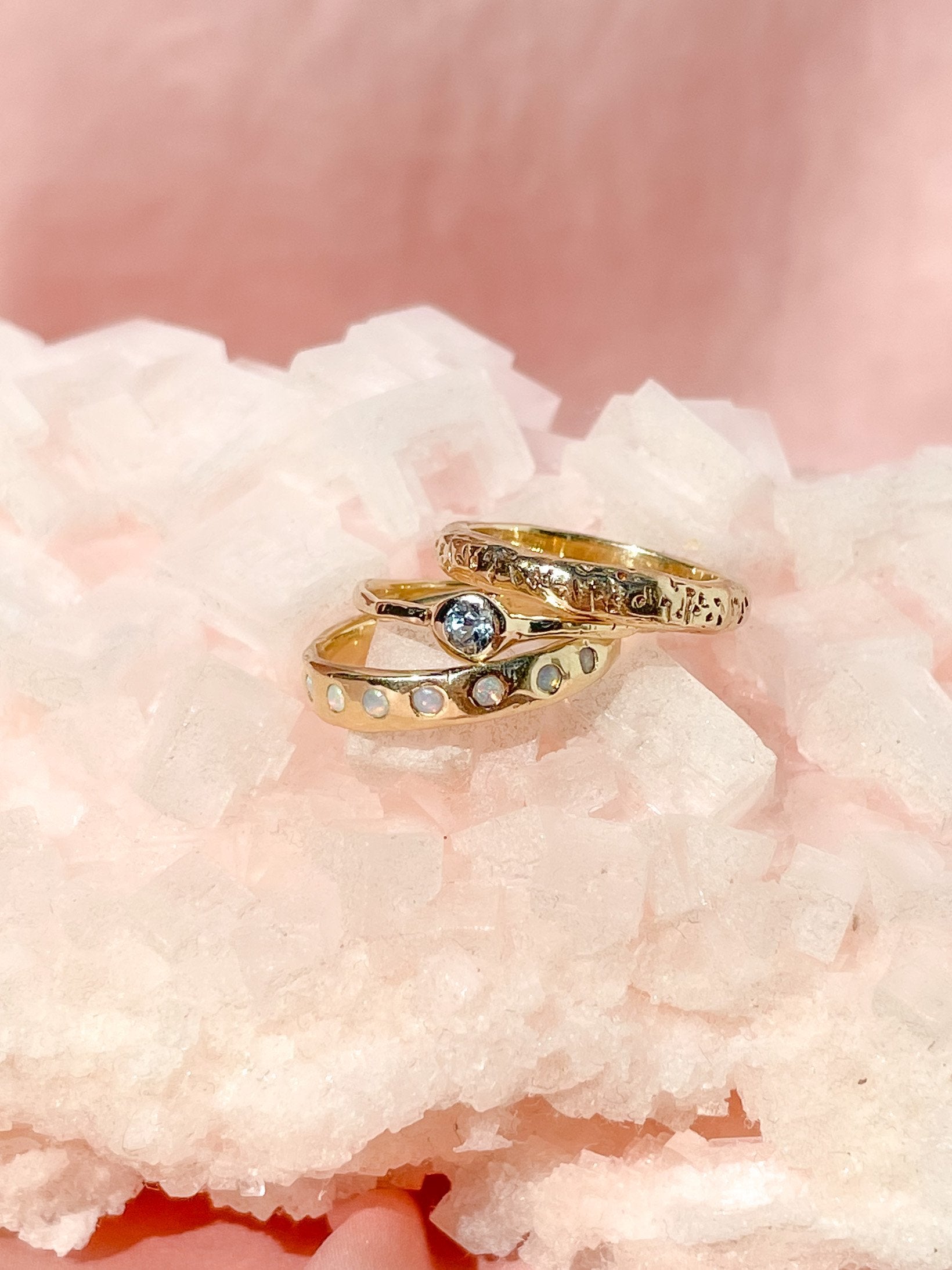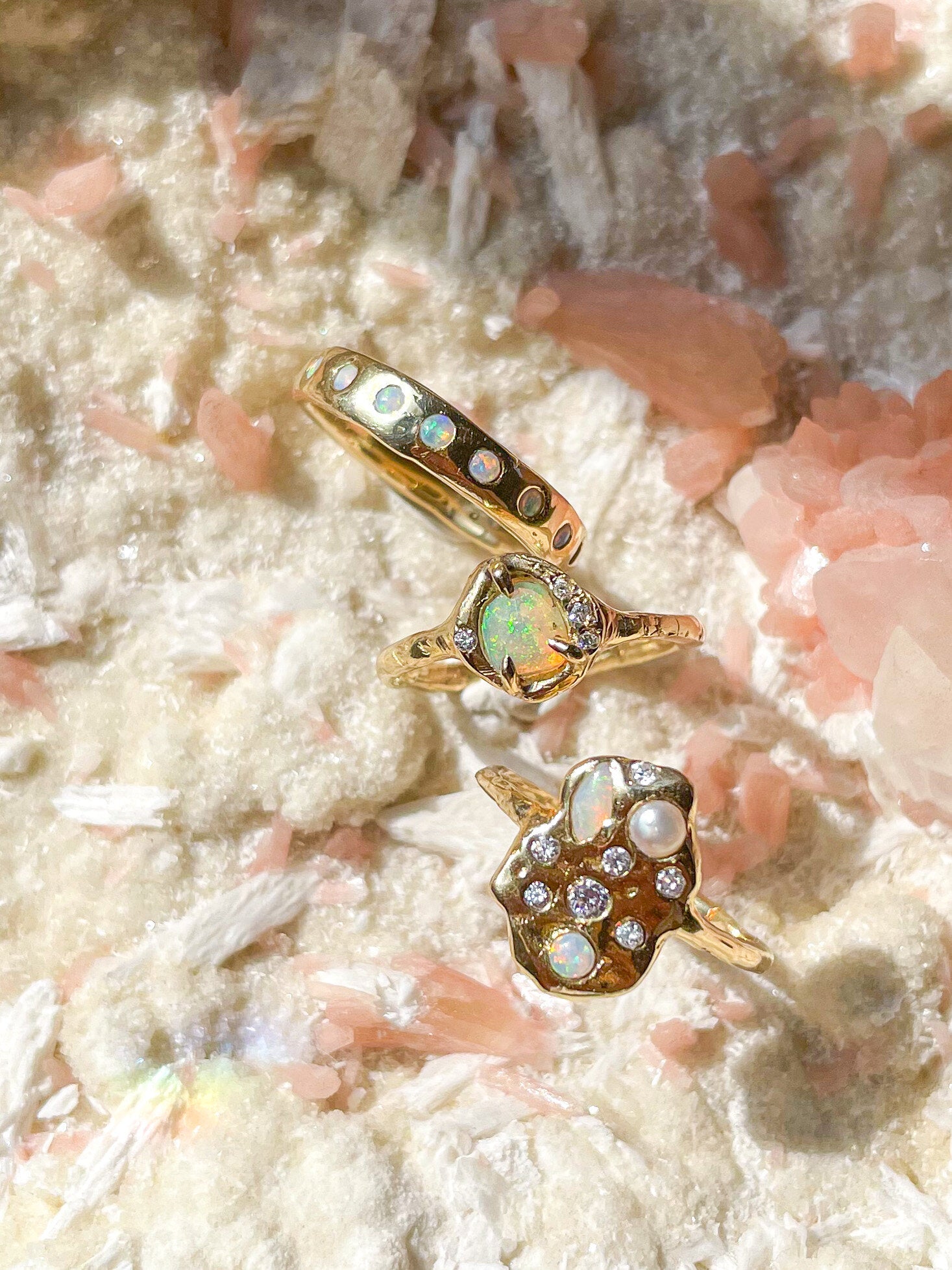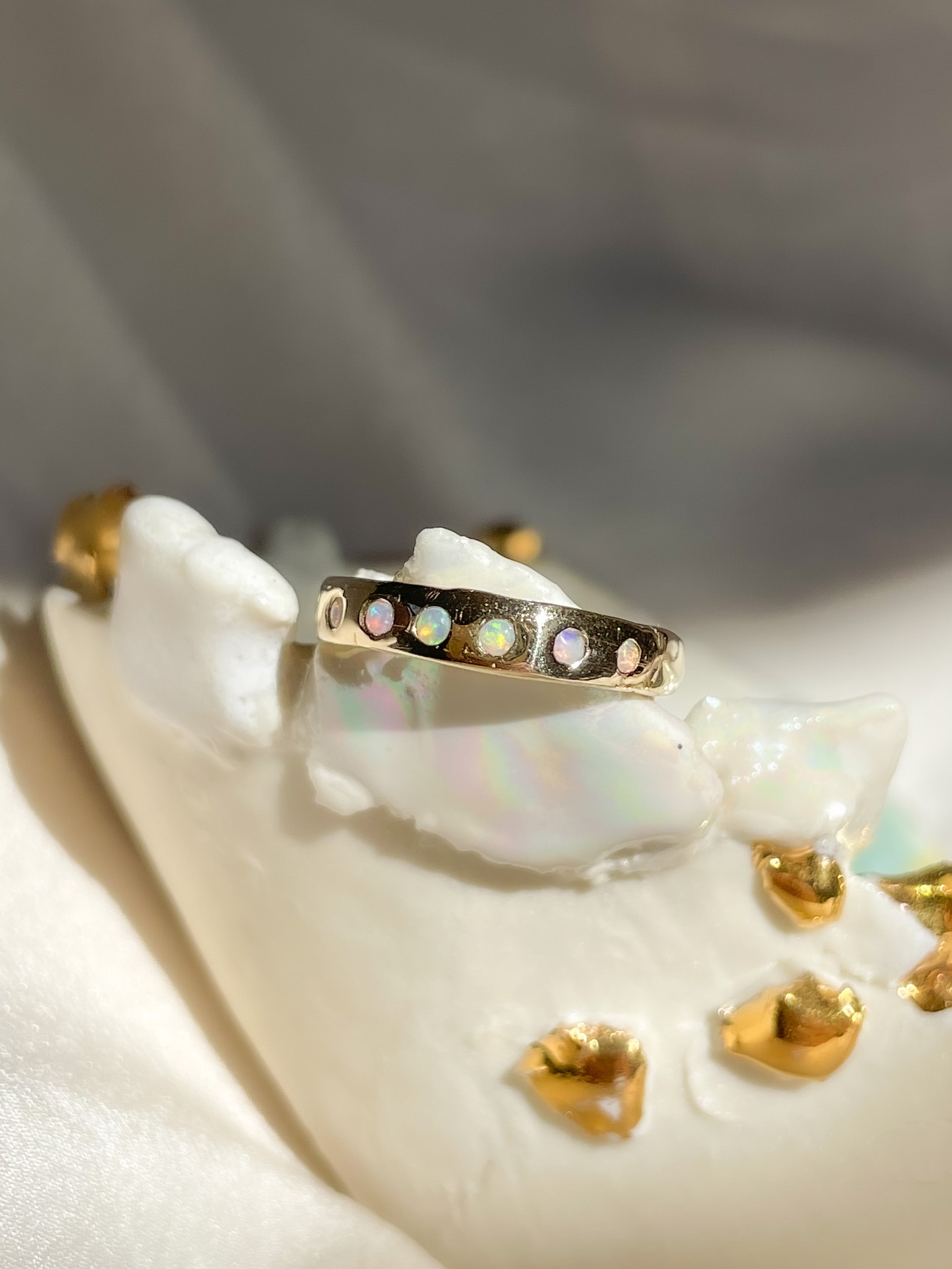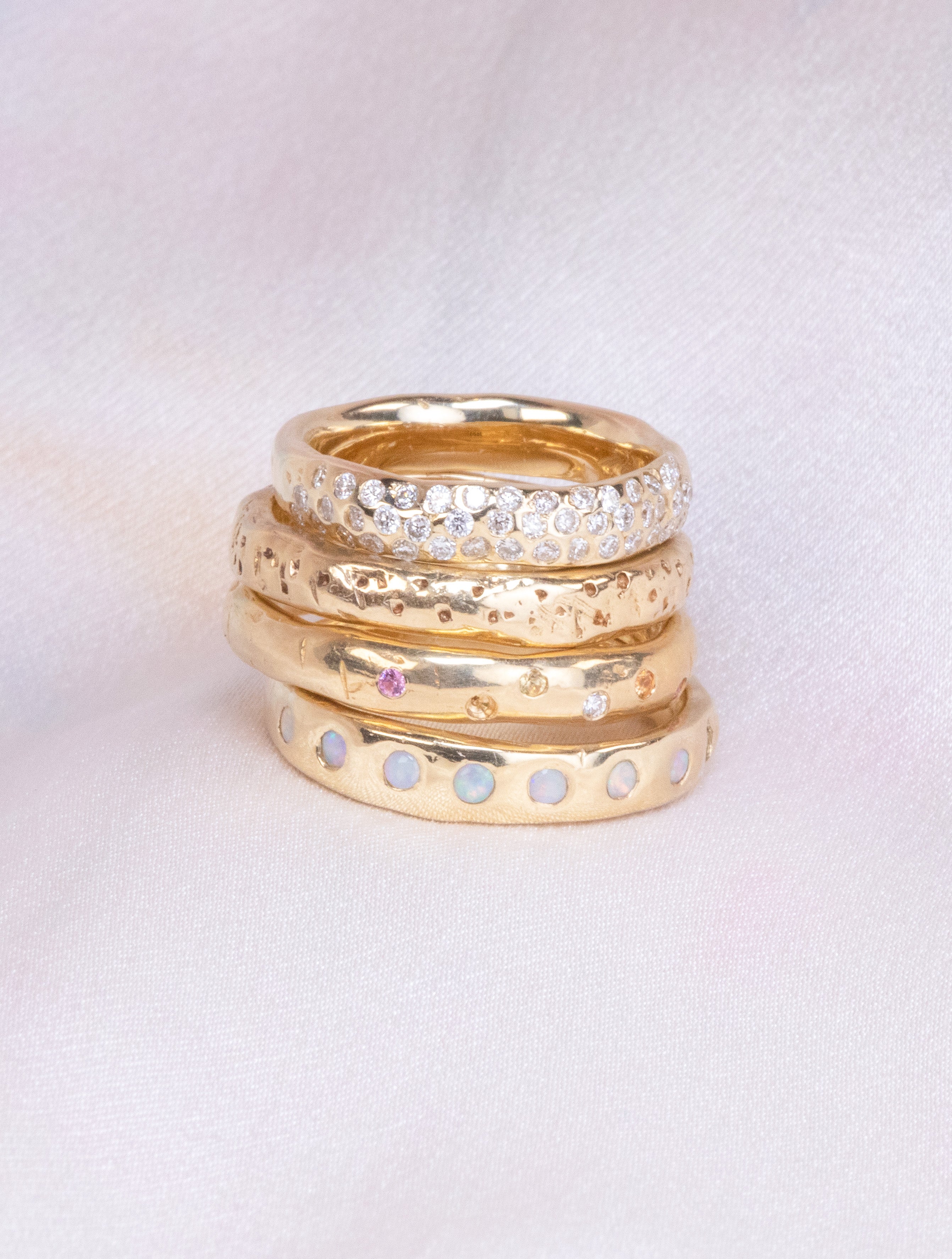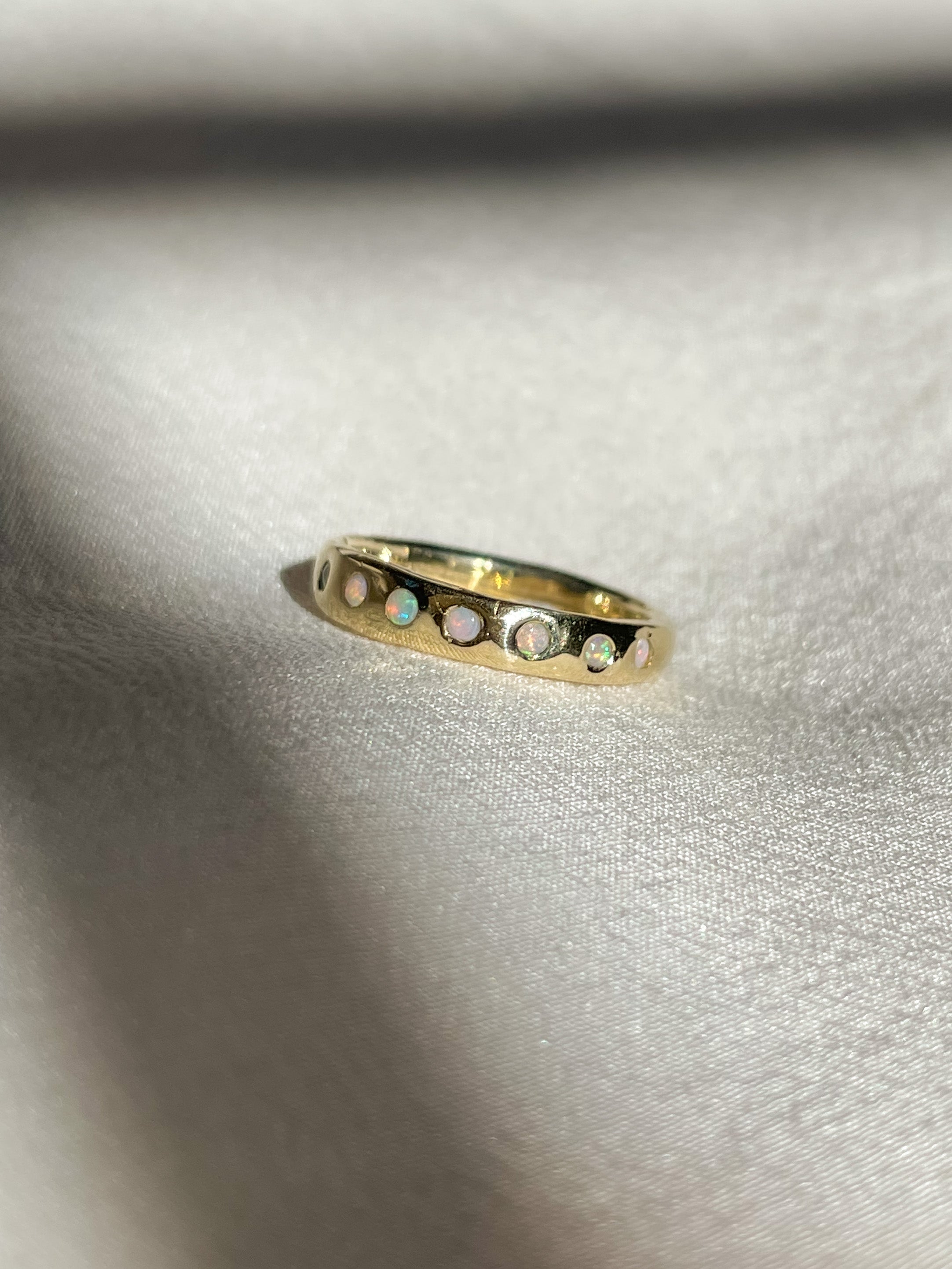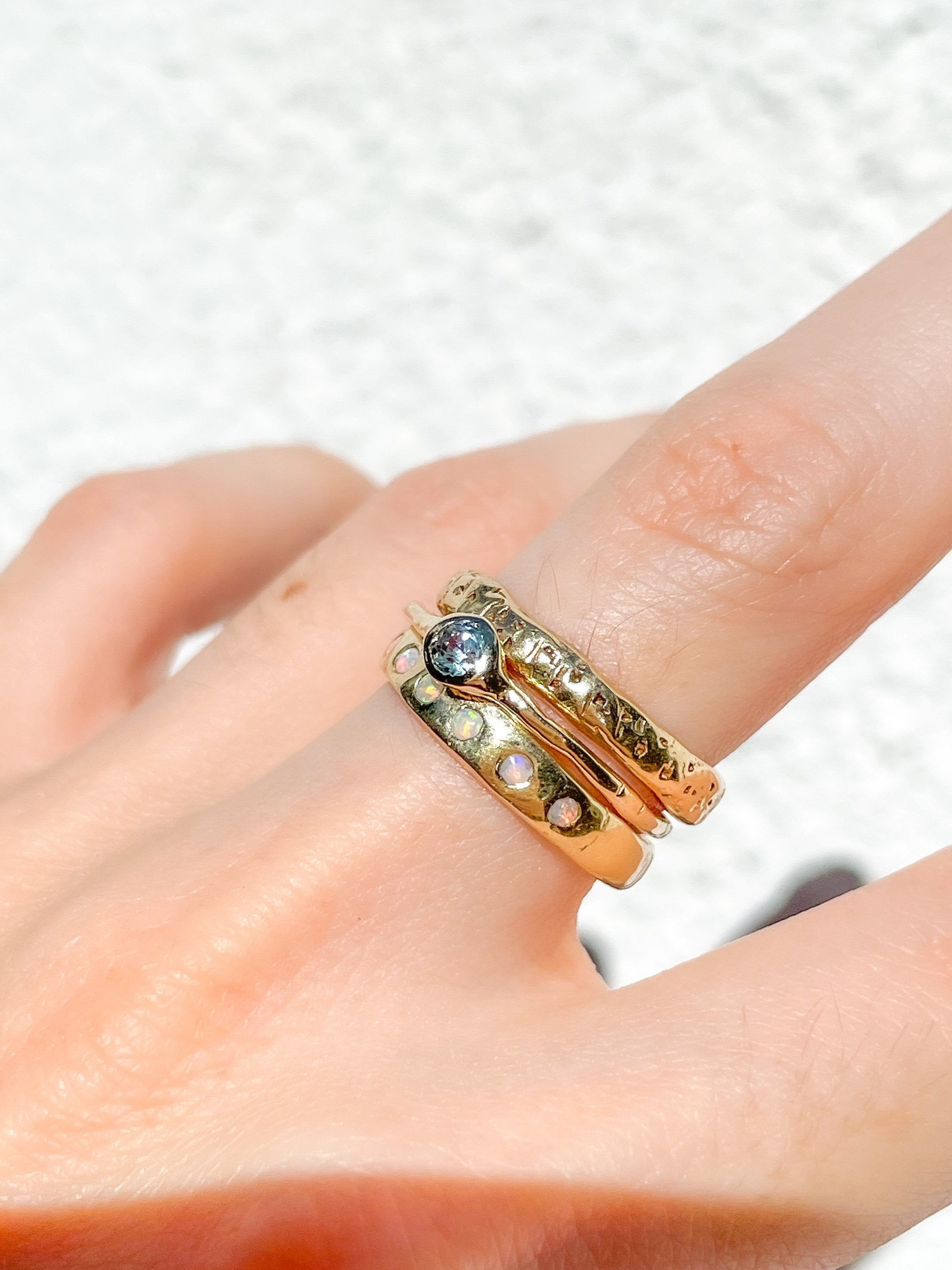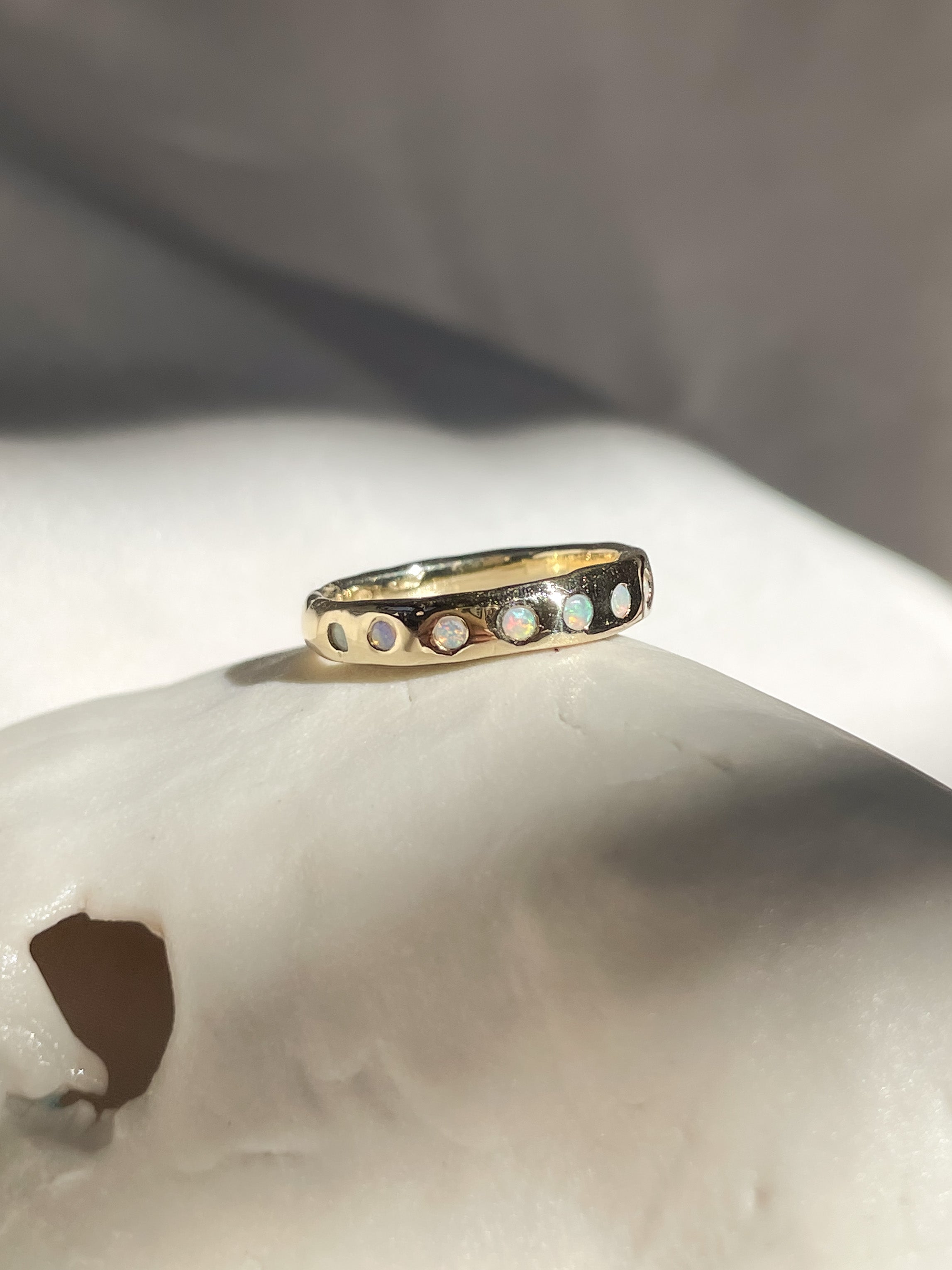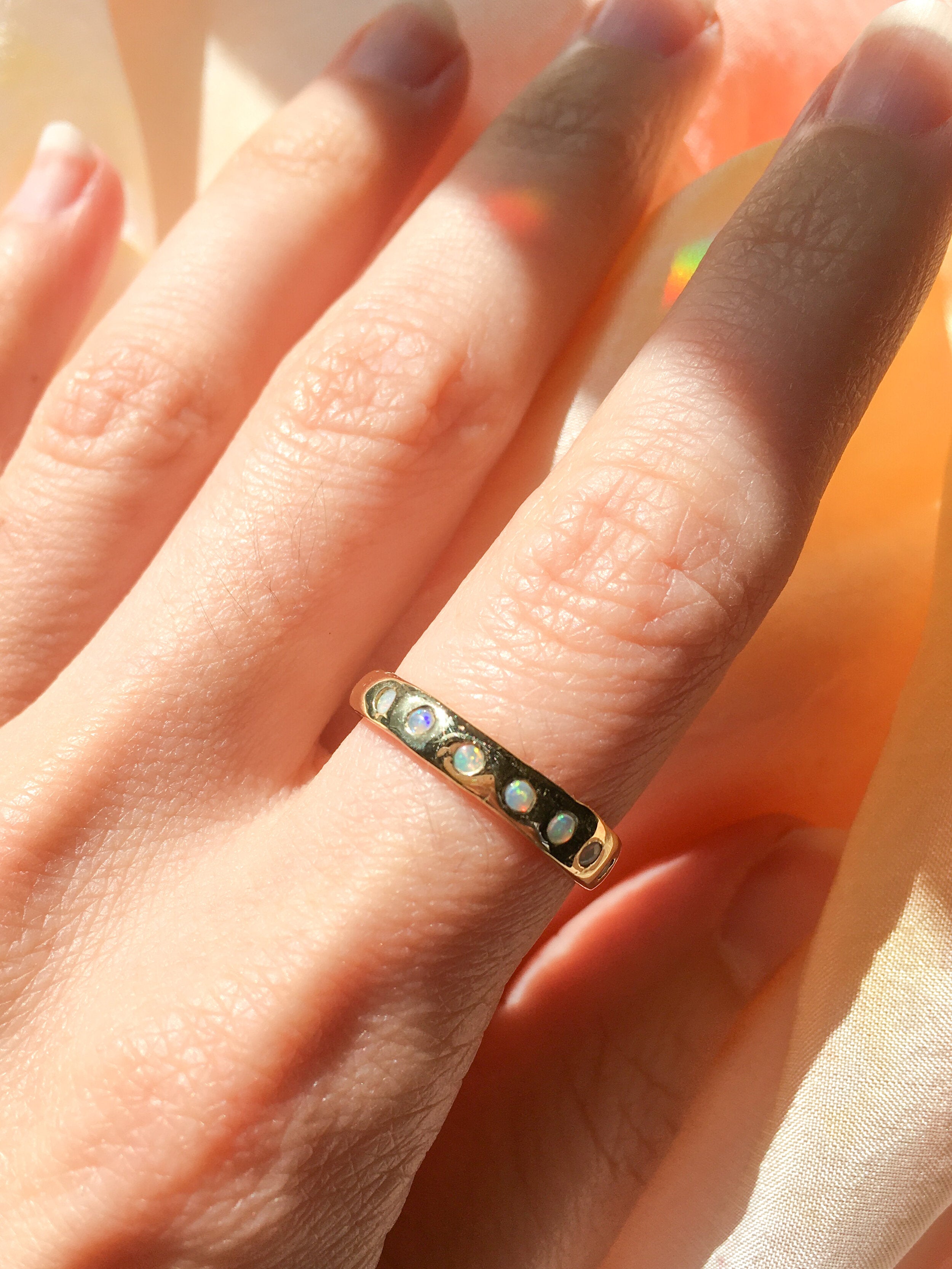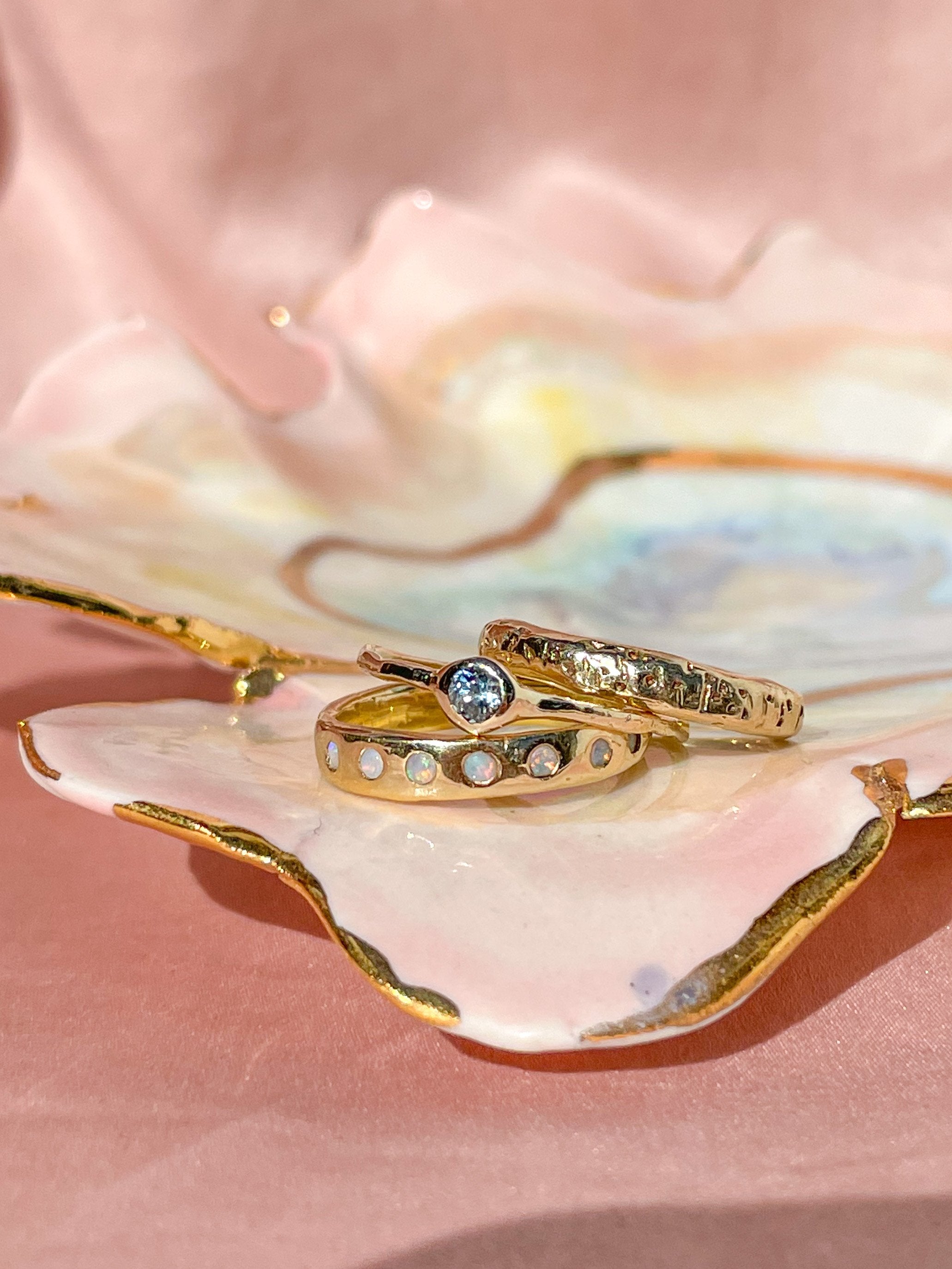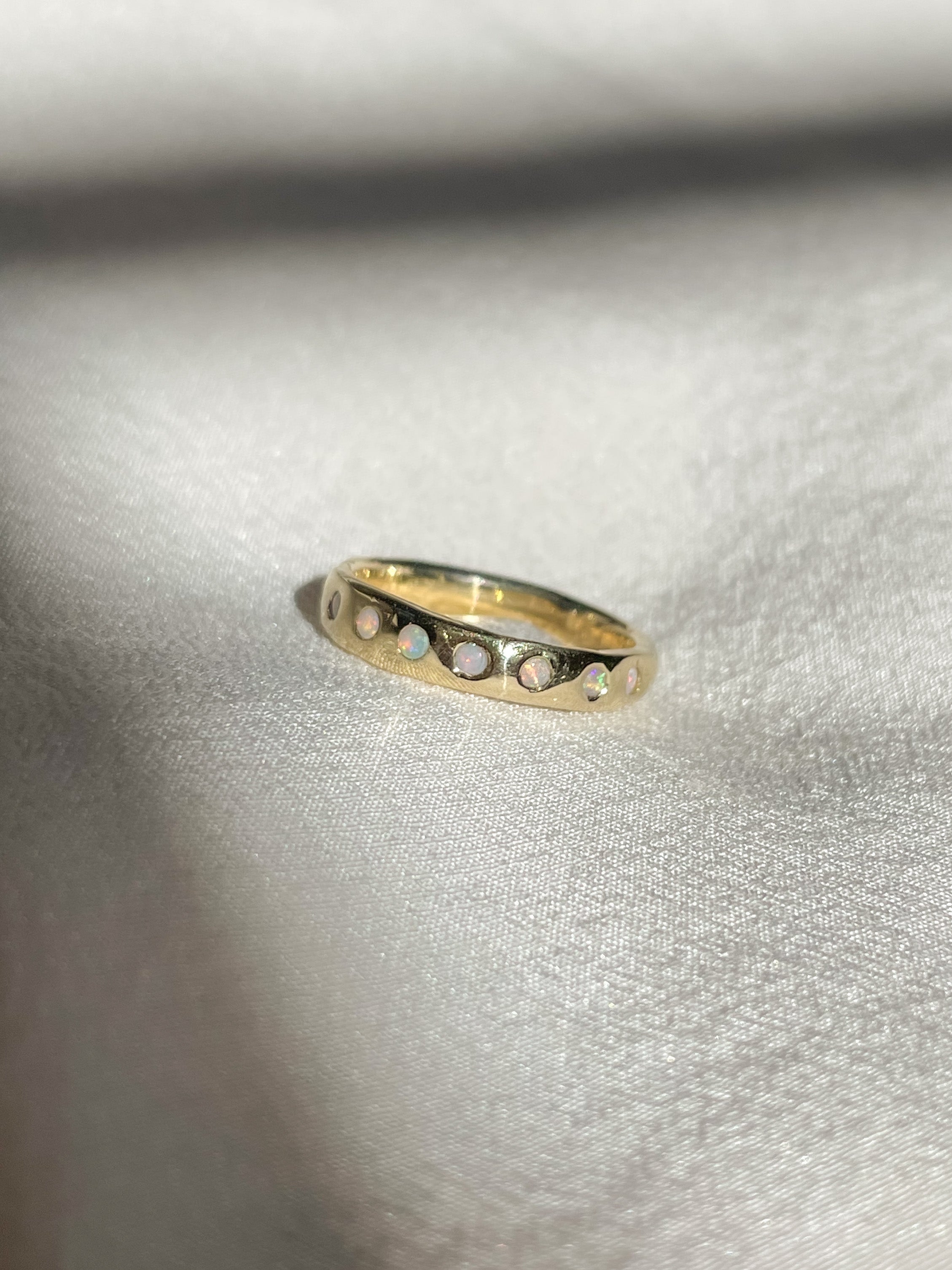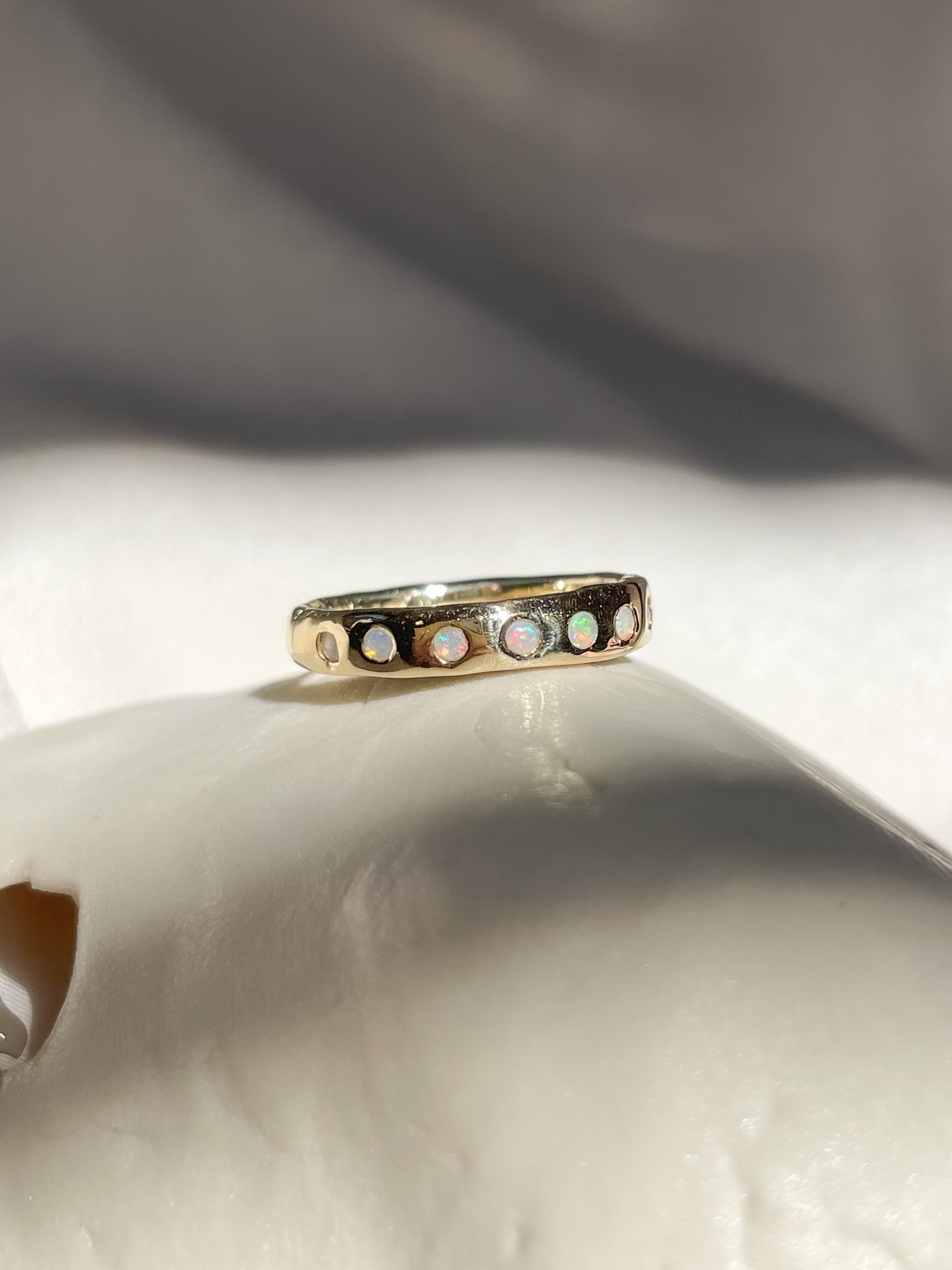 Description
Inspired by my grieving journey over the last year, this golden arch adorned with Opals symbolizes renewal through the cycle of life. Created to remind you of the miracle of life, rebirth, death, and the cycle of the soul's journey as you rise triumphant through losses and pain. A sacred healing talisman, this piece reminds you of the circle of life and is a symbol of intense transformation, inner-peace and the power of the resiliency and innate strength within the human spirit. A reminder that miracles exist and that you are a spark of the Divine, perfection incarnated and worthy of love.  Designed in honor of my beautiful Teddy and his incarnation into our darling Archie, this band is a peaceful symbol which connects you with your spirit guides, your guardian angels, and a reminder that you are always guided, supported and loved by the Universe.
Available in 14K Yellow Gold, set with (8) 1.7mm Australian Opals.
Opal enhances cosmic consciousness and imparts mystical visions. Acting as a mirror, it reflects your thoughts and feelings back to you while shielding you as a karmic protector to deflect empathic emotions that are shone onto you by others. Opal is a teacher - amplifying our emotions so that we can become self-aware to where our attachments lie. A stone of transformation and seduction, Opal is deeply connected with love, passion, desire and focus, healing depleted energies and revitalizing your energetic field. Stimulating rebirth and karmic growth, it imparts past, present and future spiritual holograms, awakening your intuitive Knowledge.  A high vibrational stone aligned with good luck and hope, Opal encourages you to face your deepest fears and face deep layers of repressed fears and traumas, so that new growth can occur. Acting as an auric prism, it instills the frequency of joy, splitting Light into iridescent rainbow frequencies, nourishing you within a vast spectrum of Light. This illumination shines a light on the heaviness within one's energy field, inspiring you to do the necessary work to clear the energetic body. Australian legend believes a gigantic Opal governs the stars and true, human love. It holds within the seed of the 'holy fire', the intense spiritual energy that consumes the impure aspects of the self without burning us down. The more we lean in and are willing to release our attachments to our anger, fear or negative patterns, the better Opal will work for us.  
***Opals are extremely delicate, brittle and fragile - should you choose to add an Opal piece to your collection, please be mindful to treat it carefully like silk, honoring its fragility with extra care. For more information on Opal care, please see our FAQ page.
Production Info
*Please note: all pieces are made by my hands to order with up to a 3-4 week production time. If you have a rush-order, please email to discuss! For more information about Jewelry Care, Warranty and Returns, please see our FAQ page.
FAQ
DO YOU GIFT WRAP?
Each order comes gift wrapped, please ensure you fill out the "Gift" notes section upon checkout, as your item will be thoughtfully wrapped and personalized with recipients name, along with description cards of each piece and selected stones!
DO YOU CAST IN ROSE OR WHITE GOLD?
Any piece that is not a ready-made one of a kind is available to custom order in 14k White or 14k Rose Gold.
Please enter your preferred metal in the notes section upon checkout, or feel free to contact us before ordering!
PRODUCTION & SHIPPING
All Fine Jewelry items are handcrafted and made to order. All of our pieces require up to 3-4 weeks for turnaround production time, to allow for sizing, polishing, and making sure your jewelry is perfect! 
If you have a specific deadline you need to meet, please contact us to let us know. We may request that you pay for upgraded expedited shipping, and may not be able to accommodate all requests.
HOW DO I KNOW WHICH STONE IS FOR ME?
I always, always recommend as first priority to go with what you're drawn to. Oftentimes, your first instinct as led by your intuition will be spot on for what energy you're wanting to align with or needing in your life at this time - don't overthink it!
An easy way to clear your mind and become present with your current state of being:
Close your eyes and take a few slow, deep breaths.
Focus your attention on the ground beneath your feet, gradually relaxing into a naturally comfortable state. Picture your body within a bright, warm pyramid of white light as you exhale.
Release any impeding stresses that pop into mind, and ask your subconscious to come to the forefront.
See what you're drawn to aesthetically, then proceed by reading about each energy to determine which one feels right.