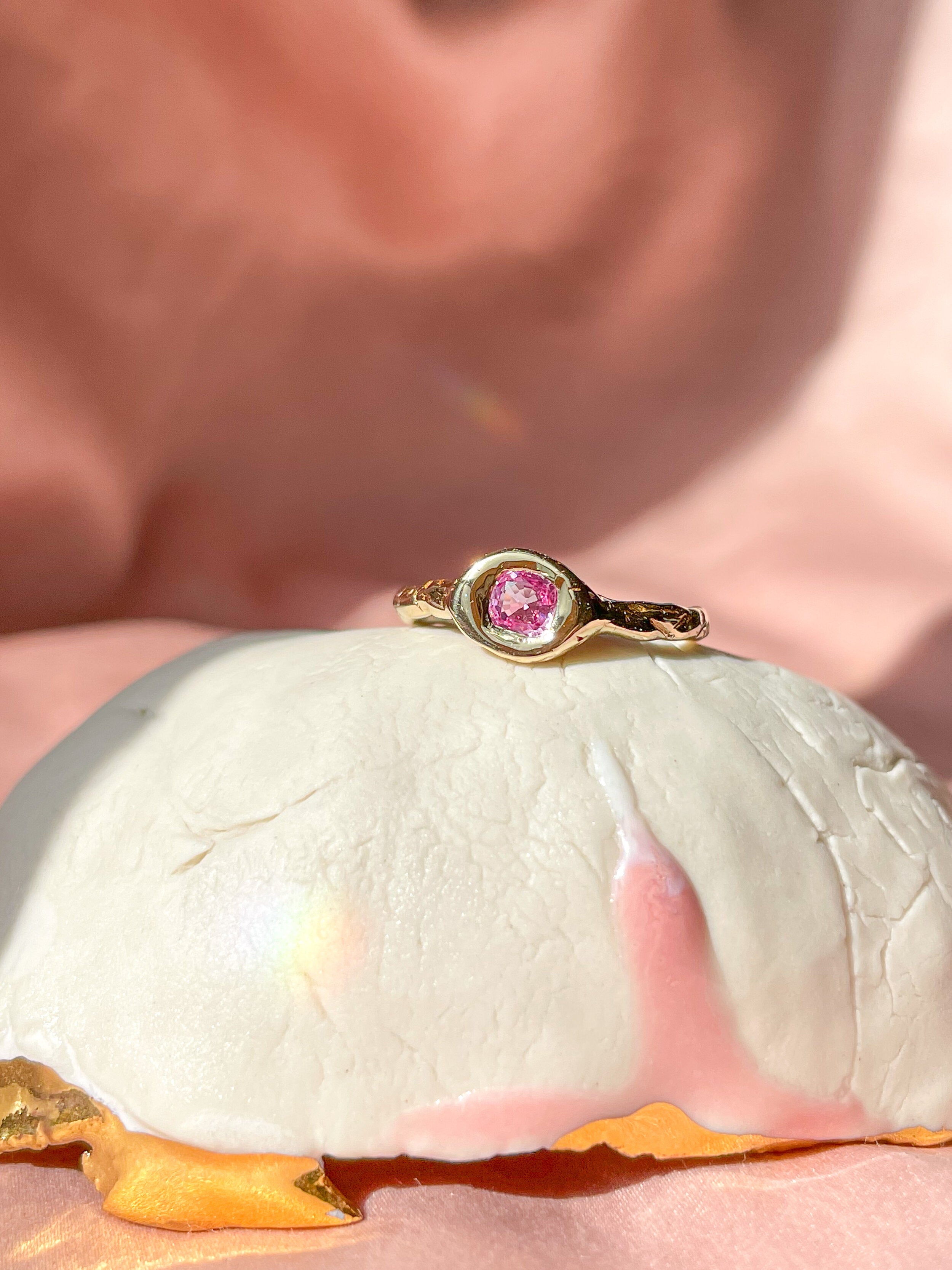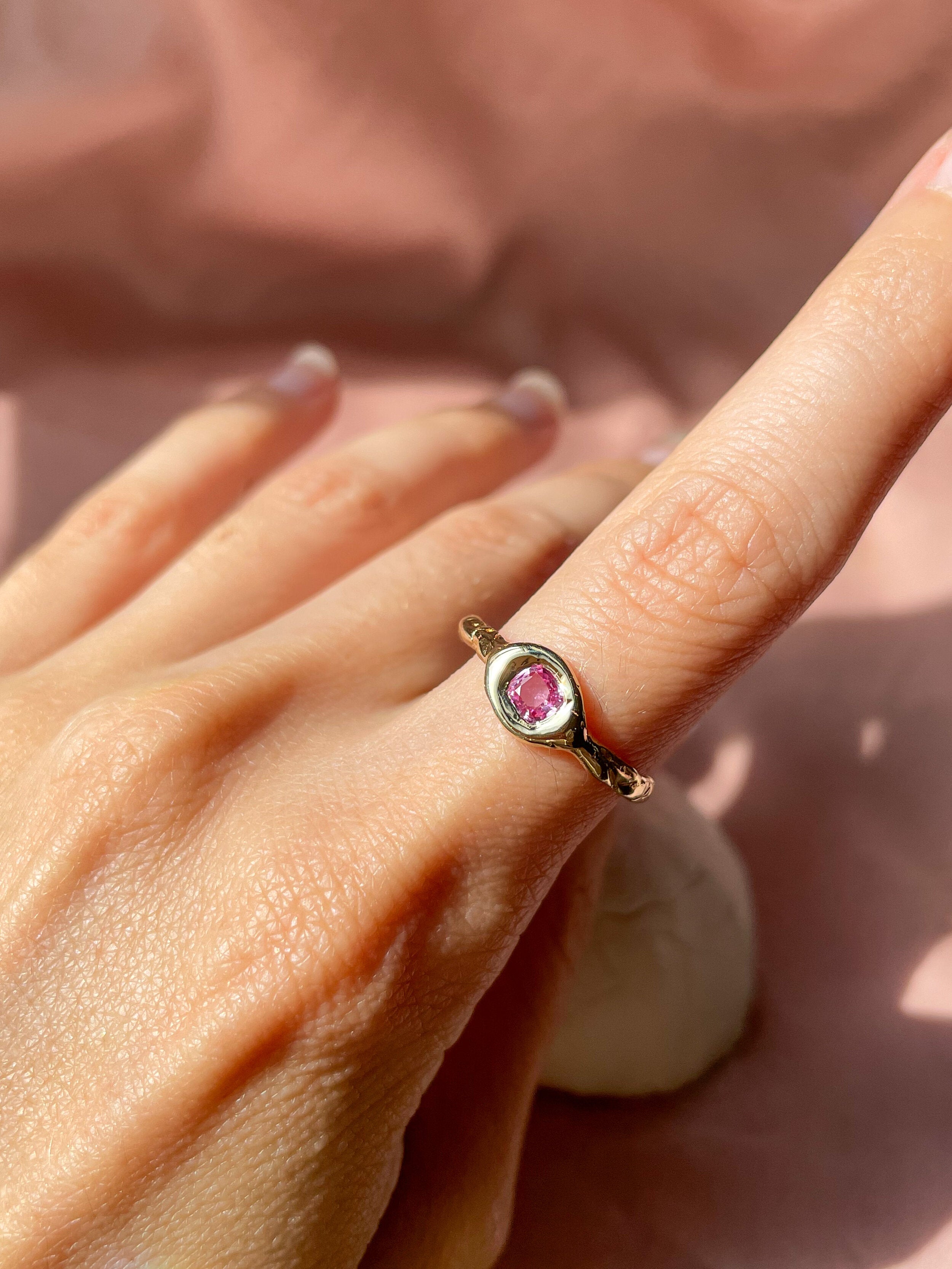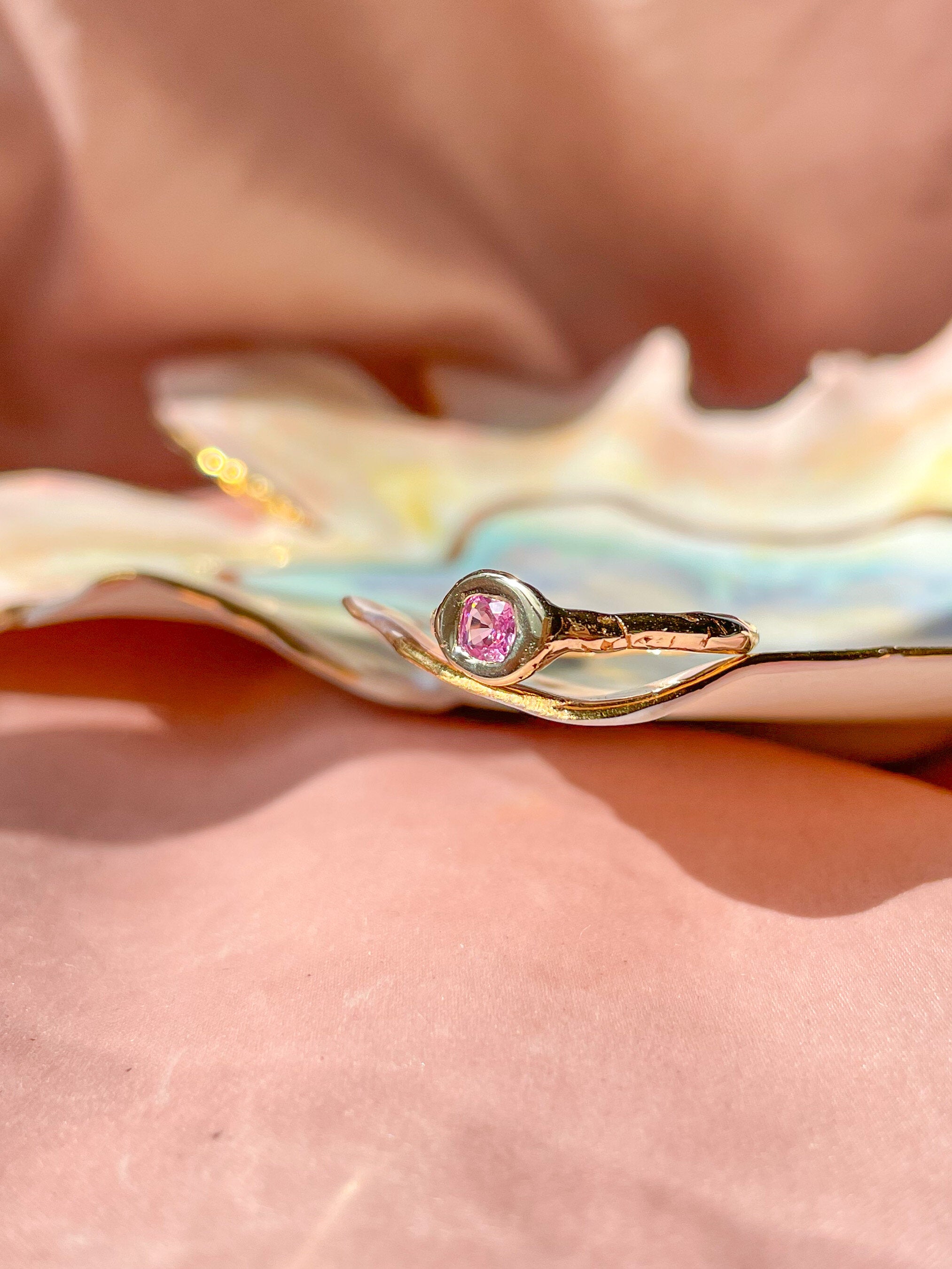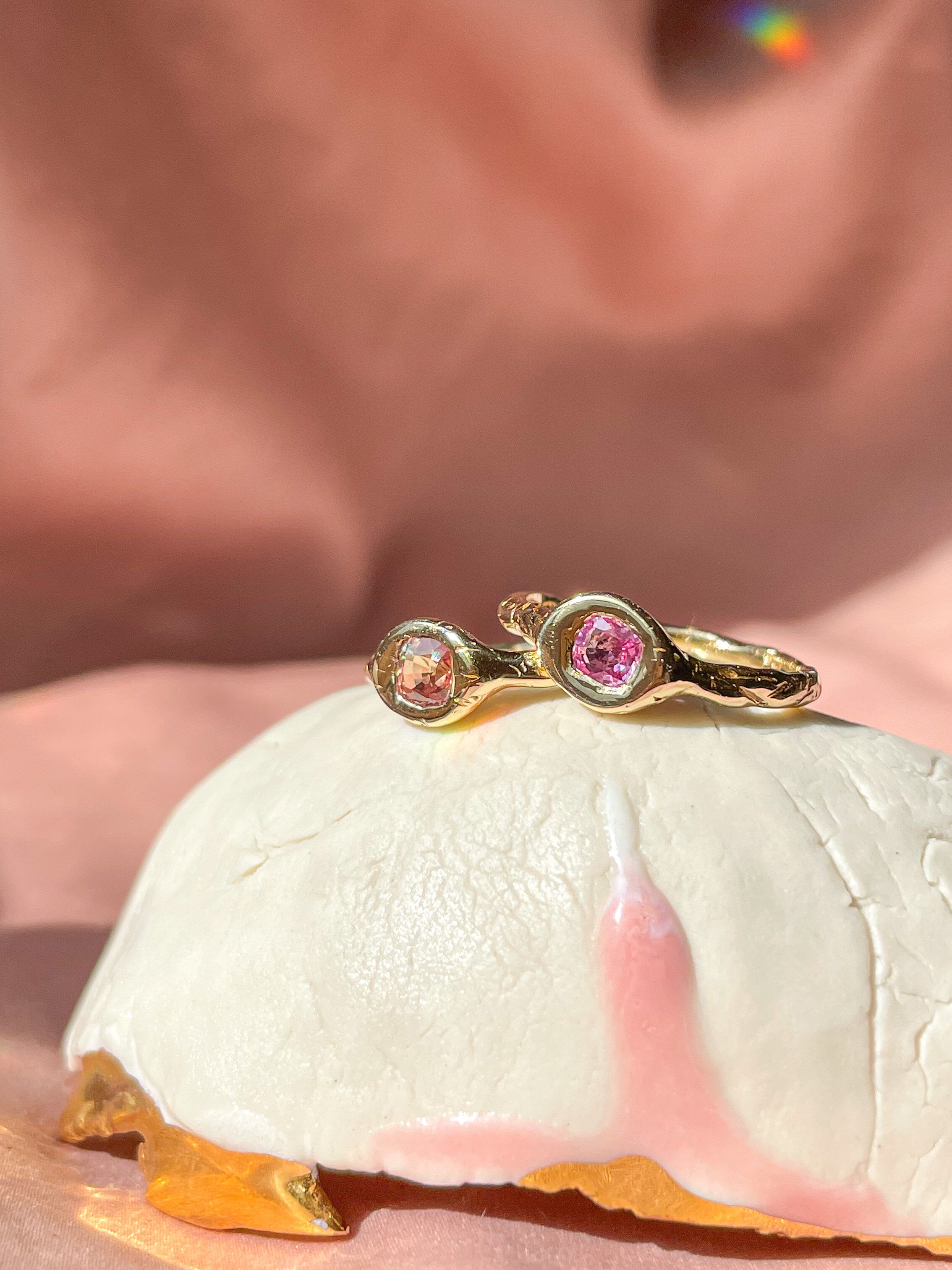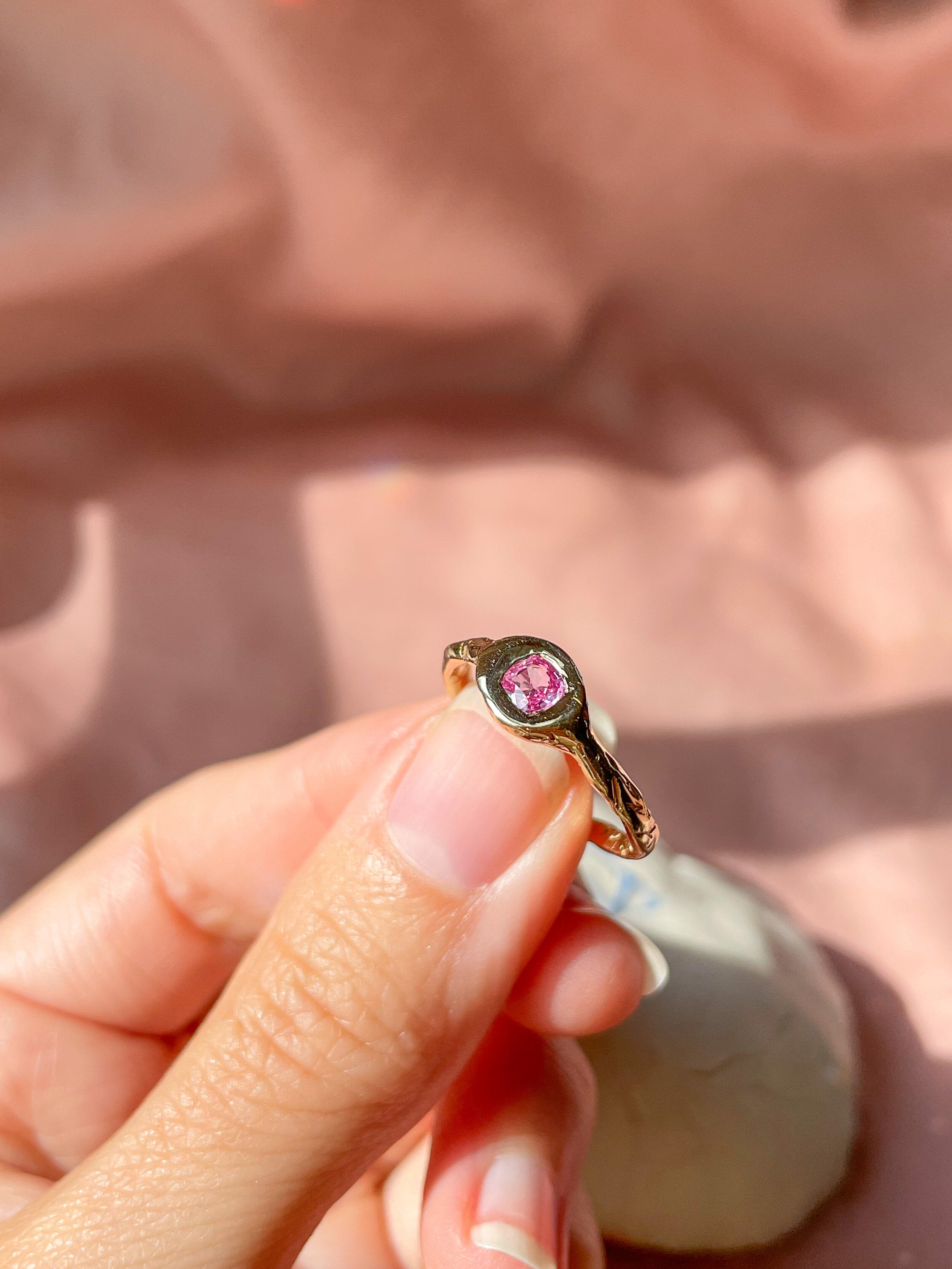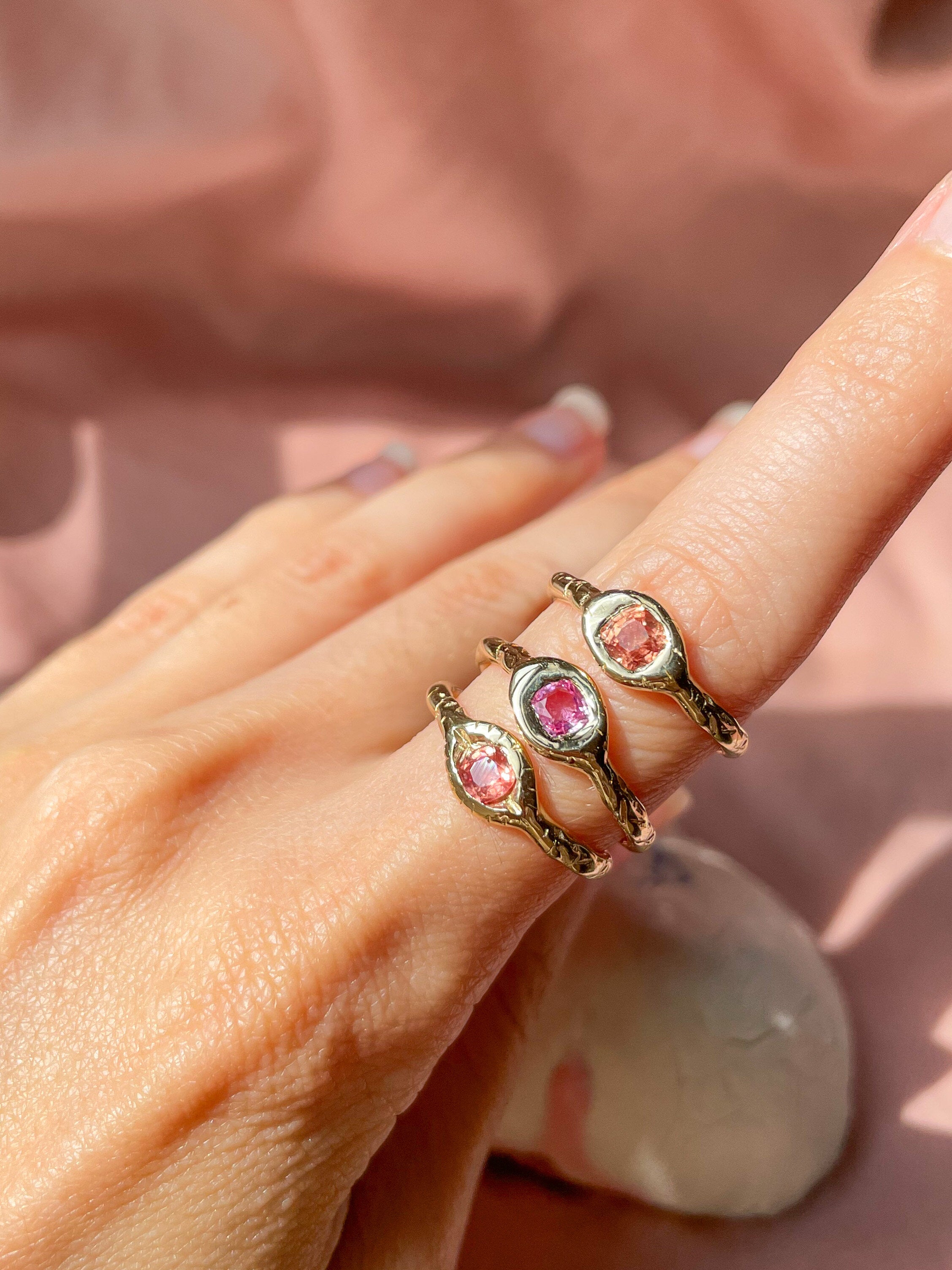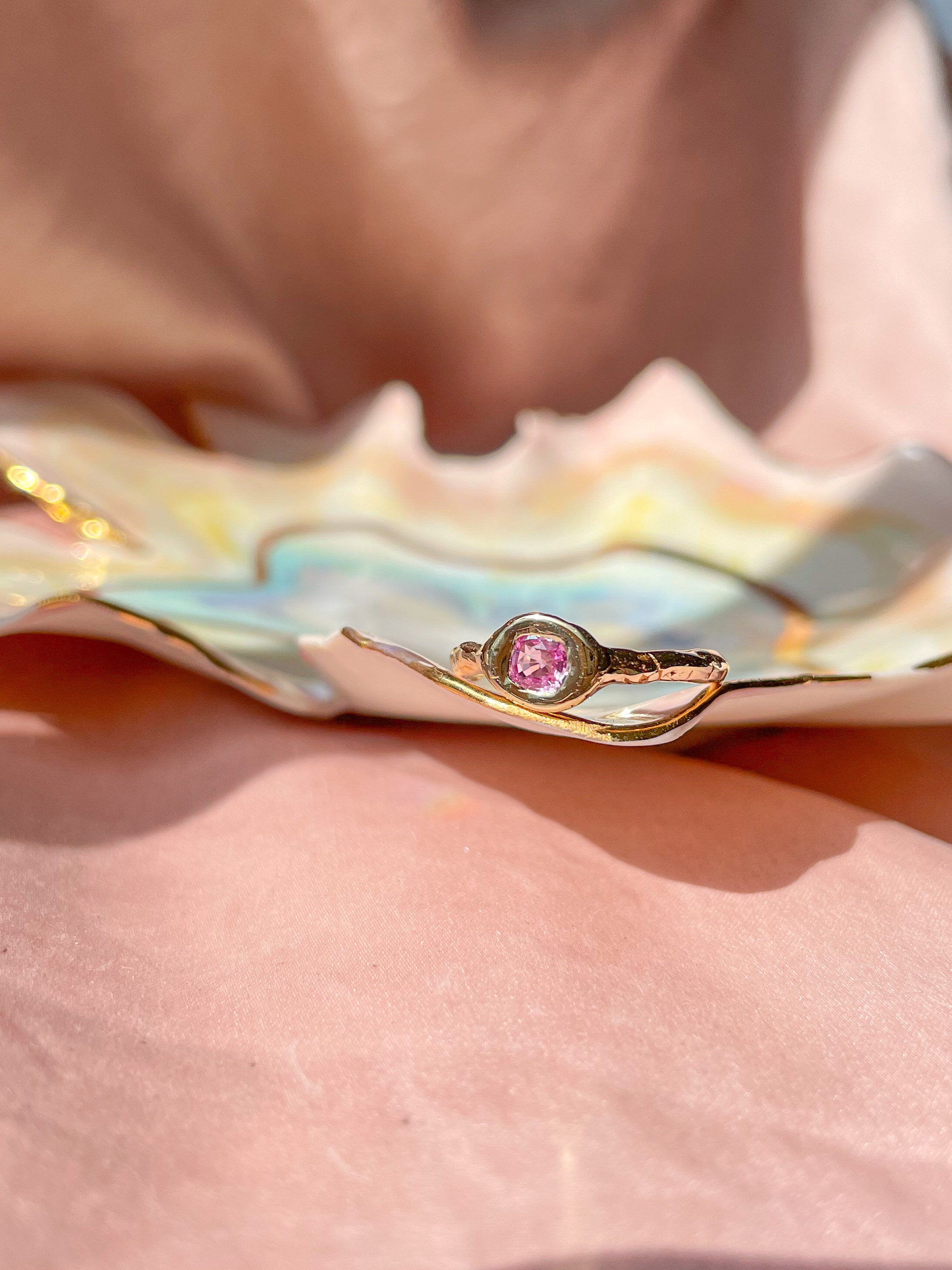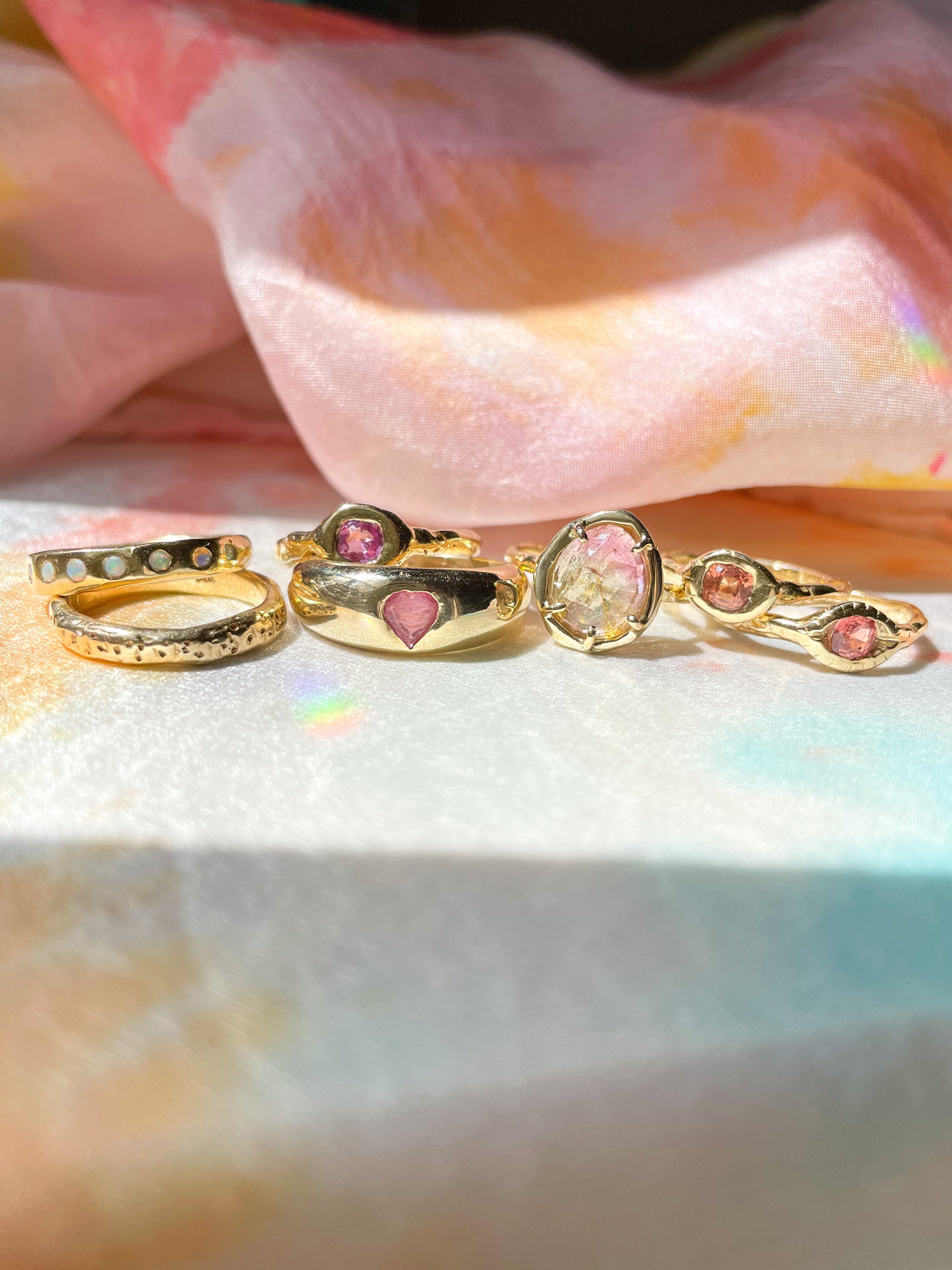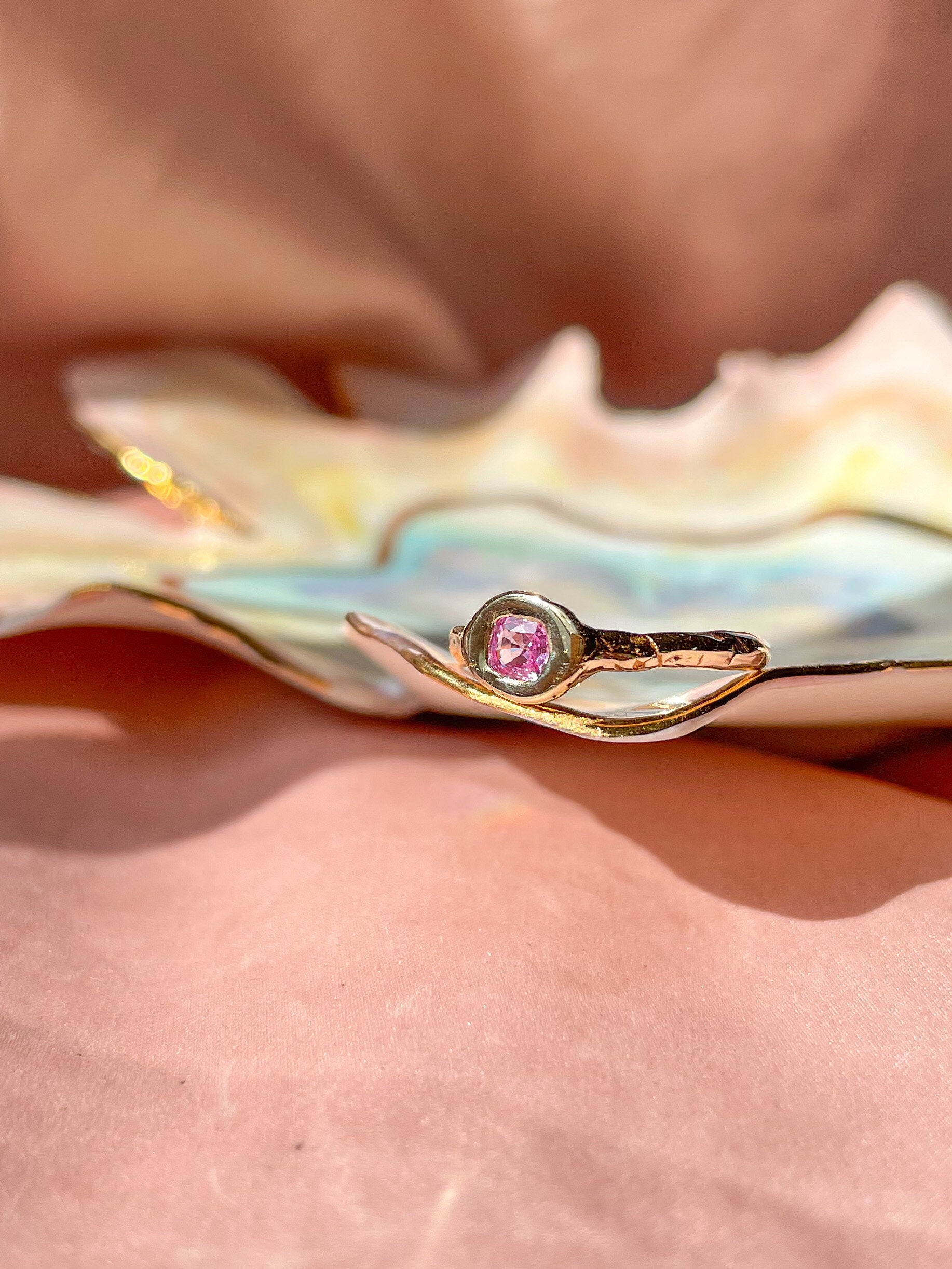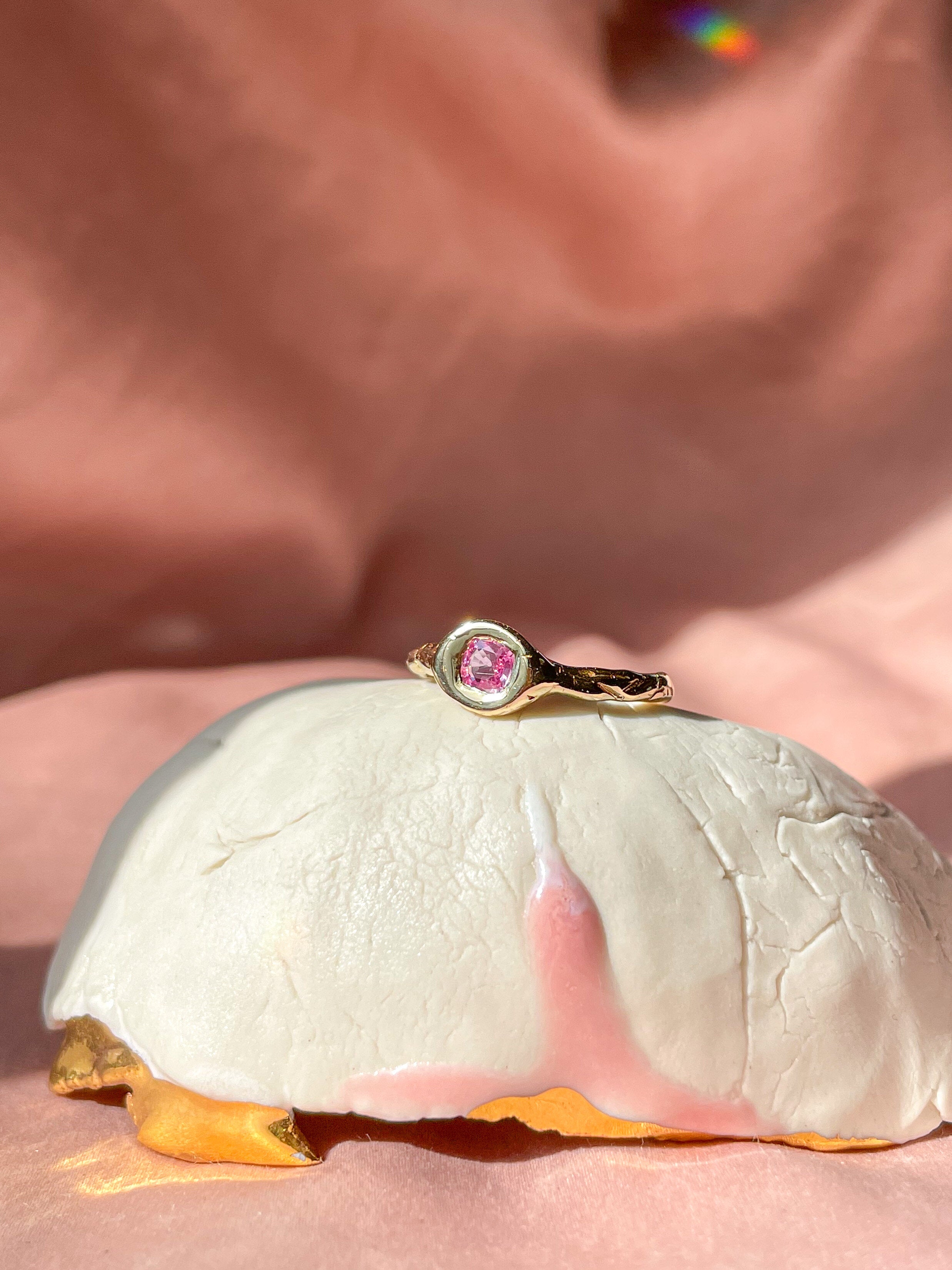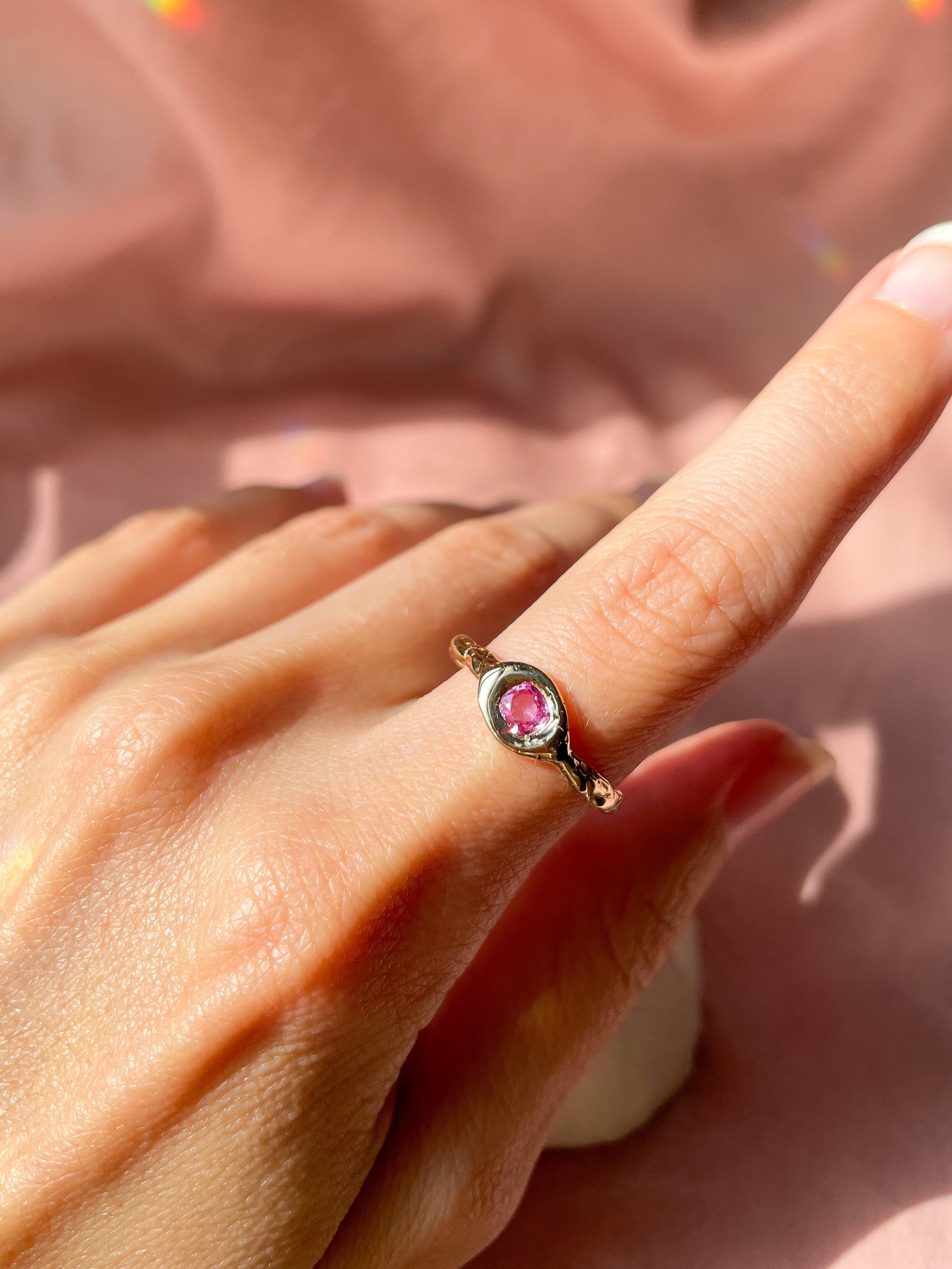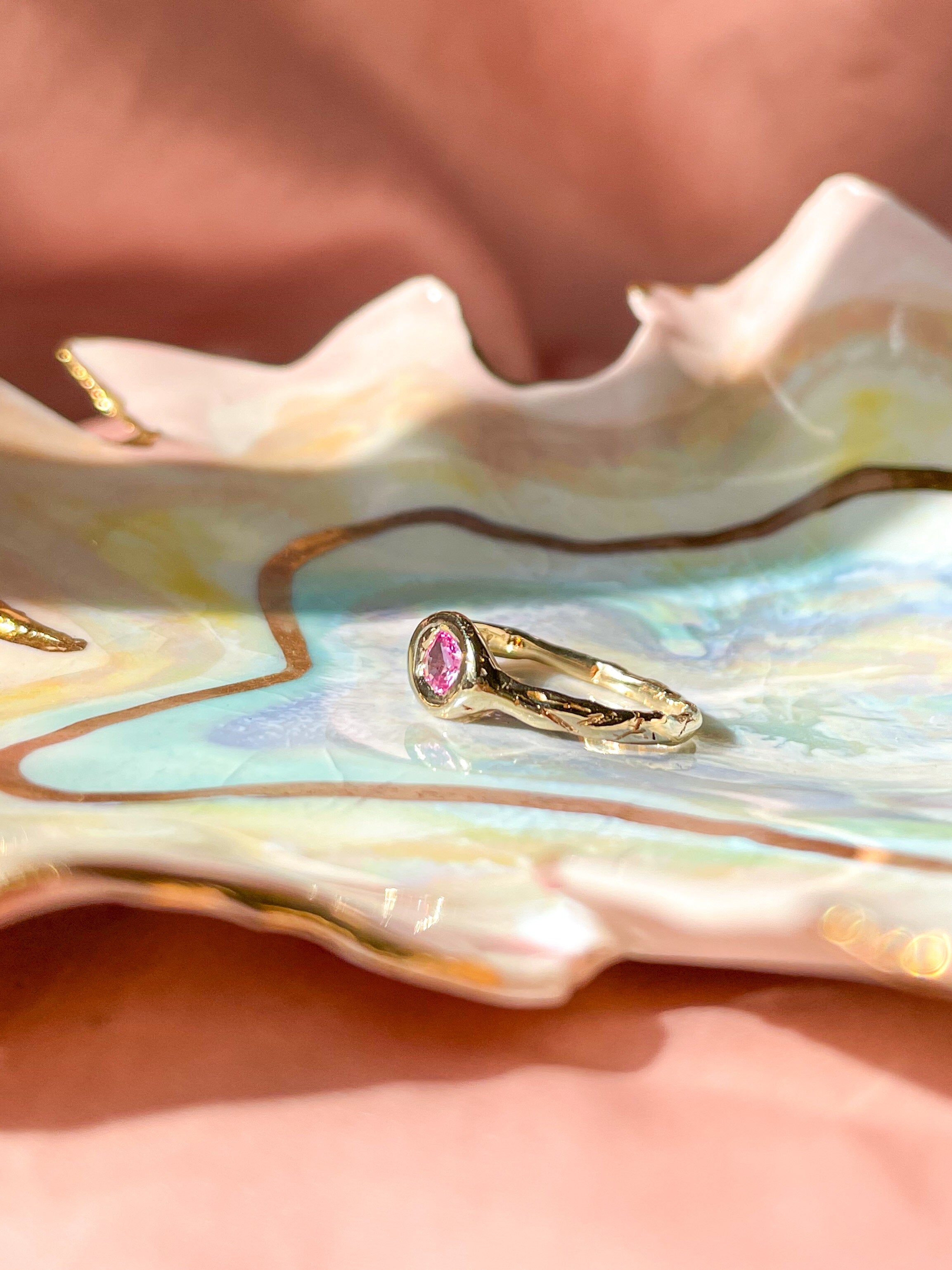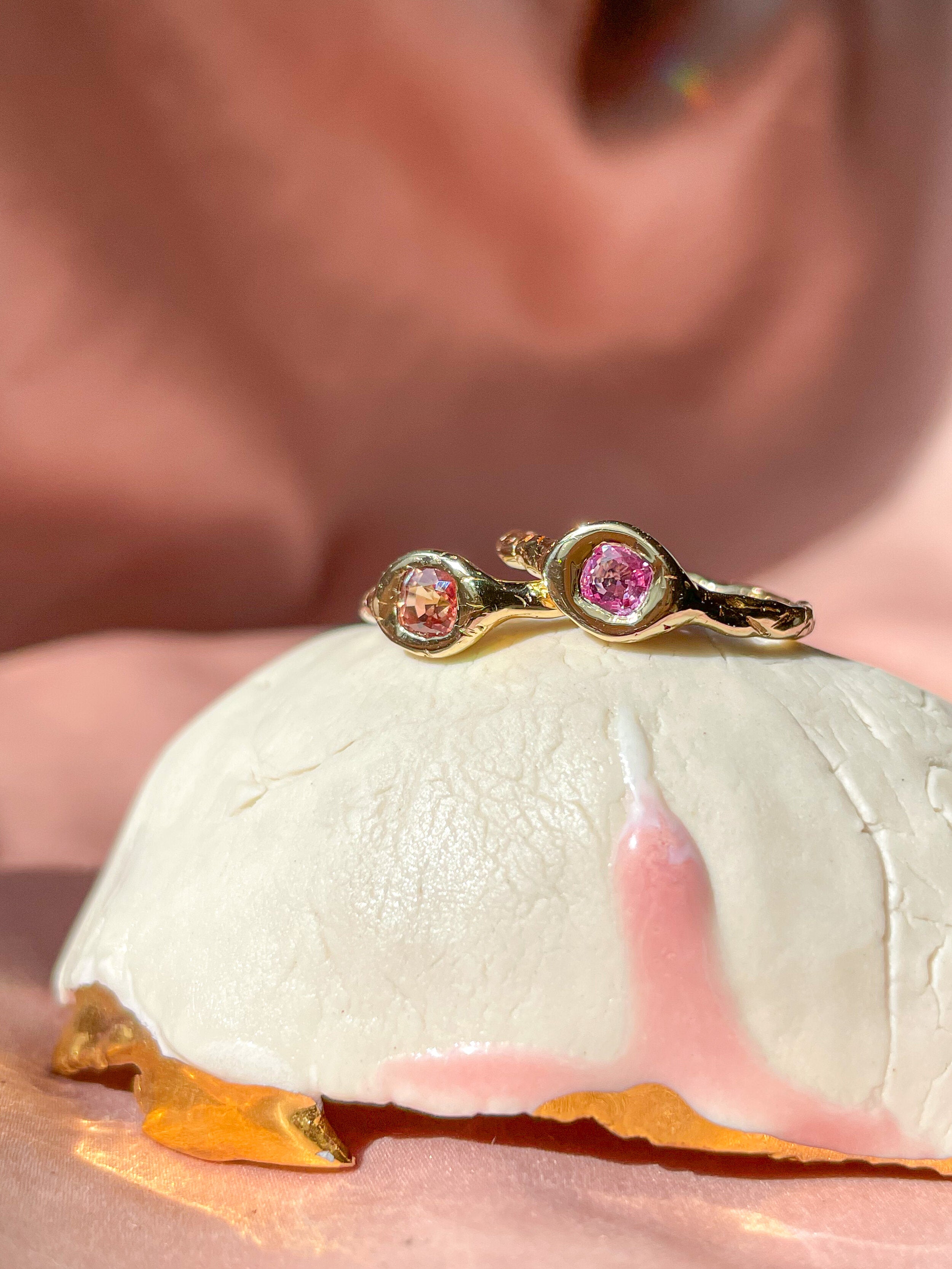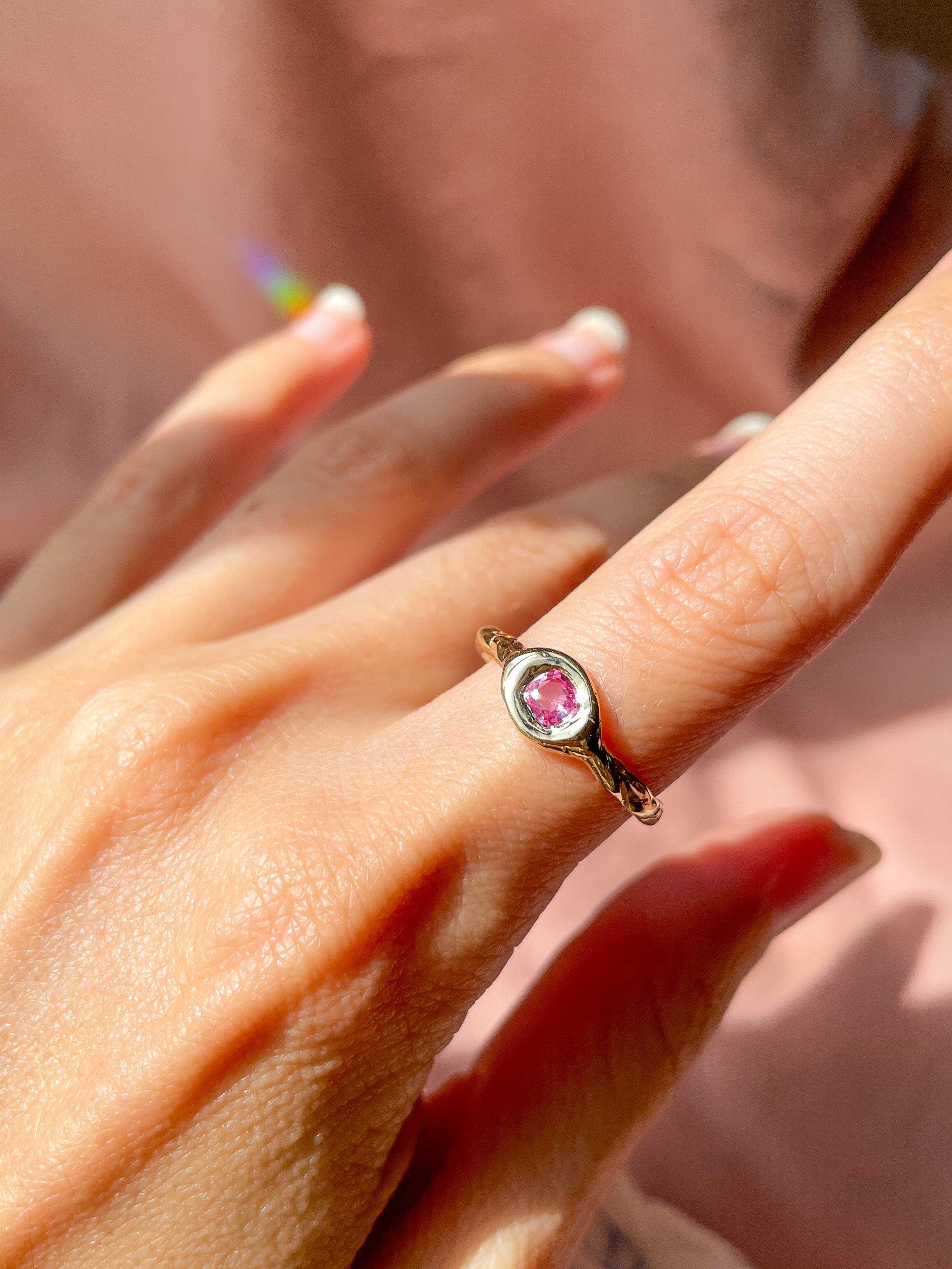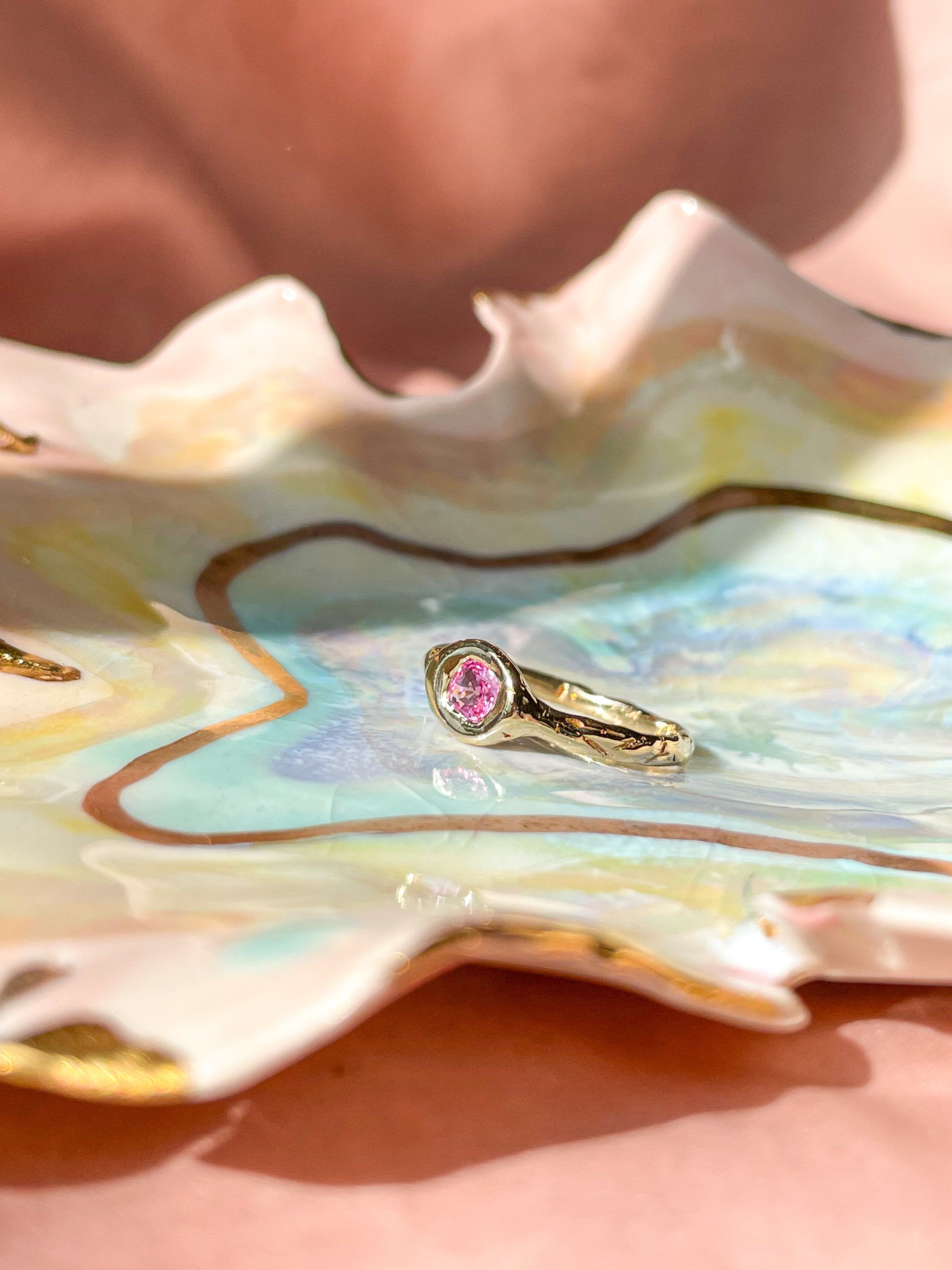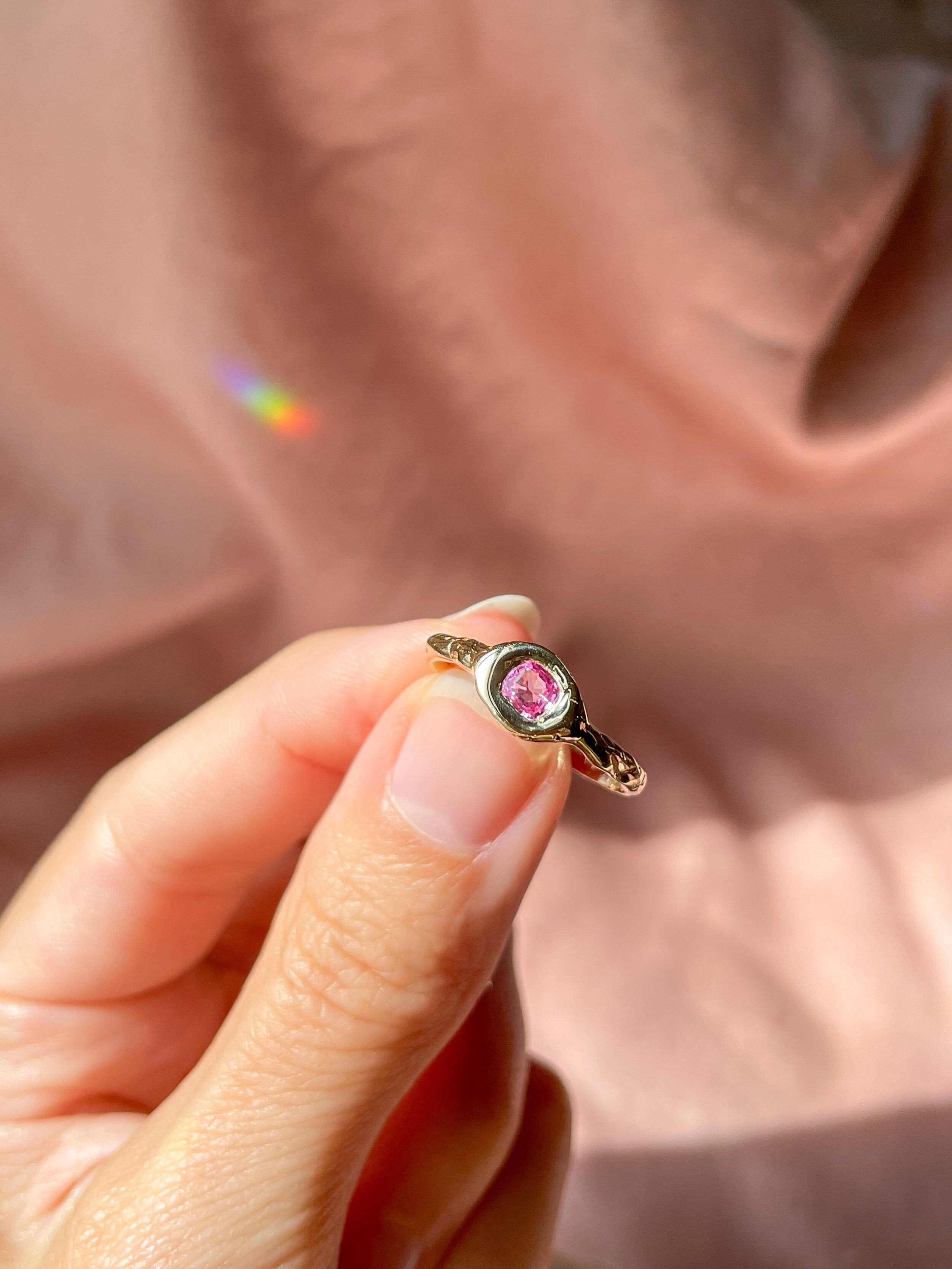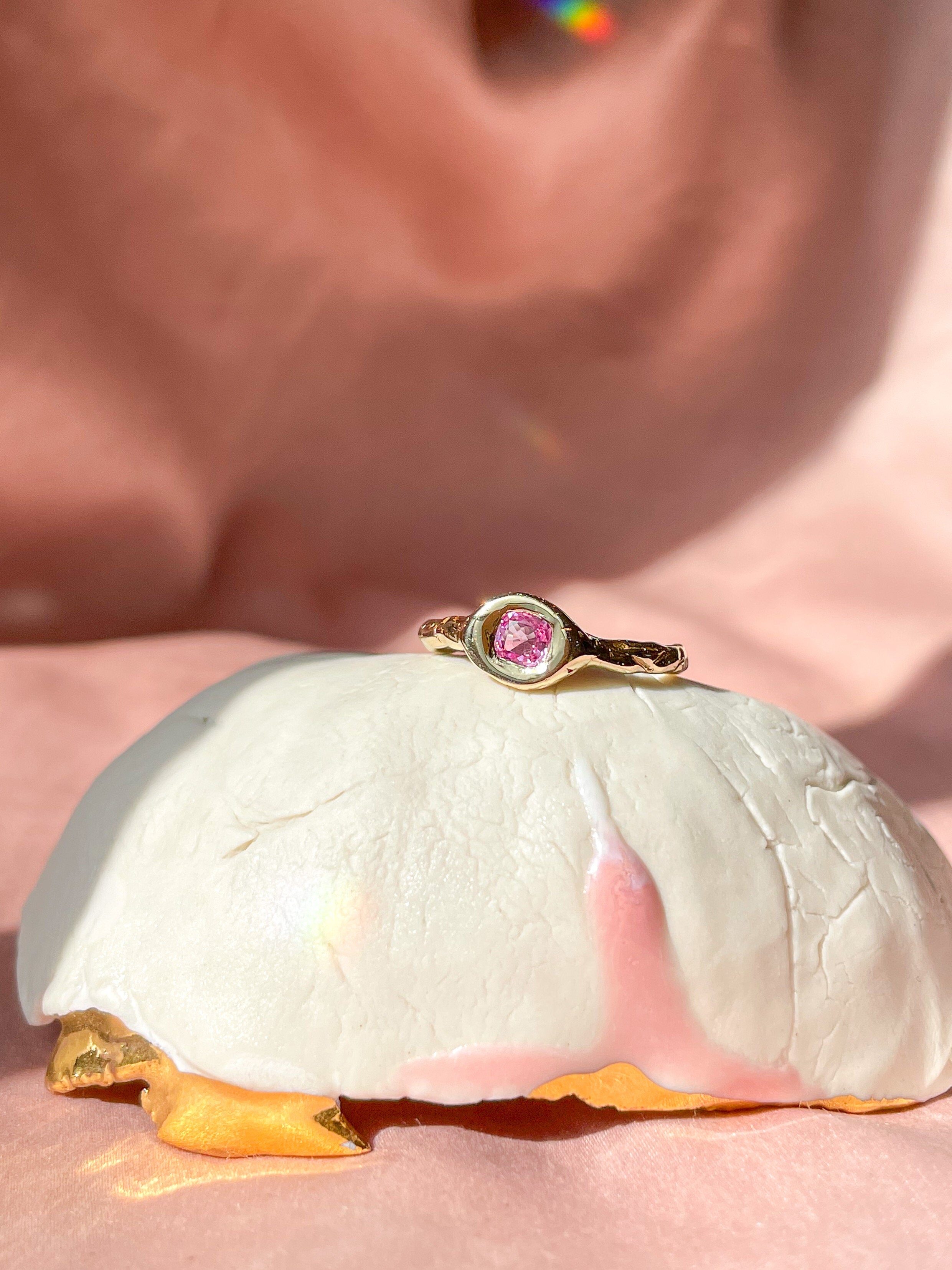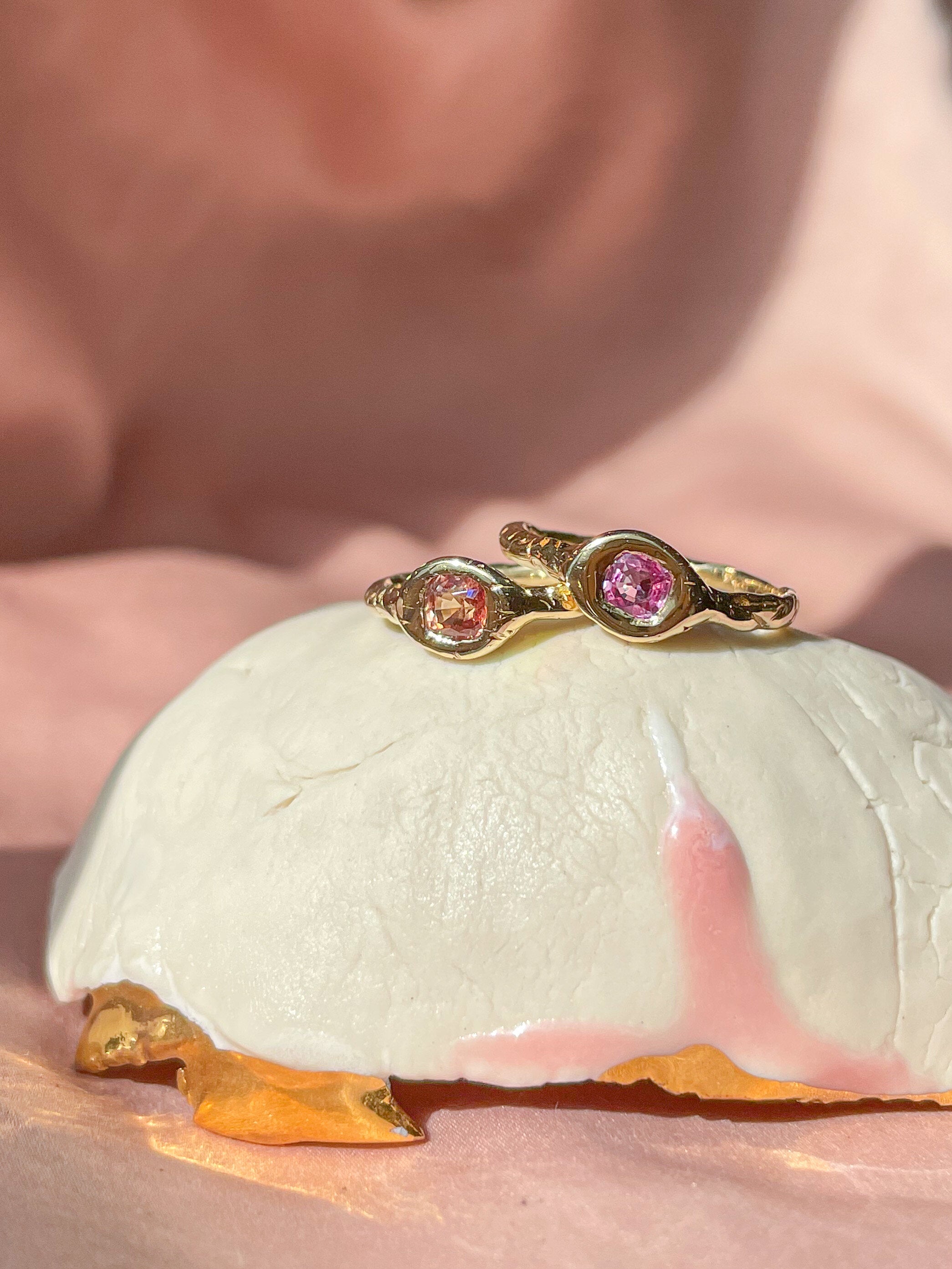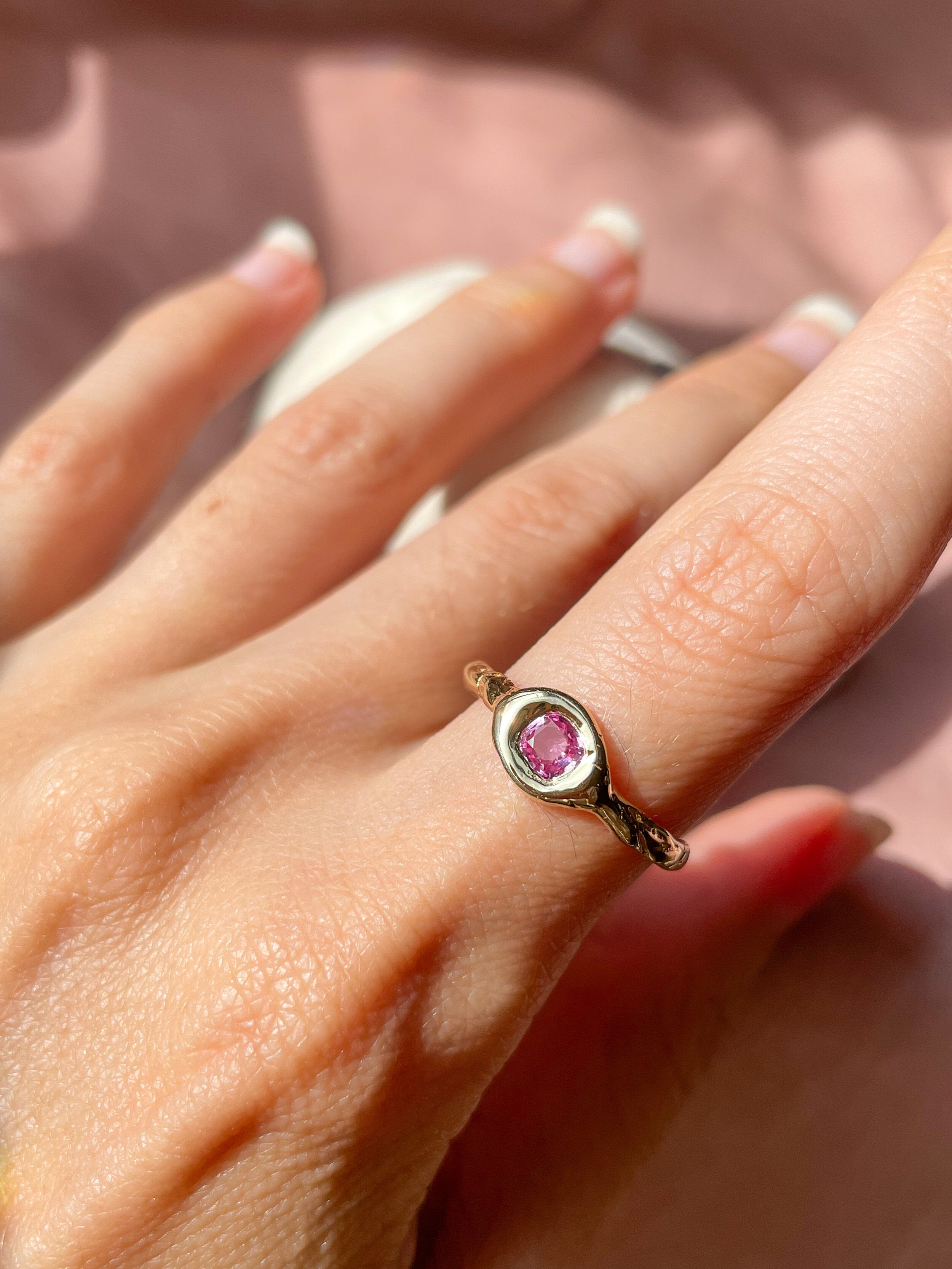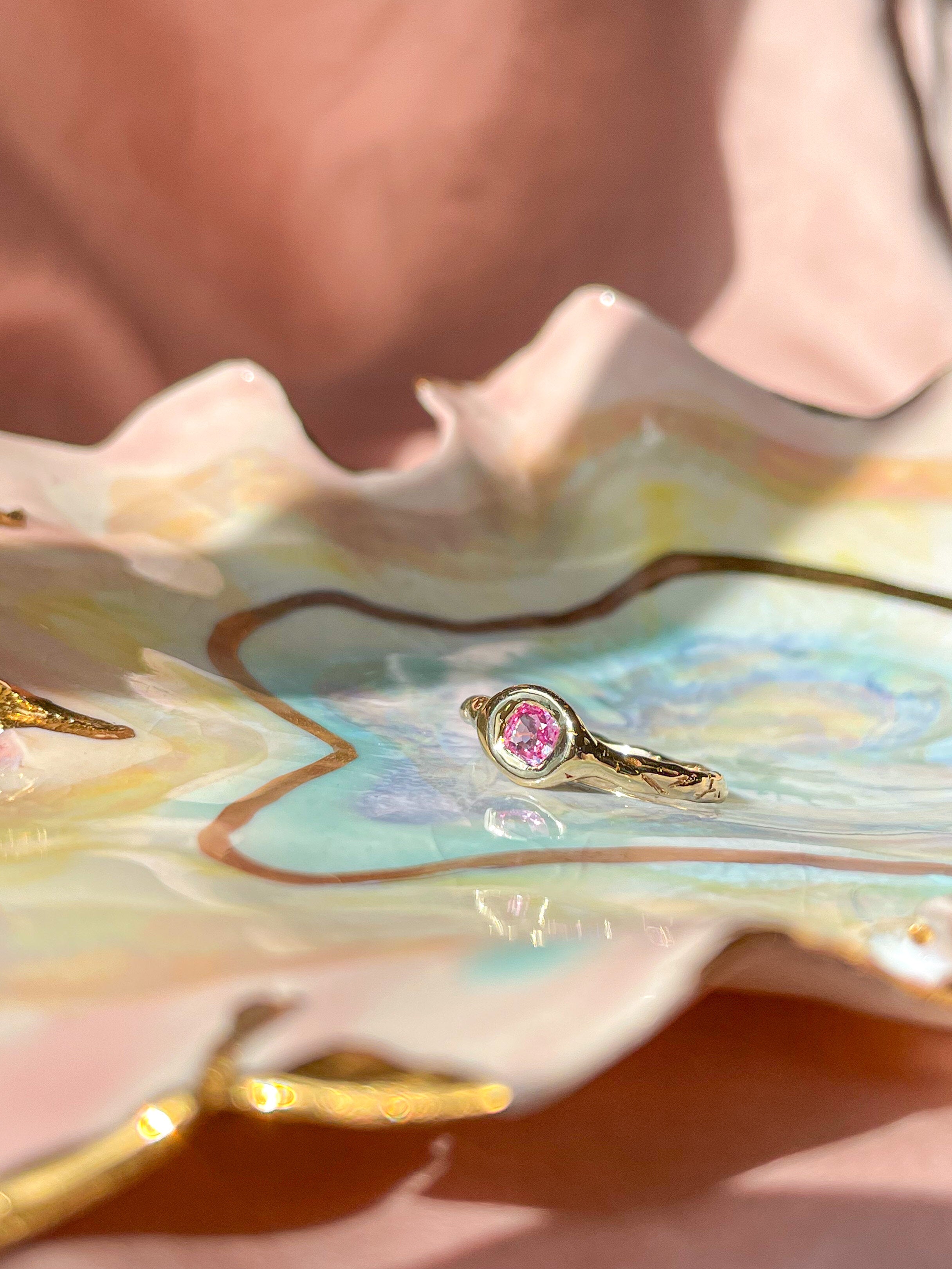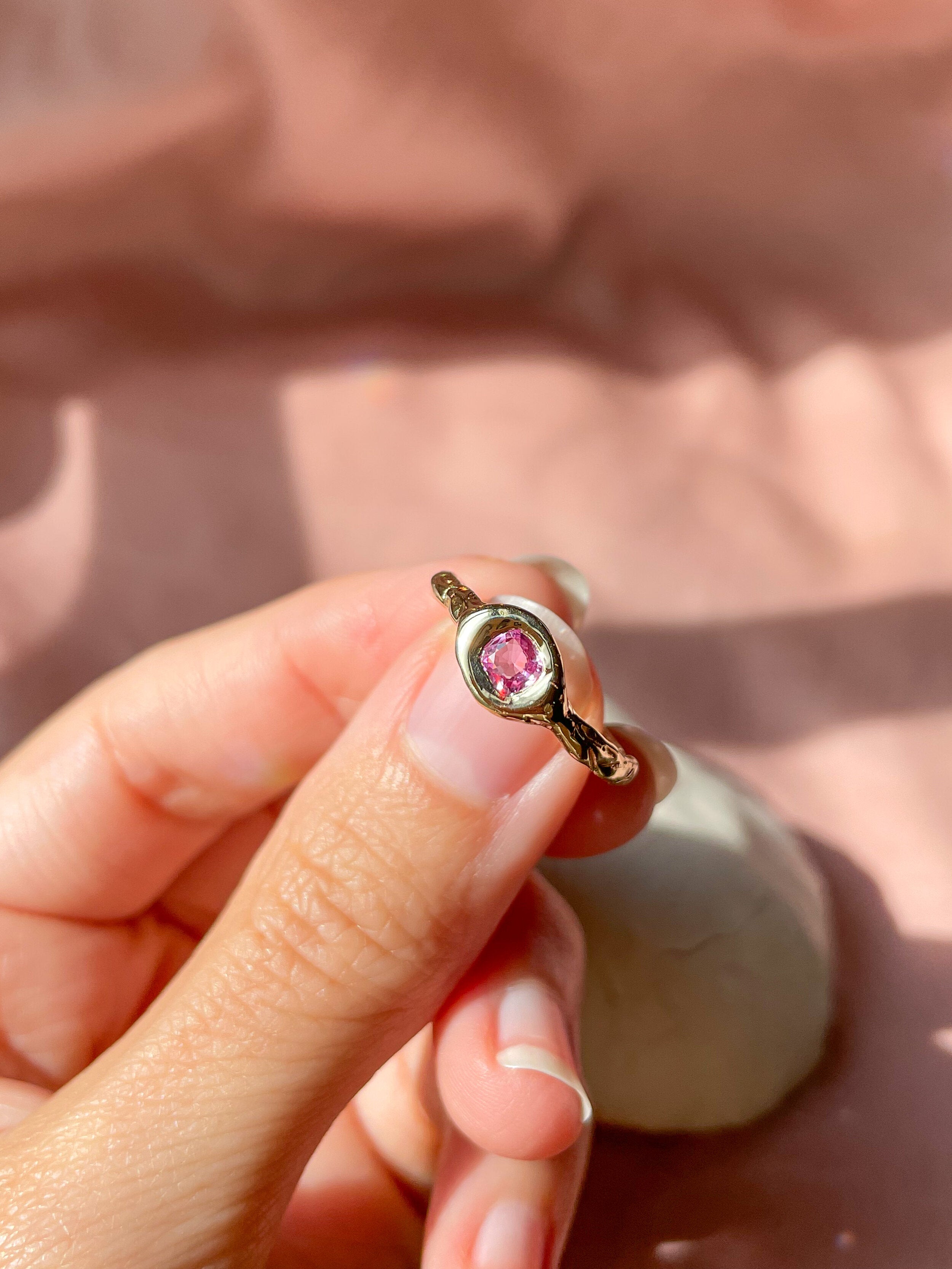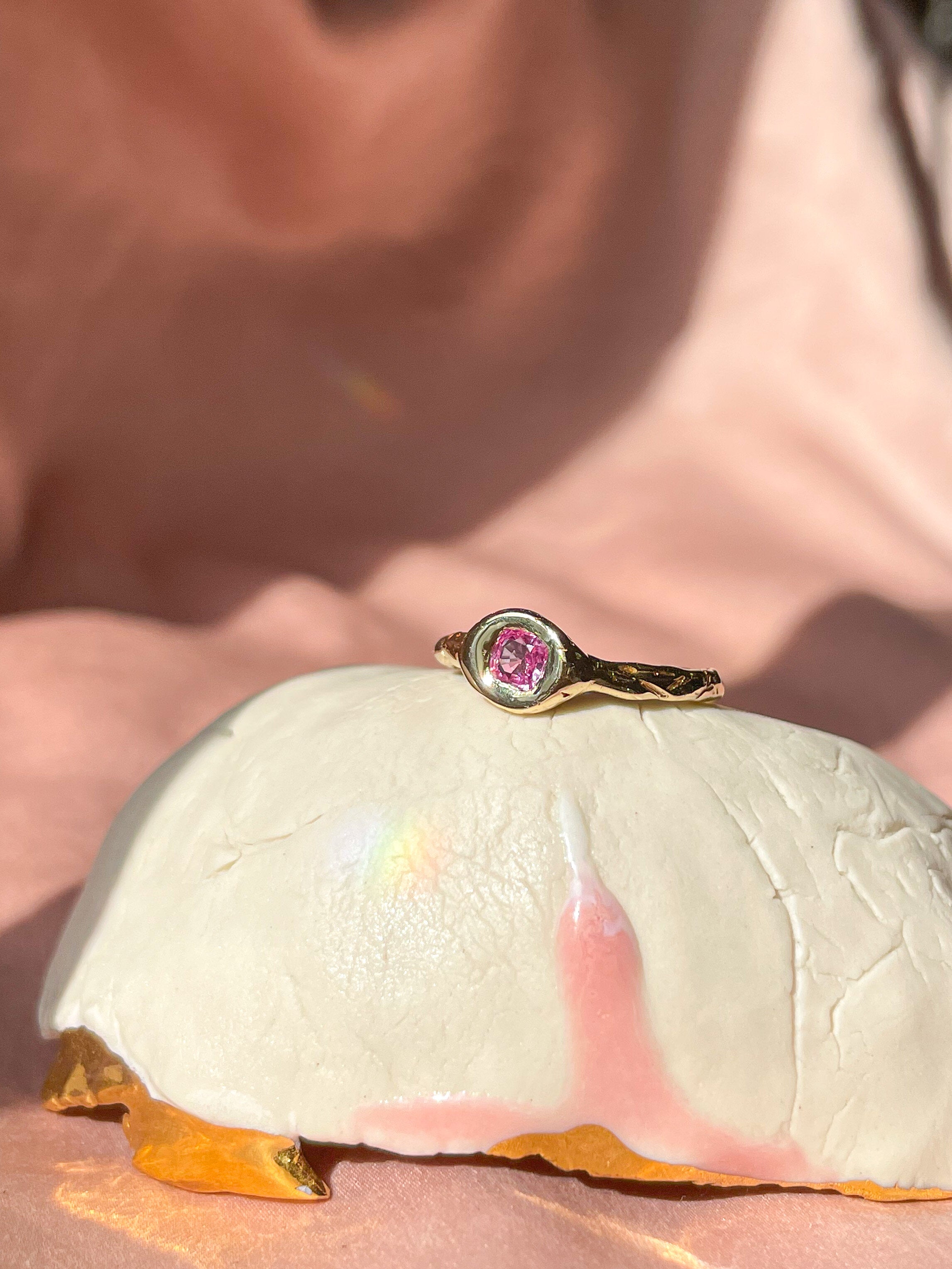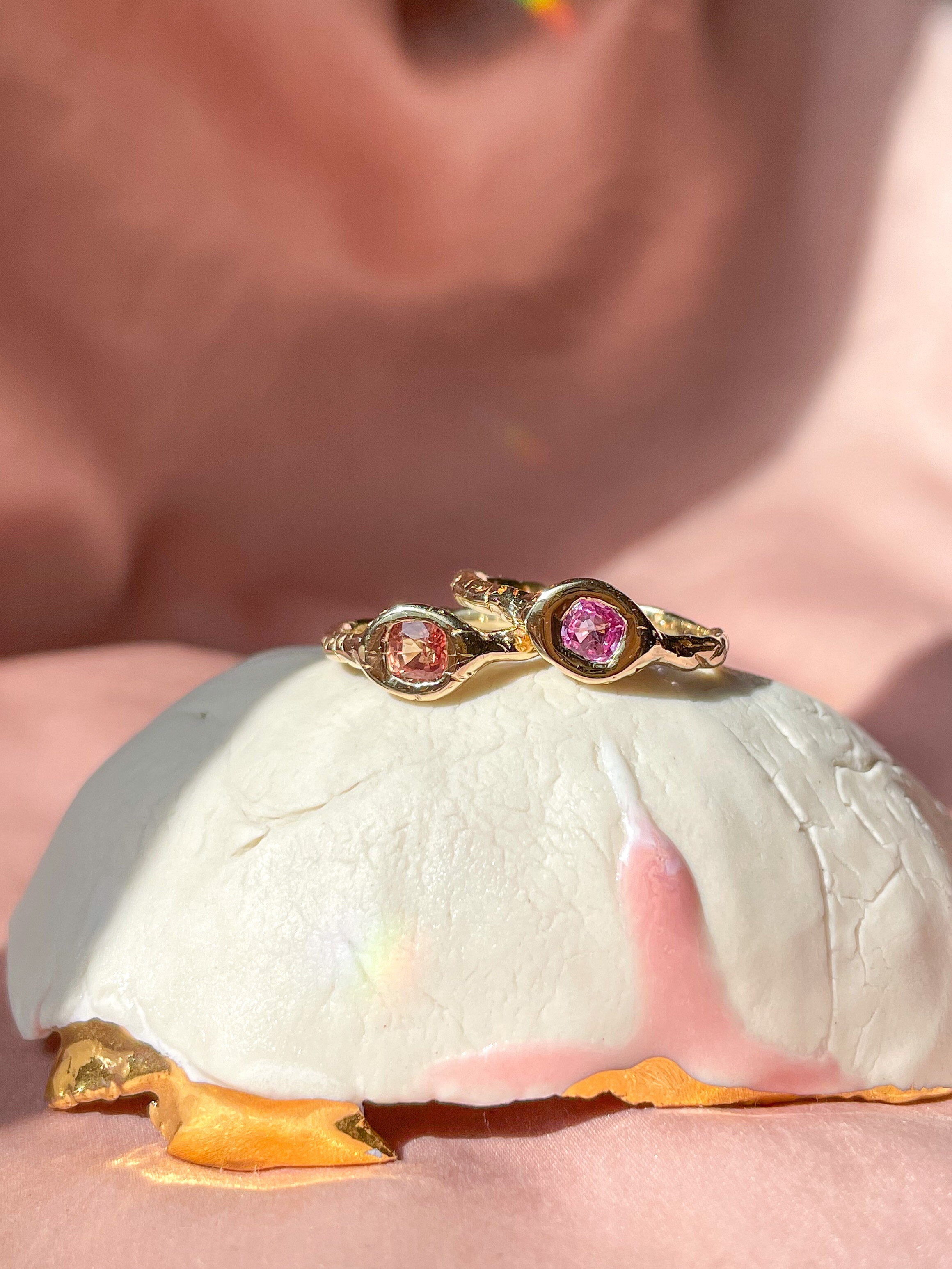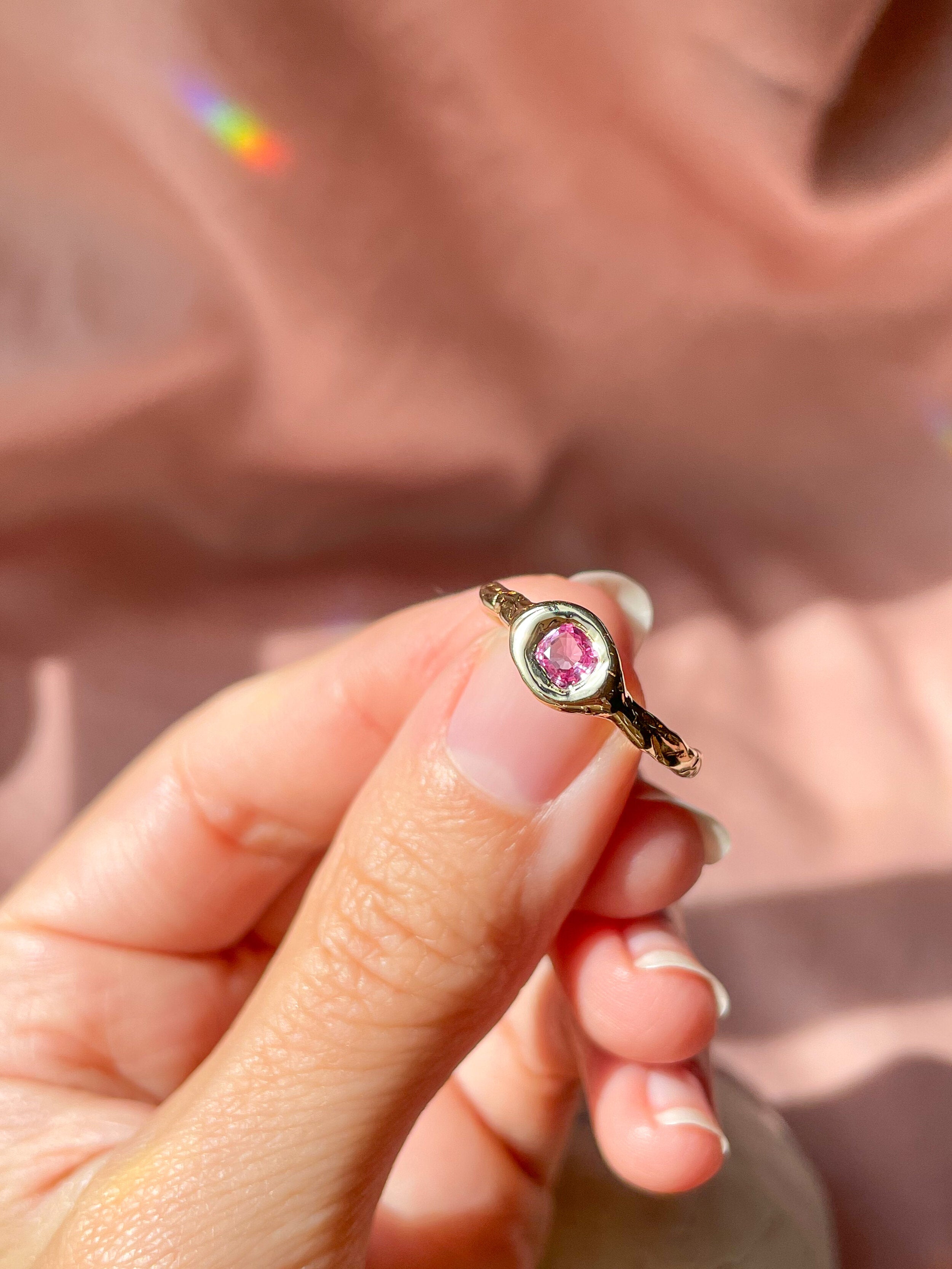 Pink Sapphire Solitaire Ring
Description
A beautiful cushion-cut Pink Sapphire is the focal-point for this stunning solitaire piece.
Available in 14k Yellow Gold
Set with (1) 4mm Pink Sapphire.
*Each stone is one of a kind, color and inclusions may vary slightly.
💌 Please write desired size (between 4-8) in *Notes* section at checkout
Pink Sapphire works like a magnet to draw all that is necessary for your personal evolution into your life. It is a powerful teacher to aid you in learning how to master your emotions, dissipating emotional blockages and transmuting dense, heavy energies that no longer align with you. It keeps evil at bay, imparting wisdom while calming the mind and clearing tension and stress. It releases emotional blockages, imparts an abundance-mindset to draw in prosperity, and encourages self-expression. Pink Sapphire helps to express your emotions more openly and communicate your vulnerability and passion with others. A stone of absolute love and forgiveness, it holds within the gentle feelings of acceptance, release, and power through vulnerability. It embodies resilience, facilitating great compassion for others and healing the wounds of past emotional traumas. It balances the heart with the mind, reminding us that the longing our hearts feel for the Divine is identical to the longing which the Divine feels for us - thus, love in itself is its own reward. It balances water and fire elements so we may find solace within ourselves to connect with our inner guidance, but also act boldly in the world to fulfill our Divine purpose.
Production Info
*Please note: all pieces are made by my hands to order with up to a 3-4 week production time. If you have a rush-order, please email to discuss! For more information about Jewelry Care, Warranty and Returns, please see our FAQ page.
FAQ
DO YOU GIFT WRAP?
Each order comes gift wrapped, please ensure you fill out the "Gift" notes section upon checkout, as your item will be thoughtfully wrapped and personalized with recipients name, along with description cards of each piece and selected stones!
DO YOU CAST IN ROSE OR WHITE GOLD?
Any piece that is not a ready-made one of a kind is available to custom order in 14k White or 14k Rose Gold.
Please enter your preferred metal in the notes section upon checkout, or feel free to contact us before ordering!
PRODUCTION & SHIPPING
All Fine Jewelry items are handcrafted and made to order. All of our pieces require up to 3-4 weeks for turnaround production time, to allow for sizing, polishing, and making sure your jewelry is perfect! 
If you have a specific deadline you need to meet, please contact us to let us know. We may request that you pay for upgraded expedited shipping, and may not be able to accommodate all requests.
HOW DO I KNOW WHICH STONE IS FOR ME?
I always, always recommend as first priority to go with what you're drawn to. Oftentimes, your first instinct as led by your intuition will be spot on for what energy you're wanting to align with or needing in your life at this time - don't overthink it!
An easy way to clear your mind and become present with your current state of being:
Close your eyes and take a few slow, deep breaths.
Focus your attention on the ground beneath your feet, gradually relaxing into a naturally comfortable state. Picture your body within a bright, warm pyramid of white light as you exhale.
Release any impeding stresses that pop into mind, and ask your subconscious to come to the forefront.
See what you're drawn to aesthetically, then proceed by reading about each energy to determine which one feels right.